How to Nail Your Movie Theme: What is Your Screenplay Actually About?
What is your screenplay about? What is your movie's theme?
These may seem like obvious questions.
But many experienced script consultants will tell you that a common frustration in reading hundreds of screenplays professionally is that often the theme is either muddled and confused, or just completely AWOL.
This isn't an issue about character or plot but about THEME.
In an increasingly competitive film and TV landscape, a screenplay that gets to the heart of – or comments on – an important theme can really stand out.
Particularly in the context of drama, your movie theme needs to be at the centre of what drives all other elements in your screenplay.
It's the root that everything stems from and that everything leads back to, along with the script's controlling idea.
Effectively conveying a movie theme is at the heart of great screenwriting.
Let's start off with a famous example of a screenplay that masterfully weaves its theme into its story – THE GODFATHER.
Theme Analysis: THE GODFATHER
In the opening scene of THE GODFATHER, its theme is laid out clearly and compellingly.
A man, Bonasera, comes to the titular Godfather, Don Corleone (played by Marlon Brando), for advice.
In a monologue, Bonasera outlines how his daughter has fallen into trouble with a boyfriend. The boyfriend, along with some friends took her out one night and brutally beat her.
"And then they tried to take advantage of her. She resisted. She kept her honor. So they beat her, like an animal."
Seeking justice, Bonasera went to the police only for the eventual judgment for the men being a 'suspended sentence', meaning they will walk free.
Bonasera, outraged, comes to Don Corelone to seek justice on the men that beat his daughter so cruelly and got away with it.
"The judge sentenced them to three years in prison – suspended sentence. Suspended sentence! They went free that very day! I stood in the courtroom like a fool. And those two bastards, they smiled at me. Then I said to my wife, "for justice, we must go to Don Corleone.""
"I believe in America"
This opening monologue is peppered with clues as to the themes of the movie we are about to see unfold. Most clearly, the monologue tells of a journey…
At the beginning of the monologue, Bonasera is a believer in the American system, having immigrated there from Italy.
"I believe in America. America has made my fortune."
This opening line not only states Bonasera's initial feeling about the country he has come to but also gives a smart clue as to why he might be such a believer – it has made him rich.
This immediate equation of America with wealth speaks to the movie's assessment of capitalism and the American dream, particularly in the context of early 20th Century immigrants to the country.
The idea of America and the American dream is a primary theme running through the movie. In this opening monologue this is also most obviously highlighted by the fact that America/American is the most repeated word.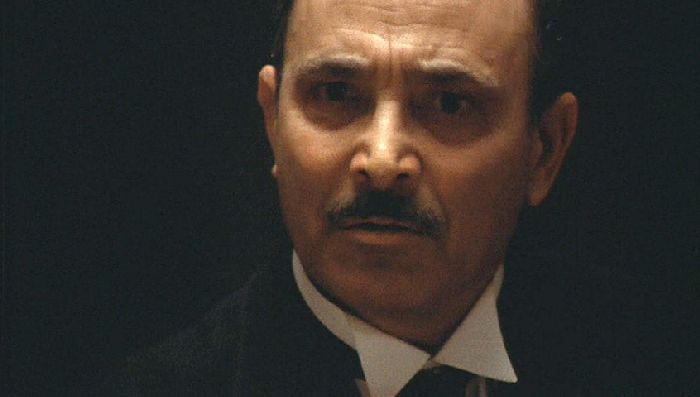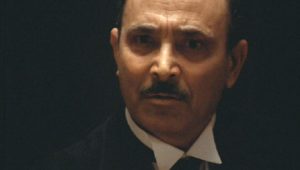 Underground Justice
Within the monologue, Bonasera's journey more or less highlights the very purpose and existence of the mob, of which the Godfather is the head of.
We see how Bonasera is let down by the American justice system and consequently feels forced to seek an illegal and underground form of justice for his daughter's attackers, to be dished out by Don Corelone.
"…for justice, we must go to Don Corleone."
The movie is preoccupied with this theme, of the mob existing as an underground economy and society for people who feel purposefully left out or let down by the primary, mainstream economy and society.
Through the monologue, we see how Bonasera believes in America until it doesn't work for him. When it lets him down, he goes to the underground system in place to try and account for these injustices.
"I went to the police, like a good American."
He plays by the rules only for as long as they work for him. If the law won't punish his daughter's attackers, then he will make sure someone will – all the while keeping himself relatively out of it.
It's worth noting that when the monologue finishes, Don Corleone's first lines are…
"Why did you go to the police? Why didn't you come to me first?"
This goes further in highlighting the purpose of the mob's existence and the power and influence that Don Corleone seeks to have. He knows the gaps he can fill in order to justify his presence and existence in American society.
The Protagonist's Journey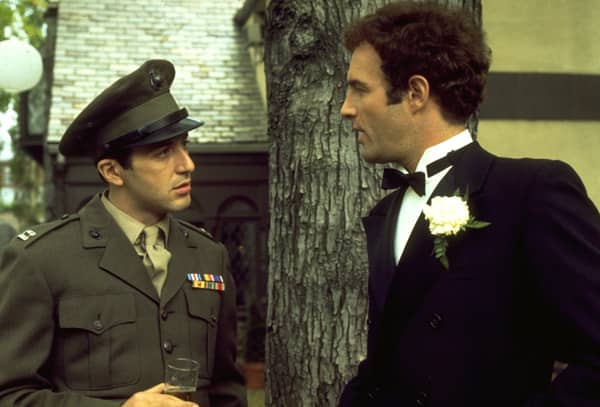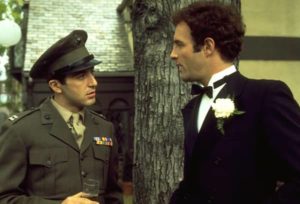 As well as highlighting many of the themes that will run through the rest of the movie, the opening monologue also does brilliantly in giving a clue as to its plot.
The journey that Bonasera goes through in the opening monologue – from believing in America to disillusionment and consequently seeking refuge in the mob – mirrors the journey of the protagonist, Michael Corleone.
When we first see Michael, only a scene later than this one, he is still a Marine, having recently fought in World War II. He seems the epitome of a good American boy, serving his country.
As the movie unfolds, Michael grows closer to his family, particularly when his father (Vito Corleone) dies. As he seeks to defend his family, particularly when they come under FBI scrutiny, he becomes increasingly entrenched in their ways.
By the end of the movie, he has left behind his good American boy image, no longer serving his country but serving as the head of the crime family of which he was born into.
THE GODFATHER is a brilliant example of how to assert a movie theme. Just in the opening monologue, the primary themes are highlighted by a character who ultimately isn't important to the story.
However, it's in telling a story that this character reveals so much. His opening monologue serves almost as a parable, telling illusively of the story we are about to see unfold.
With all this mind, how can you assert your movie theme in your screenplay? Here are a few helpful tips to put you on the right path.
Get to the Root of Your Movie Theme
Where did this screenplay idea come from?
Why did you want to tell this story?
It's important to try as much as possible to get back to the root of how you came to write this specific screenplay.
Your movie theme might not be the driving force in why you chose the story you did. However, there will be a theme at the heart of why you did choose your story.
Does the subject matter come from personal experience?
Is it from something that makes you sad or angry?
Are the characters ones from your life or ones you recognise?
Is the story close to your heart?
It's important to ask why to all these questions. You might have started writing without much of a sense of why. However, there will almost certainly be a why to be found at the root.
If there isn't it's perhaps time to revisit the very fact of telling this specific story in the first place.
The New Godfather - The Godfather (9/9) Movie CLIP (1972) HD
What Does Your Screenplay Say?
This shouldn't necessarily be confused with screenplays that send messages. Your screenplay doesn't have to be didactic or political to have something to say.
Your screenplay having something to say has more to do with it being unique, fresh and worthy of existing amongst the never ending stream of contemporary films and TV series.
Does your screenplay have a distinct purpose and identity?
Does it represent your voice as an author?
What is unique about your screenplay in terms of what it is about? Does it have a unique perspective? If it is a familiar story what is its spin on this familiarity?
If you can't answer these questions convincingly, then it's perhaps worth re-thinking the motivation for the story and the screenplay overall.
A screenplay doesn't have to say something as sweeping as THE GODFATHER. It could be as simple as a perspective on a relationship, for example.
It's always worth thinking, however, what makes that perspective different, interesting and ultimately worth an audience's time.
Answering Questions
Approaching your movie theme is about interrogating your own ideas. You need to take the same approach you might to assessing your protagonist and their motivation. For example:
What is my protagonist's goal?
How do they seek to achieve that goal?
What stands in their way of achieving said goal?
What is the outcome?
A similar approach could be taken to your movie theme:
What is my screenplay's central question?
How do I seek to convey this question?
What are the conflicts that debate this question?
How is this question ultimately answered?
These questions don't need to have firm outcomes or answers, indeed you might not know yourself.
However, a clarity in the debating of the questions your screenplay is asking will encourage the audience to do their own thinking and potentially come to their own conclusions.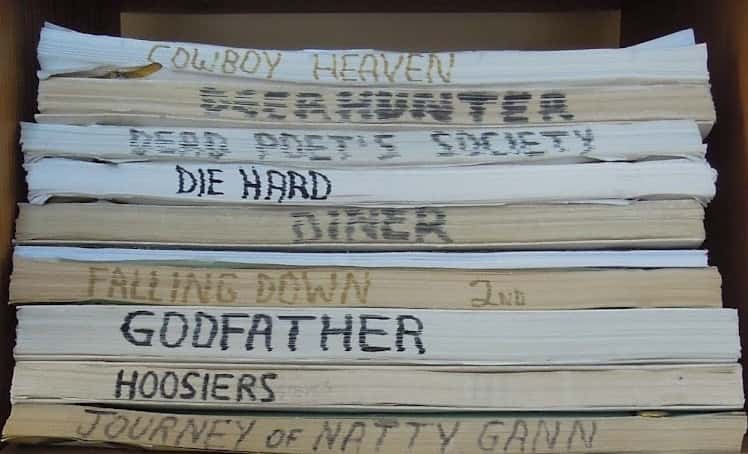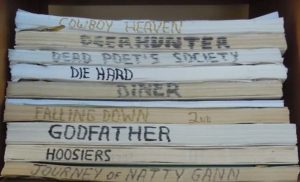 Utilising Dialogue
'Heavy-handed' dialogue is a term often used to describe dialogue that is too obvious and blunt in its conveying of plot, characterisation or theme.
In the context of theme, dialogue that is too obvious in its attempt to convey themes can often come across to audiences as hectoring, patronising and dramatically uninteresting.
So how to avoid this?
Great dialogue is dialogue that is always hiding its agenda and/or operating on multiple levels. It is dialogue that moves the plot forward, whilst also saying something about theme, whilst also revealing something about character.
To go back to the example of THE GODFATHER, Bonasera's monologue is a great example of effective dialogue because:
It starts the plot –  a man coming to Don Corleone for advice.
It says something about character – both of Bonasera but also of Don Corleone.
Theme is heavily alluded to through the journey element of the story that Bonasera tells.
The dialogue doesn't just exist to tell the audience about the scene in which it appears in but to allude to the wider mechanisms at work within the movie.
Character as Theme
The character of Michael Corleone, for example, in his character arc perfectly represents a key, if not the, key theme of the movie.
Characters arcs can be a powerful way of representing theme, particularly when it comes to the protagonist. They are what takes the audience on a journey.
The audience will experience the story as the protagonist does and therefore the themes will ideally become apparent.
The protagonist's struggle will be identifiable and empathetic and the themes will hopefully therefore hit home for an audience.
We see and come to understand the steps that lead Michael Corleone to land as the head of the crime family by the end of THE GODFATHER.
It's therefore clear to us the power and pull of the mob for those caught up in it as well its necessity and function (as they see it) – probably the main theme of the movie.
Let's use TAXI DRIVER as another great example.
We see the protagonist, Travis Bickle, isolated, lonely, obsessive and guarded.
We see how he seeks to be a hero and how rotten he thinks the city around him is.
It's therefore clear to see why he carries out the final act of revenge he does and how in the last scene he is painted as a hero (it unclear whether this last scene is reality or Travis's fantasy).
Travis Bickle's arc represents the movie's interests in portraying themes of loneliness, isolation within cities and masculinity (primarily in the desire for heroism).
Taxi Driver A Study of Masculinity & Existentialism
In Conclusion
Nailing your movie theme can seem like an intimidating task. Often theme heavy movies are associated with stories that are in some way political, didactic or serious. Really, theme is a vital part of any movie in any genre.
In the writing of your screenplay, theme can be a key part of laying out your intentions in telling the story you have chosen to tell.
Getting your theme right will take you back to the core of your idea and hopefully make it clearer for all other elements of the screenplay to spring out from.
– What did you think of this article? Share It, Like It, give it a rating, and let us know your thoughts in the comments box further down…
– Struggling with a script or book? Story analysis is what we do, all day, every day… check out our range of script coverage services for writers & filmmakers.
Get *ALL* our FREE Resources
Tackle the trickiest areas of screenwriting with our exclusive eBooks. Get all our FREE resources when you join 60,000 filmmakers on our mailing list!