Hollywood's Finest Script Coverage
With the hard data to prove it…

Hang on, what is script coverage? +

Just some of the studios and production companies our readers have worked for..
Getting professional script coverage before anyone in the industry lays eyes on your scripts isn't just helpful….it's vital.
You'll only get one shot at a first impression, and production companies have long memories and deep hard drives.
Hyper-actionable script coverage and a deep script x-ray is the best ongoing investment a screenwriter can make.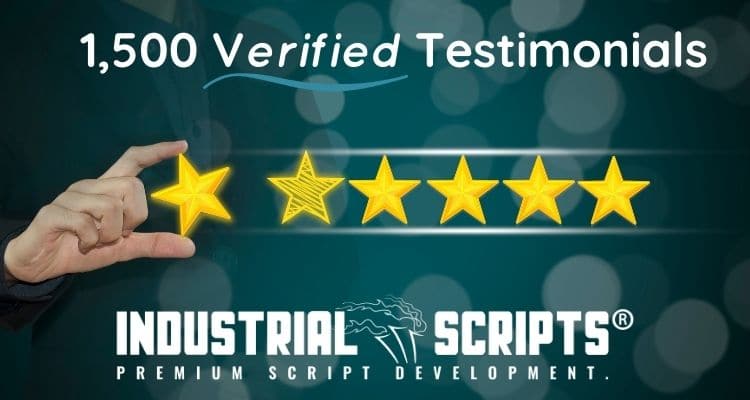 Since 2010, Industrial Scripts has been delivering the deepest, most insightful script coverage anywhere.
Our cherry-picked team of script consultants are dedicated to helping writers and filmmakers improve.
Script development is What We Do.

24/7.
Our 10 Exceptional Script Coverage Services
Our ten coverage services come with the following as standard:
Choose Your Own Script Reader
30-Point Grids & Numerical Scoring
Definitive P/LC/C/R Project Verdict*
"Next Steps" Precise Final Recommendations
Guaranteed Word Counts, No Fluff or Padding
Multi-Script Reader / Multi-Perspective Options
Contextual Industry Scoring
Fast Turnaround Times (options available)
Film Coverage Services >
Film Forensic Notes
Full Service Description
> Giant, 5,000+ word deep-dive.

> 30-point grid analysis included.

> For movie scripts under 120pg

> View a sample report.

> Verified 95% positive client feedback rating.
$395.00 USD
View Verified Customer Reviews

Film Coverage Report
Full Service Description
> 2,500+ words of detailed script notes.

> 30-point grid analysis included.

> For movie scripts under 120pg

> View a sample report.

> Verified 95% positive client feedback rating.
$195.00 USD
View Verified Customer Reviews

Short Film Report
Full Service Description
> 1,000+ word report.

> 30-point grid analysis included.

> For short film scripts under 25pg

> View a sample report.

> Verified 95% positive rating.
$105.00 USD
View Verified Customer Reviews

TV Coverage Services >
TV Drama Report
(60mins / Dramas)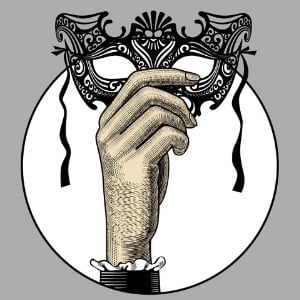 Full Description
> 2,000+ words of detailed script notes.

> 30-point grid analysis included.

> For drama TV scripts (& optional series bible) under 60pg

> Submit a series bible (under 10pg) for an additional fee.

> View a sample report.

> Verified 95% positive rating.
$175.00 USD
View Verified Customer Reviews

TV Comedy Report
(30mins / Comedies)
Full Description
> 1,500+ words of detailed script notes.

> 30-point grid analysis included.

> For comedy TV scripts (& optional series bible) under 30pg

> Submit a series bible (under 10pg) for an additional fee.

> View a sample report.

> Verified 95% positive rating.
$145.00 USD
View Verified Customer Reviews

TV Series Bible Report
(20pg prose docs)
Full Description
> 1,500+ word report.

> For TV series bibles (or film treatments) under 20pg in prose

> View a sample report.

> Verified 95% positive rating.
$125.00 USD
View Verified Customer Reviews

Other World-Class Services >
* Please note our Script Doctor's Quote is not a substitute or even particularly similar to full script coverage or script notes. It is merely the first, essential step on our script doctoring service. Please do not book it expecting script notes or consultancy because this is not what the service was designed for. It simply exists to deliver a financial quote. Thank you!
Our 10 Script Coverage Services: At a Glance…
Check out our script coverage services, at a glance.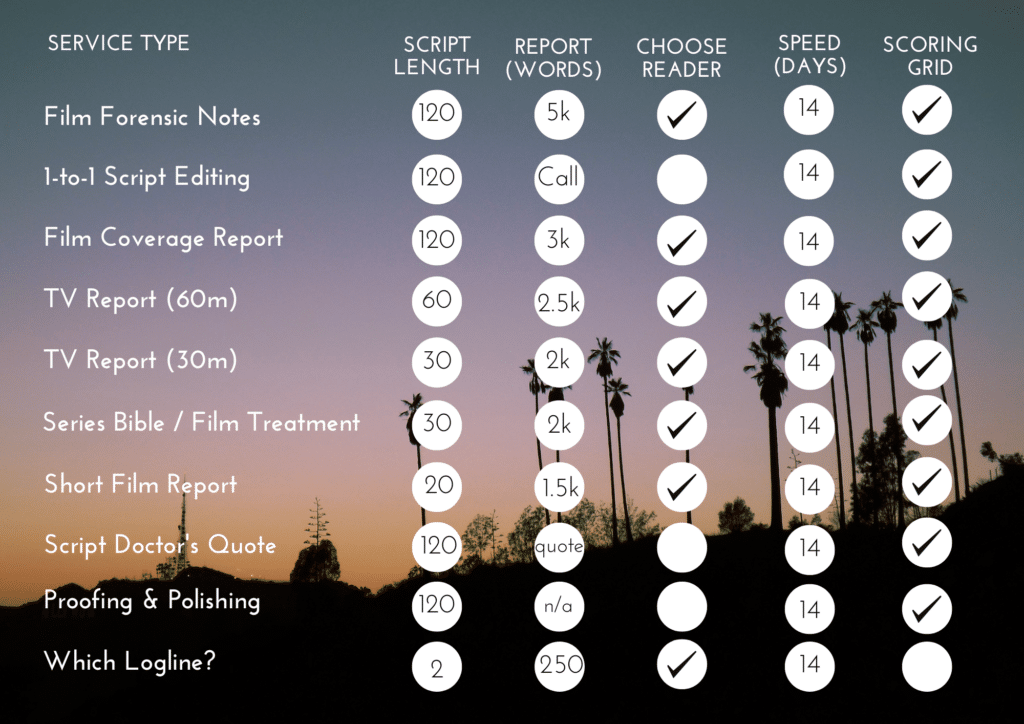 Submit a 10 pg series bible in addition to your episodic for $60 at checkout (report length increases accordingly). Our standard turnaround time is within 14 days, but typically we'll get it back faster. "Pgs" means – the page limit of your script. "Pick SC" means – you can choose your script consultant script consultant. "GWC" stands for Guaranteed Word Count or the minimum length of your report.
Questions? Visit our comprehensive knowledge base here.
---
Hang on though, what is script coverage?
Script coverage is the process by which scripts are filtered, in Hollywood and other film and TV industries around the world.
Script coverage originated out of an internal industry necessity – namely that production companies didn't have enough time to read the scripts submitted to them. Out of this need to shortcut, then, script coverage was born.
Script coverage today takes various forms but it's most commonly used for two purposes, by two different sets of people.
On the one hand, executives, agents, managers and production companies still use script coverage for what it is was originally intended – as a way to absorb a lot of information about a script, in a short period of time.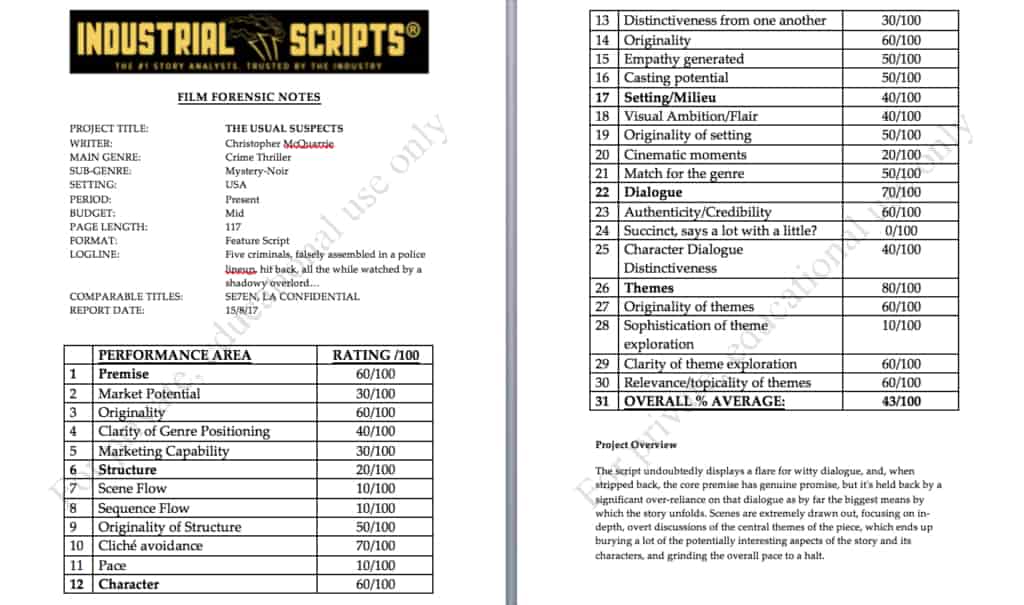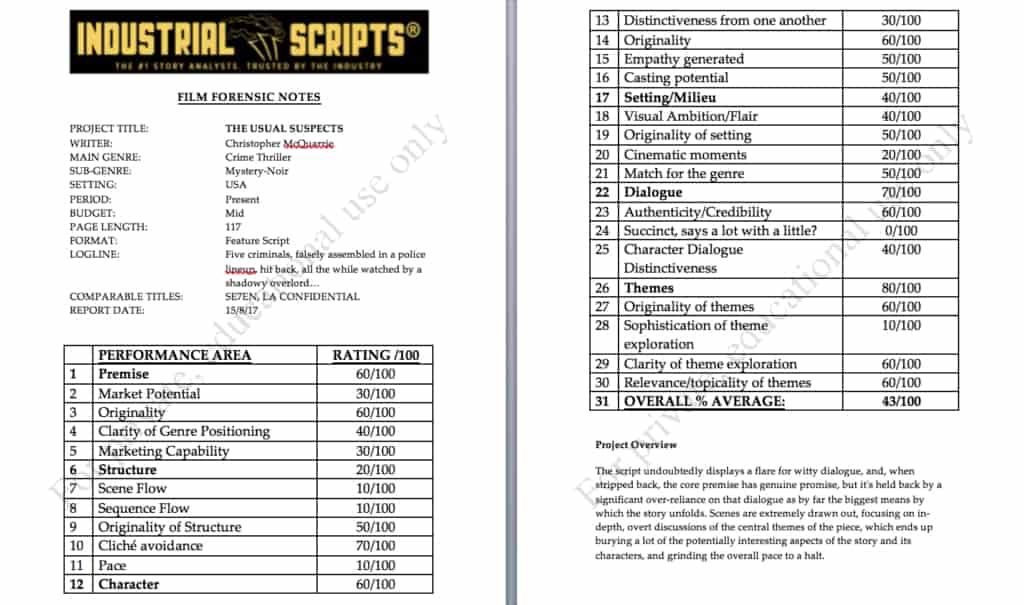 They can read a synopsis of a script, look at an evaluation of the script's strengths and weaknesses, read an appraisal of its potential in the marketplace, and generally take a deep-dive without having to spend two hours reading the script themselves.
In addition, script coverage is also used by writers, producers, production companies and those on the purely filmmaking side of the fence to make scripts better.
As you can see from the Jake Wagner quote below, screenwriting and script development are such competitive fields that screenplays get very few chances to impress.
Getting pro script coverage before showing your work to anyone in the industry is absolutely vital. So, in brief, script coverage is there to do three things: prevent extremely busy movers 'n' shakers from reading scripts that aren't up to scratch; help writers and filmmakers improve by delivering feedback; and save writers from what we call "undercooked scripts", and career self-sabotage.
That, in a nutshell, answers "what is script coverage?"
Why, today, is script coverage so vital then?
To answer, let's try a little equation…

There are more and more screenplays being written every year.

But the number of bona fide agents, managers, executives and producers hasn't risen at the same pace.

There aren't more (industry) eyes to read these extra scripts.

Ergo…

…managers and executives and production companies have to be more ruthless with their time.

They have to read fewer pages of a script before either discarding it or reading on, they have to read more scripts generally (because there are more out there, and their whole career hinges on finding great scripts), and most importantly they can't read the same writer twice, if he/she didn't impress the first time.

Let's see that in image form again…

We could sugar coat it, but that's the rub.

Sceptical? Read the quote below from literary manager Jake Wagner.

If you can hook or leverage a major agent or manager or production company into reading in the first place (not easy), they'll give your script 5-10 pages. If it hasn't grabbed them by then, it's don't-call-us-we'll-call-you time.

The stakes are higher for new writers than they were before, and whilst the range of ways to get discovered have widened, the number of bites at the cherry writers can have with key taste-makers and production companies has shortened.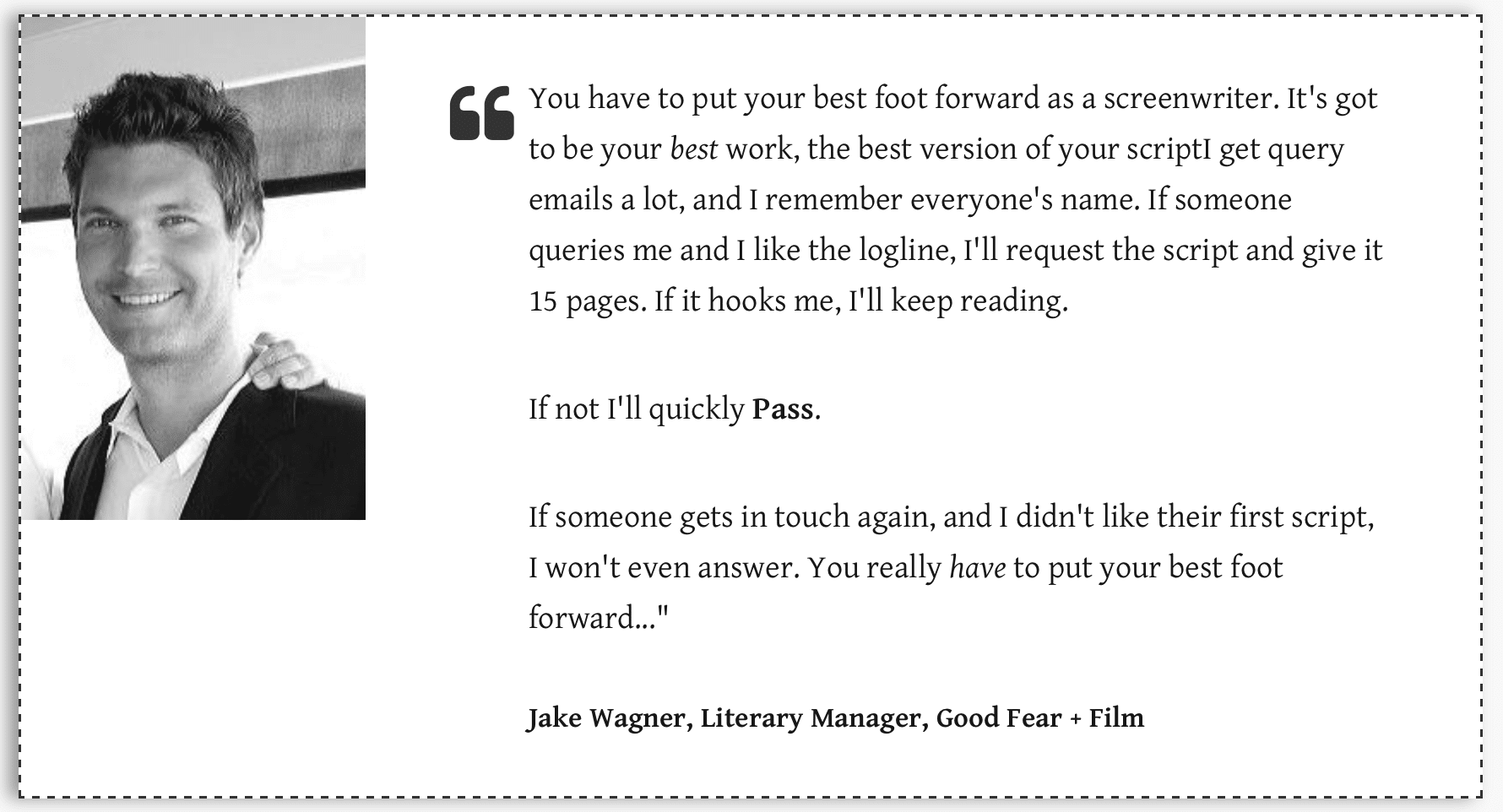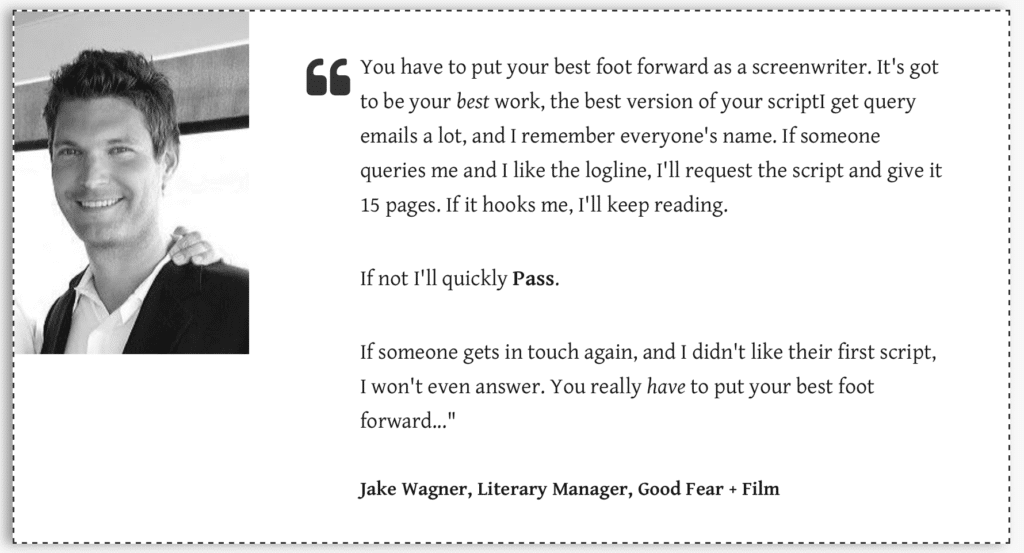 You can't hit 'n' hope in something this competitive…
That's the bad news.

The good news is Hollywood streamers and production companies are more hungry for great scripts, writers and ideas than ever.

They really are. Amazon, Netflix and their ilk have changed the game. Leviathan hit shows like Game of Thrones, Stranger Things and all the others don't write themselves.

It sounds churlish and reductive but it's easy to forget that someone's got to do it…these shows aren't written by demi-Gods or Kryptonians.

They're written by screenwriters who once-upon-a-time got "Pass" verdicts from screenwriting contests and script coverage services like ours.

Lest we forget: someone just sits down in a room and makes these stories up.

It's that simple…and that difficult…but it is do-able.

Deep, actionable screenplay coverage can help you turn that "Pass" project into a "Recommend", can help you filter your great, life-changing ideas from the dead end-ers and save you from blowing a big chance with an agent, manager or production company.

And if that $300-odd dollars you spent with us ends up ultimately unlocking a script development deal, or getting you in with some of the best production companies, well, you might just look back on that money as the best you ever spent in your life.
10 Ways Industrial Scripts


Has The Edge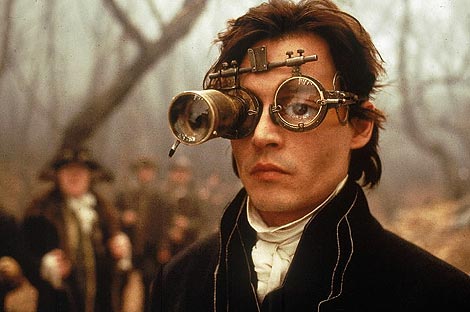 The Deepest Script Coverage
Multiple specific page references and GWC (Guaranteed Word Count) reports (no double-spaced, padded-out nonsense) of honest, actionable script notes mean our script coverage stands apart. We support every argument, rather than offering sweeping generalisations. It's instant rocket fuel for your project.
1,500+ Script Coverage Veris
No other script coverage service has been reviewed by clients as often as us and no other companies use Google-approved reviews sites . We've been reviewed almost 1,000 times across various platforms, verified as genuine by unique transaction ID. Click here to learn more.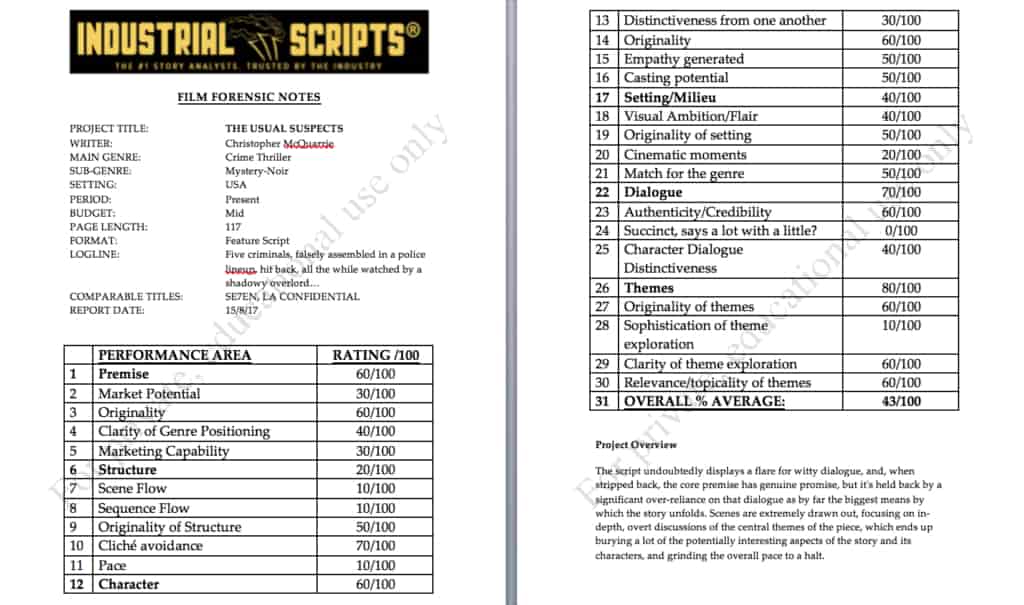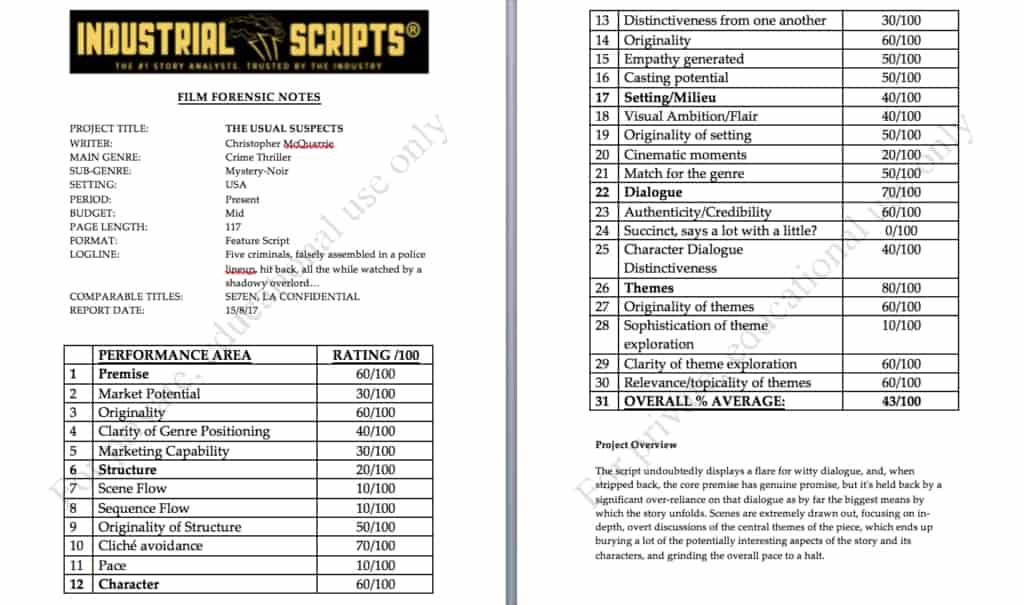 Precise Grid Scoring
Our grids, so common among the script reports used by production companies and agencies, let you know precisely where you stand in a crisp, visual way. 30 analysis scores, percentile scores and comparable films/shows are included in all our reports as standard. Download samples above.
From a WB Script Consultant
When you dig under the skin of many screenplay coverage service, you'll realise they were created by people who didn't meaningfully progress in script development (Good in a Room and The Black List are two exceptions). By contrast we were founded by a Paramount, Warner Bros., Universal, Scott Free script consultant and Ealing executive.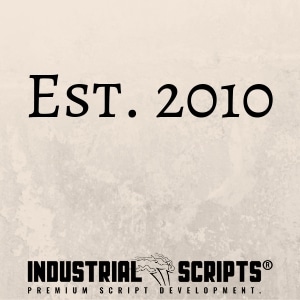 Longevity and Trust
Script coverage services and consultants come…and they go. So often a script notes service will be thrown together as a career stop-gap: a way for the script reader in question to "make a few bucks" before they decide what they really want to do. As one of the world's longest running screenplay coverage companies, you know we're in it for the long haul.
Close Ties to Industry
In business since 2010, our industry connections run deep. From mega-producer Tim Bevan (right, Co-Chairman of leading production company, Working Title) to actor Tom Hiddleston through Oscar-winning producer Gareth Unwin and more, leading figures in film and TV trust Industrial Scripts to deliver great script coverage, and superior masterclasses.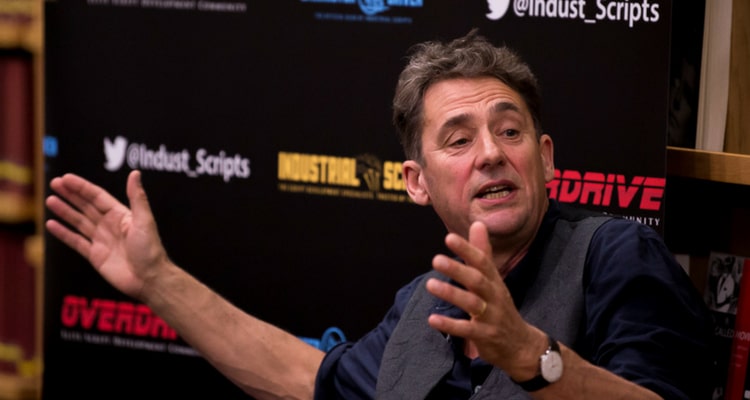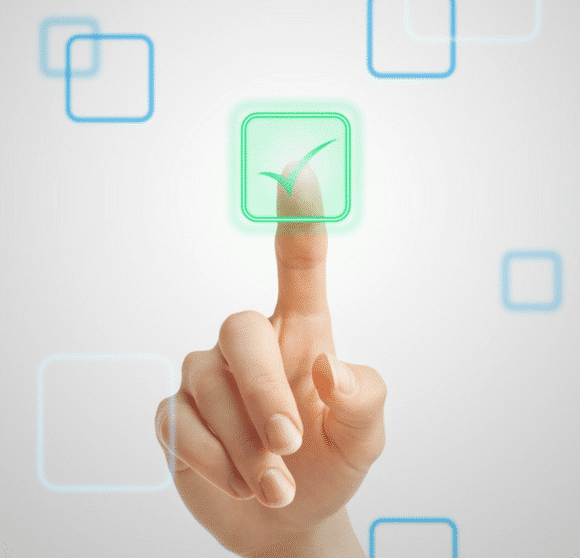 A Spectrum of Services
With 10 script development services you can be sure we have an existing offering to suit your needs. You can send us loglines, treatments, pitches, sitcoms, teleplays and screenplays. We analyze ideas to help you separate the wheat from the chaff, and script doctor and re-write projects. Script development and screenplay coverage is What We Do.
Talent Connector (currently unavailable)
All scripts which achieve an "above Pass" rating from our script coverage service are potentially eligible to have their project championed, for free, via our bolt-on Talent Connector. Our carefully curated list of agents, managers and production companies are always on the lookout for screenwriting talent, vetted by us. Currently TC is unavailable, per our Ts and Cs of sale please do not book expecting this free bolt-on.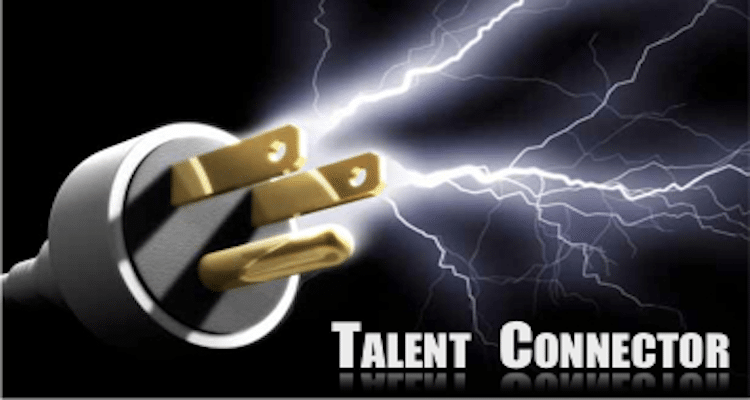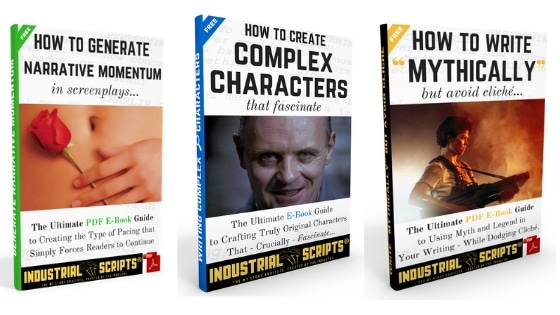 Amazing Free Learning
Character-Driven, our blog, is one of the leading screenwriting resources around. We create original e-books and articles on complex areas of screenwriting. Every script coverage booking with us receives 5 FREE e-books on everything from the psychology of fascination, through to generating intrigue and more…
Prices That Make Sense
No more bargain-bin, sub $100 price points where the script coverage is written by an intern. Nor, at the other end, the extortionate fees charged by lone-wolf script reader gurus. Our prices respect both you, and the unique level of script coverage we deliver.

Don't Just Take Our Word for it…
Remember those verified reviews mentioned above?
Here are the latest ones just in from Google-approved reviews platform REVIEWS.io…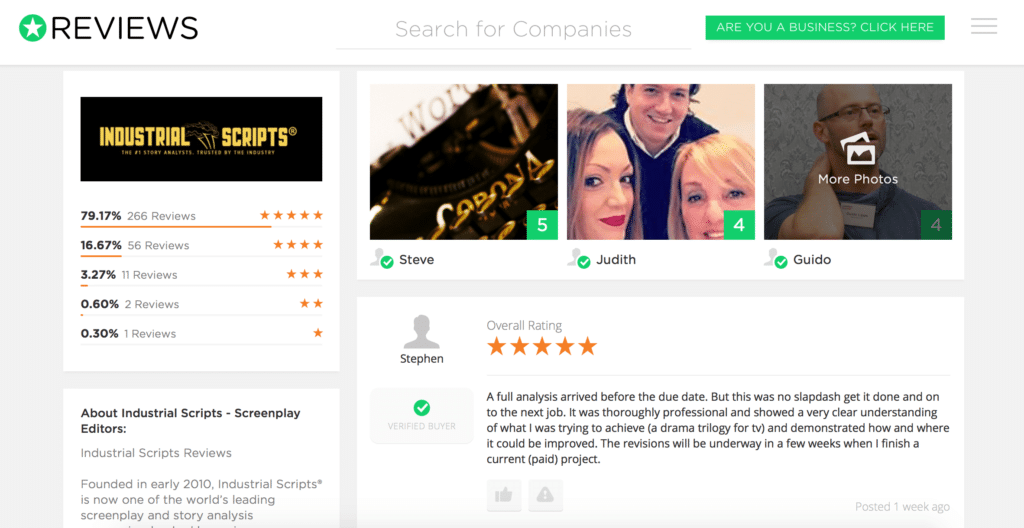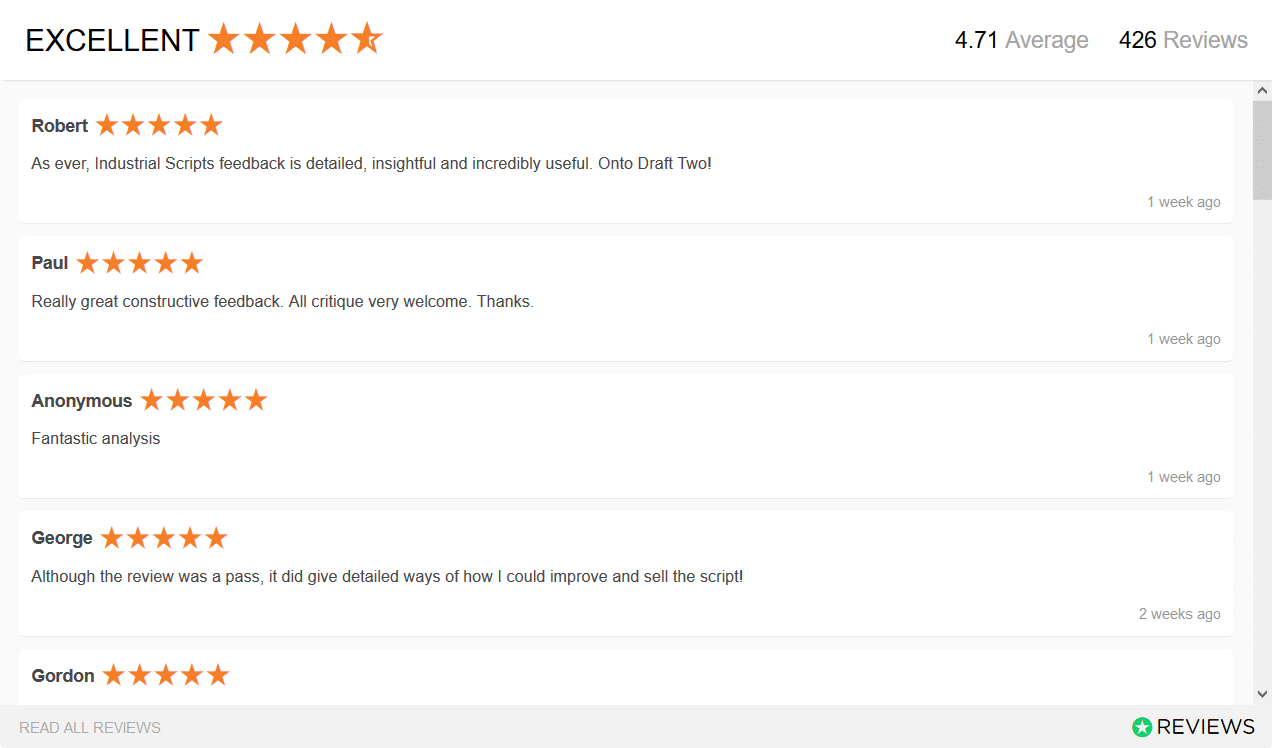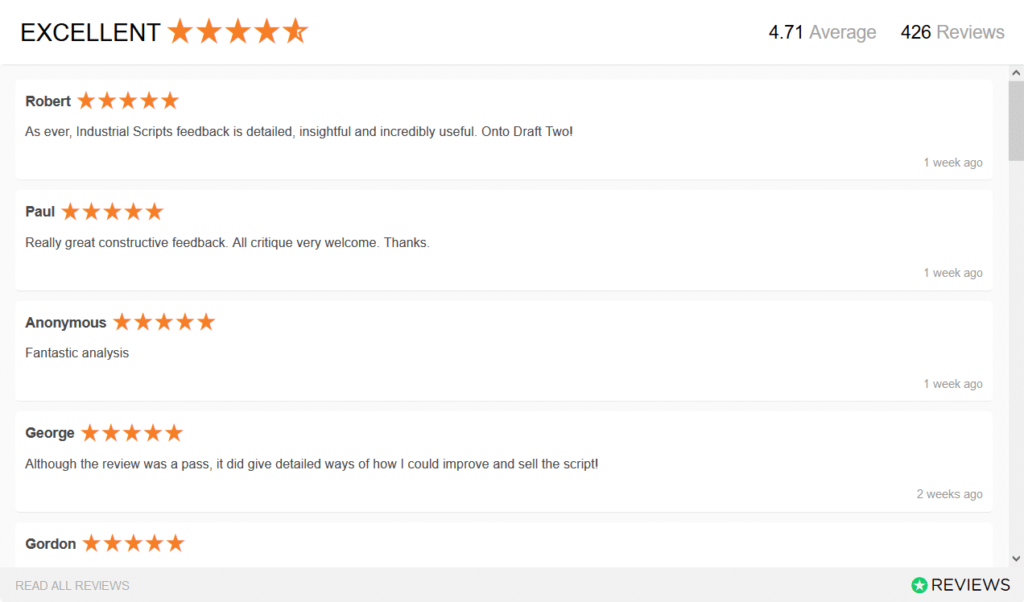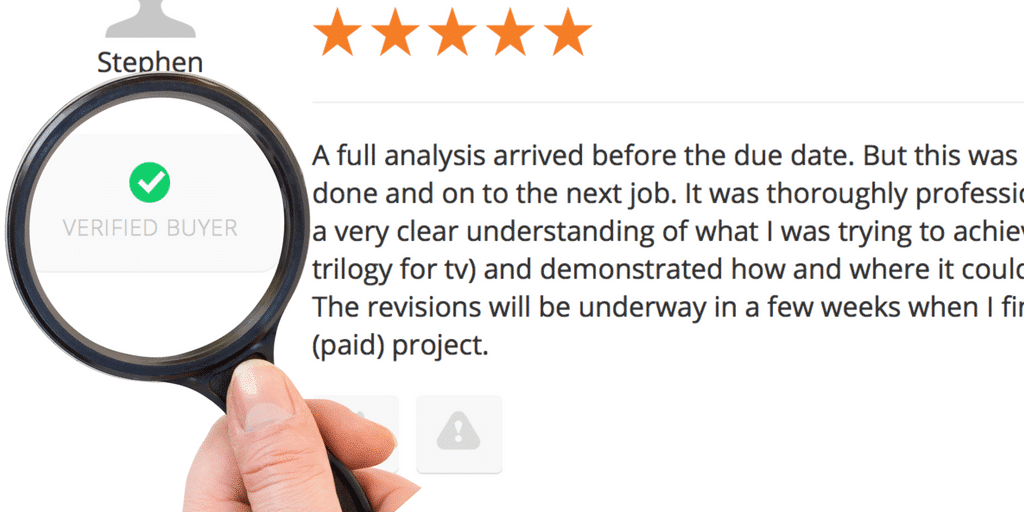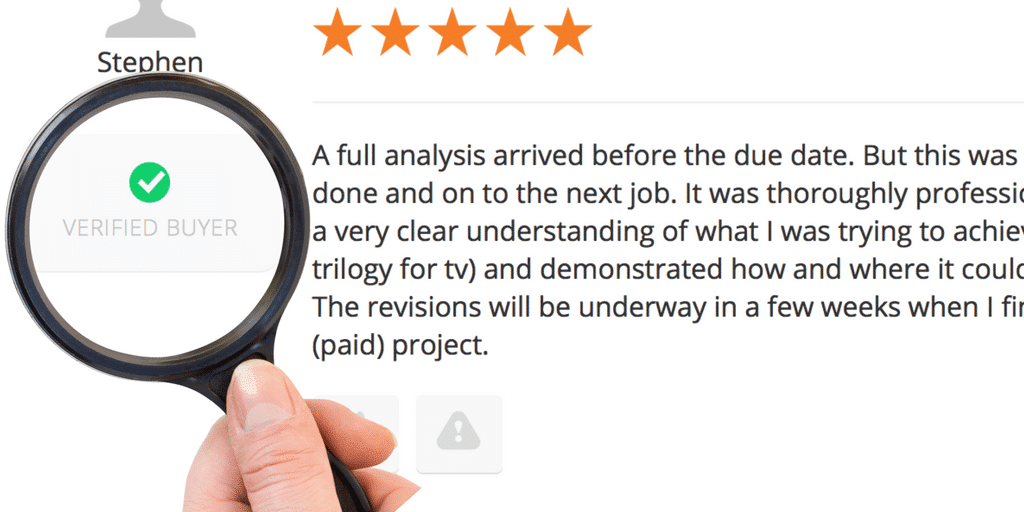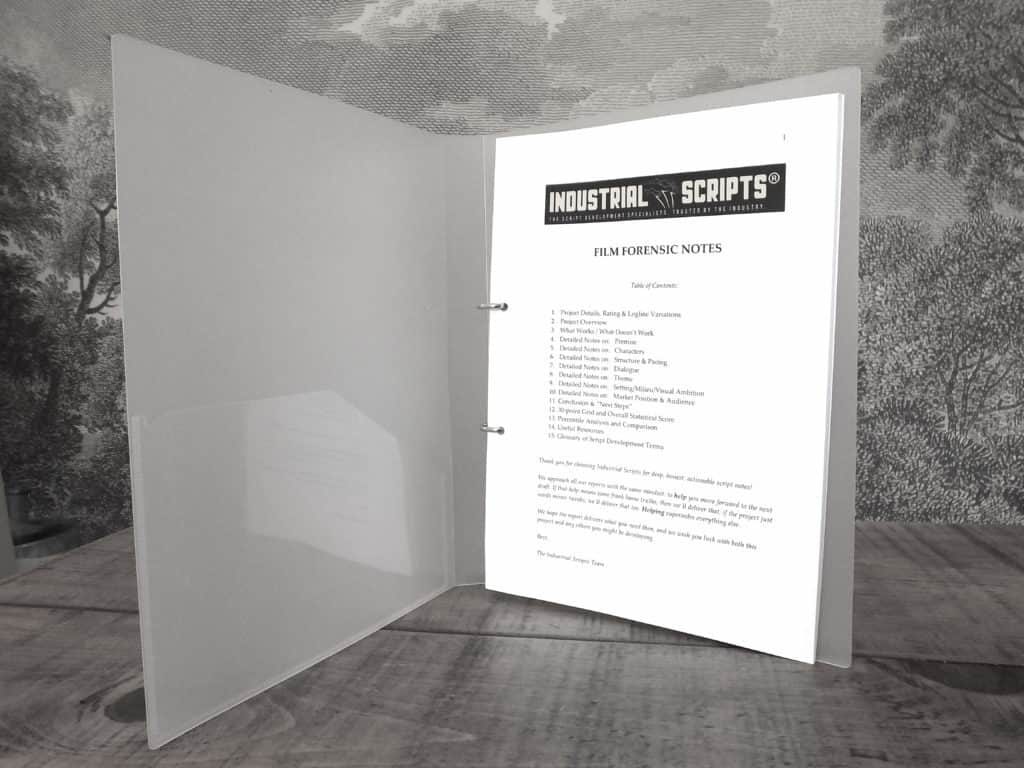 No more bargain bin script coverage written by interns…
IS vs The Others
The plain truth of it is that the script coverage world doesn't have a great rep.
Even if you don't book with us, tread very carefully out there.

There's plenty of "script consultants" with dubious (aka non existent) credentials lurking on the absolute outskirts (at best) of the industry, who'll be happy to help you part ways with your dollars….
Industrial Scripts®
> In business since 2010.
> Founded by a Warner Bros, Paramount, Universal and Scott Free script consultant.
> 1,000+ client testimonials verified as genuine by Google-approved reviews platforms like Reviews.io
> Fair and appropriate prices for the quality of work.
> Concrete, guaranteed minimum word counts on reports.
> Precise, forensic, no BS, non sugar-coated coverage with specific page references.
> Hard-core, professional, low-churn crew containing the best script readers around.
> On former MGM executive Stephanie Palmer's list of The 6 Best Script Coverage Companies.
The Others
> A new one slithers out weekly!
> Started by someone who never progressed in script development.
> Carefully hacked and/or invented testimonials from anonymous "clients".
> Either bargain-bin, free-intern-level prices ($65!) or inflated "guru" ($500+) fees.
> Vague, double-spaced page count promises.
> Vague, evasive script notes containing lazy, identikit, auto-pilot comments and false praise to keep you enthused.
> Unpaid interns & college grads with little industry experience.
> No satisfaction guarantee, tread carefully!
> On nobody's list but their own!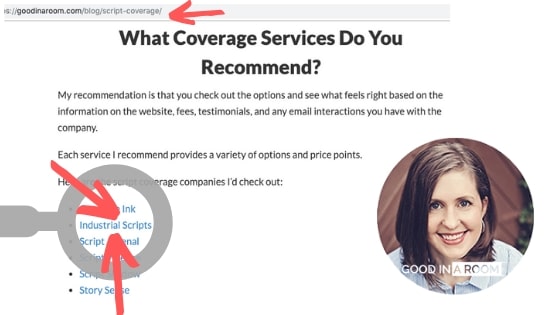 Former MGM executive Stephanie Palmer recommends Industrial Scripts.
Our Script Coverage Guarantees the following…
If you'll forgive the Breaking Bad analogy, over almost 10 years we think we've cooked the best recipe for a crack script report. Without giving it all away, here are just some of the elements that are guaranteed as standard…
Guaranteed Word Counts
We don't promise "pages" of notes anymore. Too imprecise. We promise concrete WORD COUNTS.
Close Textual Analysis
All our arguments are supported by close textual analysis. No sweeping generalisations.
Clear Action Plan
Our reports deliver a crystal-clear action plan to move forward to the next draft.
Fast Turnaround
Fast turnaround times. The days of waiting eons for your reports to come through are over.
Our Script Coverage Service also delivers the following…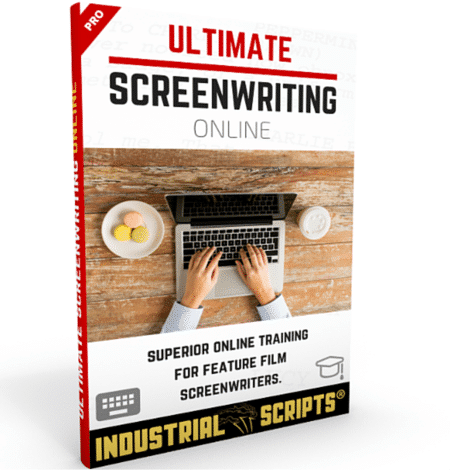 FREE, ULTIMATE Screenwriting Online Course.
If you book our deepest, most popular service – Film Forensic Script Notes (delivers 5,000+ words of analysis) – you'll receive lifetime access to our ULTIMATE Online Screenwriting Course (RRP $400). The course consists of 5 modules, 26 incredibly detailed lessons, and you'll write a full screenplay while completing it. As the course is online, you can take it from home, at your own pace.
When you book with other script coverage services you'll soon notice that while they promise "5 pages", their notes are often formatted in such a way that the word count is actually quite low. We promise concrete word counts, with zero fluff, to deliver maximum script development value.
Peace of Mind that You're Hiring The Best Script Readers Around
Those 1,000+ verified testimonials didn't blow in on the wind, and none of the other script coverage services have them. We are heavily, heavily invested and have real "skin in the game" in terms of making sure you leave with genuinely actionable script coverage that can give your project the boost it needs.
Targeted Script Notes Engineered to Help, Not Preach
We won't promise to like your script, and if you're after just praise and a note saying we'll walk it in to various production companies, you've come to the wrong place (there are plenty of outfits that'll take your money and do that). But you can't do this stuff on your own, and as outlined above, you may – genuinely – only get one shot to impress.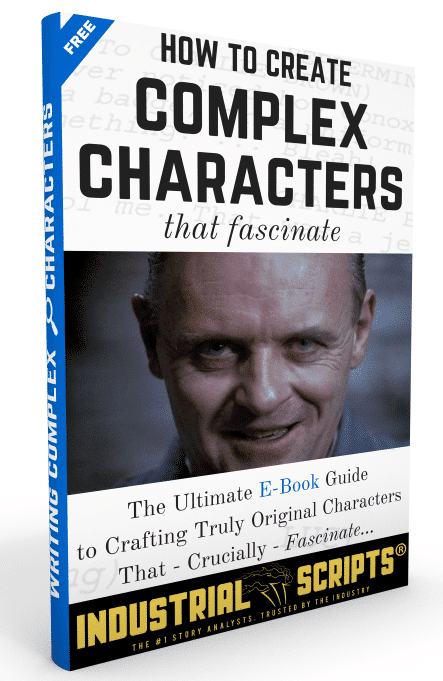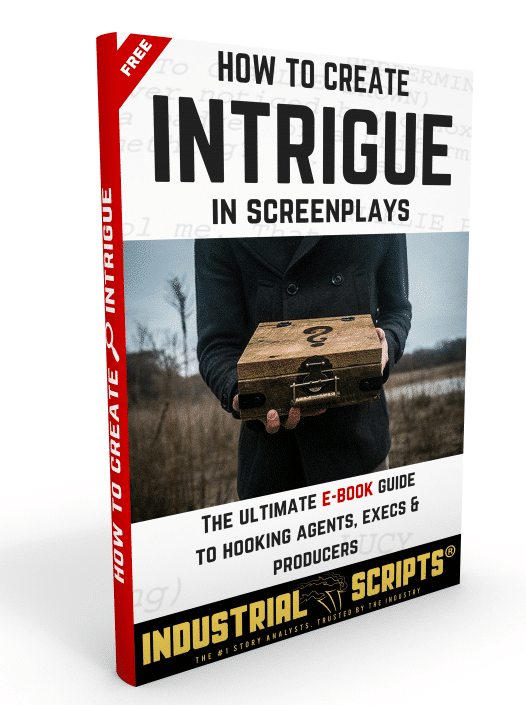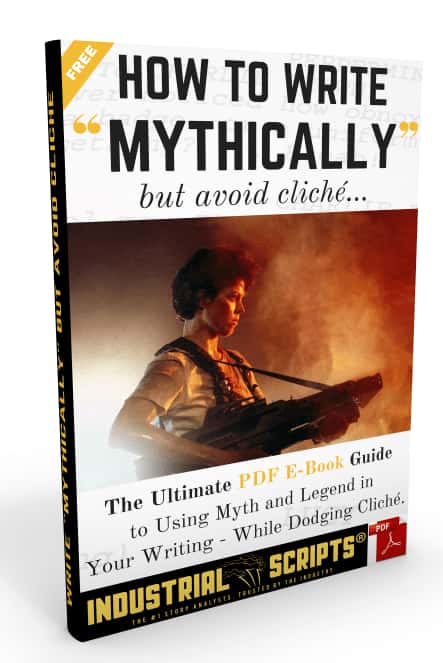 Inexperienced writers book bargain-bin script coverage and "gurus"…

…serious writers book INDUSTRIAL SCRIPTS.
Why do clients book IS?
We surveyed over 1,200 clients and a massive 45% of these bookings came from happy returning clients.
Check out the graphic below…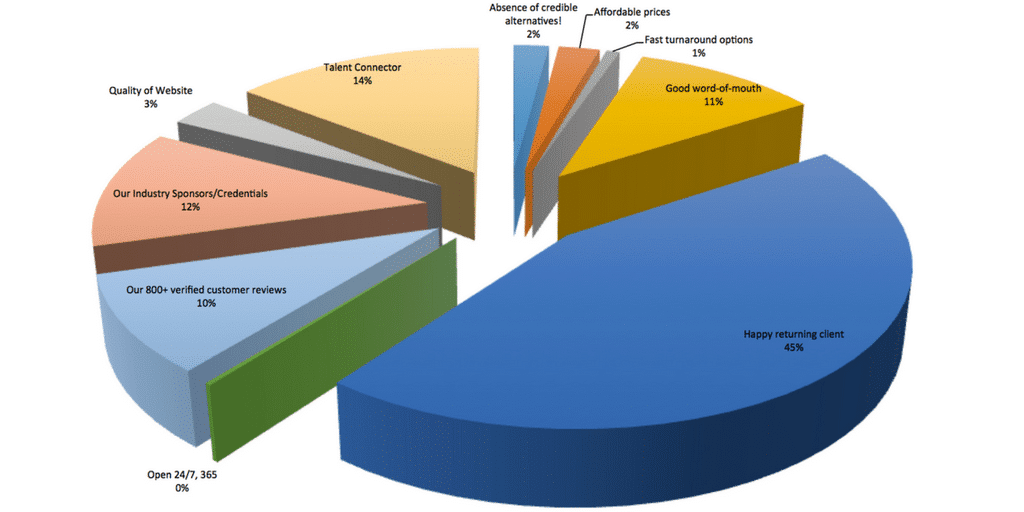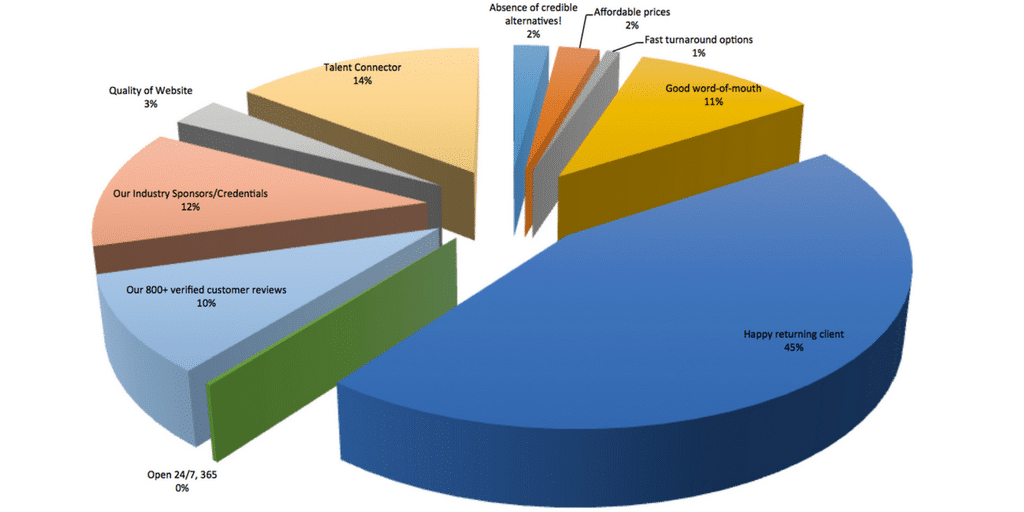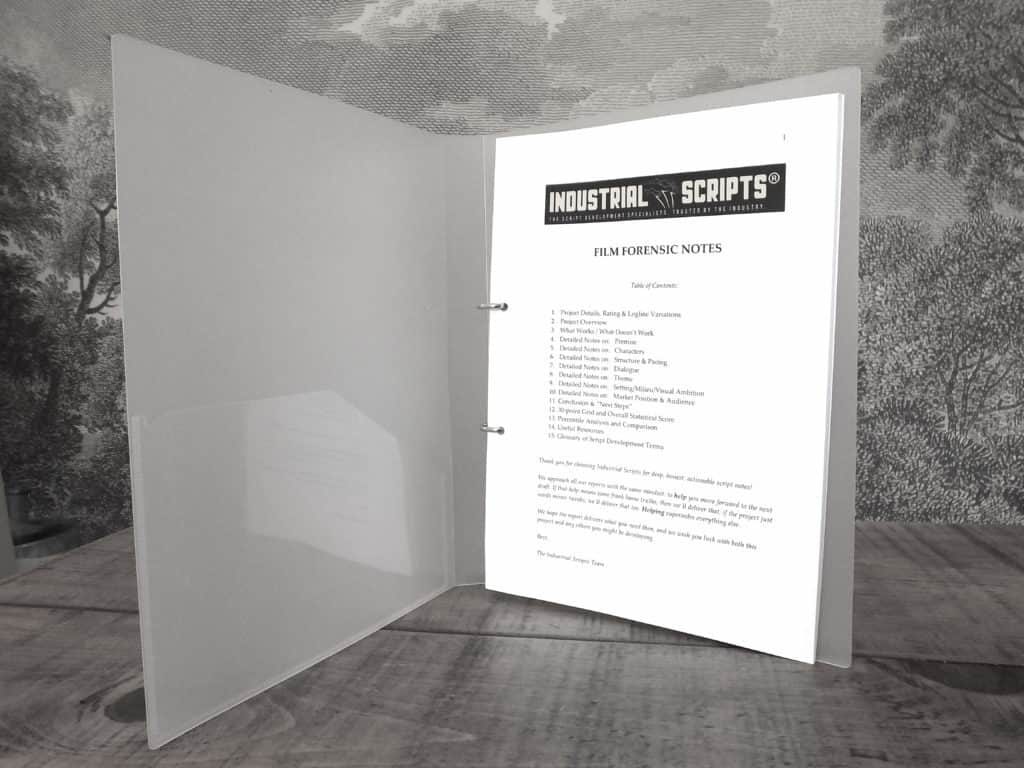 Specialist Script Developers Since 2010
About Industrial Scripts®
Founded in 2010, Industrial Scripts is today one of the world's leading screenwriting and script development companies, with over 1,500 verified testimonials.

Our script consultants have significant industry credentials, writing coverage for production companies and studios including Paramount Pictures, Scott Free, Warner Bros., Universal and many more. Working with screenwriters and filmmakers of all levels and from myriad locations, we also deliver intensive training both online and offline.

We believe that rigorous script development is the foundation of great film and TV and is, indeed, essential.

Without it, the end product will fail.
Script Coverage FAQs
Got further questions about our script coverage service? We'd love to help you out.
Also check out our dedicated FAQs page, here.
Phew! You are made of stern stuff, you reached the bottom of the page.
Thanks for reading!
So: seen enough to realise we wont let you down…?
Read More Genuine Industrial Scripts Reviews Below…