Founded in 2010, Industrial Scripts is today home to some of the world's leading script readers and development companies.
We are the only script reading co. with over 1,000 verified customer reviews. These aren't copy and paste testimonials, but rather genuine reviews verified by Google-approved independent sites.
Fully 46% of our bookings are returning clients. Script reading is what we do: all day, every day.
Film & TV development is fiercely competitive – scripts get few chances to impress. Hiring a script reader, before submission, is essential.
Why book a script reader?
We'll be honest with you: the film & TV industries operate a "guilty until proven innocent" policy when it comes to screenplays.
Some people may not like to hear that, but it's the truth.
Raising money for scripts and for films is an extremely competitive business, and it's rare that producers, writers and directors get multiple bites at the cherry.
Truly great scripts are so few and far between, that agents, executives and producers won't look at a new writers' work more than once.
You'll literally have one shot to impress, and you have to give yourself the best chance by making sure your script is as good as possible before you submit it to the powers-that-be.
Don't believe us?
Check out the quote below from leading literary manager, Jake Wagner.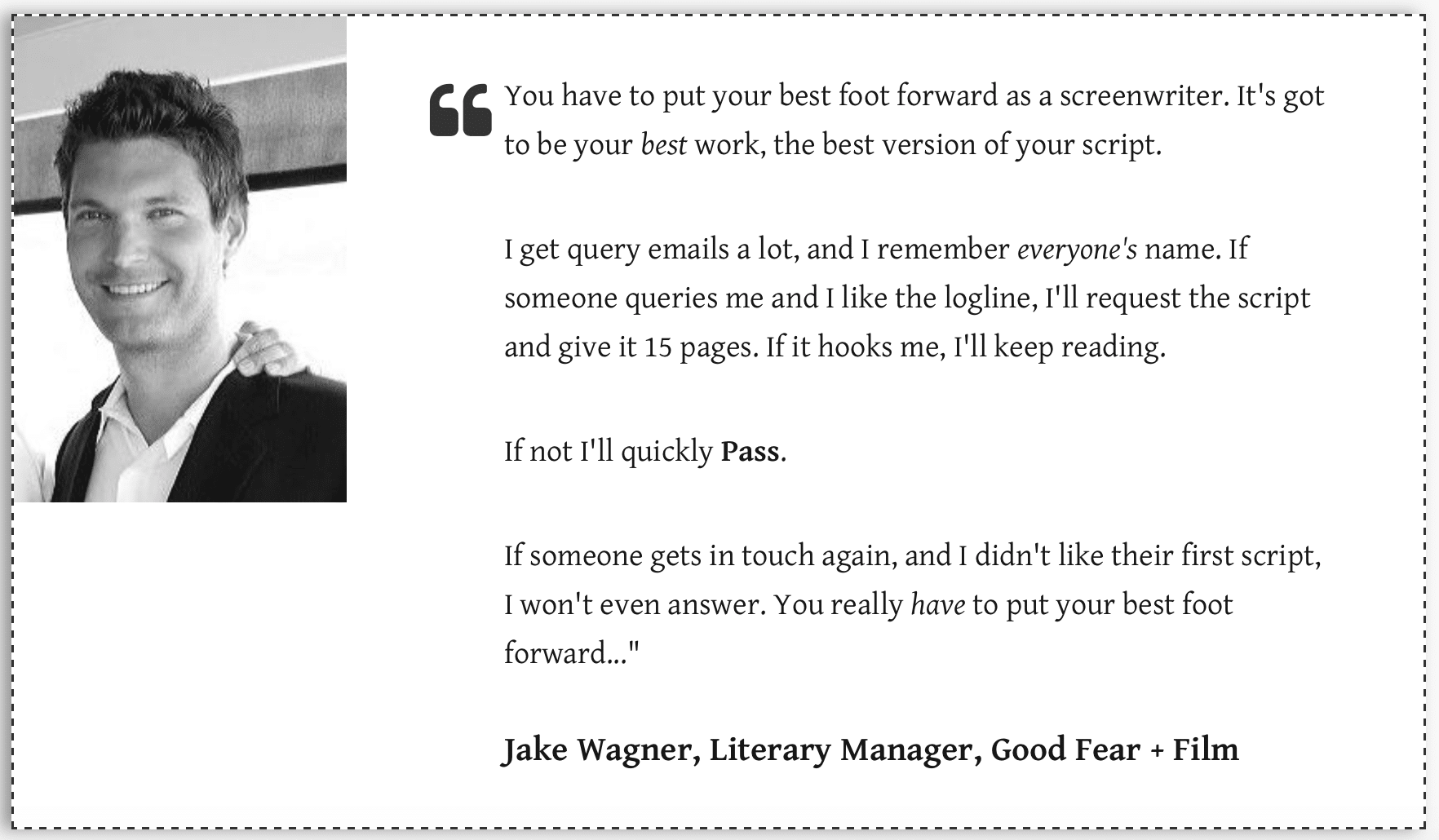 So: that's where an industry script reader comes in.
He or she can:
a) advise a writer or filmmaker whether the script is actually good enough to be released to the industry
b) advise how it can be improved, and how much further work is required and
c) help screenwriters move on to the next draft
What script reading services does Industrial Scripts offer?
We offer 12 services to writers and filmmakers, as follows:
Film Forensic Notes

12+ pages of incredibly detailed notes + large grid analysis
For film scripts under 120p

Skype 1-to-1 Script Editing Days

10am – 6pm script consultation sessions via Skype
For film scripts under 120p

Film Script Coverage Report

5+ pages of detailed notes + large grid analysis
For film scripts under 120p

Film Dry-Run Industry Report

Industry style coverage which precisely mirrors internal script assessment
For film scripts under 120p

TV Drama Analysis (+optional series bible)

5+ pages of detailed notes + large grid analysis
For TV scripts under 60p

TV Comedy Analysis (+optional series bible)

4+ pages of detailed notes + large grid analysis
For TV scripts under 30p
You can book any of these options here:
Which Logline? Service
Short Film Script Report
1st Act Analysis
TV & Film Treatment
Script Doctor's Assessment Fee
Script Proofing & Polishing
You can book any of these supporting services below:
Got questions about any of our script reader services?
Check out our detailed knowledge base and FAQ portal, here.
Who works with Industrial Scripts?
Our client base is broad, diverse and global.
Clients range from blue-chip, produced screenwriters; producers from the advertising sector looking to switch over to drama and comedy; busy directors who use us a sounding board; and new screenwriting talent aiming to hone their craft and build their portfolio of great scripts.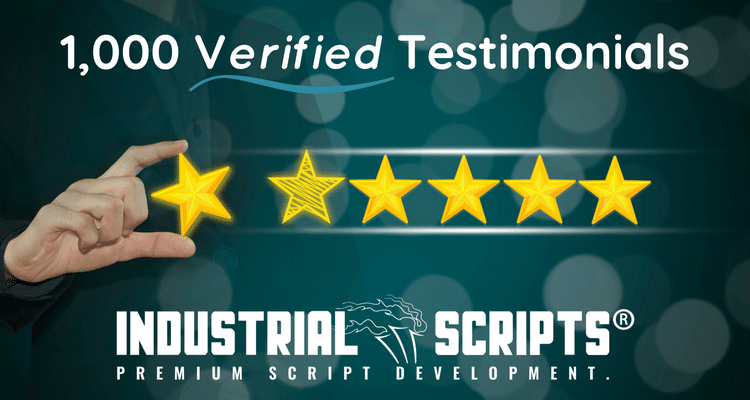 What qualifications do your Script Readers have?
We cherry-pick our script readers from referrals within the industry, and the considerable volume of CVs and script coverage examples we're sent. The truth is that innate talent goes a long way in script reading.
It can be taught, and all-round cine-literacy is very important for a script reader, but ultimately industry credentials talk. So whilst some script readers get by initially on nepotism, or good fortune, it's very tough – nay impossible – to retain many of the prestigious script reading jobs in the industry without having exceptional script reading skills.
It's these script readers that Industrial Scripts hires, and when you send your script to us you can be certain that your project is being analysed by a reader with pedigree.
I sent this certain script to three different script readers throughout the screenwriting world just to see if they would 'get' the ending and the analyst from Industrial Scripts was the only one who understood exactly what I was aiming for. – Robert Bridge, verified client review
I sent my screenplay to dozens of agents & production companies. When I did get a reply, it was often that they only deal with professional script reading services. Several mentioned Industrial Scripts. The cynic in me smelled a rat. And an empty wallet. But I took a look and spent an hour or two reading the Industrial Scripts website. I was persuaded by what I saw, the professionalism of the site and the reasonable fees. Off went my script and my money, half in hope, half in curiosity and expecting a two paragraph summary and a goodbye note. But not at all. In a fairly speedy turnaround, I received a very comprehensive and useful analysis of my work. Also, to my amazement, I got an Honorable Mention and free entry onto their Talent Connector programme. This meant my script would be submitted for me to a wide range of agents & production companies. Probably all those who had already given me the elbow. So – an excellent service that I will be using again. Well worth the money and highly recommended. – John A. Read, verified client review  

I'm unsure – which of your script reading services should I go for?
The best report for really getting down to the nitty gritty…
Film Forensic Notes. As the name suggests, this script report literally crawls through your screenplay with a fine-toothed comb, delivering over 14 pages of detailed script analysis (try reading that in one sitting), and an assessment grid (common in industry circles). This service delivers the most bang for your buck, and is for writers and filmmakers who really aren't messing around…
The best report for deciding which ideas to throw energy at…
Easy, our "Which Logline?" service, which does exactly what it says on the tin. You send us 10 of your best ideas, we read them and tell you which ones you should be ploughing all your energies into. It takes a long time to write an outstanding screenplay, and you just don't have time to develop everything you want to. So we consider this an incredibly valuable service, which can save you months and months of work, which might ultimately finish at a dead-end. "The talent is in the choices" as Robert DeNiro (before he sold out!) once said, and that's certainly the case with screenwriting. You cannot write everything that pops into your head, and you must give yourself the best shot by focussing only on the strongest loglines.
The best way to sit down in-person with a super-charged script reader for a day…
Our script editing 1-to-1 days involve one of our senior script readers analysing your script beforehand, and then jumping on a live Skype call to go through the script in great depth.
With 8 years of freelance script reading under my belt, I can happily confirm the script feedback identified the flab, fat & underplayed – equally so the lean, mean meaty bits. I agree with 95% of it too & 5% that doesn't chime is only because I need a 'straight man' amidst my funny 'filthy dirty gorgeous fantastic sexy action'! Verdict then? Write till you drop then submit for an Industrial Scripts report… – Elsa O'Toole, verified client review 
It is hard to put into words just how impressed I am. I received 9 pages of feedback on the screenplay I submitted. Accurate comments and points that not only pointed out what I needed to improve but also the strengths found with in my screenplay. They discussed everything from current expected audience, Art-house, to how it could, if desired, be honed to suit a more wide-spread audience. The writer of my report had also obviously spent a fair amount of time looking into similar movies as they made well informed comparisons. Delivered in a neither scathing nor overly gentle way the report leaves you with confidence in your screenplay but yet determined to improve it. I completely and totally recommend Industrial Scripts. They went above and beyond what I expected. – Hannah Bard, verified client review
How long will I have to wait for my script reader?
Our standard turnaround time on all script coverage is 14 days, but it's rare we take that long.
If you'd like to guarantee a quicker report, we offer various fast-turnaround services that can be bolted on to your order.
Being sceptical of most aspects of the literary 'industry' I approached Industrial Scripts with my 'scamdar' on max setting: I have to say that my fears were groundless! We received an extremely erudite, comprehensive and insightful report in less than one third of the suggested time scale. The feedback highlighted glaring omissions which we had failed to identify and then proceeded to offer viable alternatives. In short, an excellent service.