The TITAN Awards sponsor, Belu Water, gives 100% of its profits to the charity WaterAid to help transform lives worldwide with clean water. Belu works with the hotel, restaurant and catering sectors to fulfil the world's water requirements with the lowest carbon footprint possible.
2023 TITAN Screenwriting Contest Judges
Of the hundreds of screenwriting contests, some have truly close ties to main industry.
But there aren't many of them.
We established The TITAN Screenwriting Contest in early 2021 to combat this problem, and to discover and champion screenwriters, delivering their projects to people with the clout to deliver proper traction.
The contest runs annually, and only runs at all if genuinely heavyweight industry judges stand behind it.
Previous TITANS & 2023 Senior Industry Judging Panel
In addition to the three primary judges above, our screenwriting contest is also adjudicated by and affiliated to an impressive list of high-level industry personnel, consisting of agents, executives, managers, directors, producers and former "titans". These individuals may also read and vote on the winning screenplays: their votes can support those cast by our three primary judges.
Click each judge's headshot to learn more about them, or who they work for.
FAIR USE Disclaimer: the posters and trailers on this page are the copyright of their respective owners and used here for the purposes of comment and news reporting, as well as being representative of a simple statement of fact (our contest judges produced these works, indisputably, and this is the visual evidence). Wherever possible, links have been added to e-commerce revenue sites most likely to result in a purchase of the copyrighted work. The use of these materials falls under the guidelines of fair use as provided for in Section 107 of the US copyright act.
The TITAN: Contest Dates
The TITAN Awards runs annually, and is open for entries through to late June.
You can enter multiple projects in any conventional film or TV category (see below) and in a number of genre-based categories.
Here are the entry dates >>
2023 Entry Dates
CONTEST Opens – 1 March 2023
EARLY Deadline – 31 March 2023
REGULAR Deadline – 31 May 2023
FINAL Deadline – 30 June 2023
Please note all deadlines are at Midnight, PST (Pacific Standard Time)
2023 Announcement Dates
Quarter-Finalists Announced – 31 August 2023
Semi-Finalists Announced – 30 September 2023
Finalists/Category Winners Announced – 31 October 2023
GRAND FINAL WINNERS Announced – 17 November 2023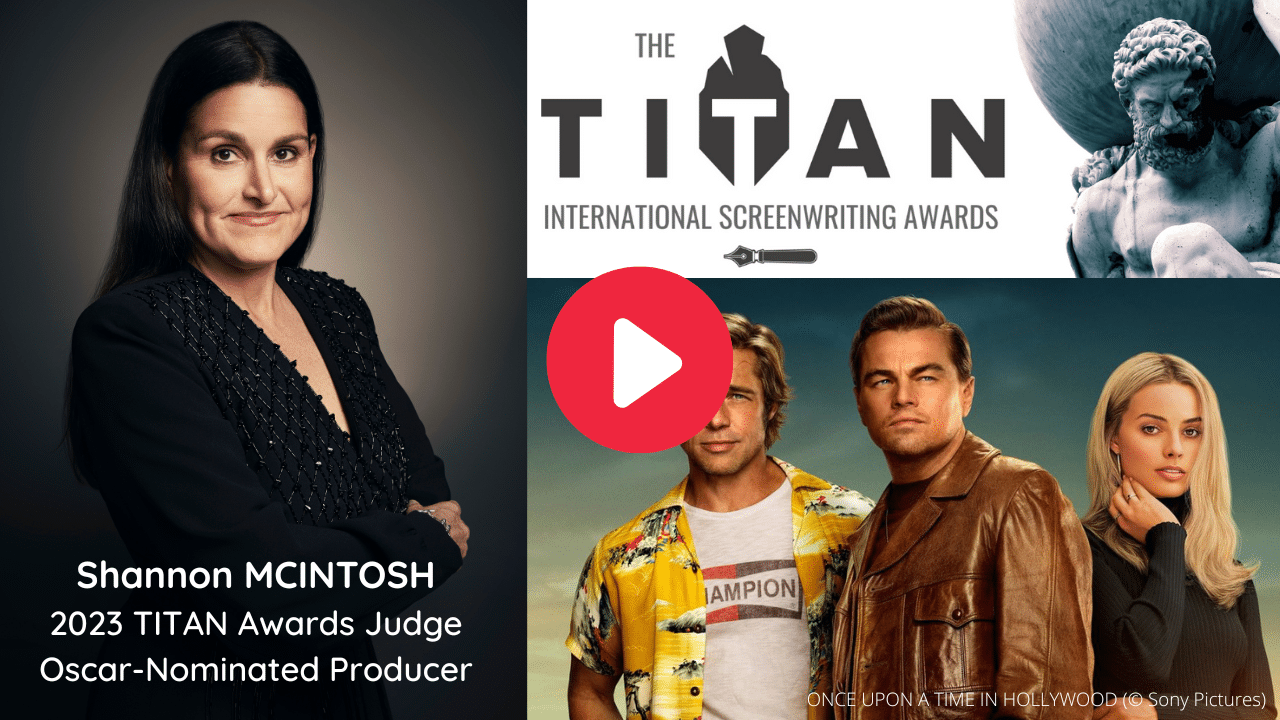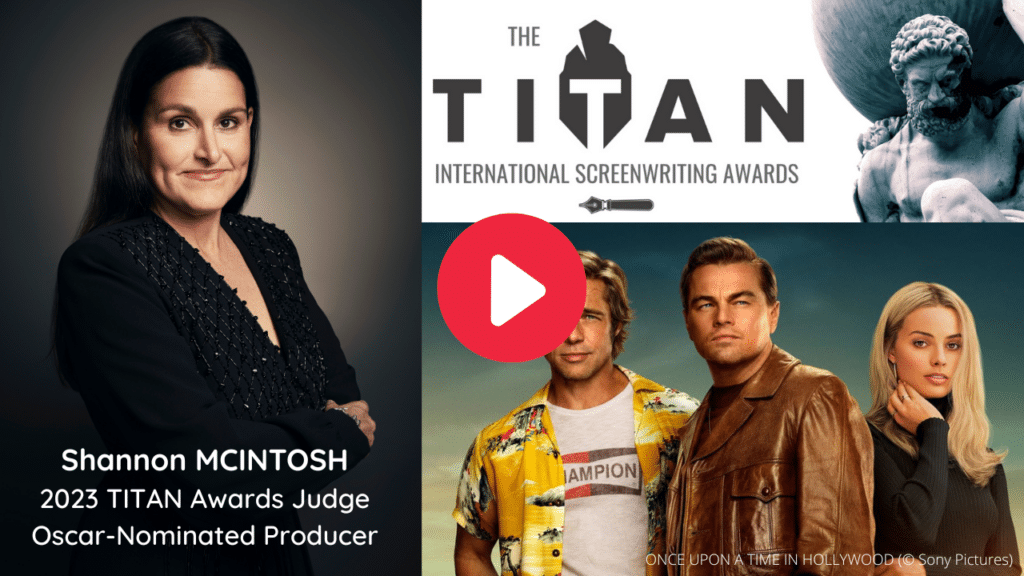 Choose Your Entry Type
Industrial Scripts has been providing world-class script coverage since 2010, but this is our first screenplay competition. Easily attach one of the best script notes services in the industry to your contest entry at checkout.
And note that rather than promising vague "page length" feedback, we instead guarantee minimum word counts.
No padding, no fluff, just insightful, thoughtful, actionable feedback.
Standard ENTRY
Standard Entry.
Prices below display the "Regular" entry fee.
Feature (120p) – $69.00
TV Pilot (60p) – $69.00
TV Pilot + Series Bible (60p + 40p) – $69.00
TV Series Bible (40p) – $59.00
Short Film Script (20p) – $59.00
TV or Film Pitch (1p) – $29.00
Entry 1,000 🔍
Entry+ delivers a minimum of 1,000 words of expert feedback as well as a scoring grid, for $120 extra.
Feature (120p) – $194.00
TV Pilot (60p) – $194.00
TV Pilot + Series Bible (60p + 40p) – $194.00
TV Series Bible (40p) – $184.00
Short Film (20p) – $184.00
TV or Film Pitch (1p) – not available
Why Enter?
All entrants to The TITAN Screenwriting Contest compete to win the following…
> Rare Access to Senior Industry Judges
> Suite of FREE screenwriting study guides and whitepapers
> Possible inclusion in Coverfly Discovery Platform & Red List
> Your Script Marketed to Our Vast Industry Roster
> Script Development Support for 1-Year Post Contest
> Industry-leading script notes (extra fee)
> Marketing Tools for 1-Year Post Contest
> Over $30,000 in prize money and in-kind career benefits
> Dedicated post-Contest Career Development Benefits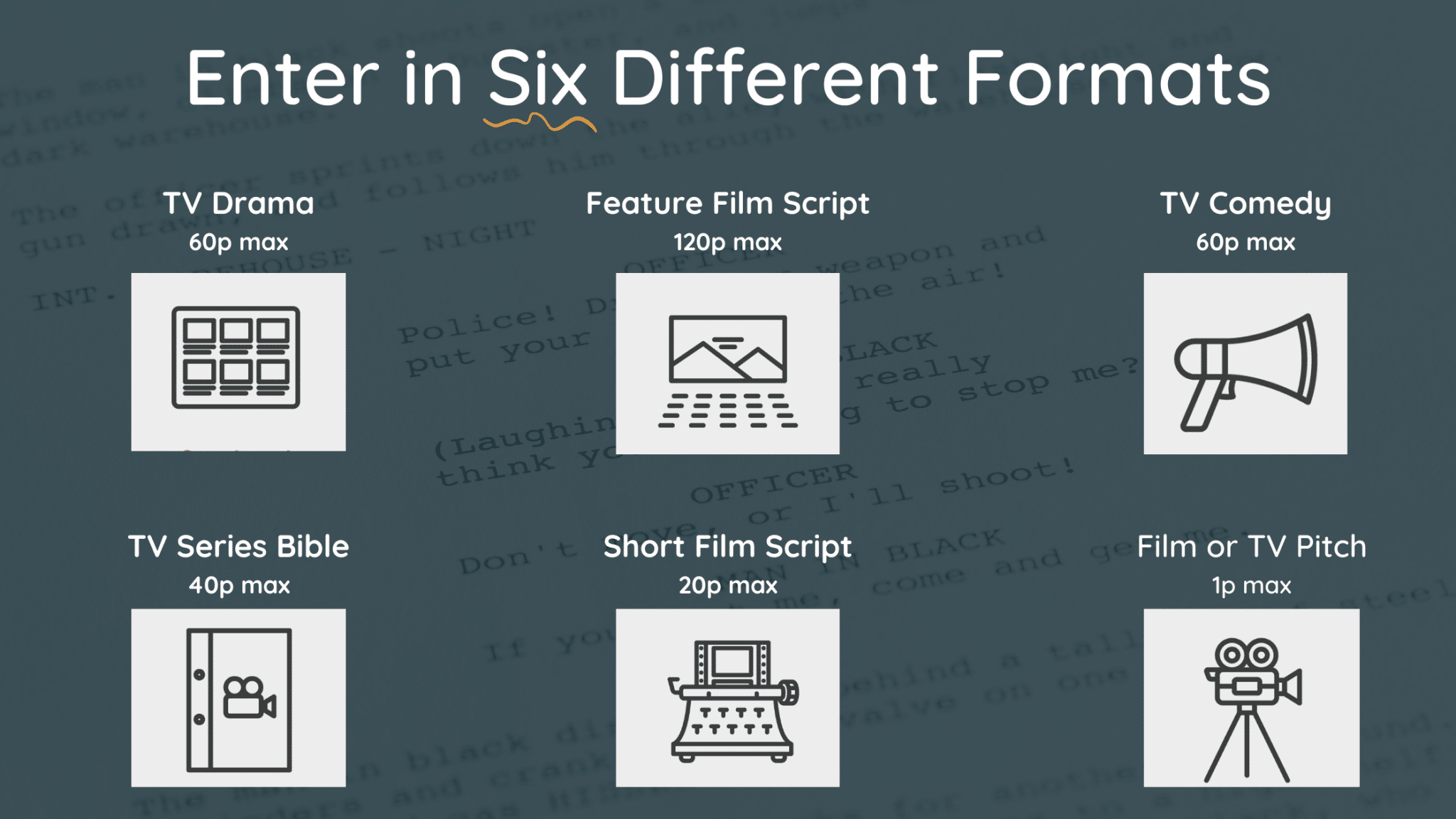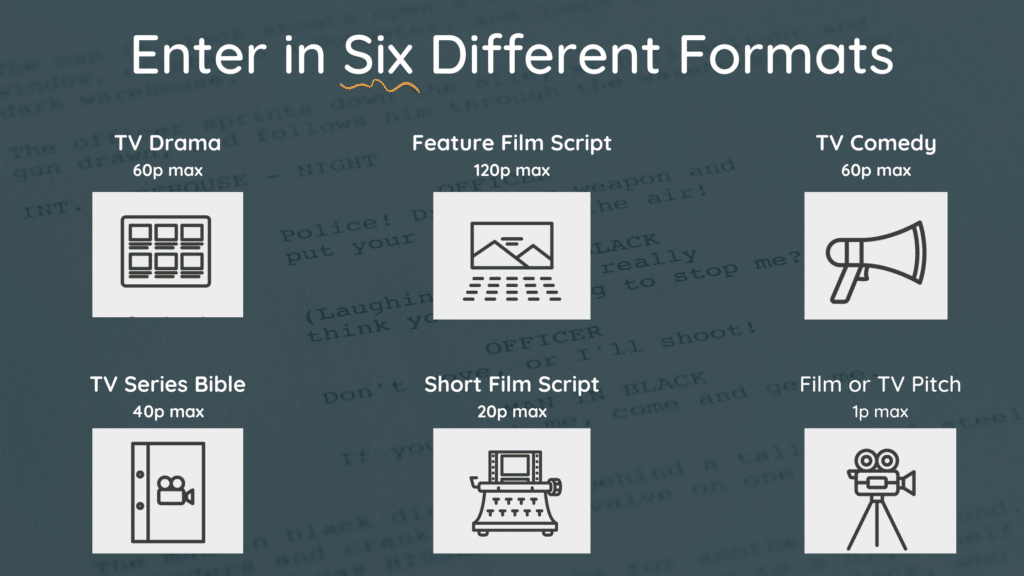 Our Screenwriting Contest Categories
In order to ensure that fair and reasonable consideration is given to all screenplays entered, The TITAN Screenwriting Contest has multiple categories (incl formats) for writers to enter in.
It's vitally important that projects are assessed on their own merits and compete against their own "kind".
Resultingly, the contest has 5 feature film genre categories and 2 television categories, in addition to the other formats.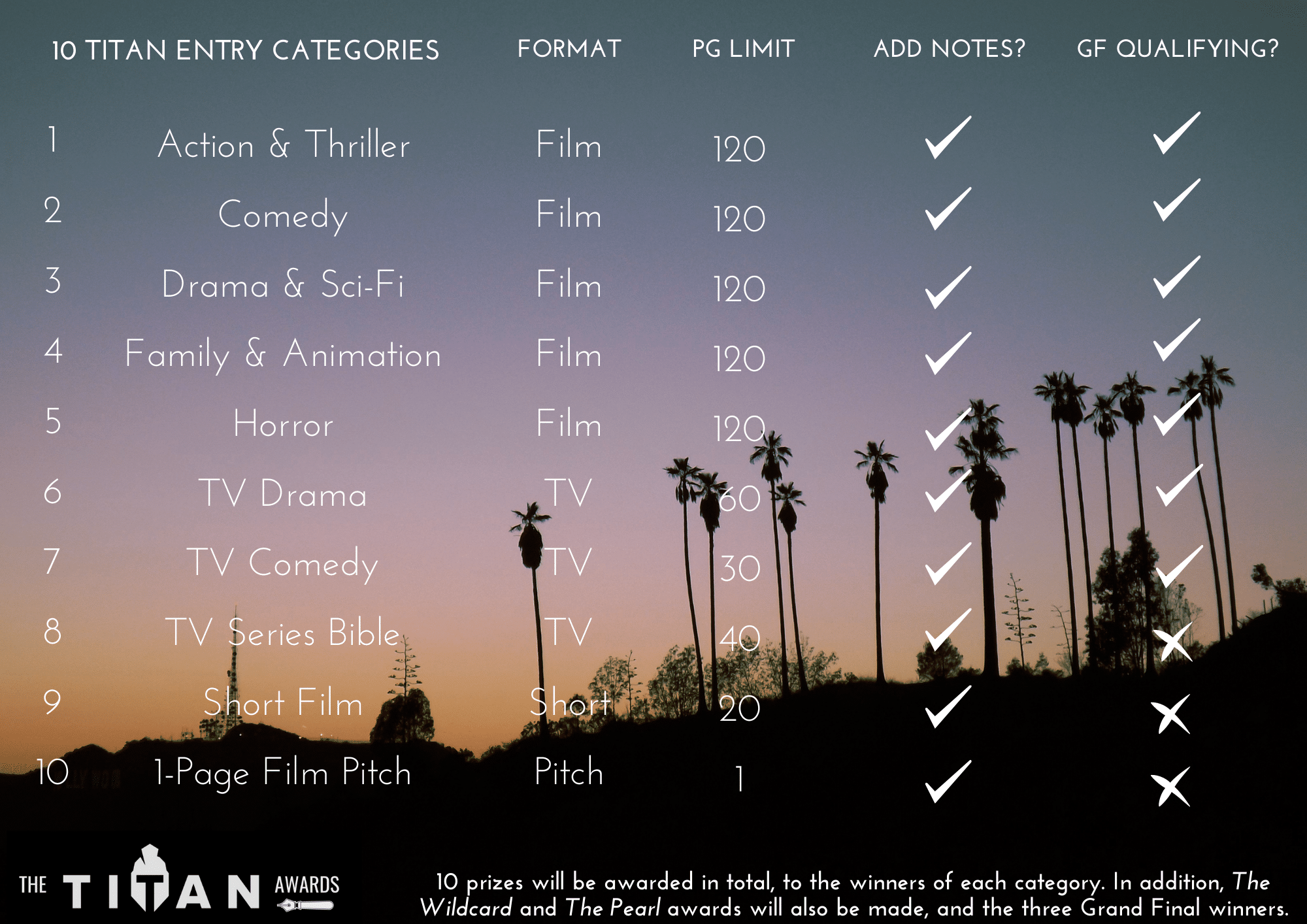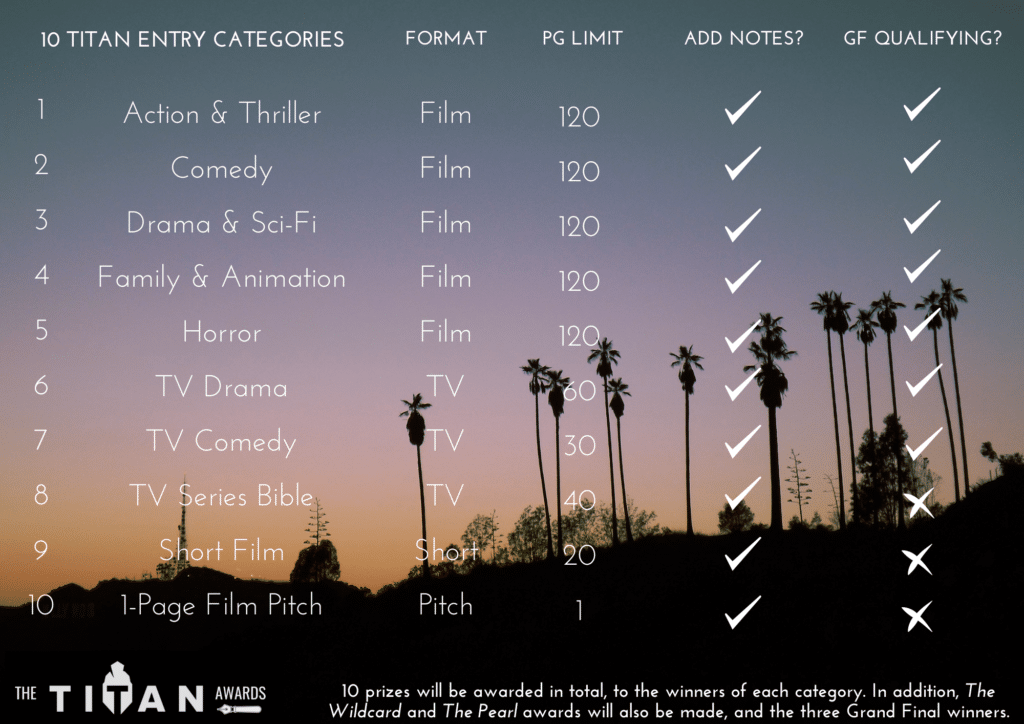 You may enter your script in whichever category or categories you choose.
The price of the first category is included in your entry fee, and if your script fits more than one genre, you may enter it in more than one category for an additional charge..
Enter your project in any – or many – of these contest categories and formats:
Grand Final Prizes
The TITAN Screenwriting Contest will recognise all individual winners of their respective categories (see below).
Then, in the Final Round of competition, from all of the Finalists in all screenplay-based categories, the Judges will select our three Grand Final Winners.
These three outright winners will then be personally read and ranked by "The Titans", who will exclusively determine their overall Gold-Silver-Bronze ranking.
The three winning writers will receive….
SILVER Winner 🥈
Our silver prize winner across all categories, decided by The Titans
All 3 Titans read your work personally
3 x private virtual lunches with each TITAN individually
Our Senior Industry Judging Panel read your work personally
12 months of IS career coaching via regular 7hr one-on-one sessions*
Script distribution to the IS industry roster
12 month subscription to RocketReach contacts database
12 month subscription to IMDBPro
Headline mention in official IS winners press release
Lifetime access to all IS online courses
Unlimited 75% off IS script coverage services for 12 months
Everything included in the category winners' pack
$2,000.00 cash
GOLD Winner 🥇
Our gold prize winner across all categories, decided by The Titans.
All 3 Titans read your work personally
3 x private virtual lunches with each TITAN individually
Our Senior Industry Judging Panel read your work personally
12 months of IS career coaching via regular 7hr one-on-one sessions*
Script distribution to the IS industry roster
12 month subscription to RocketReach contacts database
12 month subscription to IMDBPro
Headline mention in official IS winners industry press release
Lifetime access to all IS online courses
Unlimited 75% off IS script coverage services for 12 months
Everything included in the category winners' pack
$5,000.00 cash
BRONZE Winner 🥉
Our bronze prize winner across all categories, decided by The Titans
All 3 Titans read your work personally
3 x private virtual lunches with each TITAN individually
Our Senior Industry Judging Panel read your work personally
12 months of IS pro career coaching via regular 7hr one-on-one sessions*
Script distribution to the IS industry roster
12 month subscription to RocketReach contacts database
12 month subscription to IMDBPro
Headline mention in official IS winners industry press release
Lifetime access to all IS online courses
Unlimited 75% off IS script coverage services for 12 months
Everything included in the category winners' pack
$1,000.00 cash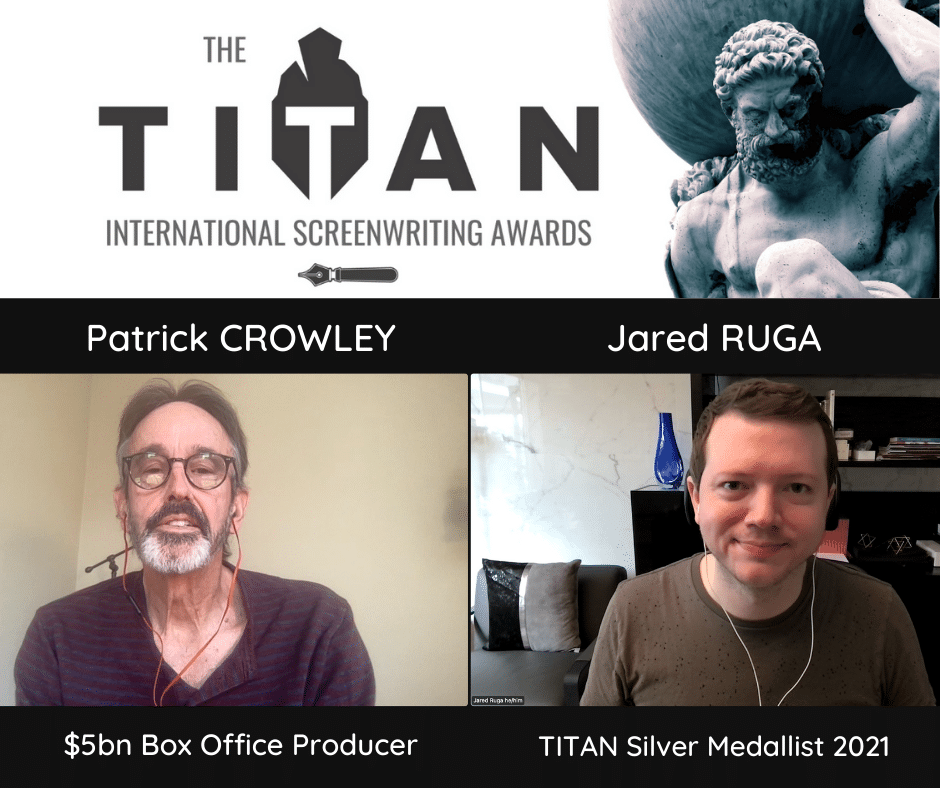 Grand Final Winner Prizes
In addition to the self-explanatory exposure, connections and cash rewards mentioned above, our three Grand Final Winners will also receive significant unquantifiable benefits, as follows: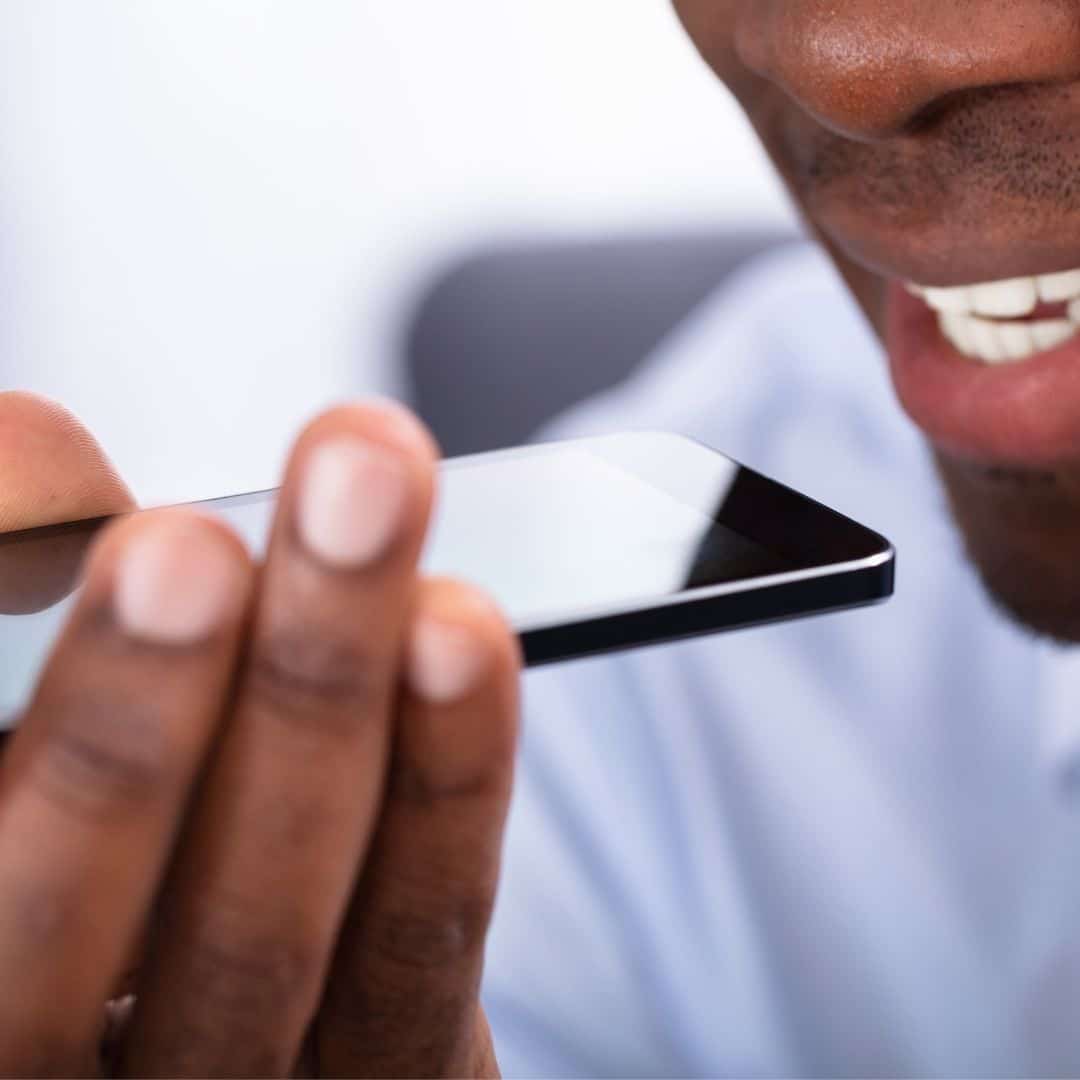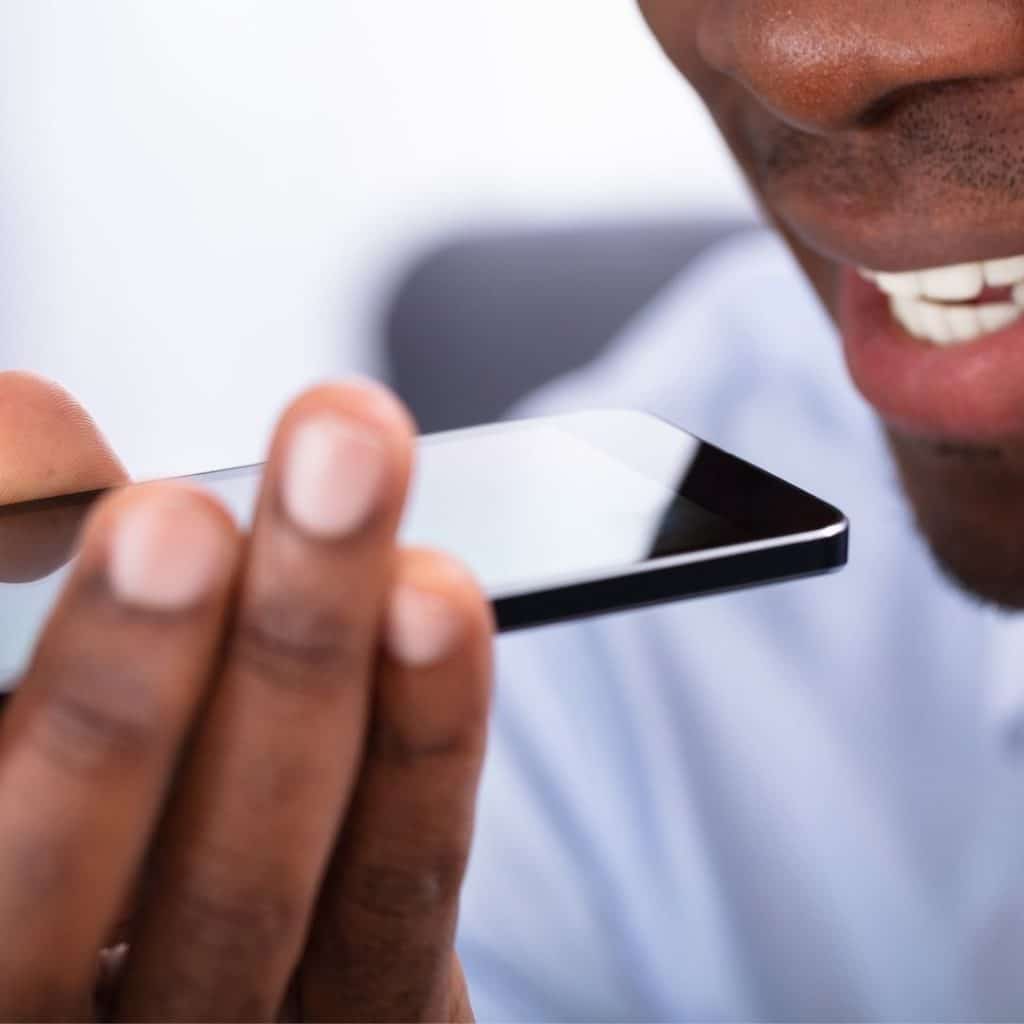 12 Months of RocketReach and IMDBPro
RocketReach and IMDbPro are industry-leading contacts tools, enabling contest winners to isolate producers, managers, agents and other industry personnel and email them directly. These tools are continuously updated by their makers, and have been personally tested by IS staff. You can curate and build your own lists of targets, zero in on producers by genre, and then direct your interest towards this target or that target. This benefit brings a huge boost to winners' contacts databases and enables them to hustle far more effectively for reads, particular from those elusive, "lone wolf" producers.
12 Months of Dedicated IS Script Coaching Support
The project you win The TITAN with is highly unlikely to be the only project on your agenda. And developing your craft in the long-term is a major priority for us. So, you'll begin developing your next project with us. But this time, it won't be in a vacuum, instead you'll be assigned one of our world-class script consultants who'll spend one full day with you, every quarter. They'll read the latest draft in advance, goal set with you, check in on you via email and generally ensure you produce another superb screenplay in the year that follows your win.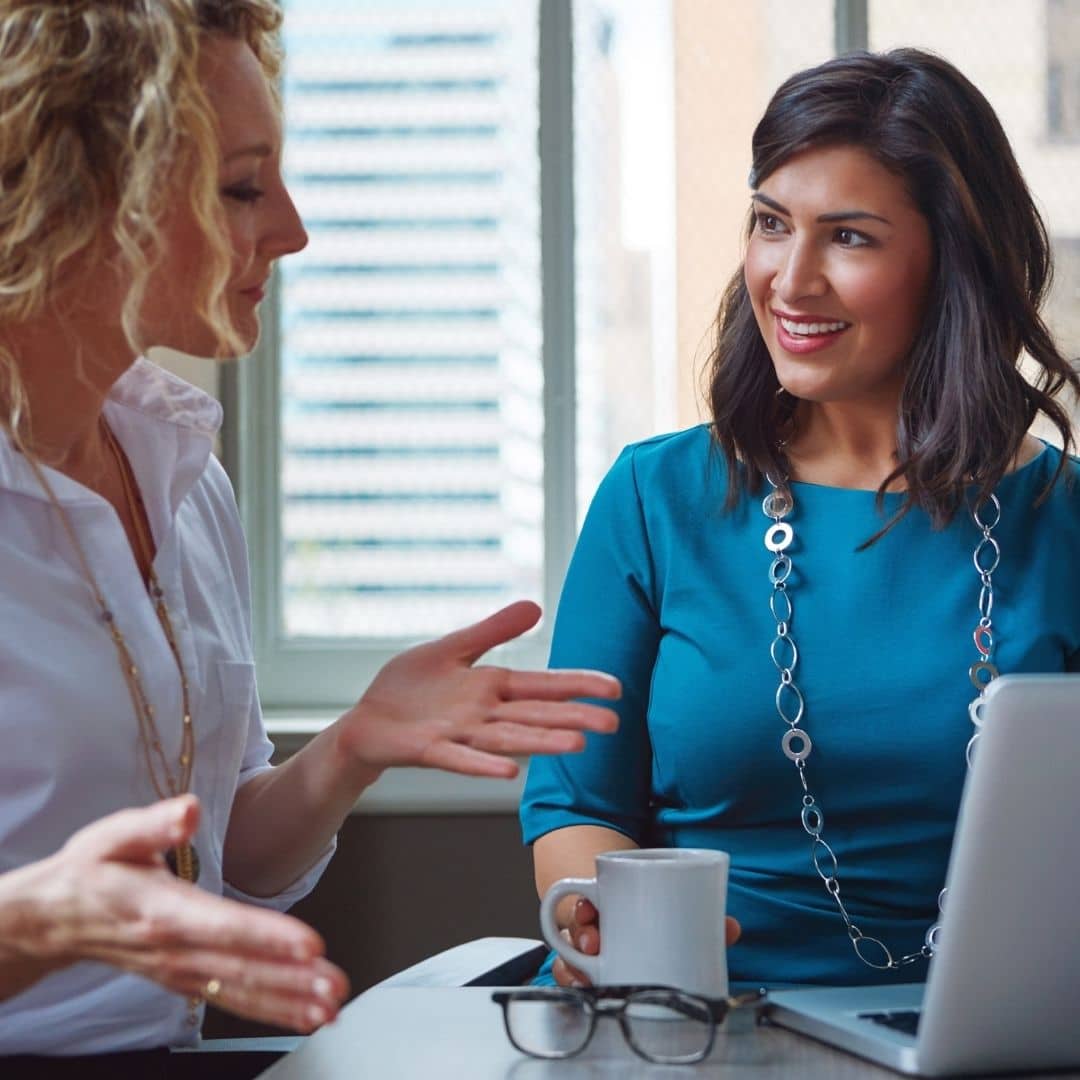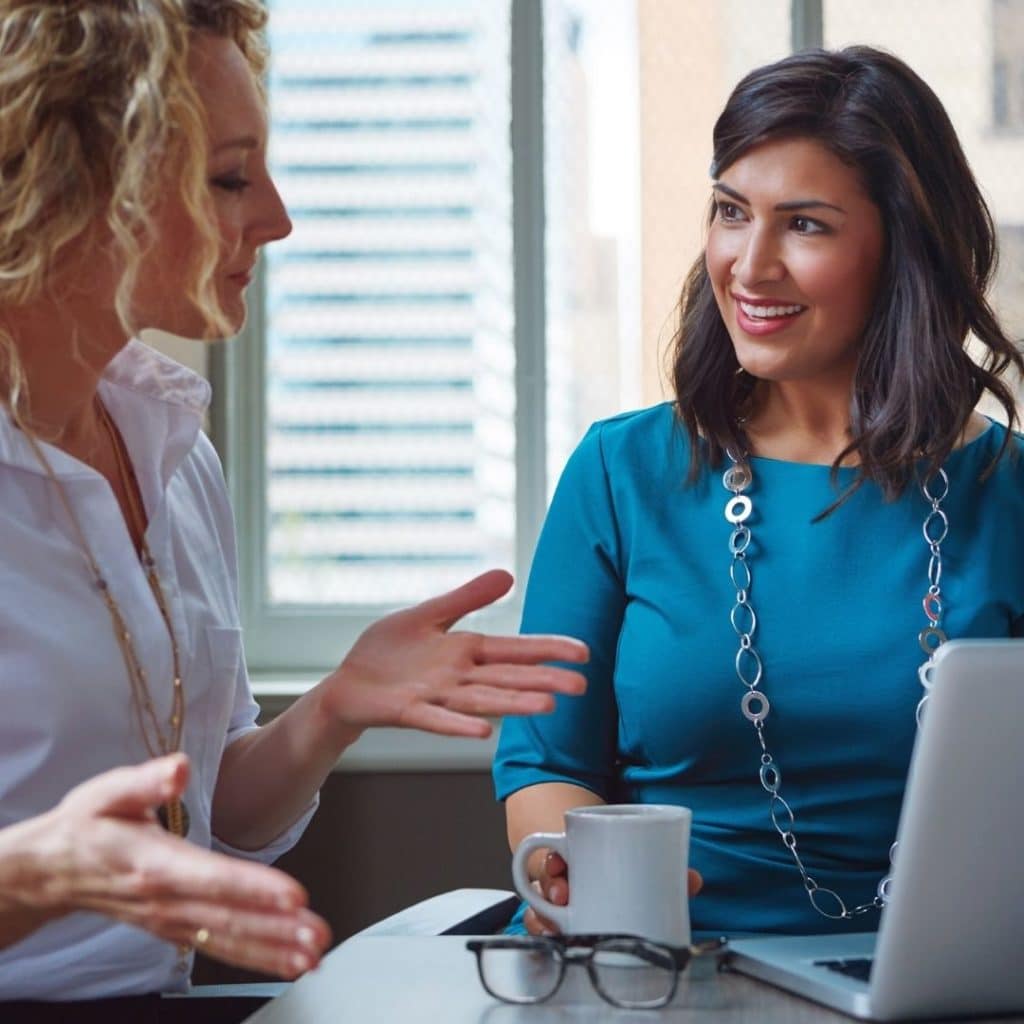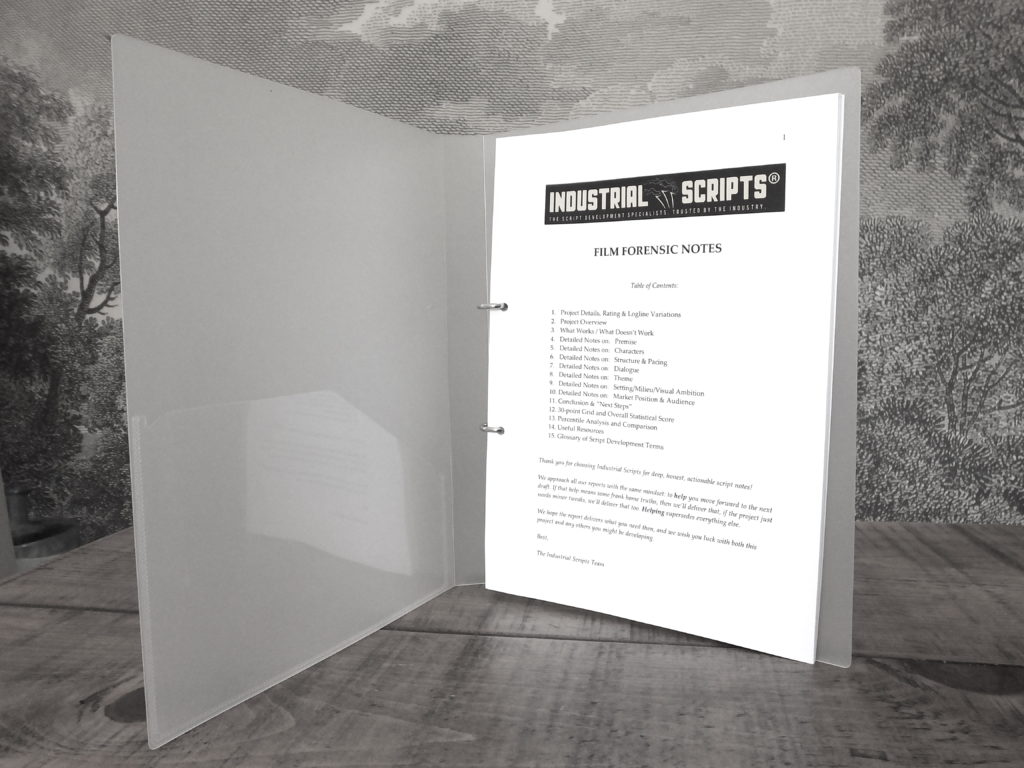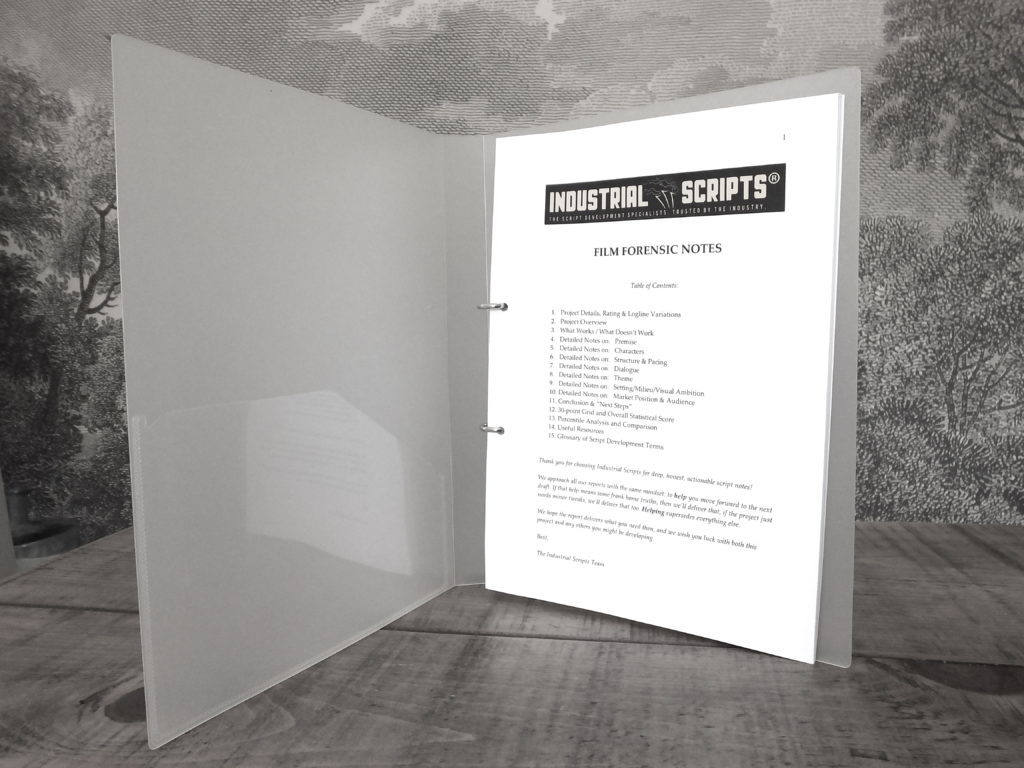 Unlimited 75% Off IS Script Coverage
Via a discount code absolutely unique to you, you'll be able to access the world's leading script coverage service at a fraction of the standard price. You can stress-test loglines and access enormous, deep-dive script notes. You can submit pitches, series bibles, pilots and treatments. And there's no cap on the usage. It's best-in-class script development….at bargain bin prices.
Personal Script Notes from the Highest Level of The Industry
The outright winners of The TITAN also "game" the industry system and bypass or circumnavigate layers and layers of assistants and creative executives to receive personal time and attention from very high level industry figures. Past winners have described these sessions as absolutely invaluable, particularly in terms of the script notes they've received from The TITANs on their winning screenplays. Also, simply hanging out and spending informal time with the TITANS has proved to be an elixir for previous TITAN winners.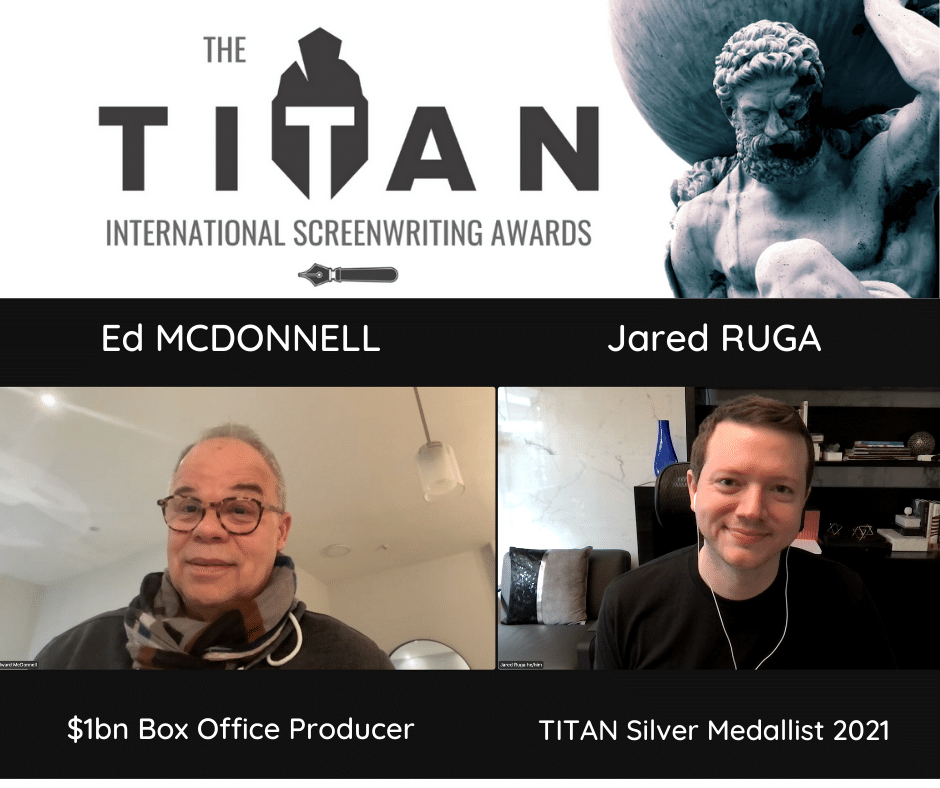 What are 'The Pearl' and 'The Wildcard' Awards?
In addition to the format/genre categories above, and the three outright Grand Final contest winners, The TITAN will also recognise two more outstanding screenplays and writers, as follows…
THE PEARL AWARD >>
is awarded to the best script that heavily features BAME, LGBTQ and diverse characters, themes and storytelling. The award is discretionary and can be made across any of our categories, submission formats or genres.
However to be eligible for The Pearl, projects must feature outstanding screenwriting and be significantly diverse. Particular weight will be given to projects featuring BAME and LGBTQ characters, and eligibility is not limited to writers from these backgrounds.
If a film or TV project is indisputably diverse, but the writer is not, the project remains eligible.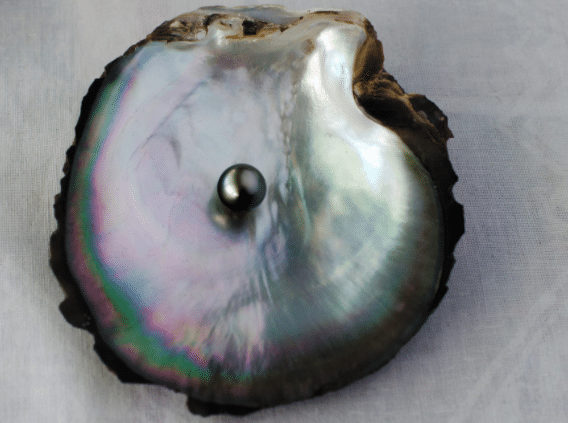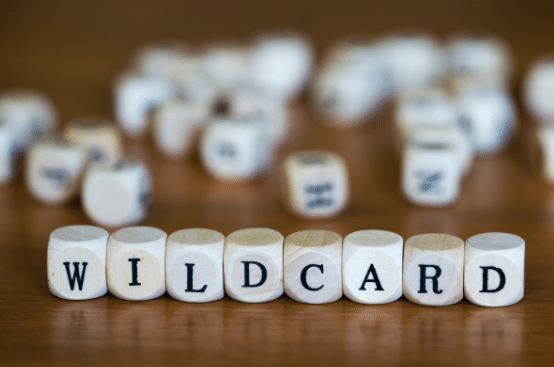 THE WILDCARD AWARD >>
is intended to locate and champion a screenwriter who is perhaps some considerable way from the finished article, but displays tremendous natural talent.
The award seeks out writers with huge growth within them, who are currently only tapping a fraction of their potential.
Our readers are on the strict lookout for talented individuals who particularly excel in the so-called "un-coachable" areas of screenwriting: unique character creation; original dialogue delivery; and innovative plotting, to name but three.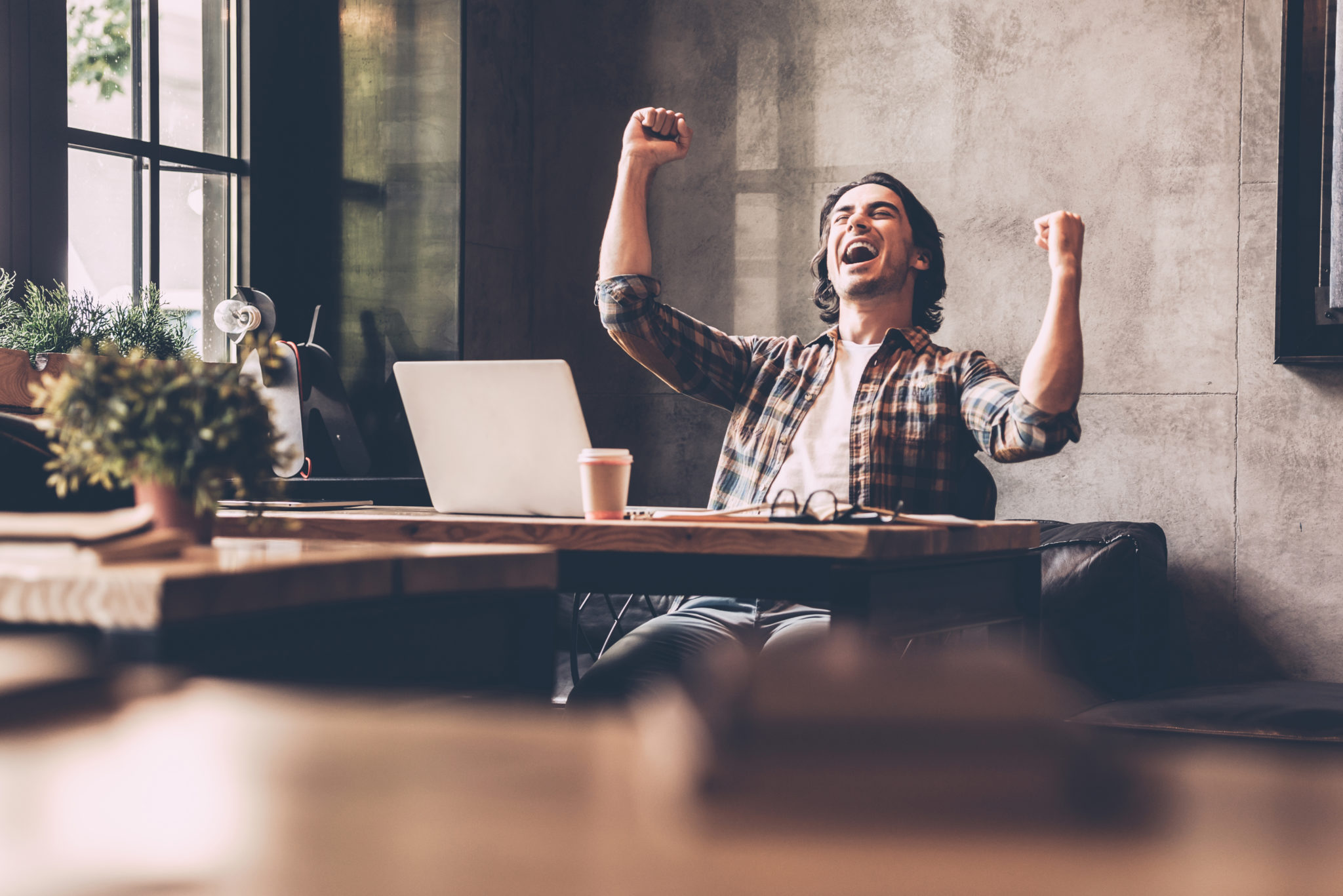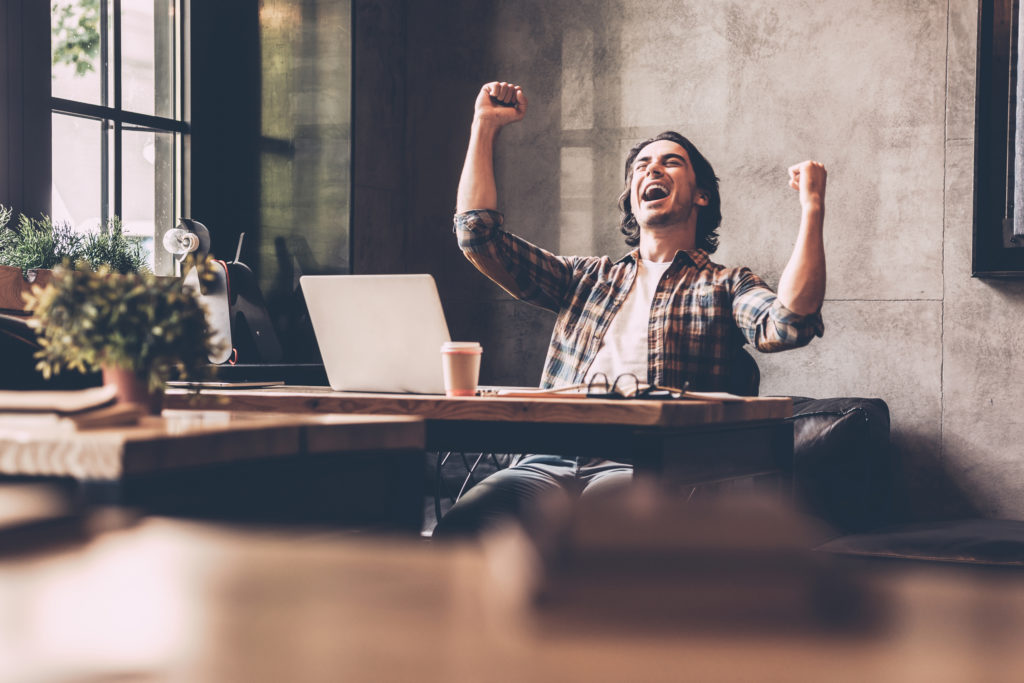 What do the Category Winners receive?
In addition to our overall Grand Final winners, those triumphant in each of our individual contest categories (and The Pearl and The Wildcard) will be announced and receive prizes.
These winners will all receive:
Your project announced in all contest press releases
FREE copy of Final Draft screenwriting software
FREE 1,000+ PDF Produced Screenplays Suite
FREE lifetime access to all IS online courses ($3,000+ value)
FREE copy of Arc Studio Pro screenwriting software
Consultation call with pro script consultant
1-Year Unlimited Use 75% Off Script Coverage Coupon
Script marketing to our entire industry network
Possible inclusion in Coverfly's database, The Red List
Script Marketing to our Industry Roster
In business since 2010, Industrial Scripts now has an extensive network of literary managers, agents, executives, and producers who look to us for promising scripts and writers.
All scripts from the Category Winners stage will be marketed to our Industry Roster, which includes some of the companies below, and many more.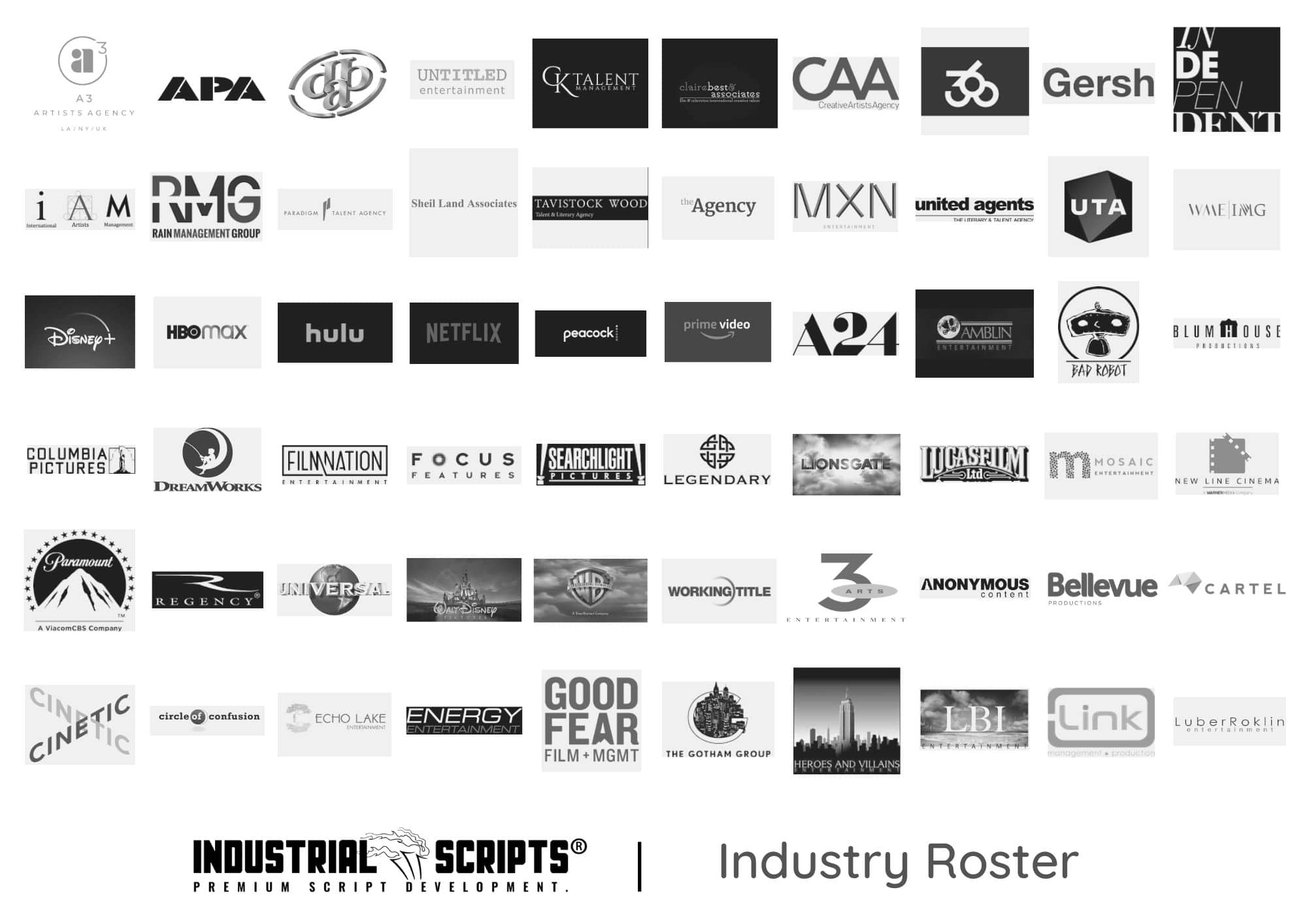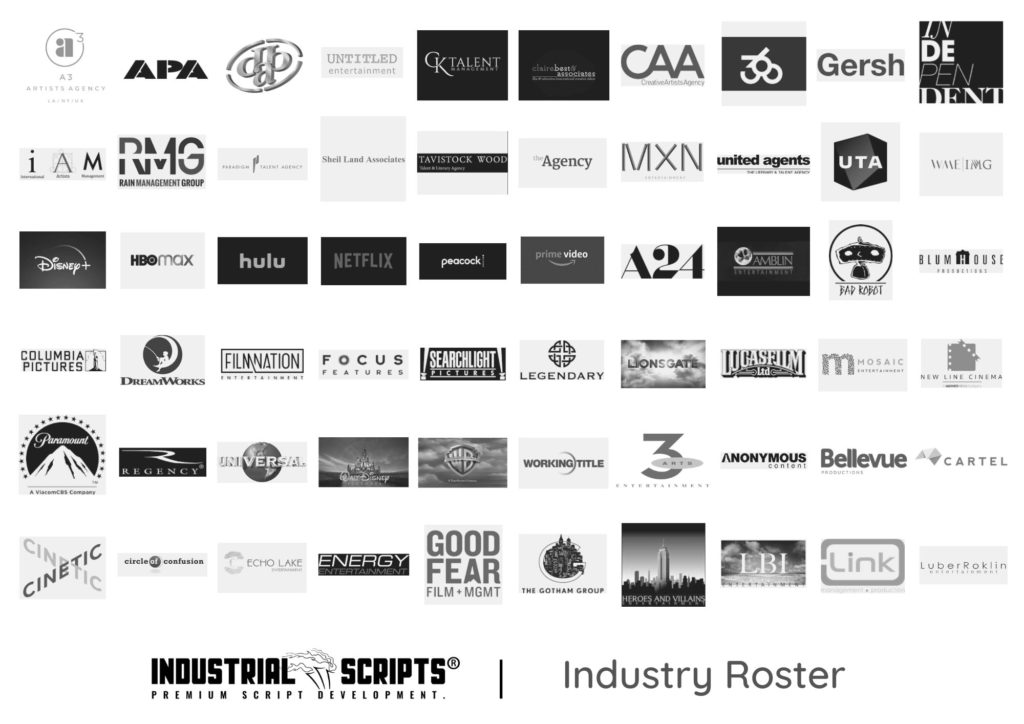 Evaluation Process & Judging Procedure
The TITAN Screenplay Contest is judged by working, professional script readers.
After more than a decade as one of the most popular script coverage companies around…
….we know how to spot an outstanding reader.
We filter our entries by Quarter-Finalist, Semi-Finalist, Finalist/Category Winner and Grand Final-winning projects. In the final reckoning the three best screenplays across film and TV are submitted to our "titans" of industry for consideration.
You can easily view lists of previous quarter-finalists, semi-finalists, finalists and overall winners here.
The order of merit and the Gold-Silver-Bronze final contest positions are then exclusively determined by the Titans.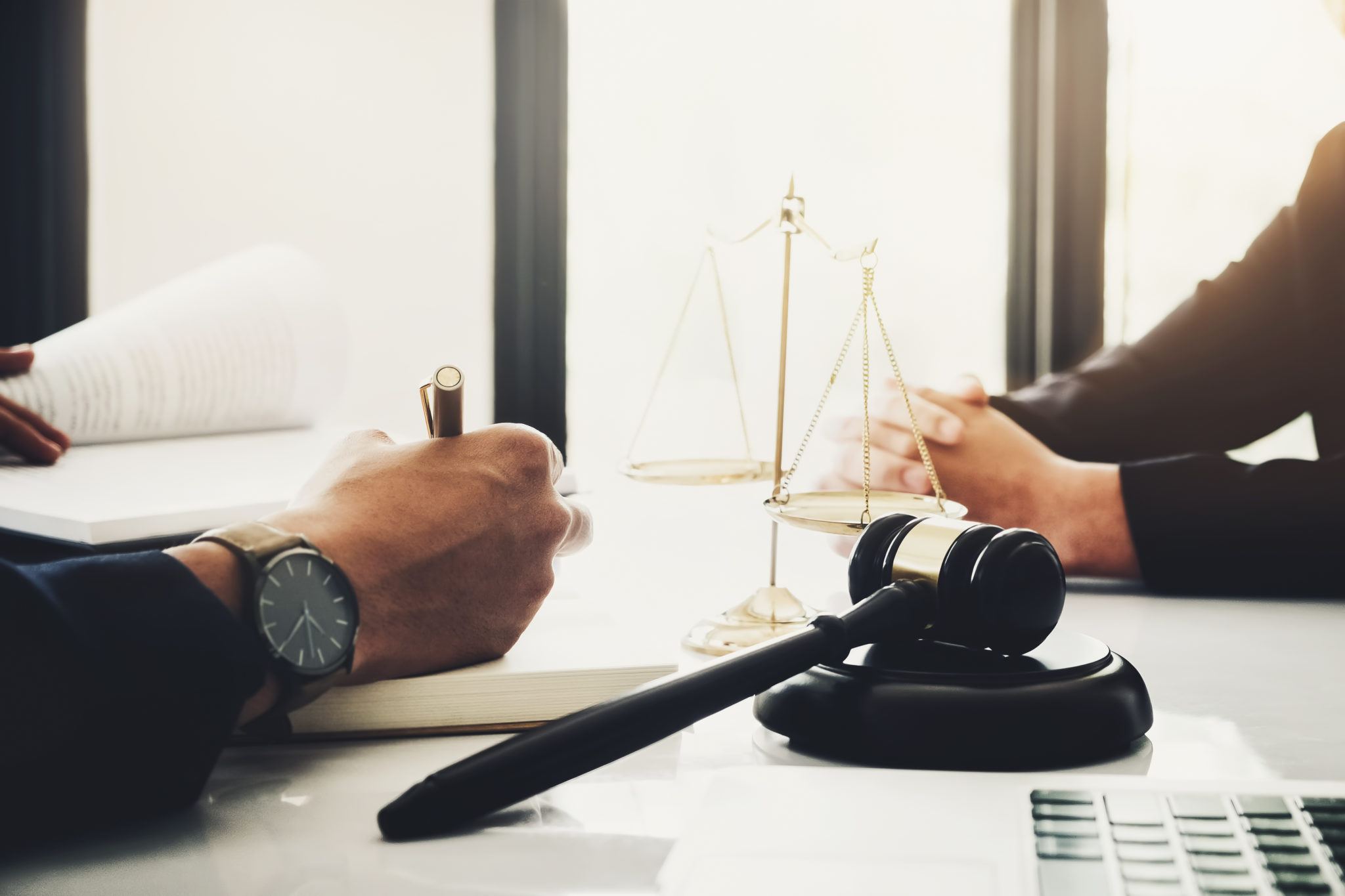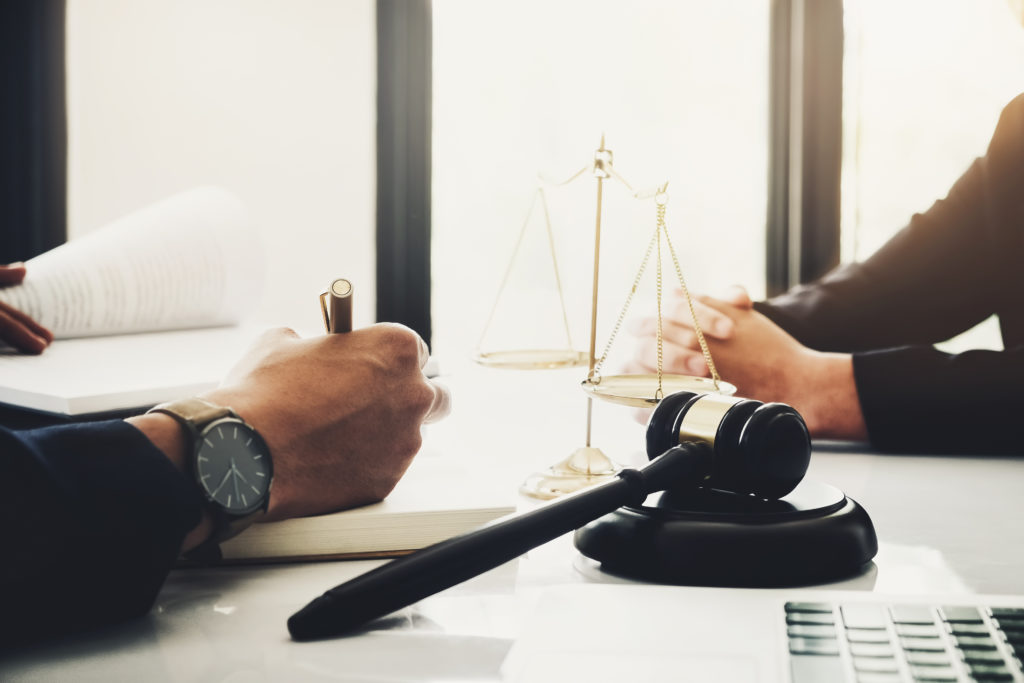 Contest Evaluation Process
We strongly encourage all entrants to remove the title/contact page on their projects prior to entry (if you submit directly via Coverfly, this will be automatically done for you).
It's vitally important that your project be judged anonymously thereby removing any possibility of bias. After we've received it, we then assign your project to our trusted script readers, who'll assess the project using the Judging criteria below.
Preliminary Rounds
In the initial two rounds of screenwriting competition, entries are evaluated by professional script readers, all of whom have been vetted by Industrial Scripts. Scripts that receive a strong score from their initial Judge are then assessed by a second Judge, and the combined scores of these two Judges influences which scripts will advance. In addition, our "Wildcard" Programme is in force throughout the competition – this initiative specifically seeks out diamonds in the rough, or writers with that intangible "x factor". These writers may not be the finished article by any means, but it's one of the stated goals of the contest to uncover them. Wildcards are still eligible to move forward in the contest, even if their scores are low.
Semi-Final Round
Projects that advance to the Semi-Final Round of our screenplay contest are then evaluated by senior Industrial Scripts script consultants and spot-checked by a select group of industry personnel. The combined scores of the Judges from the Preliminary and Semi-Final Rounds decide which projects advance. The Semi-Finalists are announced on our website.
Category Winners Round
Thirteen projects (one representing each genre category and format) reach the Category Winners round. The thirteen Category Winners are announced on our website. At this point, only full screenplays advance to the Grand Final round. Senior Industrial Scripts consultants assess these nine screenplays, which are then filtered down to just three screenplays in the Grand-Final round. These three Grand Final-winning scripts are then released to be assessed by our industry judges, who ultimately decide the order of merit.
Grand-Final Winners & "Titan" Round
In the Grand-Final round, our three industry judges read the three winning screenplays and determine, individually and separate from one another, an order of merit (Gold, Silver, Bronze). These three sets of rankings are then accumulated by Industrial Scripts, and the project with the lowest aggregate placing, wins. In the event of a draw the judges will come to a final consensus. The overall Gold-Silver-Bronze winners are then announced via a press release (along with The Wildcard and The Pearl award winners) and on the IS website and social channels, and the benefits begin to kick in soon afterwards…
Judging Criteria
All entries submitted are assessed on a 10-point scale.
The judges assign numeric scores for each of the following elements.
Premise
The project's foundation. Its "bricks and mortar". Is this, frankly, just a good idea for a show or movie? (or not?)
Characterisation
Is this character just an archetype (grizzled male action hero; ruthless businesswoman), or are they a unique, nuanced creation? Are the characters sufficiently different from one another? Do they have clear, separate motivations, voices, mannerisms and so on? Or do they all sound like the writer? Do they have both light and shade in them? And other such pressing questions.
Structure
How effective is the script's act structure? Is there a sense of cause and effect from scene to scene? How effectively are scenes constructed? Does each beat serve to lead us to a clear point of resolution? Or does the scene feel drawn out and aimless? How cleverly is the script constructed? Does the structure serve a clear purpose to the story or the perspective from which it's told?
Plot
How original is the storytelling itself? Does the script avoid well-worn story beats or lines of dialogue? If it's a genre piece, does it manage to slot in to said genre without falling back on tired old tropes?
Theme
Does the script's core message/theme feel like something that hasn't been fully explored before? Or are we reiterating that 'if you believe in yourself you can accomplish anything'? Does the script have something complex to say about its core theme? How clearly is the script's central theme conveyed? Is it clearly represented in each character and the broader course of events?
Pacing
The flow of the overall story. Do action scenes as written convey a sense of speed or urgency? Do slower sections work effectively to build tension, or do they drag? Does the speed and flow of the narrative fit with the premise/story itself?
Dialogue
Does the dialogue sound believable? Or is it too obviously a vessel through which to convey story information? Is the dialogue concise? Does it avoid clunky, drawn-out exposition and clearly articulate the intended dramatic/character point. Do the characters have a clear voice, as distinct from the work of other writers? Within the script itself, is dialogue sufficiently varied to reflect shifts in emotion or the voices of distinct characters?
Style & Tone
How polished is the scene description? Is it snappy and evocative? Does the script veer around tonally, and not in a good way? Is it bizarrely uneven? Is the project's mood and cinematic quality in sync with its genre? Does the script display a keen understanding of the visual medium? Is information conveyed to the audience in a visually arresting way? Does that style feel integrated or gimmicky?
Market Potential
How well does the script fit into the marketplace? Does it exist in a genre likely to attract an audience? Do the concept and characters have demographic appeal? How well is the script likely to perform in the marketplace? Does it do what it says on the tin? Will it satisfy those for whom it's intended?
Spelling, Grammar, Presentation
At least in terms of presentation, is this project market-ready? Has a spell-checker been used, probably more than once in the process? When that character experienced a sudden name change, were all other iterations of his name changed too? Generally, is this a pleasurable, smooth, uninterrupted read? Does the script subscribe to industry standard screenplay format?
Based on the project's numerical score against the criteria listed above, it either advances to the next round, or not.
Our Screenwriting Contest FAQs
What makes The TITAN Screenwriting Contest different?
The problem with many a screenwriting competition is that, fundamentally, they're run by people right on the very periphery of the industry. Equally, the judges of many contests lack serious industry credentials. The TITAN Screenplay Contest is distinct in that it only runs if really significant industry judges commit publicly to acting as judges. This preserves the integrity of the prize, ensures it remains both at the epicentre of the industry (rather than lurking on the fringes of it) and one of the best, as well as absolutely maximizing the benefits of winning. If the IS name and industry relationships cannot secure serious heavy-hitters, then the contest does not run. Simple.
Are screenwriting contests worth it?
The best contests are, unquestionably, worth it. Winning or ranking highly in those contests is a very public rubber stamp of excellence for a screenwriter's resume, and is critical in terms of securing precious read requests from extremely busy agents and managers. That being said, only 5-10 contests (of which The TITAN Awards are one) carry any weight in the industry, despite hundreds being technically active.

Why is this? Well, the best screenwriting contests provide a real connection between writers and the industry. In theory anyone can do a call-out for screenplays and call themselves a screenplay competition. But the screenwriting contests that carry actual weight are those that have a connection with industry professionals, as their foundation.
What are the best screenwriting contests?
It's a short list, and of the hundreds out there on the internet the vast majority are not able to deliver significant traction and are not able to secure significant industry names to publicly back them. In our opinion the screenwriting contests most likely to carry weight in the industry are: The Academy Nicholl Fellowship, The Austin Film Festival, The PAGE Awards, Final Draft's Big Break, Script Pipeline and a handful of others. We advise writers to tread really carefully out there because if you're not careful, your entry fee will simply be funding someone who is barely on the periphery of the industry.
How does the judging process work?
The judging process and rounds are explained in detail above.
If I purchase script notes with my submission, when would I receive these?
All submissions which include bolt-on feedback will receive their feedback at the same time as the Quarter-Finalists are announced.
Can I win one of the three Grand Final spots with a short, treatment, series bible or pitch?
Non-screenplays (ie. any material which is not a feature film, a TV drama or a TV comedy) cannot automatically progress to the Grand Final stage. However, these shorter formats have their own categories and can win a category outright. Then, if a bible wins its format, for example, we may reach out to the writer to request the full script. If the full accompanying TV script is available it could then potentially be assessed as part of the overall package against the other finalists. Likewise, you could possibly enter with a pitch for a movie, win the pitch section of the contest, and then potentially send us the corresponding feature script (if you've finished it, that is, and if we request it from you). Ultimately only full screenplays and teleplays can progress to the Grand Final stage, but a pitch, bible, treatment or short could be used as a lily pad in the right circumstances and if we (at our sole discretion) feel the material is strong enough and request the script from you.
Why do I have to pay an entry fee?
Submission fees and screenwriting contests (and film festival entry fees) largely go hand-in-hand. Why? Because the assessment of creative material takes time. It also takes administration. Serious time, and serious administration. That's why every screenplay contest from the Academy's Nicholl Fellowship and Austin Film Festival down charges an entry fee. It's a pure chicken/egg scenario because without any fees, there are no screenwriting contests, and without any screenwriting contests, there are no opportunities to be discovered. The main industry has neither the facility nor the inclination to assess and discover brand new talent, and that is where screenplay contests fill a valuable twin-purpose. At least with The TITAN Awards you can rest safe in the knowledge that your fees have gone towards the administration and assessment of a legitimate entity with clear and transparent high-level industry connections.
What are the TITAN screenplay contest key dates?
Our screenplay contest opens in Q1 every year, and accepts submissions through to the final deadline of the competition at the end of August. Please see above for this year's contest dates.
I have a question about the screenwriting contest not answered here, can you help?
Sure, simply head on over to our dedicated knowledge base and support centre, here. Then, simply run a quick search for your query among the hundreds of helpful articles there, and if your question isn't answered simply raise a support ticket using the link at the top right. Our friendly team will then get back to you asap. Here's the link, again.
At what point during the contest process do The Titans start reading?
Our three "titans" will personally read the three final projects in our film and TV screenplay categories. They will solely determine the order of the first, second and third place screenplay winners. Industrial Scripts and its script readers assess all projects prior to that point.
TITAN Screenwriting Contest Rules
Click here to view the contest rules
All writers of submitted material must be 16 years of age or older on the date of submission, and each writer or writing team may not have earned more than $50,000 or the foreign equivalent (jointly or individually) for work as a screenwriter and/or fictional television writer.
All ownership and rights to the scripts submitted to this contest remains with the original rights holders.
Submissions are accepted via electronic submission only, between March 1st and June 30 in the year referenced at the top of this page.
Entry fees are as stated above.
Optional feedback from a professional script consultant may be requested at the time of entry. Requests for feedback after an entry is submitted can be accepted but you will need to pay a fresh entry fee.
The maximum page lengths of the type of material you can submit are listed above.
There is no limit to the number of projects you may submit, and you may submit one project in multiple categories for an extra fee.
Entries must be received on or before the deadline dates by 11:59PM Pacific Time, and submission fee payment must be made in full at time of the submission. All entry fees are non-refundable. Any script submitted after the Final Entry Deadline will be disqualified, and any project submitted after any of the deadlines will be subject to a higher entry fee as detailed above.
All submitted material must be original, and all rights must be wholly owned by the writer(s).
Material must be submitted by the writer. Material written by writing teams must be submitted by one of the writers, with consent of the other(s).
If a writing team is chosen as a winner, prizes will be given to the person who submits the project. Each team is responsible for dividing or sharing the prize money. Up to a maximum of two writers per winning project may participate in the non-commercial winners' benefits (ie the winners' hangout).
Substitutions of either corrected pages or new drafts of the entered material will be allowed for 72 hours with a $10 re-entry fee through Coverfly. Please proofread your script carefully before submitting. If you did not originally submit via Coverfly you will need to pay a fresh application fee and re-submit. In the event you advance to the Semi-Final Round of the contest you will be invited to submit the latest draft of your script for the final two rounds of judging, free of charge.
It is recommended that original material be registered with the WGA or The Library of Congress before submitting to any competition, however registration is not a formal pre-requisite for entry.
Adaptations of books, plays, or any other source material written by another author are not eligible under any circumstances. A script that you have adapted from your own book, play, or other source material is eligible if you have retained all film and television rights to the property.
Judges, sponsors, administrators, and independent contractors who work with or for Industrial Scripts or The TITAN Awards are not eligible to enter the competition, nor are their spouses or other immediate family members.
Decisions of the Judges are final and may not be disputed. Our Judges are instructed and agree to evaluate scripts based on our standard Judging Procedure; however, the TITAN Awards contest and its administrators may not be held responsible for any errors or omissions on the part of the Judges.
Writers who reside in countries other than the United States are welcome to enter the contest; however, all scripts must be submitted in English and entry fees must be paid in U.S. dollars. Entry in the competition is void where prohibited by law.
These Rules of Entry are also governed by Industrial Scripts Terms & Conditions, which can be viewed in full, here.
Eligibility
Click here to view the eligibility criteria
All writers at least 16 years of age are eligible. However, a writer who has earned more than $50,000 (or equivalent currency) from professional writing services for film or TV in the preceding year is not. (Contest winnings not included.)
All persons from anywhere in the world are eligible; however the material submitted must be in English (occasional dialogue in other languages is acceptable, if subtitle translation is provided).
All material submitted to other competitions or contests are eligible for this contest.
There are no requirements as to when the material was written.
Screenplay and intellectual property must be wholly owned and submitted by the writer(s).
Material should be submitted in standard screenplay format, font, spacing and margin.
It is preferred but not essential that writers remove their name and contact details from the front page of screenplays to avoid any possibility of bias.
Adaptations are ineligible unless the underlying rights are owned by the writer or the work is in the public domain.
Feature screenplays longer than 150 pages will not be eligible.
All material must be submitted electronically as a PDF or it will not be eligible.
Terms & Conditions of Entry
Click here to view the Ts and Cs of entry
The full contest Terms & Conditions can be viewed here, but here are the overall points.
Through entering our screenwriting contest you hereby agree to the following Terms & Conditions of entry and you acknowledge that you have read and agree to these conditions.
The winners will be chosen based on the following criteria: (i) originality; (ii) plot/story structure; (iii) characterization; (iv) visual inventiveness; and (v) overall impression.
The winners and top finalists may be contacted by interested industry representatives, such as managers, agents or producers. Entrants may be required to submit further information to assist in the judges' verification of eligibility.
Any entrant may be deemed ineligible at the sole discretion of Industrial Scripts.
Grand Finalists may be required to sign and return within seven (7) business days of receipt a notarized Affidavit of Eligibility and a Release and Indemnification and proof of valid passport and any other documents that Industrial Scripts or any other partner may require before receiving prize payment. Failure to respond to the initial notification within ten (10) days or return of notification will result in disqualification. We reserve the right to amend these rules at any time.
COPYRIGHT AND OWNERSHIP
Industrial Scripts or any other partner, employee or agent associated with this contest claims no ownership nor first right of option to any original screenplay submitted to this contest. All ownership and rights to the scripts submitted to this contest remains with the original rights holders until and unless other agreements are made.
PUBLICITY
Except where prohibited by law, participation in the contest constitutes each entrant's consent to Industrial Scripts and its agents' and contest sponsor's use of entrants' names, likenesses, photographs, and/or personal information for promotional purposes in any media, worldwide, without further payment or consideration. All uses of a entrants' information are in accordance with our Privacy Policy.
REFUND POLICY​
All entries are non-refundable.
ENTRY CONDITIONS AND RELEASE
You agree to release and hold harmless Industrial Scripts, industrialscripts.com, its subsidiary, parent and affiliated companies, Prize contributors, judges, screenplay readers, Sponsors, and any other organizations responsible for administering, advertising or promoting the Contest, and every one of their respective members, directors, employees, agents and representatives (collectively, the "Released Parties") past and present from and against any and all claims, expenses, and liability, including but not limited to damages and negligence to property and persons, including but not limited to invasion of privacy, defamation, slander, libel, violation of right of publicity, copyright, infringement of trademark or other intellectual property rights relating to a participant's Entry, participation in the Contest and/or acceptance or use or misuse of Prize; provided however, that such release will not apply to any commercial exploitation of the script by a Released Party in violation of your rights under applicable copyright law; and (c) indemnify, defend and hold harmless the IndustrialScripts.com and its Sponsor, agents and employees from and against any and all claims, expenses, and liabilities (including reasonable attorneys fees) relating to an entrant's participation in the Contest and/or entrant's use or misuse of Prize.
Employees of Industrial Scripts and their immediate families are ineligible to participate in this contest. Any such submission will be immediately disqualified.
ENTRY TO THIS CONTEST IS VOID WHERE PROHIBITED or restricted by any Federal, State or Local law. Voided entries will be refunded. Recipients' eligibility will be verified before the grant is awarded and the winner may be required to sign an affidavit of eligibility. By entering the contest, you authorize us to use any trusted third-party online and cloud-based services and databases for hosting, managing and/or transmitting your submission file(s).
Wider Industrial Scripts site and services Terms and Conditions can be viewed here.
What Are the Best Screenwriting Contests?
We created our contest so that it can stand up against the very best screenwriting contests out there.
We identify the best screenwriting contests as those that carry serious industry weight. What do we mean by this? Well, in simple terms, this means that professionals across the industry will recognise the screenwriting competition in question as one that will seriously develop professional screenwriters.
The screenplay competition is a shorthand in this regard. It's a way of saying to all watching: these screenplays and their screenwriters are serious players. And who will be watching? Well, that's just it. The best screenwriting contests can speak directly to those hard to reach corners of the film and TV world that are vital for progressing as a screenwriter, from agents to production companies to independent producers.
Industry weight means a direct connection from the screenplay competition to the biggest and best of film and TV.
So what do the best screenwriting contests look like? We consider these to be:
The Academy Nicholl Fellowship
The Austin Film Festival
The PAGE Awards
Final Draft's Big Break
Script Pipeline
These are all screenwriting competitions with a proven track record in developing and supporting screenwriters, turning their winning script into serious cachet. They're serious in their quest to find the best screenplay out there and serious about supporting new screenwriters. That's why they're the best screenwriting contests out there.
What Makes the Best Screenwriting Contests?
The blunt truth is the industry doesn't really give a damn about the absolute lion's share of screenwriting contests.
Before splashing your cash on a screenwriting competition, there are certain warning signs to look out for to tell if this contest is truly worth it. So what makes the best screenwriting competitions the best?
1. Knowing What You're Getting
The screenwriting competition needs to be up front about what exactly the grand prize winner (not to mention the other prize winning writers) are actually getting. What is this screenplay contest offering your screenplay? The best screenwriting competitions make their plan of action clear. In short, what are you getting for your money?
A screenplay competition that offers vague promises of success in return for your script and hard earned cash, is one to be wary of. Instead, you need to be certain of what you are getting yourself in for and what the reward will be.
2. Judges
The best screenwriting competitions offer the chance to get your script placed in front of industry professionals and heavy-hitters. These aren't just people who fancy themselves as purveyors of good taste, these are people with a proven track record. They know what good screenplays look like. But more than that, they know what it takes to make it at the top of the game.
Furthermore, a screenwriting competition with heavyweights attached is a visible demonstration of its clout. It shows trust, trust from the judge that this screenwriting competition is one worth giving their time to.
3. Genuine Career Reward
Don't merely be lured by cash prizes. What can this screenplay competition offer your career? And speaking of cash prizes, make sure the details of that are clear. You want to be sure that the cash prize the screenplay competition is offering is for real and that "$20,000 value in prizes" isn't actually just the equivalent worth in some creativity software that you don't need.
The best screenwriting contests are not just about picking the best screenplay from a vast offering, they are about finding brilliant screenplays and rewarding their writers with both a cash prize and exposure that can make a real difference to their career path.
How to Enter a Screenwriting Competition
Get Your Screenplay Ready

Make sure your screenplay is submission ready. It's not advisable to send your first draft. Screenwriting competitions are looking for a polished and well thought through piece of work. It doesn't necessarily have to be the final draft of this screenplay, but it does have to be something you feel ready to share. Furthermore, make sure your screenplay format is in perfect shape. Spelling or formatting errors might seem a petty complaint, but in the competitive field of screenplay contests, subscribing to the required screenplay format is the minimum of what is expected. As that final deadline looms, get your script in perfect shape.


Check Deadlines

Most screenwriting contests will have three deadlines; an early, regular and final deadline (often varying in price scale). This gives you time to work towards different deadlines depending on where you are with your script. The early deadline might be perfect if you feel there's no more work you can on you script, or you might need the time given by that final deadline. However, always make sure you give yourself plenty of time and try not to leave it to the night before that final deadline, as that way you may be more likely to make last minute rushed errors.



Pick Your Entry Type

The majority of screenwriting contests will have different formats you can enter in. For example, TV script, feature film script or TV series bible. Make sure you've assigned your script the right format!



Pick Your Genre

You'll need to assign your script a genre category so that readers will know what to expect from your script to a certain degree. It's not a good sign if you're struggling to assign your screenplay a genre. The typical screenplay competition will ask you to assign a genre to your work, whether in its the format of film or TV.


Submit!

Dot the i's and cross the t's. Proceed to pay the entry fee and do one final check that your script is in order and press that submit button. Typically you'll receive a submission notification email, at which point you can pat yourself on the back for a successful submission.