Since the early 2000s, Shonda Rhimes has been producing amazing, hit TV. But in recent years, she's cemented herself as probably the most prolific and successful TV producer of the modern era. And it's for this reason, we wanted to take a look at some amazing Shonda Rhimes quotes.
These quotes demonstrate the strength at the core of her work, how she's able to drive on and continue to make such amazing work. They also illustrate the mastery of her craft – from TV production to screenwriting.
Shonda Rhimes – Queen of TV
Grey's Anatomy is the first TV series that Shonda Rhimes produced, serving as its creator and executive producer. However, her work preceding this highlights how writing has always been at the forefront of what she's done in TV.
Her dream was to be a screenwriter. And after years spent working a variety of jobs both within and outside TV, her first feature credit came in the form of the Britney Spears vehicle, Crossroads. It might not have been the biggest critical success, but it was a commercial one. And Rhimes followed it by writing the screenplay for another hit, The Princess Diaries 2.
But it was, of course, TV where she made her name and some serious impact on the TV landscape in general. Following on from her first success, Grey's Anatomy, was another medical based drama – Private Practice. Rhimes created these shows, serving as a producer and screenwriter on a great number of episodes.
Most importantly, these series launched Shondaland, the production company she founded to produce them. And whilst Private Practice and Off the Map (which she co-created with a Grey's Anatomy colleague) might not have reached the heights of Grey's Anatomy in terms of popularity, in 2012, Scandal cemented Rhimes' status as a showrunner with a golden touch.
From Network to Netflix
Scandal ran for seven seasons and aired concurrently with Rhimes' other huge hit – How to Get Away With Murder. All these shows were made under the banner of network television, with ABC. But in 2017, Rhimes took her considerable industry heft to the form of the moment – streaming.
She signed a multi-year deal with Netflix in what was considered at the time to be a huge coup for the streaming giant. And this highlighted just what hot property Rhimes had become in just over ten years of creating, writing and producing TV series.
It is for Netflix that she has created some of her biggest and most-watched hits to date, notably Bridgerton and Inventing Anna. She's a producer who understands the power and craft of storytelling. And this is why her series are so gripping and popular. She seems to have an innate sense of what audiences want to see. Moreover, she understands how to deliver on the promise of the premise, helping to craft compelling and engaging stories.
So let's look at some fantastic Shonda Rhimes quotes to get an insight into how this brilliant, creative mind ticks. These quotes convey her thoughts on creativity, writing, life and success.
Shonda Rhimes Quotes on…Storytelling
1."The best stories are often true…The narrative of human life is most beautiful when told truthfully and without boundaries."
2. "You can't tell stories and really walk in someone's shoes and not have a love for them, even if they're doing horrible things."
3. "I don't ever approach anything from the issue first, so I can't tell you that I've thought about tackling universal health care. I'd have to have some great story I'd want to tell, and then universal health care would become part of the way to tell that story."
Shonda Rhimes Quotes on…Productivity and Success
4. "Maybe you know exactly what it is you dream of being, or maybe you're paralyzed because you have no idea what your passion is. The truth is, it doesn't matter. You don't have to know, you just have to keep moving forward. You just have to keep doing something, seizing the next opportunity, staying open to trying something new."
5. "I think a lot of people dream. And while they are busy dreaming, the really happy people, the really successful people, the really interesting, powerful, engaged people? Are busy doing."
6. "Dreams are lovely. But they are just dreams. Fleeting, ephemeral, pretty. But dreams do not come true just because you dream them."
7. "Perfect is boring, and dreams are not real. Just DO."
Shonda Rhimes Quotes on…Representation
8. "I'm a black woman every day, and I'm not confused about that. I'm not worried about that. I don't need to have a discussion with you about how I feel as a black woman, because I don't feel disempowered as a black woman."
9. "The goal is that everyone should get to turn on the TV and see someone who looks like them and loves like them. And just as important, everyone should turn on the TV and see someone who doesn't look like them and love like them."
10. "I keep getting asked how I write about such smart, strong women, and my response is, what's the alternative? Weak, stupid women? They're just normal people, not role models – if you're aspiring to be like any of them, something's a little bit wrong. You may want to dress like one or have her job, but do not aspire to be her!"
11. "My favorite thing to do is rip the covers off a script when reading for writers to hire and make everybody read without names on the covers of the script. I can't tell you how many times my writers, women and men, will pick people of color and women much more often than they would with a cover on the script."
12. "I believe that good television should be challenging and frustrating and maddening and thrilling. If you just want to see people who look like you and think like you and do what you would do in any given situation, you'd have to stop looking at TV and start looking in a mirror. But would that be as much fun?"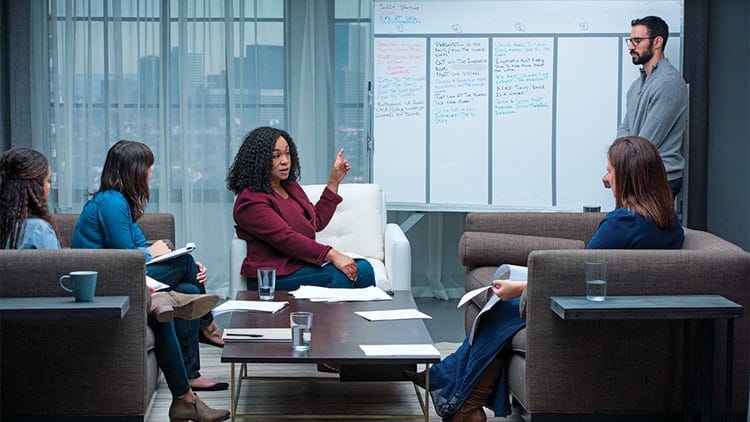 Shonda Rhimes Quotes on…Writing
13. "You want to be a writer? A writer is someone who writes every day, so start writing. You don't have a job? Get one. Any job. Don't sit at home waiting for the magical opportunity. Who are you? Prince William? No. Get a job. Go to work. Do something until you can do something else."
14. "The way I write my shows, every character is its own organic thing. No character has a life at all until I see it played by somebody."
15. "The secret sauce of the business that I can offer is my creativity, and in order to keep my creativity alive and fresh, I have to pretend that no one is watching the show, that there are no audiences, there are no ratings; I'm just telling a story."
Shonda Rhimes Quotes on…Her Role in TV
16. "I never, ever pay attention to the ratings. I stopped paying attention to the ratings somewhere around season two or three of Grey's. It's something I have no control over, so I don't even pay attention."
17. "People really do not like it when you decide to step off the road and climb the mountain instead. It seems to make even the people who mean well nervous."
18. "When I'm hard at work, when I'm deep in it, there is no other feeling. For me, my work is at all times building a nation out of thin air. It is manning the troops, it is painting a canvas, it is hitting every high note, it is running a marathon, it is being Beyonce. And it is all of those things at the same time."
19. "I truly feel like my job is to make the shows. That's what I'm paid to do. It's somebody else's job to market them, and it's somebody else's job to pay attention to the ratings, because if I paid attention to all that, my head would explode."
20. "I don't think of myself as a television producer. Obviously, that's crazy. Because I should. That's what I do. But I don't actually see that as my job. It's why my business cards say 'storyteller.'"
Enjoyed our list of Shonda Rhimes quotes? Why not have a look at our other quotes articles, such as Wes Anderson and Donald Glover.
– What did you think of this article? Share It, Like It, give it a rating, and let us know your thoughts in the comments box further down…
– Struggling with a script or book? Story analysis is what we do, all day, every day… check out our range of script coverage services for writers & filmmakers.
Get *ALL* our FREE Resources
Tackle the trickiest areas of screenwriting with our exclusive eBooks. Get all our FREE resources when you join 60,000 filmmakers on our mailing list!