How does Donald Glover manage it? The screenwriter, director, actor, rapper, producer and comedian has a jammed packed awards cabinet and track record of amazing work across many different forms. As with many creatives, Donald Glover has become relatively media-shy the more acclaimed he has become. But we've compiled the rare Donald Glover quotes there are.
These quotes will give you insight into his creative process and inspire all those aspiring multi-hyphenates out there. What exactly makes such a restless talent tick? And how does he maintain such a prolific, diverse output?
Donald Glover – Master Of All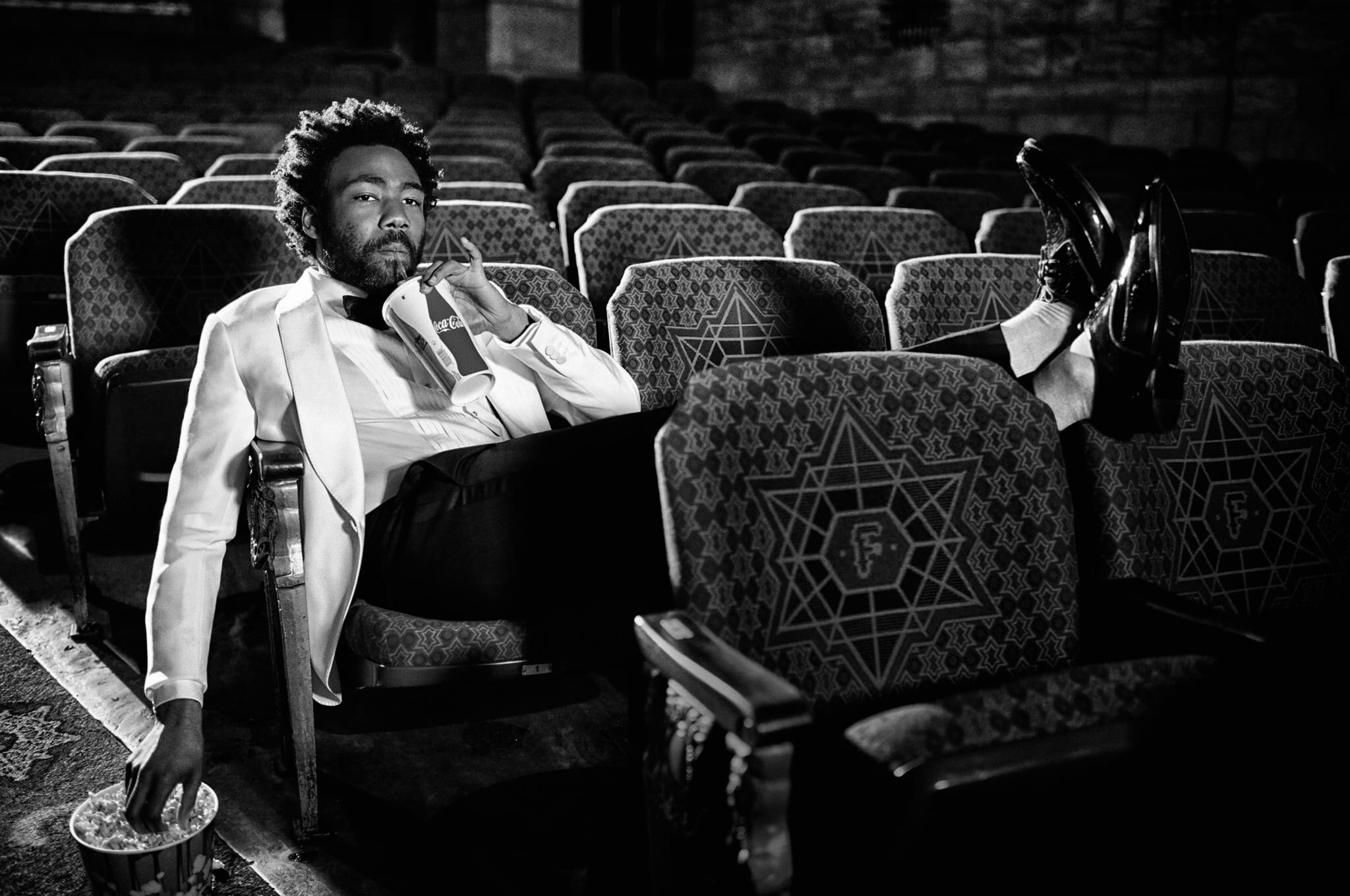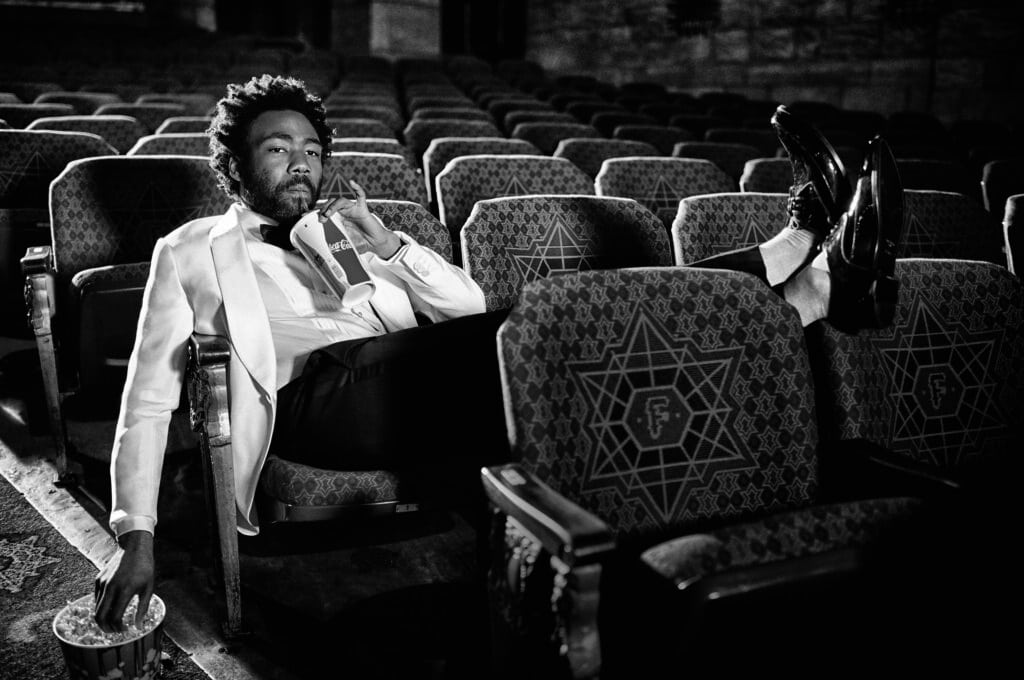 Born in Edwards, California, in 1983, Glover seemed destined to write for, and create, greats. He was voted "Most Likely to Write For The Simpsons" in his high school yearbook and would go on to study at New York University Tisch School of the Arts with a degree in Dramatic Writing.
It was in 2006, at the age of 23, that Glover landed his first writing gig on the show 30 Rock. During this time Glover would receive knock-backs as well as acceptance: he unsuccessfully auditioned to play Barack Obama on the comedy sketch program Saturday Night Live, for example.
Glover continued on though and would write and star, along with other members of the Derrick Comedy group in 2009's Mystery Team. However, it was a TV show, with its first season released in 2009, where Glover would start to become commercially recognisable to general audiences around the world. Glover would play Troy Barnes, the heroic yet childish student in Dan Harmon's Community.
Over the next ten years, Glover would also release four studio albums under the moniker Childish Gambino: Camp (2011), Because The Internet (2013), "Awaken My Love!", and 2020's 3.15.20, as well as his scathing and satirical viral single This Is America in 2018.
As well as releasing four studio albums in this time he would also land acting roles in Magic Mike XXL, The Martian, Spiderman: Homecoming, Solo: A Star Wars Story and the live-action remake of The Lion King in which he voiced Simba. Oh, and he also found time to complete a stand-up comedy tour titled IAMDONALD. That's quite the output.
And yet, despite all this, we perhaps best know Donald Glover, in terms of writing at least, for his hugely successful, Emmy award-winning show Atlanta – a surreal, funny, dark genre-bending comedy series set in his hometown.
Multi-Medium Master
These days Glover essentially juggles four different careers. But what does Donald Glover have to say of all his work? Where does he get the energy for all his projects from? And how does he approach his writing and filmmaking?
Below we've compiled 20 of the best Donald Glover quotes that give in an insight into his unique work and his creative approach overall.
Donald Glover Quotes on… His Creative Process
1."If it makes you nervous – you're doing it right."
2. "You have to be real with yourself. No one is doing that. People are too concerned with making everything nice and calm and pretty."
3. "We lay out our lives in a narrative we understand, like a movie, but are you enjoying making it or are you wondering who's watching my movie?"
4. "You are much more willing to take a risk if you don't know you are taking one, if you aren't aware of the problems that could arise."
5. "I think a lot of people are afraid to fail because, being black, you don't get a chance to fail, but I am not afraid to fail."
Donald Glover Quotes on… His Many Different Projects
6. 'I don't separate things; all my ideas bleed into each other."
7. "I wrote a postcard to myself that said, 'Never forget Dali.' He would paint, do sculpture, ­architecture, film, photography."
8. "The more I am myself in all of the things I do the more, I think, people respond because it's not bullshit. I think the fact that I'm rapping about stuff I know, the more people are like, 'This isn't bullshit.' I think Tina Fey does the same thing."
9. "I kind of see them all as the same thing. People are always asking how do you separate them and how do you prioritize? And I sort of see them all as the same thing, which is kind of why I like stand-up the most because you can do all of that."
10. "I really do just feel that they're all the same. They're not just me putting on costumes, they're me just stepping out. A lot of jokes and stand-up end up on records that I do."
11. "People are sometimes like: "Oh man, you're so talented and you do a bunch of stuff." I'm not! I swear to god, I'm not. I just like learning stuff, I like doing stuff. And I feel like everybody can definitely do it"
Donald Glover Quotes on… Fame, Success and Life
12. "I'm very impatient, so I was like, 'I want to be able to do whatever I want now.' But even the biggest stars – you look back and they weren't overnight."
13. "I'm very confident in my point of view. 'Cause I think that that's all you can really have. I'm never really going to know what anybody else is going through, so it's just kind of your job to be expressive with your point of view."
14. "I feel like I would be successful when I'm at the point where I don't have to explain what I do. I'm not saying I don't want to. Explaining your ideas is a good way of getting people's takes on it. But I feel like when I'm at a point where I just don't have to ask permission, I think that's real success. That's real freedom."
15. "There's that saying that you spend your whole life making your first album and then eight months to make your second. And when the first one's fire, and everybody loves it, they will all come up to you and say: 'Hey don't let me down with the second one, now.' That was the way we were feeling with season 2 of Atlanta."
16. "I personally don't really believe that people grow. They just learn stuff when they were a kid, and that effects every relationship that they have."
Donald Glover Quotes on… Building Stories
17. "Hiro (Murai) had never done narrative before, never done television. Everybody kept asking, 'Are you sure you want to do it with him?' And I'm really glad, because when I'd ask him, 'Is this normal for a show?' he'd be like, 'I have no idea, I don't know.' But that's how we made something personal. We'd do something and then start giggling and be like, 'That's tight, this is dope, I'd like to see that.' "
18. "When I started working, I wanted to make stories. I was like, "Oh, this is world-building." But then I realised, actually, what I really want to make are universes."
19. "I needed people to understand I see Atlanta as a beautiful metaphor for black people."
20. "(On Atlanta) I knew what FX wanted from me. They were thinking it'd be me and Craig Robinson horse-tailing around, and it'll be kind of like Community, and it'll be on for a long time. I was Trojan-horsing FX. If I told them what I really wanted to do, it wouldn't have gotten made."
Enjoyed our list of Donald Glover quotes? Why not have a look at our other quotes articles, such as Wes Anderson and David Fincher.
– What did you think of this article? Share It, Like It, give it a rating, and let us know your thoughts in the comments box further down…
– Struggling with a script or book? Story analysis is what we do, all day, every day… check out our range of script coverage services for writers & filmmakers.
This article was written by Joe Heywood and edited by IS Staff.
Get *ALL* our FREE Resources
Tackle the trickiest areas of screenwriting with our exclusive eBooks. Get all our FREE resources when you join 60,000 filmmakers on our mailing list!