THE INSIDER INTERVIEWS: MICHAEL KUHN
The Insider Interviews series started in 2010 as a set of recorded interviews, featuring the likes of Tom Hiddleston, Gareth Unwin, who produced THE KING'S SPEECH, Ben Wheatley and Hossein Amini, the Oscar-nominated writer of DRIVE and THE TWO FACES OF JANUARY. You can watch these here.
The Insider Interviews now exist as live monthly events in central London, which is a combination of a compered interview and taking questions from audience members.  If you would like to check out future speakers and join an Insider Interviews Live evening, you can see more details here.
In the early 90s Michael Kuhn set up Polygram Filmed Entertainment, which made and distributed over 100 feature films and which, between them, won 14 Academy Awards.  These films included FOUR WEDDINGS & A FUNERAL, DEAD MAN WALKING, THE USUAL SUSPECTS, and TRAINSPOTTING.
He then went on to set up Qwerty Films, producing features including I HEART HUCKABEES, KINSEY, SEVERENCE, THE DUCHESS, and FLORENCE FOSTER JENKINS, starring Meryl streep and Hugh Grant, directed by Stephen Frears.
His published book, 100 Films and a Funeral, was adapted and released as a documentary in 2009.
He was appointed Chair of the National Film and Television Society in 2002 and awarded a fellowship in 2008.  BAFTA awarded him the Michael Balcon Award for Outstanding Contribution to British Film in 1998.
This interview was hosted by producer, James Cotton.
A DAY IN THE LIFE OF MICHAEL
What is your average day at the moment?
I think like most people, there isn't an average day. You're either in production or pre-production. You're running around from morning until night doing various stuff, whether that's pre-production or going on location scouts. The rest of the year is made up of waiting for writers.  I think there are lots of writers here. They're always late. Always troublesome. They always have some excuse!
Overall, I have a mixture of development meetings, making lists of directors for new projects, and meeting with writers. You get in as late as you possibly can justify, leave as early as you can and pretend you're working. That's the average day.
THE EARLY DAYS
For this interview, I have used the gospel according to Michael Kuhn, which is 100 Hundred Films and a Funeral, which I highly recommend. It's an amazing resource which I'll turn to a few times during this interview. Now we're going to go all the way back to you reading law at Clare College, Cambridge in 1968. What made you choose law?
In those days you did what your parents wanted you to do, and that's what they wanted.
What was that experience like?
Horrible. All my friends were doing history, geography or land economy and having a great time not doing any work while I was learning case studies for three years.
Let's fast forward to 1975 when you joined PolyGram. What were your roles before 1991?
I qualified as a solicitor. I did two years in a law firm which had an entertainment department. It acted for a lot of studios so I got a taste of the industry. Then they asked if I wanted to take a year out doing industrial experience, as it was known then. I thought: "great!" I went to a record company, which was a joint venture between Philips and Siemens. By accident, I couldn't have joined at a better time because it was the beginning of Punk music. So I had a fantastic ten years in the music business.
After that, I got involved in successfully establishing a worldwide standard for the CD disc, and that revived the fortunes of PolyGram, and its parent company Philips, which has been in decline. By that time, I was on the Board, and we needed a follow-up act because we couldn't keep showing year on year 15% growth profits based on CDs.  Eventually, everyone would have bought replacement CDs, and we needed a new story for the shareholders.
I suggested doing film. The reason was that at the time, home video was half the revenue of the film business. Video involved distributing bits of plastic to the public. We were already doing that with audio. We were already doing what the film industry was doing, which was marrying creative freedom to get good work with strong financial discipline. We just had to work out how to add the marketing of movies, distribution of movies and producing of movies. Those are the three key bits.
If the opportunity came along we could buy a studio, and we nearly bought MGM, or while we're waiting, we could build up a studio. We settled on the latter, but not all at once. We had to do it bit by bit and prove ourselves for each stage, and we had to go to L.A. to run it from there.
If you enjoyed this article, why not check out our Insider Interview with Bradley Quirk?
Continued inside the vault…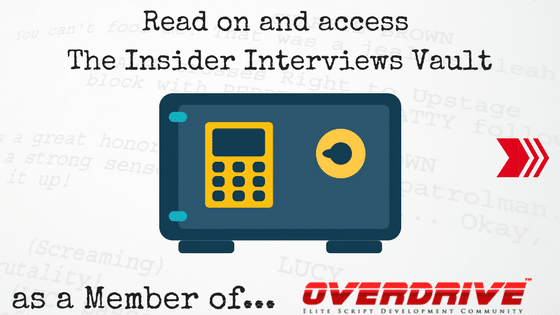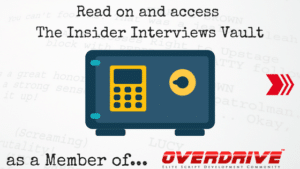 If you enjoyed this interview, make The Insider Interviews LIVE your regular monthly networking event.
See upcoming speakers, future dates and ticket details here.
Get *ALL* our FREE Resources
Tackle the trickiest areas of screenwriting with our exclusive eBooks. Get all our FREE resources when you join 60,000 filmmakers on our mailing list!