THE INSIDER INTERVIEWS: BRADLEY QUIRK
The Insider Interviews series started in 2010 as a set of recorded interviews, featuring the likes of Tom Hiddleston, Gareth Unwin, who produced THE KING'S SPEECH, Ben Wheatley and Hossein Amini, the Oscar-nominated writer of DRIVE and THE TWO FACES OF JANUARY. You can watch these here.
The Insider Interviews now exist as live monthly events in central London, which is a combination of a compered interview and taking questions from audience members.  If you would like to check out future speakers and join an Insider Interviews Live evening, you can see more details here.
Bradley Quirk is head of development at Altitude. Bradley's previous experience includes working as an executive at Pathe, and has worked on films such as PHILOMENA and SELMA.
This interview was hosted by producer, James Cotton.
WORKING WITH ALTITUDE
What do you do on an average day at Altitude Films?
I work at Altitude Film and Entertainment as Head of Development. Basically, Altitude produces, sells and distributes films. We produce films out of the UK, but they can be international films. We've made two films thus far, BIG GAME and KILL YOUR FRIENDS, both of which have had international components.
We sell films internationally, so we sell our own films in the marketplace, and we also sell third-party films. Should you have a film produced by an independent producer, you could approach us and we could sell your film at Cannes, Berlin, and other international film markets.  This is all great because it helps us control the destiny of the films that we produce ourselves, and to some extent helps facilitate filmmakers getting their movies made.
We also distribute films in the UK.  Last year our biggest release was the Amy Winehouse documentary by Asif Kapadia.  That was a really great journey for us, and that's gone on to win an Oscar and a BAFTA, and hopefully it will continue to do well for us. It was a great opportunity, we could flex our muscles as a relativity new distribution company.
Amy Official Trailer #1 (2015) - Amy Winehouse Documentary HD
I find myself in a company that has three activities. My job is to get films made, but also to ensure that I am servicing my sales team with product they can take to the market, and also service my distribution team. Not all production companies have those facilities housed under one roof, so I'm quite lucky in that sense. Other companies that have similar setups would be Studio Canal in the UK for instance.
In a sense, it's a very privileged position I find myself in as a development executive, because I can talk very quickly to distribution experts and say "Will UK audiences see this?" "What comparable films should I be thinking of here?"  I can also talk to my colleagues in international sales and say "Will this idea sell in Germany? Will it sell in Japan?" I can get very quick feedback.
Hopefully I'm not lead entirely by what my colleagues say, because that would be a bit too reactive! You've always got to take a certain degree of risk, but at the same time it's a very useful setup to be in as a development individual.
In terms of my day-to-day, I run the development slate.  We have approximately 14 titles in development over film and television.  I'm responsible for managing all the creative decisions. That means giving notes, and adding new material to the slate. That means hiring writers, discussing contracts with them and their agents, and it also means reading material that's coming into the company that looks like it will sell well.
There's a film that we're currently working on that's in post production right now, it's called THE GIRL WITH ALL THE GIFTS. It's something that came into Altitude and I was one of the first people on the team to read it.  I said to my colleagues: "We need to see if we can partner with these filmmakers," and that was the beginning of a process that's lasted a year and a half.  The film is in pretty good shape at the moment. We'll be taking that to Berlin to try to sell the film in its promo form.
THE EARLY YEARS
How did your first experience in film influence your passion for the industry?
Well, I'm ancient now.  I grew up alongside VHS and spent an inordinate amount of time in my local video store.  I wouldn't necessarily get anything out, I'd just check the covers out of the various movies.  That was the beautiful thing about physical product, you could stand there and really gain much more perspective on what was out there to see.  For me, it was a way of educating myself on what films I'd like to see, along with Time Out reviews. This was between the ages of twelve and eighteen during my school holidays.
I was at a boarding school so I had a limited amount of time at school to watch movies. So, when I was at home I used to devour them.  Then in my last year of school I started a film society.  I think the first thing we screened was Woody Allen's MANHATTAN because we were young and full of angst.
Then I got to Oxford.  There was a short film being made, I got onto it as a runner, and I just really enjoyed it.  It was the most fun thing I'd done in my first year of university.  I don't think it was a particularly good film in the end, but it was a hell of a lot of fun, and the crew were great.  I thought, "Next year, I want to be doing more of that!"
Then the next year, a script came up from a guy called Daniel Peak, who now writes sitcoms for the BBC, and I thought to myself, "OK, I'm going to try to pitch myself as a director on this." And I did, I fibbed to the producers, telling them I was going to make it like a John Ford movie, though I didn't know what I was saying, or how to achieve that.
That film was a lot of fun to make, it was a really brutal production.  It had a milk float, most of the scenes were shot on it, carrying this explosive liquid that looked like milk.  It was a comedy, I promise you!  The film, fortunately, was useful to me, because it allowed me to apply to film school on the back of it.  And that's how I got into film school.
If you enjoyed this article, why not check out our Insider Interview with Michael Kuhn?
Continued inside the vault…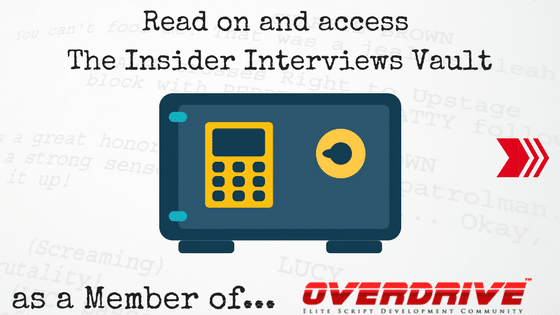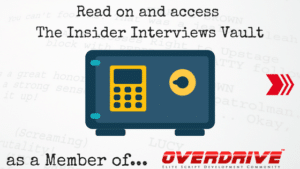 If you enjoyed this interview, make The Insider Interviews LIVE your regular monthly networking event.
See upcoming speakers, future dates and ticket details here.
Get *ALL* our FREE Resources
Tackle the trickiest areas of screenwriting with our exclusive eBooks. Get all our FREE resources when you join 60,000 filmmakers on our mailing list!