THE INSIDER INTERVIEWS: ANDY BRUNSKILL
The Insider Interviews series started in 2010 as a set of recorded interviews, featuring the likes of Tom Hiddleston, Gareth Unwin, who produced THE KING'S SPEECH, Ben Wheatley and Hossein Amini, the Oscar-nominated writer of DRIVE and THE TWO FACES OF JANUARY. These can be listened to here.
The Insider Interviews now exist as live monthly events in central London, which is a combination of a compered interview and taking questions from audience members.  If you would like to check out future speakers and join an Insider Interviews Live evening, you can see more details here.
Andy Brunskill is a 2015 Screen Star of Tomorrow and runs SUMS Film & Media, a production company focusing on narrative driven films for digital platforms, traditional features for theatrical release, and the integration of the two. The latest SUMS production, JET TRASH, stars Robert Sheehan and Sofia Boutella and was shot in Goa, India and London early in 2014. Andy was lead producer on JET TRASH, and is currently seeing it through post-production for a 2016 release.
Previous SUMS productions include micro-budget films LILTING and HOW TO BECOME A CRIMINAL MASTERMIND. LILTING was made through Film London's Microwave scheme. It stars Ben Whishaw and opened World Dramatic Competition at Sundance 2014, where it also won Best Cinematography. It was released in the UK this summer by Artificial Eye to strong reviews and has been sold to multiple territories worldwide by Protagonist Pictures. HOW TO BECOME A CRIMINAL MASTERMIND was made on a shoestring in 2013 and recently won Best Low -Budget Feature at the London Independent Film Festival.
Prior to starting SUMS Andy worked at Ruby Films as Assistant to Producer Alison Owen and then Development Executive across films such as THE OTHER BOLEYN GIRL, TAMARA DREWE, THE MEN WHO STARE AT GOATS, SAVING MR BANKS and TV such as the Multi-Emmy Winning TEMPLE GRANDIN. In 2009 Andy produced VENUS & THE SUN, a film released as an app for iPhones and iPads which continues to sell worldwide.
This interview was hosted by producer, James Cotton.
EARLY EXPERIENCES
So a question I always kick off with is about first experiences within the industry, it's usually interning, sleeping on floors, etc. What was your first experience?
Seeing as most of you are screenwriters I'll try and be as helpful as possible in that area, but being a producer I'll try and angle it the right way. Getting into the industry, I can tell you my story and then talk about other ways; it's obviously different for writers. I'd done a Literature degree at Sheffield University and, like many people, I only established that learning was a good thing in the last year and then that was a bit late so I decided to do a Masters in Contemporary Approaches to Literature Studies at Goldsmith's.
It was at the start of the course that I realised I wanted to work in film even though I loved books and writing mostly. But I decided not to be a writer, because 1) I wasn't very good and 2) I liked the collaborative element of being in film, rather than having to write in a room on my own – so hats off to people who do that. But I think it is still much more collaborative being a screenwriter than it is being a novelist.
So I was being medically tested on – this is how I got in to the film industry – at this place where you get paid money to have drugs tested on you. I saw a chap reading a screenplay called DAVE POWELL (Thanks Dave!!!) and so inquired whether he was working in the film industry. He worked for a company called Ruby Films and so I sort of chatted him up to get some work experience there, which I then managed to do.
I did a couple of weeks work experience at Ruby Films, added that to my CV and created a bit of a battle plan.  I worked out where all the production companies in London were and marked them on a map and then when I'd go on a run for one company I'd drop in my CV at another company if I was going near and I'd get the person's name on reception.
Eventually I'd get into another production company for work experience, and then keep doing the same updating the previous ones with my new CV and eventually I managed to get about eight different work experiences on it.  That's the key to a lot of what we're going to talk about today. It's all about a contact network and knowing as many people as possible so that when a job eventually does come up you can get that job.
I got a job at DNA Films as a receptionist/in-house runner and while I was there the first company, Ruby Films, interviewed me to be the assistant to Alison Owen, a big UK producer, and I became her assistant at Ruby Films for about six years. First I was her assistant, and then as a development executive, before leaving there to become a producer.
Continued inside the vault…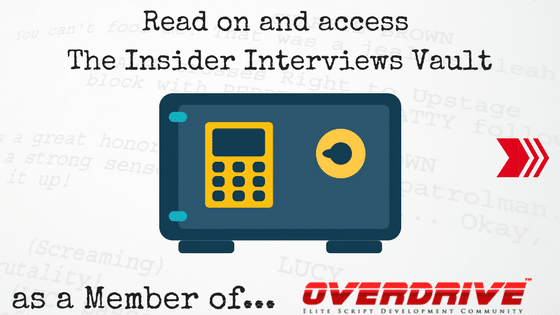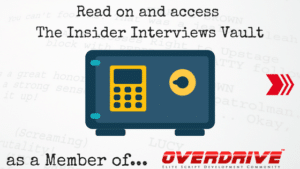 If you enjoyed this interview, make The Insider Interviews LIVE your regular monthly networking event.
See upcoming speakers, future dates and ticket details here.
Get *ALL* our FREE Resources
Tackle the trickiest areas of screenwriting with our exclusive eBooks. Get all our FREE resources when you join 60,000 filmmakers on our mailing list!