He's an idiosyncratic writer-director known for his searing portrayals of family dynamics, witty dialogue and brilliant characters. And such an insightful writer with a vast array of directing experience inevitably has great insight into what it is to realize drama on the big screen and work in the industry in general. It's for this reason that we've decided to delve into 20 Noah Baumbach quotes in order to catch a glimpse of this brilliant artist's mind.
Noah Baumbach – Family Man
Noah Baumbach's films have always been steeped in family drama, whether that drama is explicitly autobiographical or not. Baumbach's first few films, including Kicking and Screaming and Mr. Jealousy, were steeped more in a post-college world of young people. And the fact that Baumbach was only 25 (!) when he made his feature debut perhaps explains his first preoccupations.
However, it would be his first proper venture into family drama (and his own family drama at that) that would bring him firmly into the mainstream. The Squid and the Whale, about two kids and their parent's divorce, was based on his own experiences of his parent's divorce. The semi-biographical story in a family context kicked off what would become Baumbach's trademark.
And another trademark would be working with certain actors over multiple works. Some, including Greta Gerwig, Ben Stiller and Adam Driver, for example, have appeared in multiple Baumbach films. His films always navigate the line between comedy and drama perfectly, with his witty, realistic dialogue peppering the drama with humor.
Frances Ha, The Meyerowitz Stories, While We're Young, Marriage Story and White Noise – these films all serve up closely observed, acute, relatable and comedic portrayals of characters navigating their relationships. Sometimes that's within families, sometimes it's within friendships, sometimes it's within a marriage. But what remains is the sense of characters working out how to connect with each other as best they can through their own foibles – all sprinkled with a rewarding sense of humor.
So let's look into 20 Noah Baumbach quotes to see what this sharp writer and director has to say about writing, characters, drama and his working practice.
Noah Baumbach Quotes on…Writing
1. "Defining yourself by your taste is easier than defining yourself by any genuine stance on something."
2. "I try to procrastinate, if I can, productively, like I'll work on something else as procrastination. Or I take a walk. Because often I find, if you get out, more things come to you."
3. "I find a lot of writing happens when you're not actually at the computer. So I carry a notebook."
4. "How you start the movie is critical. And how often you feel that there's no reason for how it's starting."
5. "I used to get up and write every day, even if I wasn't working on a specific thing. Now, when I have a thing I'm in the middle of, I do that, but when I'm not, time can go by when I'm not writing at all."
6. "When you find yourself on the internet when you're supposed to be writing, you've already lost. It's even beyond procrastination when you end up on the internet."
7. "When I make a movie, I have both a specific and vague, amorphous dream idea of what the movie is going to be. Of course, I don't actually know what it's going to be, but I'm still striving to get to some place with it."
Noah Baumbach Quotes on…His Work
8. "To this day, I have people I might meet who will make assumptions about my life based on fictional elements of The Squid And The Whale. But I think that's par for the course if you make something that feels kind of real."
9. "I suppose some studio executive would say it's death for a comedy if people aren't all laughing in the same places, but I find with my movies that people laugh in very different places. I can't control it."
10. "I'm always interested in how people, myself included, have ideas of themselves, of how they thought they would be, or of how they want to be seen. And the older you get, the world keeps telling you different things about yourself. And how people either adjust to those things and let go of adolescent notions. Or they dig in deeper."
11. "I thought at the time of my parent's divorce that I was upset by deeper, more profound things and I was just taking it out on the joint custody agreement. But that disruption was bad enough. That was a huge deal for a teenager."
12. "It's funny, I'm very analytical in my real life, but in terms of my films, I try to not analyze them at all and let things just go into them and let them be what they are. I mean, people ask me to this day what The Squid and the Whale stood for, and I have no idea except that it's an exhibit in the Natural History Museum."
Noah Baumbach Quotes on…Filmmaking
13. "Many of the crew members I work with and continue to work with were friends or have become close friends, and so we keep working together. And I like casting friends of mine or people I know in parts I know would be perfect for them. I like to bring things and people that mean something to me into my work."
14. "When I'm editing, I tend to cut, go back over it, cut, go back over it, cut, so by the time I'm done, even with a cut, I don't have a rough cut and then work on it so much. I have a pretty rigorous cut of the movie that's usually in the range of what the final movie is going to be. It doesn't mean I don't work on it a lot after that, but I get it into a shape so I feel I can really tell what it needs, or at least it's ready to show people."
15. "I realize how much I rely on the actors to really know the lines because I tend to forget what they are exactly, even though I've written them. I don't have them memorized. But when it's going well, there is that point where the actor starts to know more about the character than I do."
16. "There are days when you're in a good groove and the actor really understands the part and comes as prepared every day as you are and is so inside it. And then there's the day where, for whatever reason, it's just a harder slog. And I feel like those are the days where all the preparation and everything becomes more necessary because you have to find a third route there."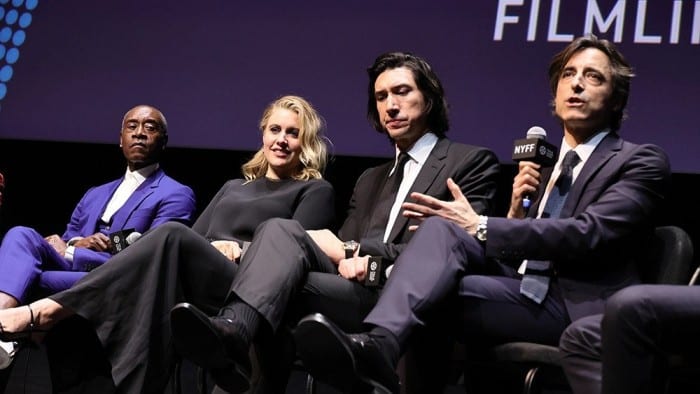 Noah Baumbach Quotes on…Characters and Drama
17. "I'm curious how people build up the codes that they live their life by, and how they come to think that that's the best way for them to function."
18. "I think sometimes bad behavior can be liberating for certain people. They need to behave badly to find themselves – to go off path to find their path. You see it with kids all the time: They're testing boundaries, and I think that's healthy."
19. "I guess I'm interested in people who are very sophisticated in intellectual ways, while being completely off the mark in emotional ones, with these huge blind spots in terms of their own behavior."
20. "I'm interested in the way major events don't necessarily announce themselves as major events. They're often little things – the drip, drip of life that changes people or affects people."
Feeling inspired by these Noah Baumbach quotes? Take a look at our list of Nora Ephron quotes and Martin McDonagh quotes for some more inspiration.
– What did you think of this article? Share It, Like It, give it a rating, and let us know your thoughts in the comments box further down…
– Struggling with a script or book? Story analysis is what we do, all day, every day… check out our range of script coverage services for writers & filmmakers.
Get *ALL* our FREE Resources
Tackle the trickiest areas of screenwriting with our exclusive eBooks. Get all our FREE resources when you join 60,000 filmmakers on our mailing list!