THE INSIDER INTERVIEWS: EMILY LEO
The Insider Interviews series started in 2010 as a set of recorded interviews, featuring the likes of Tom Hiddleston, Gareth Unwin, who produced THE KING'S SPEECH, Ben Wheatley and Hossein Amini, the Oscar-nominated writer of DRIVE and THE TWO FACES OF JANUARY. You can watch these here.
The Insider Interviews now exist as live monthly events in central London, which is a combination of a compered interview and taking questions from audience members. If you would like to check out future speakers and join an Insider Interviews Live evening, you can see more details here.
Emily Leo started her career as an acquisitions executive at Capitol Films before moving to Kudos / Shine as a development executive in 2008.
She worked for producer Paul Webster on films such as SALMON FISHING IN THE YEMEN and BRIGHTON ROCK and was part of the core creative team developing and acquiring studio level projects.
Emily is now an independent producer and co-founder of Wigwam Films.  She has just won a BAFTA for Outstanding Debut for UNDER THE SHADOW.
This interview was compered by producer, James Cotton.
**Please note the Q & A was conducted before Emily won her award**
EMILY'S LIFE TODAY
We always start with the present and then do a bit of a rewind to where it all began. So 2017…where are you and the company heading? 
Wigwam Films is a company that I started with two friends of mine many years ago.  In 2017 we find ourselves with two BAFTA nominations (Emily has won Outstanding Debut since publication) which we're incredibly honoured and excited by and a movie called iBOY which is coming out on Netflix.
We're shooting a film in America at the moment called AN EVENING WITH BEVERLY LUFF LINN, which is Jim Hosking's next film. I don't know if you saw that absolutely crazy film of his – GREASY STRANGLER – it's completely unforgettable. This is his follow-up movie.
There are quite a few things in the pipeline actually so it's a really exciting year.
WHERE IT ALL BEGAN
Taking it all the way back to the beginning, you grew up in Thailand with a Thai father and a Swiss mother – when was the moment you realised this industry was for you?
I think at university I knew that I wanted to work in film and I basically pulled out of my international relations degree at the LSE in order to go and study English Lit. Growing up in Thailand, the only way to access the wider world, when I was a kid, was through reading books and my mum was a voracious reader.
We had walls of books in our house and we also had one of the first satellites, which I thought was incredible.  It was amazing to have TV from the outside world and it meant I grew up watching movies all the time. With that and reading books, I really became a bit obsessed with storytelling.
My first job was for the Edinburgh Film Festival.  I was a volunteer during the summer of 2002.
Was there quite a period of internships and knocking on doors?
Straight out of university I got running gigs. I phoned everybody.  I had no idea about the film business. I didn't know what a sales company did, why it was different a distribution company, I had no idea whatsoever. So I just knocked on people's doors, begging for work.
One of the first jobs I got was running on a commercial and then, through that, I ended up getting running work in various commercial production companies but very quickly realised this wasn't what I wanted to do.
I focussed on moving away from that to a company that was developing movies and had some foothold in the industry. The first job I had was at Feel Films where a friend of mine, Daisy Allsopp (who produced ORTHODOX, featuring Stephen Graham) worked as head of development.
I was hired as an assistant but they allowed me to read the books and write notes on scripts and do script coverage and eventually I got trusted to the point where they let me get involved in meetings with writers.
That led to a job at Capitol Films, at a time when they were a sales agency. They no longer exist sadly, but when I joined them they were they were a really successful leading international sales company.
I went in there as an intern for acquisitions, which is basically reading a lot of scripts – all the time, and then from that I got offered a job.
If you enjoyed this article, why not check out our Insider Interview with Camille Gatin?
Continued inside the vault…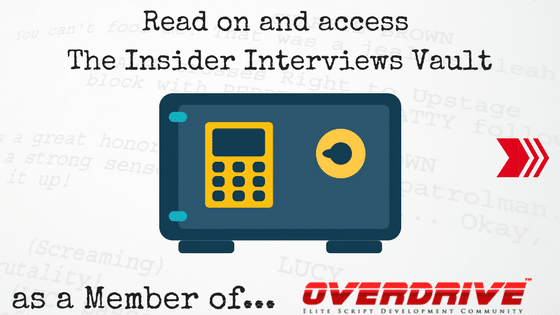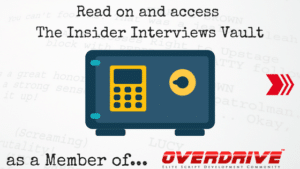 If you enjoyed this interview, make The Insider Interviews LIVE your regular monthly networking event.
See upcoming speakers, future dates and ticket details here.
Get *ALL* our FREE Resources
Tackle the trickiest areas of screenwriting with our exclusive eBooks. Get all our FREE resources when you join 60,000 filmmakers on our mailing list!