From merciless zombies to a beautiful hidden beach in Thailand, Alex Garland has written many cult and classic films in a range of different spaces and genres. Not only is Garland's creativity portrayed through his writing, but through his directing as well. He's not often seen in the limelight, so getting an insight into his innovative mind through his interviews and quotes is precious. And it's in this spirit that we've gathered 15 Alex Garland quotes to inspire writers and filmmakers.
Alex Garland – 28 Years Earlier
Growing up, Garland never planned on becoming a novelist, he always saw himself as a journalist. But this all changed in the late 1990s. Garland excelled in the literary world, writing his hugely successful book The Beach (1996).
This book then became a film, with the screenplay written by John Hodge and the film directed by Danny Boyle. Garland followed this up with The Tesseract, which didn't quite have the success of The Beach, but still managed to get a film adaptation too. Garland proved subsequently though that he was not satisfied with writing within one medium and that instead, he would venture directly into film.
Never Letting Go
Taking his career to the next level, in 2002 Garland collaborated again with Danny Boyle and penned the screenplay for 28 Days Later. This really announced Garland as a screenwriter and remains one of his most iconic and successful works.
This would then be followed by Sunshine (2007), yet another collaboration with Boyle. It might not have had the impact of 28 Days Later or some other Danny Boyle films. But it has a cult following and further enhanced Garland's reputation for strange and distinctive Sci-Fi, a genre that he has thrived in ever since.
In 2009, he turned his hand to adapting a book, penning the screenplay for the Kazuo Ishiguro adaption, Never Let Me Go. But it was in 2014 that Alex Garland made his debut as a director, with another striking sci-fi story, Ex-Machina.
For Garland's first crack at directing, it managed to make $36.9 million at the box office, as well as gaining him multiple awards and nominations. And this put him firmly in the category of writer/director – with Annihilation, Men and FX series Devs, following Ex-Machina and keeping Garland wedded to his genre roots.
Clearly never settled with writing in just one medium, Garland has also ventured into gaming; co-writing for the video game Enslaved: Odyssey to the West in 2010. This then landed him the role of being the story supervisor for the 2013 game DmC: Devil May Cry.
A restless creator, Garland's work continues to fascinate. And even after having been in the industry for almost 30 years, he still feels like a fresh talent, innovating and surprising with his career moves and work. So we've put together 15 Alex Garland quotes that demonstrate the intelligence and insight of this consummate writer.
Alex Garland Quotes on…Writing Process
1. "It slightly depends on your perspective, sort of how you look at these things, but when I sit down to write a script, I'm not planning to write a script; I'm planning to make a film, and so I only see the script as being just a step there."
2. "My first attempt at writing was very unstructured and formless, with shifting points of view. I was trying to understand how long-form might work, and I realised I had something shapeless. It was a total car wreck. But I still felt I could pull it off. So I ditched that attempt and started writing in the opposite manner, in first person, with a driving narrative."
3. "I never feel a huge need for a backstory in my novels or films. Quick sketches are often enough. When you encounter people in life – like a chance encounter at a bar or wherever you happen to be – you make these incredibly quick, quite intricate decisions about people based on very small amounts of coded information. We're good at that. Long descriptions prior to meeting someone or as you're getting to know them almost don't work."
4. "A lot of people, I think, harbor some kind of ambition to write a novel – they say, 'One day I'm going to write a novel,' and they maybe find the first three pages quite easy, and then they hit a kind of brick wall, and they think that that brick wall means that they're not a writer."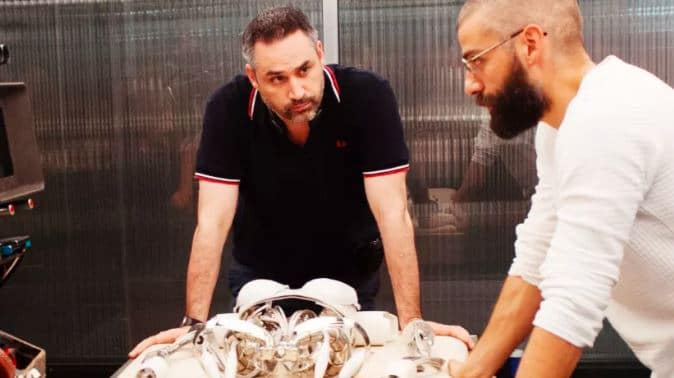 Alex Garland Quotes on…Writing in Different Forms
5. "Personally I don't think there's a difference between comic books, movies, theatre, novels. I know there's sure to be some differences of some sorts. I've worked on novels, films, and video games, and in adaptation, I guess one of the issues is that I have to be in love with the thing I'm adapting before I do it. You could be too reverential. But at the same time you want to try to capture this thing that you're obsessed by. You're fixated for a reason. What's the reason? You try to get ahold of it."
6. "There's one massive problem with coming from writing novels into screenplays that I've discovered over the years, which is that you've got too much facility on the page. In novels, you can persuade people of things that work that don't really work."
7. "I don't write on set. I also – in a funny way, I don't really differentiate between the writing and directing, I think it's all sort of the same thing."
8. "I used to think about video games, 'This is clearly an amazing, new narrative medium, and it's going to be mind-blowing when people get to grips with what's possible within this medium.' It took us a century to get really good at film. Video games are at a much earlier stage."
9. "The thing video games had to learn was to write, which is not to let people choose their own stuff, but actually prescribe it. To say, 'This character is not a blank canvas that you can project onto. I'm going to tell you what this character is like. And I'm going to tell you what happens to them. You're going to feel involved in other ways.' Video games made the mistake of thinking everything had to be projectable, and this (The Last of Us) doesn't do that at all."
Alex Garland Quotes on…Career
10. "Show people your stuff, listen carefully to their responses, but ultimately, don't value anyone's opinion above your own. Be influenced by writers you dislike as well as writers you like. Read their stuff to figure out what's wrong. Find a balance between the confidence that allows you to continue, and the self-critical facility that enables you to improve. Get the balance wrong on either side, and you're screwed."
11. "The key relationship for writers in film is producers, because those are the first two people involved and the ones who work on it intensely in a private way without the big machinery of film."
12. "The success that comes from my books is not something I feel very comfortable with. Past a certain point you have to accept the idea that the success is a lot to do with the timing and luck and that divorces you from it massively. There are aspects of it that I haven't got used to at all. But I've enjoyed some parts of it massively. It relates to the same reason I did a lot of backpacking, partly for the experience, it's something to tell my grandkids. It's a weird chain of events to have in your life."
13. "Part of debunking the mythology of filmmaking is that we tend to want to locate it often in one person. And it's not one person. It's a collective, and it is a collaboration."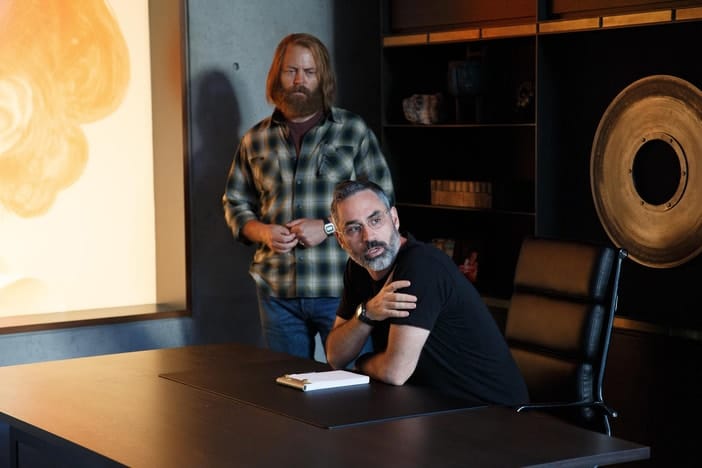 Alex Garland Quotes on…Inspiration
14. "What I see in science is a lot of imagination referring to things that are fundamental to what we are. Our cells, our history, our future, our place in the universe, our lack of place in the universe. That's poetry as far as I'm concerned."
15. "I'm always pushing back against the last thing I did in some way, and some of that is restlessness and a sense of limited time."
Enjoyed our list of Alex Garland quotes? Why not have a look at our other quotes articles, such as Matt Reeves and Shonda Rhimes.
– What did you think of this article? Share It , Like It , give it a rating, and let us know your
thoughts in the comments box further down…
–Struggling with a script or book? Story analysis is what we do, all day, every day…
check out our range of script coverage services for writers & filmmakers.
This article was written by Tia Redgate and edited by IS Staff.
Get *ALL* our FREE Resources
Tackle the trickiest areas of screenwriting with our exclusive eBooks. Get all our FREE resources when you join 60,000 filmmakers on our mailing list!