He's emerged as one of the most striking directors of the 21st century. Quietly he's helmed some of the biggest hits of the 2010s and 2020s, managing to infuse big blockbusters with a personal, distinctive touch. So we've put together some inspirational Matt Reeves quotes to see what this intriguing director has to say on how his craft comes together.
Growing up in Los Angeles in the 1980s, a filmmakers' environment has surrounded Matt Reeves from the age of five. When he reached making The Batman, Reeves had been making films in some form or another for five decades.
Reeves got his first taste of the limelight as young as thirteen. A local public access channel hosted a show called Word of Mouth with the purpose of giving amateur filmmakers a platform to show their short films. "Air your shorts," host Gerard Ravel would joke at the end of every spot.
Matt Reeves was hooked. He had to get his films on the screen. After Reeves' first appearance on the show, Ravel introduced him to another thirteen-year-old filmmaker with a bit more of a horror lean to his creations. Thus the Matt Reeves-J.J. Abrams partnership was born.
Matt Reeves – A Personal Storyteller
If you were to ask Matt Reeves what his favorite part of the filmmaking process is, he would have a short, sweet answer: all of it. Actualizing his love for filmmaking at eight-years-old through 8mm short films ingrained into Matt an appreciation for each laborious stage of the process.
One day in 2016, Matt Reeves stood in front of a screen at an animation studio, overseeing one of the many elements of post-production on War for the Planet of the Apes. He was interrupted by a call from his agent; Warner Brothers wanted him to helm the next Batman film.
For Reeves, a lifelong dream was about to clash with a fundamental value. Matt Reeves now tries to be selective with what projects to take on; he has to be able to connect emotionally with the story he is bringing to life. For him, passion takes priority over the clout and spectacle of a superhero franchise.
"But if I were to do this, I'd have to make it personal."

Matt Reeves to the Warner Bros. team
Reeves read the script Warner Bros. had for him, and he couldn't reconcile what was in front of him with the passion that drives him to make films. He told them it needed to be personal. He needed to understand it, so he could help an audience relate to it just as much as him.
Matt Reeves Quotes – From Dreamer to Doer
Matt Reeves has carried this attitude with him throughout his entire career. And his quotes demonstrate this. He spent years shopping around his original script The Invisible Woman, and to this day, it's never been greenlit. When he initially pitched the film in the mid-2000s, execs told him it was too dark and small-scale for the current industry environment.
So Reeves had to adapt. When J.J. Abrams and Bryan Burk asked him to direct Cloverfield, he was skeptical at first. "I'm interested in naturalism and realism," he told Abrams and Burk. But it was a real opportunity, and Reeves knew he could make the characters and story his own.
Again in 2008, Overture Films reached out to Matt Reeves about a remake of the Swedish film Let the Right One In. Reeves wasn't interested in reboots; they're always bad, right? They certainly tend to lack the grounded emotion Reeves is all about. But when Reeves went to the source material, he found something to connect with.
"I fell in love with the story. It really reminded me of my own childhood. Though it was a remake, it was a way to do something that I felt personally very strongly about."

Matt Reeves
Twice in just a few years, Matt Reeves had to shelve his passion project and pivot to take advantage of an opportunity. Even after the success of Cloverfield, Reeves needed to adapt. Overture, and later Hammer Films, wanted to work with him, so he found a way to go with it without compromising his artistic values.
Out of the Woods…and into Gotham City
The critical success of Let Me In propelled Reeves. Stephen King called it "the best American horror film in the last 20 years." Before long, Reeves had an offer from 20th Century Fox to take on his biggest project yet–and another remake –Dawn of the Planet of the Apes.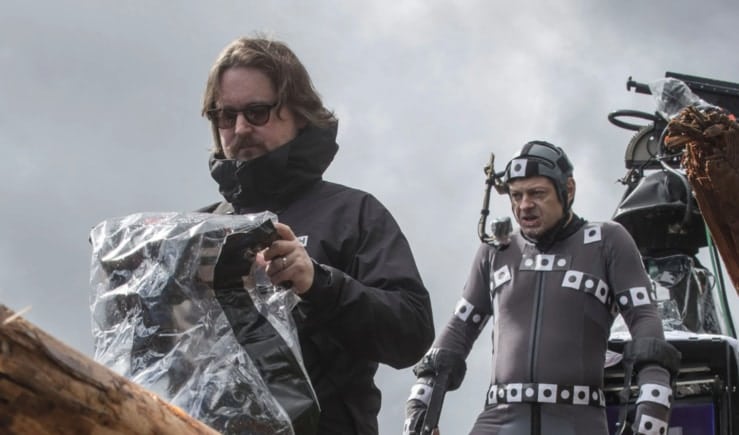 Matt Reeves discovered an emotional relationship with the Planet of the Apes films – a childhood franchise for him – that would pair nicely with his approach to The Batman. He started to experiment with the dark side of the human condition.
Reeves built his oeuvre over the course of a decade through disciplined research, wise decision making, and sharp versatility. These traits, along with the reputation he built, led Warner Bros. not only to allow him to do The Batman his way but to postpone the project until he was finished with War for the Planet of the Apes.
"There's something about [The Batman and Planet of the Apes] that is the same. It's an opportunity to look at the characters from a psychological standpoint and to really look at human nature."

Matt Reeves
More than five years after Warner Bros. approached Reeves, The Batman was complete. Matt Reeves wrote, produced, and directed the film to fit his style, while still preserving the legendary mythos of Batman. He was there for every step of the process, from start to finish.
A Batman fan since his youth, Reeves never thought he would get the opportunity. But he brought to the big screen what could be the best, most empathetic Batman out there.
So let's look at some of the best Matt Reeves quotes to see how this versatile director approaches his visionary work.
Matt Reeves Quotes on…Getting Started
1."People's imagination is the most effective tool in creating terror or dread."
2."I was obsessed with movies, and it ended up being the tool with which I could make friends. Because I was too painfully shy in other circumstances, I would say, 'Hey, do you want to make a movie?' And that's how I made friends, and it was also my escape."
3."Being able to deal under pressure is part of what you have to do. At the same time, I don't think you'd be doing it if you weren't dealing with some kind of crazy anxiety under it, because that's what draws you to do it I think."
4."One of the things you learn when you're making the difference between when you're telling a movie story versus a TV story is that when you want to do a TV show, you essentially come up with chapter one of what you're hoping will be an endless novel. But when you're going to do a movie, you need to find an event that brings everything to the surface; find out what you need to know about these characters. It implies the past and it refers to the future."
Matt Reeves Quotes on…Motivation
5."Whatever it is [you make], it has to have some emotional core somewhere in it. Even though you might not perceive it that way, it's my connection to [the films I make]."
6."In some ways filmmaking is the same as I thought it was going to be…there's all this other stuff, and all this other pressure that you'll deal with. But the one part of it is exactly the same, which is this impulse to do something that you are excited about and that has meaning for you."
7."One of the cool things is you work on something so long, and then you finally get to show it to an audience. You want to sit with an audience. You want to feel what it feels like to an audience, and that's also part of exorcising it out of your system. It becomes part of what you're doing 24 hours a day for so long."
Matt Reeves Quotes on…Style
8."My connection to what I do is a more intimate connection. If something had spectacle, it would be because the story, the way I connect to it, lent itself to spectacle…I love film as visual storytelling, but it almost always connects to something I'm feeling."
9."Put the camera in the point of view of the characters so you can walk in those characters' shoes, even as they do things that you would like to think you'd never do, or things you don't think you'd be brave enough to do. I want you to be in an emotional reality where you say, 'God, if I was in that position, would I do those things?'"
10."The sound and visuals all need to make you feel like you're in it, so that you're immersed. The idea of what you can't quite see is as important as what you do see. Sometimes what's out of focus that you can't quite see is the most terrifying because then you are filling it in as the audience."
11."In terms of what I've done, one of the greatest covers of what you do is that I don't look anxious on the surface. People would come up to me when I'm directing and say, 'Oh my god, you're so calm', and I'm thinking, 'Really? Because I'm having a heart attack.'"
Matt Reeves Quotes on…Career
12. "In my early days I thought I would make this poignant sad comedy kind of thing. Whatever it was, I knew I wanted to make personal films. My path was such that the opportunities for me ended up being in the genre space. What I discovered is that there's a way to be very personal under the guise of something that's very spectacular and fantastical."
13."I never even imagined when I began making movies that I would do genre movies because I just loved certain kinds of movies that were very character-based. It's really interesting that as I got deeper into genre, I realized that that was a way to do very emotional stories."
14."I think that a lot of these great myths have that power, which is that if they truly resonate, they allow you to find a way to take the aspects of it that people love, and then do something new with it. And then people connect to it all over again."
15."By the time I'm done with whatever step [in the filmmaking process] I'm in, I'm ready to do the next one. Because by the time you're done writing, you don't really want to write anymore, and by the time you're done shooting, my god you don't want to shoot anymore. By the time you're done editing, you want to get out of the editing room. By the time you're done mixing, you want to get out of the mixing room. But I love all of them."
Enjoyed our list of Matt Reeves quotes? Why not have a look at our other quotes articles, such as Wes Anderson and Steve McQueen.
– What did you think of this article? Share It , Like It , give it a rating, and let us know your
thoughts in the comments box further down…
–Struggling with a script or book? Story analysis is what we do, all day, every day…
check out our range of script coverage services for writers & filmmakers.
This article was written by Andy Fialko and edited by IS Staff.
Get *ALL* our FREE Resources
Tackle the trickiest areas of screenwriting with our exclusive eBooks. Get all our FREE resources when you join 60,000 filmmakers on our mailing list!