Unheralded Scene: THE MACHINE (2013)
In our "Unheralded Scene" series, our consultants nominate a classic film or TV scene, which in their view hasn't received the admiration it deserves. It might be a scene from a classic movie, which has been crowded out by other, more "showy" scenes and set-pieces. It might be a deleted scene which is outstanding in its own right but wasn't quite in-sync or critical to the final cut of the film.
***Warning: plot spoilers below***
Focus On: THE MACHINE (2013)
The film: THE MACHINE – proving that the Brits can pull off ambitious science fiction, as writer-director Caradog W. James delivers an AI inspired tale of a scientist and his robot.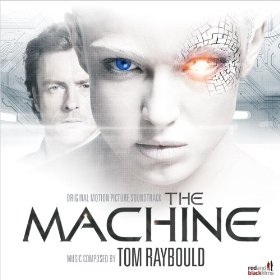 The plot: In a near future where the UK is crippled by a Cold War with China, the MOD turns to technological solutions to bring about the downfall of China – with research scientist VINCENT MCCARTHY (Toby Stephens) conducting Turing tests on applicants' artificial intelligence programs – can they pass for human? When scientist AVA's (Caity Lotz) program impresses Vincent, he brings her onboard into a secretive world of military experiments, fusing AI with injured human soldiers. But when Ava is killed, he uses her features – and her program – to spawn a robot – can it pass for human? Can it go undercover to destroy the Chinese from the inside? For Vincent, does it hold the key to helping his sick daughter overcome neurological problems?
The scene: As Ava gets to work in the military compound, she is warned by an injured soldier about the mysterious 'Area 6' and tries to investigate – but is interrupted. Vincent sits Ava down for some A.I. testing – mapping her emotional reactions to help develop authentic robots. As the two humans converse, Ava's face is projected on a video monitor between them – pulling happy, sad and surprised faces. Ava makes Vincent promise he won't copy her face for the machine – something he promises, but later reneges on. As conversation between them turns tense – Vincent warning her not to snoop in the facility "Mind your own fucking business" – the camera slowly zooms in on the monitor between the pair, the argument playing out on Ava's digitalised face.
Why it's unheralded: With limited release and little buzz, the film has been overlooked – check it out on Netflix.
Why it's great:The scene serves important plot functions – two allies coming into conflict as Vincent asserts his authority and warns Ava off from looking into the base's dark secrets, and Vincent making a promise he will later go back on. The scene is a great visualisation and dramatisation using logistics from the core concept – the need to map human reactions. Rather than stalling plot to go over boring tech details, the scene incorporates techie work with plot work. The scene also foreshadows later events, as Ava goes from human to machine – and crucially, Vincent has captured a wider range of emotions through antagonistic methods – did he mean to do that? Some great character ambiguity. Though only a brief scene, it is a perfect marriage of character, plot and genre.
If you enjoyed this article, why not check out our Unheralded Scene: O BROTHER, WHERE ART THOU (2000)?
What did you think of this article? Share it, Like it, give it a rating, and let us know you though in the comments box further down…
Struggling with a script or book? Story analysis is what we do, all day, every day…check out or range of script coverage services for writers & filmmakers.
Get *ALL* our FREE Resources
Tackle the trickiest areas of screenwriting with our exclusive eBooks. Get all our FREE resources when you join 60,000 filmmakers on our mailing list!