THE INSIDER INTERVIEWS: OLIVER PARKER
The Insider Interviews series started in 2010 as a set of recorded interviews, featuring the likes of Tom Hiddleston, Gareth Unwin, who produced THE KING'S SPEECH, Ben Wheatley and Hossein Amini, the Oscar-nominated writer of DRIVE and THE TWO FACES OF JANUARY. You can watch these here.
The Insider Interviews now exist as live monthly events in central London, which is a combination of a compered interview and questions from audience members. If you would like to check out future speakers and join an Insider Interviews Live evening, you can see more details here.
After starting out as an actor on stage and then in films and TV, Oliver Parker made his film directorial debut with the Shakespeare adaptation OTHELLO, starring Laurence Fishburne and Kenneth Branagh.
His films include a trio of Oscar Wilde adaptations (AN IDEAL HUSBAND, THE IMPORTANCE OF BEING EARNEST, and DORIAN GRAY), and some of the biggest British comedies of all time: ST TRINIAN'S, JOHNNY ENGLISH REBORN, and DAD'S ARMY.
This Q & A was compered by Rosie Fletcher, Movies Editor at Digital Spy.
OLIVER PARKER
Can you tell us a little about your new film, SWIMMING WITH MEN?
Yes, it's actually based on a documentary made in Sweden seven years ago about male synchronised swimming. Our film tells the story of a chap whose life is falling apart: he's middle-aged; he's depressed at work; he's falling out with his wife for no other reason than he feels lost; and he virtually throws himself out of his house.
But somehow, his quiet place is a pool, and at a certain point he connects with a bunch of other chaps who meet every week to make strange little pacts in the pool.
He gets caught up in this and begins to realise what fun it might be.
Swimming With Men - Official Teaser Trailer
It brings him back to a place of balance and contentment and happiness, but also they get invited to join the world championships. Some people describe it as a kind of "FULL MONTY in trunks", so it's that sort of idea.
We have a wonderful cast, we were really lucky. They're not big names necessarily but it's a really British cast. So Rob Brydon is our lead, but it also has Jim Carter, Danny Mays, Rupert Graves, Jane Horrocks, and Charlotte Riley. All really good Brits. It's a very British film.
It's also a very current film in terms of its themes. Was that part of the appeal for you?
Yes. It relies on a certain amount of charm, which is always a dangerous thing because that can fall flat. But it's the idea of presenting men in a vulnerable way. We've got enough Weinstein in the air to pollute us for a while, so it's trying to detoxify that water.
It's quite interesting to know who it's for. Vertigo our distributors think it's mainly for women, but for me it's for everybody. It's actually a family film if anything. There's quite a range in ages represented, but it gets to talk a little bit about what chaps might talk about, without being scurrilous.
It's definitely not a cynical film. It's got a surprising emotional depth to it, so that's the challenge in a way. The fun is to find a kind of comedy which lifts people and amuses them while also engaging them in a way which is surprising.
We had to shoot it quite fast, in 29 days which is pretty quick given how much of it was in water, and on a small budget. The one thing I insisted on was to have two weeks of training, because the biggest problem when I read the script was that suddenly one of the lines will say, "they now perform some superb aquatic manoeuvre."
I thought how the hell are we going to pull this off? Part of the audition process was asking the question, can you swim? And I knew one or two of them were lying! So I insisted that we had proper training, and we brought in people called "aquabatics".
If you enjoyed this article, why not check out our Insider Interview with BFI's Ben Roberts?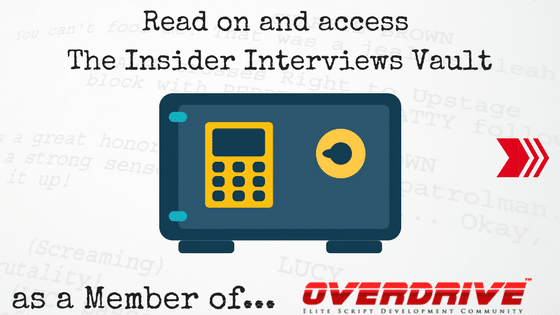 If you enjoyed this interview, make The Insider Interviews LIVE your regular monthly networking event.
See upcoming speakers, future dates and ticket details here.
Get *ALL* our FREE Resources
Tackle the trickiest areas of screenwriting with our exclusive eBooks. Get all our FREE resources when you join 60,000 filmmakers on our mailing list!