THE INSIDER INTERVIEWS: DUNCAN HEATH
The Insider Interviews series started in 2010 as a set of recorded interviews, featuring the likes of Tom Hiddleston, Gareth Unwin, who produced THE KING'S SPEECH, Ben Wheatley and Hossein Amini, the Oscar-nominated writer of DRIVE and THE TWO FACES OF JANUARY. You can watch these here.
The Insider Interviews now exist as live monthly events in central London, which is a combination of a compered interview and questions from audience members. If you would like to check out future speakers and join an Insider Interviews Live evening, you can see more details here.
Duncan Heath is a leading talent agent and the chairman of Independent Talent Group, Europe's largest talent agency. His clients include some of the best of British talent, such as Matthew Vaughn, Steve Coogan, Tom Hooper, Jonathan Glazer (UNDER THE SKIN) and James Marsh (THE THEORY OF EVERYTHING).
This Q & A was compered by Rosie Fletcher, Movies Editor at Digital Spy.
DUNCAN HEATH
What does your job look like, day to day? 
I have quite a large staff. I have about 40-odd agents. But it's like any other job: when you wake up and feel quite smug, that's when the carpet's pulled from under you.
A lot of it is about films that don't have the finance, people deciding at the last minute they don't want to do something, and you're trying to sell someone else. So it's heaven and hell in any one day. It's a slightly bizarre job, but that's the job. You never quite know what's happening. You start with a plan and the plan never works out the way you think it will. You're part hustler, part accountant. It's a strange old business.
Can you talk through the different areas that you work in?
I work across film, TV, theatre, and a commercials production company. I also have partners in two music agencies, so I went to the Brits for the first time, which was interesting and fun and reminded me of the old days. So it's quite a wide church.
At its base level, you are selling actors, writers, directors. We also have a big below the line business: cameramen, editors, make-up, the whole caboodle.
I represent a lot of directors, because when I started off, many many moons ago, I couldn't get past the casting directors. They'd ask me who I represented. I didn't represent anybody. Then I realised that if you represented the director, you'd have more hope, and then if you end up representing the casting director as well…
How many scripts do you come across on a monthly basis? 
Not as much as you'd think. I've got many good people who do that. And less than I did, because the business is changing dramatically. The biggest shift is that agents are turning into quasi-producers as well, which is a whole new area. William Morris, for example, are both agents and producers, gamekeeper and poacher.
STARTING OUT
How did you get your start as an agent? 
I started hanging outside the RSC [Royal Shakespeare Company] in Stratford and asking anyone if they wanted an agent. Eventually you get one person, and then hopefully you do a good job.
I don't go to the theatre so much because I think I had an overload. I'd see every single Shakespearean play. People would then ring up and  say they're in Troilus and Cressida right now, and you'd go and literally all they'd do is carry a spear across the stage. You have to have tact. Even if they're only carrying a spear across stage, it's their moment in the sun.
But that's how I started. I didn't earn much commission for the first two years. It was interesting, because I was with William Morris for six months, and unfortunately I was fired quite early, so then I started on my own straight after.
I read a quote from you saying you were fired for "insolence and mild violence." 
Certainly insolence, more than the mild violence. The managing director was one of these people who snapped, and eventually I lost it. I also pretended to be an agent when I wasn't. I was actually in charge of photographs. I spent most of my time trying to learn from other people. But when I started my own agency, anyone who joined me had to be very brave because I hadn't got a clue. You just learn as you go along.
If you enjoyed this article, why not check out our Insider Interview with Caryn Mandabach?
Continued inside The Vault…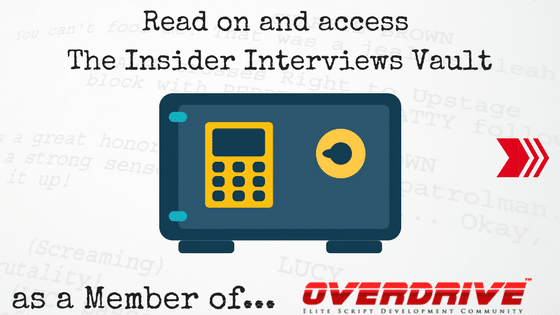 If you enjoyed this interview, make The Insider Interviews LIVE your regular monthly networking event.
See upcoming speakers, future dates and ticket details here.
Get *ALL* our FREE Resources
Tackle the trickiest areas of screenwriting with our exclusive eBooks. Get all our FREE resources when you join 60,000 filmmakers on our mailing list!