Basil Iwanyk Biography
Embed from Getty Images
Interview with Basil Iwanyk
You've had an amazing career. How do you reflect on it, overall?
BASIL IWANYK:
"Two years ago, we moved back to the East Coast. I live on the Jersey Shore, less than 100 yards from the beach. It's in the same neighbourhood that I grew up in. And last night, I was driving my son to freshman orientation. He's in eighth grade but next year is gonna be a freshman in high school – the same high school I went to. And he said, "Daddy this, this must be surreal to you". I said, "Dylan, I grew up idolising Harrison Ford and now I find myself getting into arguments with him".
There are directors and actors and producers who I was a fan of that are now colleagues. I used to see movies that were premiered in Cannes and go, "Oh my god, I wonder what those people are like?"
My whole life is one surreal stretch of stuff. I think it's because I came from New Jersey and I had no connections in the movie business. And I always dreamed about it. People dream about being in professional sports but they don't actually think they're gonna end up at the Super Bowl. I'm constantly in awe of how lucky I've been.
Embed from Getty Images
But I do not excuse any of my success. I've been a grinder and I've worked really, really hard. I've taken some big-time chances and I've put my own money at risk. The cliched second mortgage on a house – I did that for the first John Wick movie…"
Did you? Wow, remarkable.
BASIL IWANYK:
"I had gigantic failures that I was able to punch through. I gained enough goodwill and respect and friendship from a lot of people in town that people still supported me through failure.
So I'm very proud of what I've been able to do. But I'm also the first person to say that I don't take a step back and look at my career in totality. It literally is like one thing at a time. We just kind of grind.
And it is maybe being a producer, where you never really think about, "Oh my god, I have all this money to make a movie and all these people report to me and I'm in the Middle East"…or whatever it is. All you do is see it hour by hour, day by day, problem by problem.
That's how I'm trained now as a producer. We make so many movies a year that I don't step back and go, "Wow, look at these movies". The only time I actually do that is when I look at the office wall, at all the one-sheets.
We haven't been in an office for two years (we have offices down in New York). And two days ago we're picking out some one-sheets and I was looking at them like, "Damn, I've made a lot of movies". I have to say I'm proud of the vast majority of them, which I think is something not a lot of people say."
Combing through your IMDB, there seems to be a whiff of the one for me, one for them strategy. Is there any truth in that?
BASIL IWANYK:
"No. Well, actually, I think there's almost an obligation for filmmakers that have some robust financial success to ask themselves, "How do I take advantage of this currency in the marketplace?"
In two ways – one, that not every movie you have to make a lot of money on, at least up front. And two, you know that people will trust you, so how do you want to cash in that chip?
So yes, there are many movies that I say to myself, "Okay, I've made a good amount of money on this particular movie. And I have a lot of momentum in the marketplace that I need to cash in on for another project". But it's because I believe in it creatively. It's not about how much money I'm making in the budget, but more that I think it's an important story to be told. So it's more of a reaction to momentum than anything else.
That's The Current War, Wind River, Hotel Mumbai – those are movies that I went in there thinking, "I'm not going to get a dime on this", at least up front. But for different reasons, they were really important to me. And I think Sicario, frankly, was one of them. No one ever thought that would actually be as good as it was.
So it isn't like a one for me, one for them. Also, I wish I had the power over the scripts. For me, if the scripts come in and they're good, we try to get them made.
And yes, there are times where I'll tell my staff, "My God, guys, all the movies we're working on right now are all kind of down the middle generic commercial shots. So we got to remind ourselves who we are. We are the company that has made The Town and Sicario and Wind River. So we need some elegant shots in there too".
And then conversely, there are times where I'm like, "Guys, the next three movies are all brand plays that we're not going to get any money on". So there's a constant balance of movies that keep the lights on, and then movies that are good for the brand.
About six or seven years ago, if I was in a room with financiers, all they would want to talk about would be Clash of Titans or The Expendables. But if I was in a room with a director, or a writer, or an actor or actress, they would want to talk about The Town or Sicario. So you do kind of play both roles.
I finance my own company. I'm a small business owner. So I do have to look at the economics of paying people. And at the same time, I also have to look at the value of building an elegant brand. It's the execution of something that could be slightly generic. Like John Wick, for example. I think that is a pretty elegant execution of something that could have been a straightforward piece of shit."
Do you consider yourself genre-agnostic in that sense, then? Providing the story is great, you're in. Is that fair?
BASIL IWANYK:
"No, because one thing that I was taught early on, when I first started Thunder Road, is that people need to understand what kind of movies your company makes.
We realised that we had to cut out comedies and romantic comedies. The original conception for the marketplace when I was at Warner Bros was that we wanted to be making big tentpole Warner Bros movies, whatever that meant. And then when I became independent, it was more like we wanted to be the American EuropaCorp.
So I think that we're not genre-agnostic. We just don't read comedies. We just did a romantic comedy for Sony actually, which was a lot of fun. But it was the first time we ever did one. We're not known for that. And frankly, it's good because we get a pretty broad range of things and we see most material in that range.
So it was a conscious decision more for how we were branded by agents and managers and filmmakers than it was anything else. And also, I just had really bad taste in comedy. I mean, comedies I was executive on when I was at Warner Bros were just awful. Absolutely awful. So I knew early on, I should not be a comedy guy."
Was there a big break moment for you in your career?
BASIL IWANYK:
"Generally, tonnes and tonnes. When Jeremy Zimmer at UTA hired me to be in the mailroom when I was 22 – that was a huge break because I was just unemployed in Manhattan Beach being a total schmuck.
I became an executive at Warner Bros when I was 24. Lorenzo Di Bonaventura plucked me out of the assistant days of UTA to be an executive. There was even an agent at UTA that went up for that job and didn't get the job. That changed everything."
What did you say in the interview?
BASIL IWANYK:
"You know the whole cliche of the Bob Dylan song: "When you ain't got nothing, you got nothing to lose".
I was rejected to be an assistant anywhere on the Warner Bros lot. Channing Dungey – who was the president of ABC and now is the president of Warner Television – was a junior executive. And I met her as sympathy because I almost got a job with a smaller production company, as an assistant to one of the junior executives.
And at the last minute, they pulled the job from me. But the woman that pulled the job was nice enough to say, "I'm going to just set you up with Channing Dungey because they're looking for a junior executive at Warner". So I'm like, "If I can't get to be an assistant for a junior executive at a lower level production company on the Warner lot, how am I going to get anything?"
I was told, especially at that age, that you want to go into any room. And also that you can never say no to a meeting. So I went in with Channing and Channing was like, "God, you seem smart". Channing was incredible. She helped sponsor my way up.
Embed from Getty Images
And then the next person I met was Courtenay Valenti, who was a new vice president and is now the president of Warner Bros. She's incredible. She said, "You're really smart and I think Lorenzo is gonna like you." Lorenzo was looking for somebody young, someone who was going to mix things up, somebody who wasn't the generic Warner Bros executive.
So I walked in to his office and we bonded over Falling Down, of all things, because he had a poster of Falling Down.
I went in there, and I'm like, "You were involved with Falling Down? I think it's Joel Schumacher's best movie". For the next fifteen minutes, I told him all the things I thought – boom, boom, boom, boom, boom. That's what we bonded over. Frankly, we just got along personally.
But more importantly, what happens in the Warner Bros process is you meet with every executive going up the ladder. From that you have endless notes on scripts. And when I was an assistant at UTA, I read every script I could get my hands on. I would read drafts and see the studio notes. So I understood how to write notes. At least I thought I understood how to write notes.
So that was my biggest break ever. Getting that Warner Bros job was everything. There's not even a close second in my life. Because that just sent me ahead and I became very friendly with really power powerful people and I worked on really cool movies. It changed everything.
Then there are little things along the way, like Jeff Robinov convincing me to be a producer and starting Thunder Road at Warner Bros. Jeff was a good friend of mine and I was saying to him, "I can't be a producer. I don't have the money or family money. I can't just go out there and not make money for two years". And he said, "Don't worry I'll give you a guarantee". So that was a huge break.
2010 is when everything changed. 2010 was Brooklyn's Finest, The Town, Clash of Titans and The Expendables. Ever since then, even though there's been years that have been soft, things started going up on the uplift.
Actually probably my luckiest break is that when I decided to become an independent producer, the first two movies out of the gate were John Wick and Sicario.
I've had other movies, many other movies since that have not been well-received or have lost money. But I was very lucky that the first two out of the gate – when I was betting on myself and my own taste – was firstly, a movie that ultimately became a huge franchise and secondly, Sicario, which is a beloved critically acclaimed movie.
So everyone thought I was a genius. Everyone was like, "God he is so good". Now, if they would have waited, after 24 Hours to Live or Gods of Egypt, it could have been a different story. But the first two out of the gate made people say, "Damn this guy's got it figured out"."
Do people presume if you can do it once then you can do it again and again?
BASIL IWANYK:
"Well isn't that the challenge of a producer? You want the credit you've had parenthetically after your name in the trades to be the most recent movie as possible that you're proud of. I don't want it to be The Town, for example. The Town was 12 years ago. My youngest son wasn't even born at the time. You got to make sure it's something within the last three years to stay relevant."
Was there a movie of yours that you felt was a lot better than its fiscal performance?
BASIL IWANYK:
"I loved A Private War. The Marie Colvin story. And I think it underperformed for two reasons:
One, we had a distributor that was about to go under – Aviron – which was five minutes away from bankruptcy, unbeknownst to us. And two, it was a film about a female war journalist in the Middle East. I think that it wasn't something that people were going to gravitate towards. So it was tough.
But it's something that was important to me. I spent a lot of time in the Middle East and I love war reporters and I loved her story. Same thing with Hotel Mumbai. I thought Hotel Mumbai did okay. And by the way, these movies didn't aspire to do a lot of box office. But I thought they would have been more embraced.
On paper, the one that really just crushes me is The Current War. We had Benedict Cumberbatch, a great script, Michael Shannon, Nicholas Hoult, Tom Holland and a great director. And the movie just didn't end up where we wanted it to be. That one was heartbreaking.
But I can't think of a movie that I made that was created for purely commercial reasons that came out that nobody cared about. There hasn't been one where it's like, "This one's gonna be huge" and then it just shit the bed."
Are you motivated by awards and critical acclaim? Does that matter to you?
BASIL IWANYK:
"It did back in the day. I made three movies for Harvey Weinstein; The Current War, Wind River and Hotel Mumbai. And Harvey's big pitch to me was: "You came this close on Sicario and this close on The Town. If you'd had me behind you, you would've won Oscars". I was like, "I'm in. You got me at hello".
And this is not any judgement on who Harvey is, as a person. Let's put that to the side. History's already judged what that is. But like most people I think that got in business with him, he knew what buttons to press. And the buttons to press were: "You're going to be magnificent, you're going to be on the stage, and it's going to change your life".
I think any producer in Hollywood dreams to win an Oscar. All that said, in the last five or six years, I could care less. I don't know if it's because of COVID, I don't know if it's because I'm just getting older. I don't know if it's because I've been nominated for every award on the planet and lost every single one of them. There's been endless award shows that I've been at in order to just sit there, even though I know we had no chance. I don't know if I just don't have the desire to do the extracurricular press. But I really could care less now.
In fact, my dream – which I won't do because I don't have the balls – is that if I ever get lucky to be nominated, I want to do that Woody Allen thing where it's like, "Oh, he's not even at the ceremony". I always thought that was so ballsy and cool.
Let me put it another way. What's more important to me is the respect for the films. And The Town and Sicario and Wind River did have nominations. But I think people have such affection for those films. And isn't that why you want to get nominated for awards? For the critical legacy and the affection? I don't mean the commercial affection, I mean the critical affection. If that's the case, then we achieved it on some of those films."
Can you tell us about some of your favourite movies? Do you have a top-five that rattle around in your head?
BASIL IWANYK:
"I have five but they're more kind of categories. Lawrence of Arabia, Doctor Zhivago, Bridge Over the River Kwai. That's like one slot. Annie Hall, Hannah and Her Sisters – another slot. I have slots like that.
There are also movies that age me. I grew up with Star Wars and Raiders of the Lost Ark. The first time I saw Star Wars and Raiders of the Lost Ark, I couldn't believe what I was watching. It was just mind-blowing. It actually just changed my life. And so those have to be in the top-five even though it's not like I watch them every time they're on.
There are so many Ridley Scott movies and Tony Scott movies I just enjoy so much. Do I think Gladiator or Blade Runner or Crimson Tide are in the top 10 of all time? Of course not. But are they movies that I just love and love? Yes.
But if you ask me what my favourite movie of the last five years is…I couldn't in a million years think of what that would be. Which maybe is just because I'm getting old and cynical. There are movies I admire but not one where I walked away from saying, "Wow"."
Do you think the culture is missing those big talking point films? For example, when Silence of the Lambs came out – everyone went to see that film, everyone was talking about it.
BASIL IWANYK:
"I watched Silence of the Lambs in college, on a date. And I'm really bad with horror movies. It scared the living fuck out of me. Like, zombie stuff – I don't give a shit. But religious stuff and serial killers – kills me.
Unfortunately, if you're a filmmaker, it's TV now. It's The Crown, Squid Game, Handmaid's Tale, Succession. You're right, there hasn't been a film like that in a while. And I don't buy this bullshit of, "Oh, you can't put adult films out in the marketplace now". I don't see the evidence of why that's not working. Someone has to show me a movie that in another time would have been a great and successful movie that has bombed.
Embed from Getty Images
But it does frustrate me because I'm a movie guy at the end of the day. I'm a theater guy. I remember I was on vacation in Nantucket and I went to go see War of the Worlds. There was one theater in Nantucket and the line to get in was like an hour long. I remember thinking, "This is awesome." It was an event. It was like seeing Billy Joel in concert or something. That I deeply miss. I miss that frenzy of excitement.
I also miss that movie where you feel like you have to see it because everybody's talking about it. Even if it's something like My Big Fat Greek Wedding. The one that I did see because everyone was talking about it was Black Panther. I don't see the Marvel movies. I admire them and when I do watch them, I enjoy them. But I saw Black Panther because everybody saw it. And even people who would hate those movies were like, "God this movie is really good"."
Are you in the Scorsese/Coppola camp that fundamentally thinks this is just the same movie rehashed every time?
BASIL IWANYK:
"No. I think it's offensive. I'm a Scorsese fan. But for a guy who's gone to the same well so many times – Scorsese – it's pretty shocking to me. I just think that's kind of get off my lawn old bullshit. And it's disappointing because it gets a lot of airtime. It just feels unfortunate.
You think my 14-year-old son is gonna be like, "Oh my god, I can't watch Avengers now"? Come on, stop.
But also those movies are like events. They're pieces of entertainment. I don't know if they're films with a capital F. I think it was a little unfair of Coppola to say that Dune and the last Bond movie (which I didn't really like…but I love Dune) were the same movie."
Can we talk about your workload? How many scripts are you reading a week? How many scripts get through the miscellaneous filters to get to Basil Iwanyk?
BASIL IWANYK:
"Not many. I have an incredible staff, an incredible team. I mean, I'm accepting new drafts of current projects, because we read all those. But in terms of new material, they're a great filter to get to me.
I would say half the time, my staff will say to me, "We have this script, it's not great yet, we want to get involved, we may even want to option it. But can you hold off on reading it until we get it a little bit better?" So that's happened a lot over the last five years.
And I would say of the 65, 70 projects we have, there's probably 20 of them that I haven't read. That's me giving the executives the freedom and the confidence to get the script into a better place. So by the time that it gets to me, I can put all the willpower that I and the company have into getting it made.
Embed from Getty Images
That's something that was done for me at Warner Bros, which I really appreciated. Lorenzo Di Bonaventura was saying to me all the time, "If you think it's great and you really like it, go for it".
And I understand that at a certain point if I come in and it's shitty, I will have lost that freedom. But I was relatively productive with them at Warner Bros. And I think my incredible team do that for me. They rarely disappoint."
When you're reading a script, what do you love to see and what do you hate to see?
BASIL IWANYK:
"I think the stuff that I love is a voice. A specificity of voice and point of view. And that could be in character, or in action or in the world. It could be whatever it is. I desperately want to feel a storyteller.
When people ask, "How do you pitch something?", I say, "Pretend you're at a bar, you're on to your friends and you have five minutes. Tell them a story". I love being told a story in the script. And I love feeling like I'm being swept along by a storyteller.
I desperately want to feel a storyteller
What annoys me in scripts is really twofold. One, when I feel like it's too mechanical. That's counterbalancing what I just said, where I feel like it's almost too symmetrical. What you feel is that someone read Syd Field too much. And it's mathematically put. It doesn't feel like it's coming from a gut or a soul.
I like messiness. If you look at a lot of our movies, structurally they make very little sense. Or there are a lot of surprises. And I love that, I love being surprised. I love being drifted in to think, "Okay, I know it's going this way". And then it twists and it's: "Oh my god Benicio Del Toro just killed a kid at the end of Sicario!?"
But what I hate is, again, feeling when the scripts are, for lack of a better term, too symmetrical, too perfect, too created. Because the writer has seen what's selling in Hollywood, has studied too much, and is now kind of manufacturing the story.
Underneath the two I hate is when people overwrite action. Coming from a guy who's made a lot of action movies – you don't need to get too specific. I just zip through that. And most readers and directors do. Most directors are like, "Oh I'll figure out the action". And sometimes you turn the page, and it's almost as if 40% of it is exposition. I think, "Are you kidding me? Get me through this".
The last thing I hate is when you have to start flipping backwards going, "Who's this guy again?". I mean, we were on page 18 and you've introduced to me 10 characters and I'm like, "Hang on, is this the guy that is in his 40s and black?" That I don't like either."
There's a great antithesis for that – the opening of There Will Be Blood. Where it's just a man hacking away primally trying to find oil and you don't meet anybody else. He has no dialogue. You just meet this one man.
BASIL IWANYK:
"I love Paul Thomas Anderson. I own a bookstore here in my small town here. And we have like five Paul Thomas Anderson books, beautiful coffee table books, for sale. We've been open for nine months and not one person I think has even picked them up. But I think he is a fucking genius."
So how do you find time? Because your schedule must be mental. Do you just go, "Right this time in the day, I'm turning the phone off and you can't get hold of me"?
BASIL IWANYK:
"I actually have a shockingly functional life. I coach all my kids' teams, or I did when they were younger. And I don't miss sporting events. I have a great marriage, I opened a bookstore, I have cocktails most nights with my friends in the neighbourhood.
For me, it's changed over the years. I've gotten to the point where I've put in an enormous amount of time, effort and resources into building my company up for it to be a system that kind of operates on itself, where I'm used when I need to be used. It wasn't that long ago that I had to be involved in everything.
Embed from Getty Images
But even back in the day, at the most, we were shooting three or four movies at once. I've never in my entire career been out of town more than two weeks. And when we were shooting in the UK and Sydney, for example, I would sometimes come home every eight or nine days. Even if was just for two days.
This is gonna sound really high handed and I apologise; But what is the point of producing films, or starting any career in any job, if it's going to hurt your kids and hurt your wife and give you a dysfunctional family? That, to me, is not acceptable. There's nothing in life that is good enough for you to make your kids feel like they don't have a father. And everyone's like, "Oh, Oscars". I say, "No, I've been to the Oscars and it's still not enough".
And so for me, for whatever reason, I said, "I'm going to look at my job as a job". I think that now here I am older and I made a lot of sacrifices back in the day. For example, if I was ever shooting on a movie and we had a Monday off, like a three day weekend, I'd get on a plane and go home. It did mess with my health a bit, messing up my back from being on planes a lot, for example. But now I'm enjoying the fruits of those decisions because we live on the East Coast and the lifestyle of Hollywood has gone out of my life.
Right now my job is the same kind of job that people have who work at Goldman Sachs or own a restaurant or are a cop. And that's how I look at it. Believe it or not, it has made me such a better producer. Because I don't waste time anymore. When it's time to work, I work my ass off. And when it's not time to work, I don't work. What I realise with that is that there's a clarity of thought. There's no distractions. If there's a problem, I address it and move on.
Embed from Getty Images
I also realise, and I think a lot of people have realised in this post COVID world, that so much of our jobs were nonsense. The lunch, the breakfast, the dinners, the general meetings. It was all kind of like filler. I think that that's been carved away for most people. And they've never been more productive.
I remember after Jeff Bridges won his Oscar the next day he was interviewed by Oprah Winfrey. And she said, "If you could give one piece of advice to an actor? What would it be?" And he goes, "Get married and have a family." She's like, "What? That seems so counterintuitive". And he said, "The moment you get married and you have a family…one, you understand what sacrifice is, you understand what love and loyalty is and it opens up parts of you that you never thought existed. And two, you don't make stupid decisions. You don't take a couple of jobs because you're bored. And then you do two bad movies and it screws your career. When you have a wife and kids, you want to work when it's worth working."
I remember thinking to myself, "That's exactly right". By the way, that's just me. I'm not saying that applies to everybody else. But for me, my personal decision was that I was going to be a dad and a husband with a cool job."
That's refreshing. And it's not the norm by a long shot.
BASIL IWANYK:
"Oh, I would say half the movies we've made in the last three years, I haven't been on set on. Now, granted, it was COVID. So it's a little bit harder to travel. But that doesn't mean I'm not talking to people every day. That doesn't mean there isn't a thing that happens that I'm not aware of.
You have to have faith and trust in people that have your back. And there was a transition process for me on that. I realised I had to let go of things. And it really wasn't because of personal or family reasons. It was because I realised that if my aspiration was to make three to five to six movies a year, I would not be able to have my hand in everything like I would if I was making one or two movies a year.
So that was a choice I made. That's the leap of faith I took.
Embed from Getty Images
And thankfully, my team – Erica Lee is my president of the company and she's incredible – they have my back and I trust them. They also know when to call me in. And when I do get upset on things I don't take it personally. It is what it is. So it is a lot about personal relationships and who you work with."
How excited are you about being a judge of the second TITAN awards? And how important do you feel talent identification programmes are? It's not like the old days where if you didn't live in LA, you just weren't in the ballgame. Or if you didn't go to Oxbridge or an Ivy League school. Now you can be anywhere in the world and if you've got game, you're in the game.
BASIL IWANYK:
"100%. I think there's there's a number of things: One, I'm still waiting for this creative explosion that's coming out of the pandemic. And clearly, it hasn't come from the traditional screenwriter. Because I'm reading scripts all the time and I'm waiting for stuff that's a little more soulful. But it hasn't happened yet. I think that the world has gone through such trauma. And I think it's trauma that we have not even begun to come to grips with and won't for years, especially for kids.
I'm so excited to see these voices and how they reflect that. I'm not saying these films have to be about the pandemic, of course not. But it has moved people enough where I think that art coming out over the next couple of years is going to be so great comparative to the pre-pandemic phase.
I'm still waiting for this creative explosion that's coming out of the pandemic. And clearly, it hasn't come from the traditional screenwriter.
I like messiness in scripts and I like a voice. I like somebody who hasn't studied the form over and over again. They just wanted the story to come out and they wanted it to be in the screenplay form. And one thing I don't like are people who are perfectly cookie-cutter ish. I've read some executive's scripts over the years – ones they wrote under a pseudonym. They're perfectly constructed scripts but they have no soul.
So for me, to be able to read writers before they start adjusting to fit their perceived audience in showbiz is really exciting to me. And I think it's one of the reasons why foreign films and foreign television are exploding because there's kind of a street cred to it. There's an integrity to the storytelling. There's an authenticity to the voice that is just a nice refreshing change from traditional Hollywood.
Listen I'm also flattered that you guys wanted me to do it, especially so early on in the process.
Embed from Getty Images
But also you got to remember too, one thing I'm super proud of – and this is hopefully my legacy when I retire – is that you can see how many filmmakers and writers that we broke on either their first or second movie. Everyone from Halle Berry to the guys on John Wick, Bradley Cooper, Ben Affleck's second movie, Matt Heineman on A Private War, Taylor Sheridan on Wind River (and we also did two of his other movies). A lot of movies we have in post are from first time filmmakers. At the moment, we have two first time female filmmakers that have done big movies for us.
My dad always said, "Why don't you just work with Ridley Scott?". But I find myself always leaning into a new voice. Because that's what's exciting. This job is tough. And when you're working with somebody – whether it's a writer or director, and it's their first or second time – and this is their moment, the amount of urgency, emotion, enthusiasm, work ethic, attitude and optimism is incredible.
It inspires me as a producer. It inspires me as their partner in the endeavour. That is something that I've realised is a narcotic for me. That is something that I'm super excited about.
I worked on Chris Nolan's first studio movie, I hired him on Insomnia. And I'm super proud of that. I bought Training Day for scale plus 10. I hired Steven Soderbergh on Ocean's Eleven when he was in post on Erin Brockovich. Granted Soderbergh had had a great career up to that point. But with those people, I'm really proud that I was in the first two or three innings of either their career or the new step of their career.
Do I sometimes think to myself, "Boy wouldn't it have been fun to be The Dark Knight producer?". Sure. But all those people that I talked about, we're all friends and we all keep in touch and we all look back with great affection because we were there when it wasn't cool to be there.
I'm the king of making movies that look like no brainers in retrospect. People would say to me, "Oh, my God, the talent, that must have been easy to get, look at the cast"… and I'm like, "No, at the time, it was a shit cast". On Sicario, for example, at the time it was considered a shit cast.
But I like that. That to me is really fun."
Is that the more East Coast underdog spirit in you, do you think?
BASIL IWANYK:
"I'm a guy from New Jersey. We look across the river and see New York. I will always be the underdog. I love being the fucking scrapper. And I like fighting. I don't mean arguing, I mean the fight to get something made.
I'm not afraid of any challenge. And in fact, sometimes these movies I read and I think, "This is impossible to make" before then going "Fuck it!"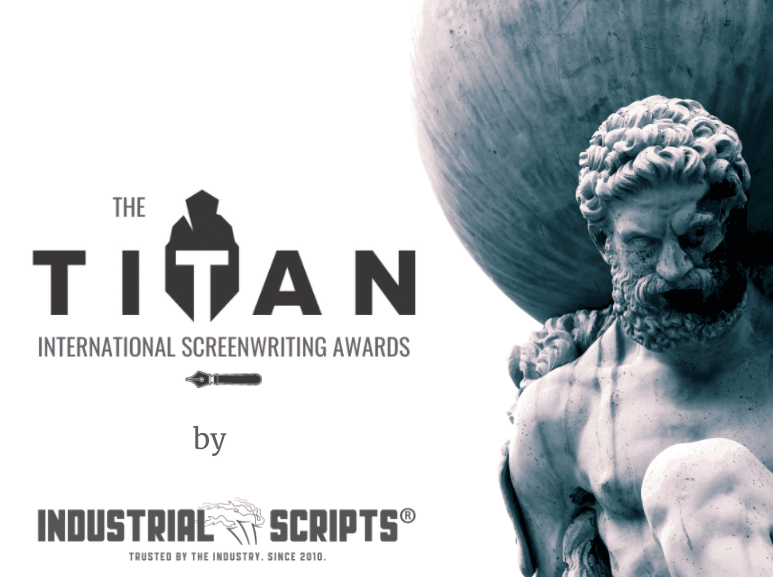 So being a judge for young writers – when I say young, I mean young in their career, they could be in their 50s – that's the stuff that gets me going these days.
It's one of the great joys; When you get a script, open it up and think, "Could this be one of those?". You just don't know. So I go into all these scripts with optimism.
I have that optimism, I don't have that cynicism. I don't go in thinking, "Oh this is going to suck". Instead, I think "Oh my God, maybe this is great. Maybe it's going to be great"."
Thanks Basil!
Basil Iwanyk was speaking as a judge of the second TITAN Screenwriting Contest, by Industrial Scripts. Read more about the contest and enter at the link below.
Get *ALL* our FREE Resources
Tackle the trickiest areas of screenwriting with our exclusive eBooks. Get all our FREE resources when you join 60,000 filmmakers on our mailing list!