Generating Script Ideas – 5 Top Tips
Whether you're sitting down to write your first script or are an experienced writer writing your tenth screenplay – where you get your script ideas from can be tricky. 
There are a number of easy ways to help get your creative juices flowing when it comes to finding your initial story ideas.
The 5 tactics below will help kickstart your potential script ideas – that initial first stage in the screenwriting process that can often feel the hardest.
So: where to start?
1. Script Ideas from News Stories
News stories can be a great way of sourcing script ideas. From the stories that are dominating the headlines to a small article hidden below the headlines.
So what to look out for?
If there is a story that captures your imagination then bookmark it. 
Is there a theme running through this news story?
Contemporary audiences seek films that say something meaningful about the world they are living in.
A script idea based on a hot news story could be a shortcut to finding an audience for your script and a place for it in the marketplace.
Why would this make a good movie?
You might have found an interesting story. However, can you translate this relevant news story into a story that makes sense for it to be told in a cinematic context?
Is there an identifiable protagonist in this news story?

Are they an interesting and original character? And if there isn't one already, who could it be?

Is there a goal for that character to achieve and an obstacle to achieving that goal?

Does the story have an identifiable narrative arc and if not can you give it one? Is there a beginning, middle and end to the story?
Finding a topical news story for your script idea can feel exciting. In a sense, it has done a lot of the work for you in terms of its theme and its marketability. 
However, it's important to remember that there needs to be much more than just a story and theme to justify existence as a cinematic feature.
Is there an engaging narrative and perhaps most importantly, who are the characters that lead this story?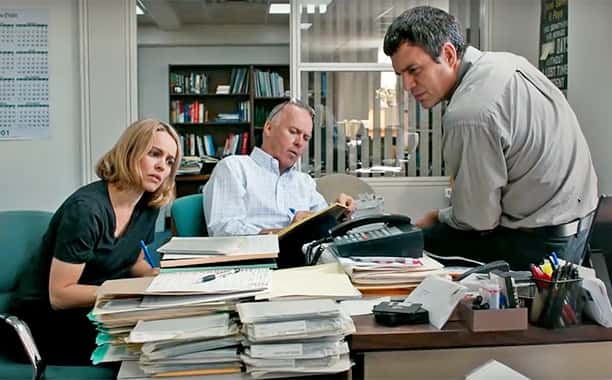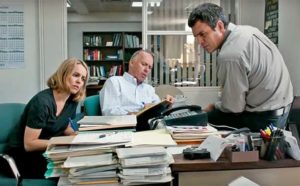 2. Script Ideas from Public Domain Stories
Public domain stories are stories that are not protected by intellectual property laws, including copyright, trademark, or patent laws.
This usually applies to materials on which the copyright has expired.
In the United States that means any works published before 1923 or works published before 1964 (when new copyright laws were enacted) for which copyrights were not renewed.

For any works published after 1977 (after The Copyright Act of 1976) the copyright will expire 70 years after the author's death.
That does seem like a while to wait. Which is why turning to old or classic stories, on which the copyright will have expired long ago, is a good idea.
Adaptations
Obviously the most famous works on which the copyright has expired will have already been turned into movies, possibly multiple times.
For example, DRACULA, HAMLET or PRIDE AND PREJUDICE have all had multiple adaptations.
However, that doesn't have to stop you.
Could you, for example, adapt the essential elements and themes of the story to a contemporary setting?
This is a technique used quite often by screenwriters and it can help give your script a solid grounding in terms of the characters, themes and narrative.
Disney are famous for taking old stories and re-purposing them.
ALADDIN is based on a 1706 folk tale called One Thousand and One Nights,

whilst THE LION KING is heavy influenced by Shakespeare's Hamlet.
Those movies are more direct adaptations, with crucial twists on them. There are examples of more subtle and contemporary adaptations.
CLUELESS is a loose adaptation of Jane Austen's Emma, whilst

10 THINGS I HATE ABOUT YOU takes its inspiration from Shakespeare's The Taming of the Shrew.
You might not think on first glance that these high school movies have grounding in such literary titans.
It's in part the solid ground of the essential stories, on which they have to build, which is why they are so compelling and memorable.
These classic stories have lasted a long time in the cultural consciousness for a reason. Using them as a basis might help give a robust grounding on which to tell your story. 
So start searching that Public Domain. 
3. Script Ideas from Your Life and Experience
You might have a unique story to tell yourself. One that comes directly from your experience.
This should be the starting point when thinking of where to source script ideas from.
Your experience is your experience and inherently unique. It will also be potentially an experience that other people share and can relate to.
Audiences respond to honesty and truth. Telling a story that comes from you in an honest and truthful way can be a shortcut to achieving an emotive response from an audience.
Have you had a particular or unique experience that you want to/feel able to tell a story about?
There might be morsels of a story from your life that you feel you need to expand on. Remember that title card you will have seen so often, 'Based on a true story'.
You might want to change the character names or a key narrative part of the story. Just make sure you are respectful to those real people involved and of the impact such changes could have.
True stories are the holy grail of what producers are looking for in contemporary cinema. In a landscape full of remakes and sequels an original, unique story is gold dust.
From PHILOMENA to THE BIG SICK to THE FAREWELL, stories based on unique life experience can be the key to meaningful, powerful cinema.
The Farewell | Official Trailer HD | A24
4. Script Ideas from What Makes You Angry
This could indeed be related to the news stories you're reading, as mentioned previously.
Are there real world issues that fire you up?

Are there news stories that speak to a subject that you care passionately about?

What do you want to champion with the story you tell or what do you want to criticise?
It's also worth thinking, outside issues as seen in the news, what else makes you angry? Are there behaviours or traits in people that get you riled up?
By perhaps trying to find the source of that anger for you or seeking to understand it, you might come across motivations and underpinnings for your characters.
Your script doesn't have to be angry but analysing anger can be a good way into psychoanalysing characters, behaviours and actions.
Anger is a powerful emotion and working it into your story idea can be an effective way of channelling that anger in a productive way.
5. Script Ideas from Asking Questions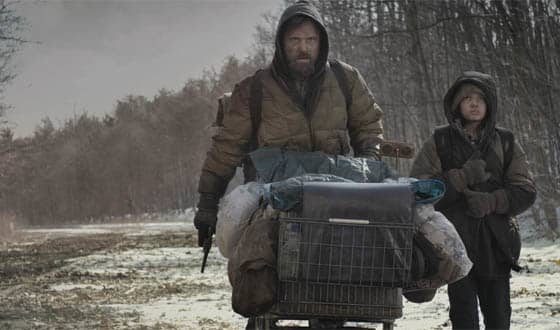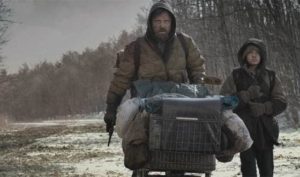 As a screenwriter, asking questions should be a key part of how you approach your script and your scriptwriting process in general. From who are my characters to what are their motivations?
But asking questions can be a key part of generating your script idea in the first place.
Asking 'What if?' is a good way to prompt and probe your imagination.
What if a global cataclysm caused an mass extinction with only a handful of survivors? (THE ROAD)

What if there was a medical procedure invented to erase memories of past loved ones? (ETERNAL SUNSHINE OF THE SPOTLESS MIND)
You shouldn't seek to answer these questions straight away. Start off with a question and explore the potential ways it could be explored.
If 'What if?' is your idea then the branches coming off that need to be many. A good question needs a good answer.
You might even argue that to make a truly satisfying story the answer needs to be far more complicated than the question posed.
This way the story will find itself as one rich and deep for audiences to get their teeth into.
Eternal Sunshine of the Spotless Mind Official Trailer #1 - Jim Carrey, Kate Winslet Movie (2004) HD
In Conclusion
There's no sure fire way to come up with your script idea.
But be patient and attentive to some of the techniques discussed above and you might well stumble across the core idea that will power your script.
If a single one of these techniques don't work for you then try combining them all! Often the best script ideas take a little bit of everything combined.
A little bit of real life, a little bit of personal experience, a little bit of imagination – all combined to make a compelling script.
Do you have your idea and are ready to start writing your script? Do check out our 30 step guide on how to write a screenplay to help get you started.
What did you think of this article? Share it, Like it, give it a rating, and let us know you though in the comments box further down…
Struggling with a script or book? Story analysis is what we do, all day, every day… Check out our range of script coverage services and online screenwriting course for writers & filmmakers.
Get *ALL* our FREE Resources
Tackle the trickiest areas of screenwriting with our exclusive eBooks. Get all our FREE resources when you join 60,000 filmmakers on our mailing list!