Unheralded Scene: COLD SOULS (2009)
In our "Unheralded Scene" series, our consultants nominate a classic film or TV scene, which in their view hasn't received the admiration it deserves. It might be a scene from a classic movie, which has been crowded out by other, more "showy" scenes and set-pieces. It might be a deleted scene which is outstanding in its own right but wasn't quite in-sync or critical to the final cut of the film.
***Warning: plot spoilers below***
Focus on: COLD SOULS (2009)

The film: BEING JOHN MALKOVICH infused with the melancholy of Paul Giamatti, COLD SOULS represents the feature debut of writer-director Sophie Barthes. A high-concept existentialist dramedy examining identity and art…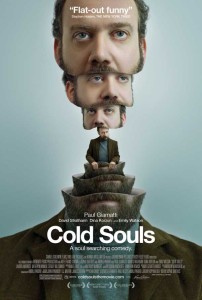 The plot: In COLD SOULS, Paul Giamatti (playing himself) is an actor crumbling under the emotional weight of performing Chekhov's Uncle Vanya. When he sees an advert for a soul-storage company, he elects to lighten his psychological burden by undergoing a soul-extraction procedure. With his chickpea-like soul stored in a jar, Paul finds a balanced mental middle ground – but his art suffers immensely. Deciding he wants his soul back, Paul hits a slight snag – it's missing. Investigations lead to a Russian soul trafficker who wants to help his talentless soap actress wife…
The scene: After leaping into the great unknown with the soul extraction, Paul hits the boards for theatrical rehearsals. What results is the hilarious aftermath of an actor who cannot tap into truth or emotion – stilted, happy-go-lucky and completely inappropriate, leaving his lead actress and director bewildered – to the point of abandoning faith in their star player.
Why it's unheralded: COLD SOULS was largely unseen on release (taking $1.1m at the box office) and as with awards nominations, comedies are often overlooked. Yet this is a funny scene which also accomplishes a wealth of secondary functions.
Why it's great: This is the classic 'promise of the premise' scene, the trailer highlight reel for what happens when an actor removes his soul. It shows a character in a diametric position to their ideal; talentless and devoid of truth – and accomplishes this early in the film's running time. In the grand tradition of story-telling, it's a 'careful what you wish for' morality tale. In plot arc, Paul starts the scene on top of the world – happy and care-free – and ends it realising that he's made a terrible mistake; plot and character direction spin 180 degrees in a short space of time. This is also an example where the devil is in the details; a nonchalant Paul nibbles on potato chips as his director scolds him, and it subtly drops exposition regarding a time deadline ('curtain up' in one week). Crucially, COLD SOULS is a marriage of comedy and plot; too often films and spec screenplays stop to 'mug' and raise laughs, before putting the plot engine back in motion. This achieves story and comedy in one fell swoop; a big comedic set-piece which rests seamlessly in the unfolding tale.
If you enjoyed this article, why not check out our Unheralded Scene: MONEYBALL (2011)?
– What did you think of this article? Share It, Like It, give it a rating, and let us know your thoughts in the comments box further down…
– Struggling with a script or book? Story analysis is what we do, all day, every day… check out our range of services for writers & filmmakers here.
Get *ALL* our FREE Resources
Tackle the trickiest areas of screenwriting with our exclusive eBooks. Get all our FREE resources when you join 60,000 filmmakers on our mailing list!