he Insider Interviews series started in 2010 as a set of recorded interviews, featuring the likes of Tom Hiddleston, Gareth Unwin, who produced THE KING'S SPEECH, Ben Wheatley and Hossein Amini, the Oscar-nominated writer of DRIVE and THE TWO FACES OF JANUARY. You can watch these here.
The Insider Interviews now exist as live monthly events in central London, which is a combination of a compered interview and questions from audience members. If you would like to check out future speakers and join an Insider Interviews Live evening, you can see more details here.
Andrew Orr is the Managing Director of Independent Film & TV. Independent is a fully integrated content creation and distribution company specialising in film and television. Based in London and led by CEO Luc Roeg and Managing Director Andrew Orr, Independent has a team of highly motivated and experienced professionals with expertise in project development, production, structured finance, distribution, sales and marketing. Over the past decade Independent has built a reputation within the industry for creating and distributing innovative and original content.
This Q & A was compered by Rosie Fletcher, Movies Editor at Digital Spy.
What does an average week look like in your job, if such a thing exists? 
Independent are trying to do a little bit more in television, so at the moment I'm trying to focus my attention on that. When we're based in London we do different things, there's no structure to it. There are certain things in the week that we do.
We have an acquisitions meeting weekly, where we sit down and talk about all the projects and all the submissions that we're receiving. But generally the way we work is that we sit in one big office and everyone is together, so that hopefully means we're hearing what's going on the whole time and you're constantly discussing stuff, which is a good and bad thing. Sometimes you can't get away from what's happening.
The main lifeblood of the business is meeting with producers and filmmakers on new projects that we're going to be working on. We're having several meetings a week and usually they're coming to us to do what you could call a pitch meeting. We try to keep it a bit more relaxed, because the way I like to run things is to not put too much pressure on someone coming in to pitch a project. Let's get the best from them and understand the most we can about that project.
Then our business of selling the films is constantly going on, underlying everything. It's usually based a lot around the market, so when we go to places like Berlin and Cannes and AFM, and other film festivals, that's when we have the concentrated activity. Of course with email – when I started we sent our mail out by fax around the world! – it means that that business is constantly going on, and there's a constant communication between us and the buyers.
Now, which is a bit more recent, there's also the sending of links. We used to have all our buyers come to market screenings and watch the films in that period. That still happens, but more often we're sending links to films all around the world. It can be terrifying to know that the film you kill yourself to make will probably be watched on someone's computer screen or iPad, but that's just the reality.
There's also a lot of, which is very unsexy and uninteresting, selling of films and licensing of films. There's a lot of admin and logistics that go into that. It's really the most unglamorous part. There are lot of conversations about delivery – if you sell a film you have to deliver it. And that's the part that no one ever wants to do. Producers really hate delivering films, but it's a thing we get the most fixated on. We're dealing with our financiers and reporting to them and updating them all the time about how things are going on the film or what we're planning to do with it. There's a lot of discussion about festivals.
It's been quite a busy time the last few weeks, because we're entering the fall festivals like Telluride, Venice and Toronto. There's a lot of discussion that goes into arranging that, getting screening links to people, getting prints sent around the world, and hopefully finding yourself in a position where you actually have offers from festivals. You're trying to balance and make decisions about that.
There's also a lot of work that goes into overseeing how our international releases are going. When we sell a film around the world we have people releasing those films in France, Germany, everywhere, and they're sending us posters and advertising plans and then we're communicating with the filmmakers on those.
There's a constant activity going on around the sales business.
Continued inside The Vault…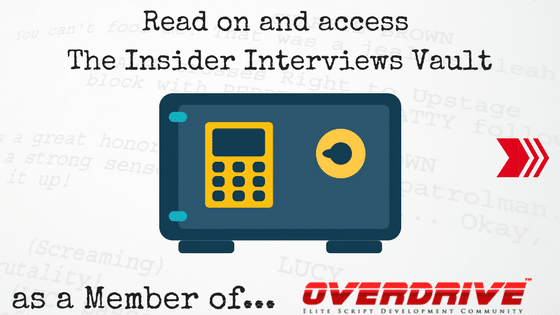 If you enjoyed this interview, make The Insider Interviews LIVE your regular monthly networking event.
See upcoming speakers, future dates and ticket details here.
Get *ALL* our FREE Resources
Tackle the trickiest areas of screenwriting with our exclusive eBooks. Get all our FREE resources when you join 60,000 filmmakers on our mailing list!