In our "Unheralded Scene" series, our consultants nominate a classic film or TV scene, which in their view hasn't received the admiration it deserves. It might be a scene from a classic movie, which has been crowded out by other, more "showy" scenes and set-pieces. It might be a deleted scene which is outstanding in its own right but wasn't quite in-sync or critical to the final cut of the film.
***Warning: plot spoilers below***
Focus On: THE SILENCE OF THE LAMBS (1991)

The film: Jonathan Demme's excellent THE SILENCE OF THE LAMBS, just the third film to win The Big 5 Oscars (Film, Director, Actor, Actress, Screenplay) after IT HAPPENED ONE NIGHT and ONE FLEW OVER THE CUCKOOS NEST.
The plot: Use a killer to catch a killer – rookie FBI agent Clarice Starling (Jodie Foster) is tasked with teasing clues about active killer Buffalo Bill from elegant caged psychopath Hannibal 'The Cannibal' Lecter – with the clock ticking on the kidnap of a Senator's Daughter.
The scene: In THE SILENCE OF THE LAMBS, Lecter has been promised a move from his dark dungeon basement in exchange for the identity of Buffalo Bill – and is shipped out to meet the Senator herself at an air hangar. Will Hannibal give up his prized intel? It seems so – Louis Friend is the name he gives – but he can't resist baiting the Senator and getting inside her head with a few choice questions.
Why it's unheralded: A scene more famous for its props than for its content and execution – the trolley and iconic face mask are scene stealers which hide some quality work and almost perfect scene structuring.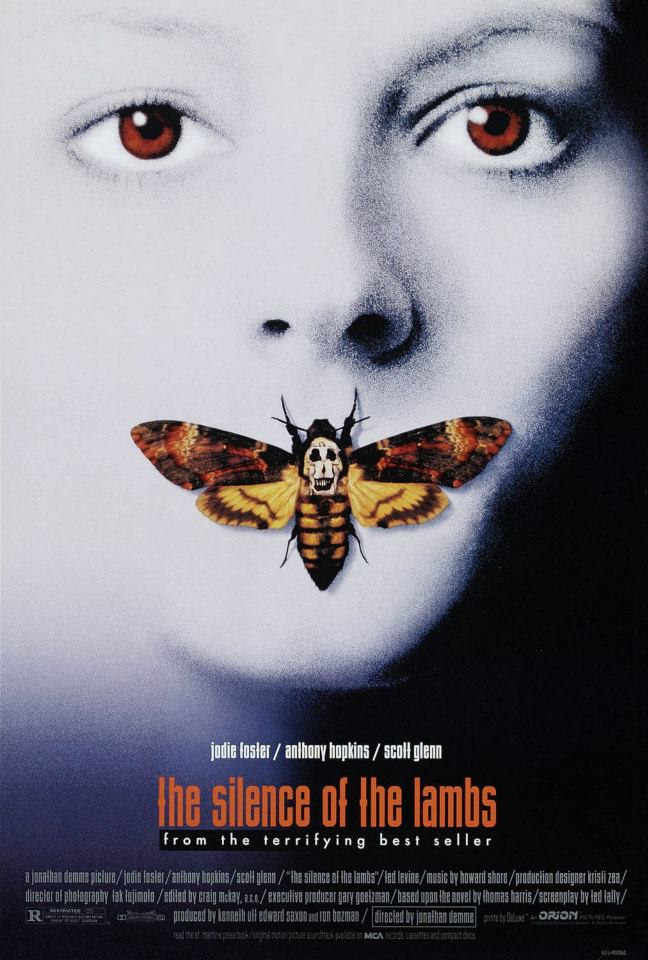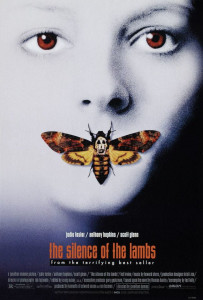 Why it's great: So first, the obvious – the power of props to elevate a scene. So far we have seen Hannibal Lecter in containment behind a glass divide – and the physical motif of ferocity contained is continued here with the strait jacket, the trolley and the mask. This maintains a continuity of expression which builds through the story – Lecter will later be in an elaborate cage – and makes the visual power of his escape that much more rewarding. For a great actor like Anthony Hopkins, the limitation draws attention to his eyes, and means Hannibal must still rely on the power of his cutting words. The scene contains a great plant and plot diversion – in releasing the name 'Louis Friend', we think Lecter has bowed to demands – but as Clarice will later discover, it's merely an anagram for 'Iron Sulfide' – or Fools Gold. This scene from THE SILENCE OF THE LAMBS sends the plot in a new sub-direction, whilst also planting material for a twist later on. The scene structure is perfect – building tension through the slow and apprehensive coming together of the two parties, before a great character moment as social climbing prison warden Dr. Chilton proudly introduces his prized prisoner (one line, but it reveals an immense amount about Chilton's priorities). Lecter engages in some strong verbal strategies to get the Senator onside – foregoing paperwork and putting down Clarice Starling and Jack Crawford's efforts ("I only pray they haven't doomed the poor girl") and lulling her into a false sense of security – but of course, getting her promise by dangling hope in front of her.
Once agreement has been reached, the script foreshadows danger and makes us squirm – "done things with his skin" before the scene kink. Just as the Senator's team ask for a physical description – meaning Hannibal has grasped the upper hand despite his containment – Hannibal uses his position of power to taunt the Senator over her connection to her daughter. The moment heightens Lecter's sense of needlessly torturing others, and reminds us that though he may be calculating, it is perhaps without rationale – a frightening combination of smarts and psycho – before he comes back to reality and spills information. The shocked look on Dr. Chilton's face shows his embarrassment (even a minor character has a scene arc), before a small payoff – the famous, SILENCE OF THE LAMBS "Love your suit" send-off.
– What did you think of this article? Share It, Like It, give it a rating, and let us know your thoughts in the comments box further down…
– Struggling with a script or book? Story analysis is what we do, all day, every day… check out our range of services for writers & filmmakers here.
Get *ALL* our FREE Resources
Tackle the trickiest areas of screenwriting with our exclusive eBooks. Get all our FREE resources when you join 60,000 filmmakers on our mailing list!