Most screenwriters would cite a moment in their careers that proved critical. It might be the day they signed with an influential literary manager, or the moment a key producer spotted something in their spec screenplay that piqued his or her interest.
Of course, it might be more spectacular than that, and a writer might break through with a sale, or a major commission. However they bust into the business, though, and through whatever peaks and troughs that followed, that breakthrough moment is a particularly special one – where years of graft finally come to fruition.
10 Hollywood screenwriters' breakthrough moments
"We took a screenwriting class (at college) together and realised that we liked the same type of films.  A few years later Michael moved to Hollywood and worked as a film editor. We started writing a script together and when we finished, Michael gave it to his post-production supervisor on a film he was working on. She gave it to a producer's assistant, who gave it to a producer, who gave it to Brad Pitt's manager, who gave it to Brad Pitt.  He said he wanted to star in it and it sold. So… the secret to making it in Hollywood is to have Brad Pitt say he wants to star in your spec script."
– DEREK HAAS & MICHAEL BRANDT, 2 FAST 2 FURIOUS, WANTED, 3:10 TO YUMA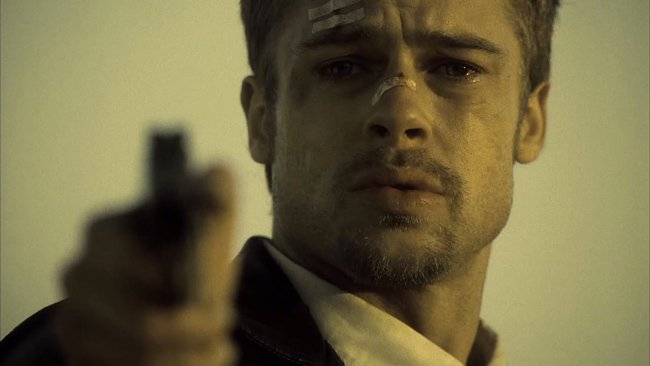 "I saw Bad Influence, a film David Koepp wrote, and I called him up, spoke to his assistant and asked if David would read it, and if he likes it, will he show it to his agent? David happened to be the nicest guy in the world and called me back the next day. I finished Seven as quickly as I could, sent it to him and he showed it to his agent, Gavin Polone. I remember the day Gavin called me in my tiny New York apartment and said he would represent the script. I literally leapt for joy. I was still working at Tower Records while he sent the script out. It went to many of the major studios. When a spec script makes the rounds, you're hoping it's going to sell for a million dollars but you're not surprised when all the studios come back and say they're not interested, which was the case with Seven. It went to a second bunch of studios and production companies, and they all passed, too. Eventually Jeremiah Chechik was interested enough that an Italian company, Penta Films, optioned the script for him."
– ANDREW KEVIN WALKER, SE7EN, SLEEPY HOLLOW, 8MM
"After marketing my first spec for a while, I ended up getting offers for representation from several agents, many of which came through referrals from an MGM executive who liked my work. But because I never expected to have all these options, I didn't know how to go about making the best choice. So I went to a screenwriter's forum online, where there was a professional screenwriter who had also broken in with a spec and who was really cool about answering people's questions. This was Terry Rossio. He asked to read my script, which he liked, and because he and his writing partner, Ted Elliott, were also producers, he asked if there were any other projects I was interested in. There was a children's Christmas book I'd found years earlier that I'd always thought would make a great idea for a comedy. Terry agreed, and we ended up pursuing the rights and pitching it to studio executives. Tristar said yes, and that's how I broke in."
– BILL MARSILII, THE WIND IN THE WILLOWS, DEJU VU.
"I had no formal education whatsoever, completely on my own from the age of eighteen, financially and in every other way, working cra*py jobs. And then one day I had an epiphany. I think I was twenty-three. I said to myself, "I don't want to be living this life with these people and doing this ten years from now." So in a calculated move, I decided to go to L.A. to become a screenwriter. I didn't have one dollar, didn't have health insurance, drove around without car insurance. I couldn't afford screenwriting classes but I was able to get a library card at the American Film Institute, which was great because I got to read scripts that way. Those were so awful that it puffed up my ego and made me think I could do better than this. I was in L.A. for almost a year before I found an idea that was commercial enough. I wrote it with a friend – he was very funny and I was very funny, and we thought we could make each other funnier. And we sold it. It was a huge deal; people weren't making million-dollar deals then. But we were off and running."
– LESLIE DIXON, PAY IT FORWARD, THE THOMAS CROWN AFFAIR, MRS DOUBTFIRE, LIMITLESS
"I showed up at USC very starry-eyed.  On the internship board I saw there was a company at Warner Bros. called Spring Creek Productions.  They ended up hiring me to alphabetise their script library. My second semester I upgraded my internship to Silver Pictures. You know, they did Die Hard, Lethal Weapon – all the movies I loved that brought me out to Hollywood.  I had written a couple of scripts with a friend of mine at USC just for s*its and giggles, and one of them ended up with a manager who read it and liked it. I didn't know he was sending it out.  Well, one day I was at the internship and Damon Lee, who I think was the vice president at the time, just screamed: "Susco, get in my office!" I didn't know what I'd done. I went scrambling in there, and dropped the toast I'd been making. He held the script up and went, "Is this you? I didn't know you wanted to be a writer."  It turned out the script had been sent to Silver Pictures, and the guys really liked it. They gave me an hour of their time and talked about the career of screenwriting…"
– STEPHEN SUSCO, THE GRUDGE, THE GRUDGE 2, RED
"I wanted to be a writer and started writing novels. I also wrote plays, but I couldn't get any support from the playwriting world. I felt I got more respect out of the publishing world so I put all my energy into doing that, but it wasn't an accident that after hitting my limit as a novelist, I drove to Hollywood when I was thirty-five to become a screenwriter. Directing theatre in college made me want to write the stories myself. I gave myself five years and worked really hard, writing fourteen specs before I got hired for Colors."
– MICHAEL SCHIFFER, CRIMSON TIDE, LEAN ON ME, COLORS, THE PEACEMAKER
"I wanted to write movies, so I used to haunt the various sets where they shot in New York City.  I used to sneak into the studios at NBC and watch them rehearse.  I started asking people if they needed a script. I remember one gentleman saying, "Well, why don't you go and write a script?" I was back the following Monday, which was three days later. He said, "You have further questions?" I said, "No, here's the script. I wrote it. Can I call you next week?" He said, "No, if you can write it over the weekend, I can read it tonight. Call me tomorrow." I kept going back to that same company, which was Talent Associates, and barraging them with material. Finally they started giving me things ti do, but they didn't pay me. I figured if I did enough things for free, eventually they would be so embarrassed by their situation that they would give me a job, which they did. They broke down and paid me $1,500 to write a script for a live television show, and I was in the business."
– LARRY COHEN, PHONE BOOTH, CELLULAR
"In 1986, I was leaving college and I was a single mom, so anything with a dollar sign on it, I applied. I entered three screenwriting contests. The first one was the Nissan Focus Awards, which no longer exists. I failed miserably, apparently, because they sent me a rejection notice with a list of screenwriting books I might wanna read. I submitted to the Samuel Goldwyn Writing Awards and to the brand new contest that year, the Nicholl Fellowship. I won both. The Goldwyn had been around a long time, so there were journalists and agents waiting around to hear who'd won. The Nicholl Fellowship was new, so there wasn't so much attention around that, but it was quite a juicy prize. At that time it was $20,000. Everybody wanted to read my script."
– ALLISON ANDERS, THINGS BEHIND THE SUN, GAS FOOD LODGING, MI VIDA LOCA
"In 1982, I made an investment that went wrong and I needed to make more money. My literary agent said he had a contact at Reader's Digest Condensed Books who had an idea for a novel. I wrote this 115-page treatment, and it sold, and I got an advance that was even bigger than expected. When the film rights were bought, I insisted on writing the screenplay. I got up at three, wrote until six, the kids got up, I spent time with them until seven, and then got to work by eight and was a good lawyer until six, had dinner with my wife, and played with the kids. All weekend long I'm writing, and on vacations I'm writing like crazy. I wrote four scripts in a year and a half while I was practicing law. And then a good friend who happened to be head of Fox at the time said to me, "How many blind deals would you need from me to be able to quit law entirely and just write?" I thought about it, did the calculations, and it came down to two scripts. He said, "You got it.""
– RON BASS, SLEEPING WITH THE ENEMY, RAIN MAN, MY BEST FRIEND'S WEDDING
"I had all these writing samples so I decided to go to Hollywood. I had an emotional talk with my wife because we had just had a baby at the time, and I took a bargain basement flight to L.A. where I had an aunt who had a friend who happened to know a lawyer who had quit to become an agent.  So I called him up, sent him some samples, he liked them, asked me if I'd deign to do television. I said sure, I want to work.  So he gave my samples to one of his clients. As soon as he read them he hired me. Six days after I arrived in town, I signed a contract with Universal Studios. Instant success! Of course, thirteen weeks later, I got laid off when the show got cancelled. Then Paramount lured me away from Universal to write pilots for them. One of them was called The Renegades, which was Patrick Swayze's first gig, and the producer on that was Larry Gordon. One day he calls me into a meeting, and there is Joel Silver, who was his protege, and Michael Eisner and Jeffrey Katzenberg. They'd seen my work on these pilots under tough situations, and I had a reputation for doing action adventure with a sense of humour. So they offered me this movie they'd been developing for six years. They said "We need to make it funny without sabotaging the action, and we think you're the guy." And that was 48 Hrs…."
– STEVEN DE SOUZA, DIE HARD, DIE HARD 2, THE RUNNING MAN, 48 HRS
If you enjoyed this post, why not check out our article containing 10 Ways To Irritate a Development Executive?
– What did you think of this article? Share it, Like it, give it a rating, and let us know your thoughts in the comments box further down…
– Struggling with a script or book? Story analysis is what we do, all day, every day… check out our range of services for writers & filmmakers here.
Get *ALL* our FREE Resources
Tackle the trickiest areas of screenwriting with our exclusive eBooks. Get all our FREE resources when you join 60,000 filmmakers on our mailing list!