Comedy writer, director and actor Ricky Gervais has been bracing our screens since the early 2000s. Often outspoken and straight-talking, Gervais has conquered the comedy genre with his broad array of work. He's also known, however, for his forthright, often controversial comments, particularly on the Golden Globes stage. But this forthrightness also makes his words insightful and unique. So we've compiled 20 Ricky Gervais quotes to inspire writers and filmmakers.
Ricky Gervais – The Long and Winding Road
Much of Ricky Gervais' inspiration comes from his family, upbringing and life before fame. Born in Reading, Ricky originally studied Biology at University before changing to Philosophy. He then worked on the fringes and behind the scenes of music, TV and radio, even having a stint as the lead singer of a band.
He worked as an assistant events manager and acted as head of speech for radio station Xfm. It was when hiring an assistant in this job that he met Stephen Merchant, who was in his words, the first CV at the top of the pile. This twist of fate would eventually push Ricky more in front of the camera rather than behind it, Merchant taking note of Ricky's talent for comedy and performing.
In addition to hosting a radio show, he also featured on late-night Channel 4 show, The 11 O'Clock Show and even got his own talk show, Meet Ricky Gervais. These, however, would be nothing compared to what was to follow and Gervais has since mocked his early work – his talk show, for example, flopping at the time.
It was a long road to his big break in The Office, hitting when Gervais was 40. But his early life and array of experience frequently shapes his work and is vital to it. From years spent working in an office to his focus on philosophical themes in films such as Ghost Town or The Invention of Lying.
Ricky Gervais provides a good lesson for aspiring writers, filmmakers and performers – the road is never straightforward. And it can often be a twist of fate and/or continually trying and failing that ultimately leads to success.
Ricky Gervais – Comedy Titan & Astute Observer
Ricky Gervais knows how to play with people's emotions. From capturing the verisimilitude of life as an office worker in The Office to coping with the ups and downs of life and death in After Life. His signature style involves relatable, flawed characters in familiar, grounded settings.
The comedy often comes from this grounding in real life. And this is no more the case than in The Office, where the mundanity of daily life in an office becomes comedic fodder. There's a melancholy that often permeates Gervais' work, something that makes it profound as well as funny.
Despite winning multiple awards, including BAFTAs, Emmys and a Golden Globe Award, Gervais' skill as a writer often feels overlooked. Such is his headline-grabbing performances (from hosting the Golden Globes to The Office) that the strength and subtlety of his writing and insight often plays second fiddle.
This is why we've compiled 20 Ricky Gervais quotes. Because beyond the witty quips and controversial takes, he's a writer with an acute grip on emotional drama as well as comedy. It's not easy to get this balance right in writing and this is part of the reason that Gervais' work is so effective and successful.
Ricky Gervais Quotes on… Writing Ideas & The Creative Process
1. "Nothing gives me more of an adrenaline rush than coming up with an idea. I can't sleep if I think of it before I go to bed. I've got to work it over so I don't forget it when I wake up. That's a lovely thing to wake up to – an idea. And it doesn't get any better than when it's in your head. You've got to ruin it as little as possible."
2. "I've honed my creative process down to lots of relaxation and thinking, opening your brain, and letting ideas come. Sitting in front of a laptop eight hours a day is not productive. You've got to live. You've got to run. You have to sit around and do nothing but watch TV. You have to do lots of normal things. A creative process should not be admin or worrying about structure."
3. "With any writing collaboration never come in with two different scripts and then fight. You work on something, and you never want to be left with something that one of you doesn't like. You might throw out 90% but the 10% you both love. "
Ricky Gervais Quotes on…Themes and Inspiration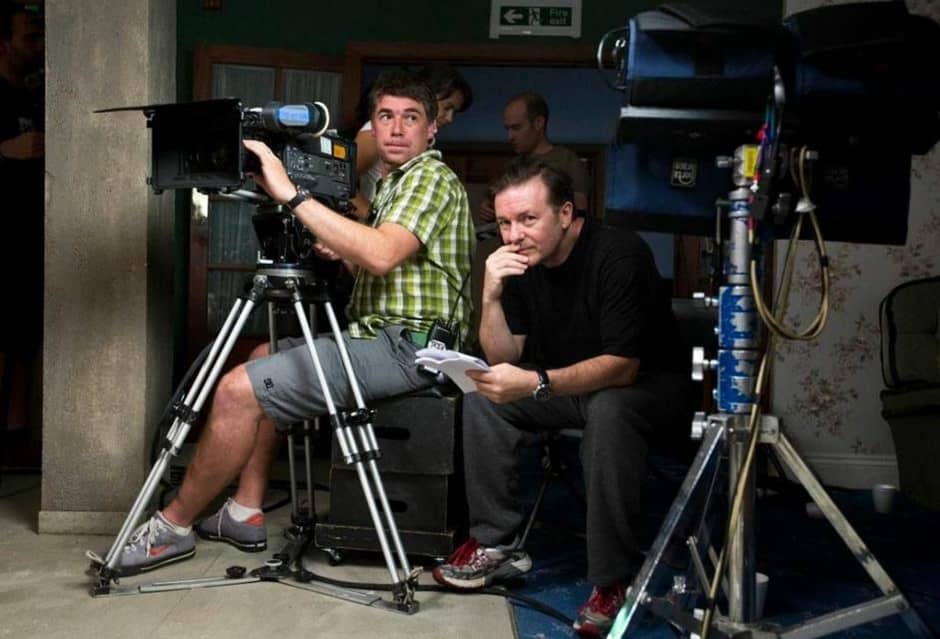 4. "You can be watching the greatest film in the world, and if you hear your neighbor getting into a fight, you're at the window."
5. "Themes have to be universal. The Office looked quintessentially English but there were big themes – making a difference, boy meets girl, everyone has to work (at a job) which they might not enjoy. As long as the themes are big, important, and essential, it doesn't matter about the details or where you are. People identify with it because they feel it on an emotional level."
6. "I've always got up in the morning and wanted to fill the day with as much fun as possible. Everything I've done is slightly existential as well. The Office is about people becoming forty and are they doing the right thing? Derek was about people at the end of their lives, what can they pass on? Life is amusing, we take everything so seriously, we care about everything passionately, we have fights & wars and worry about little things. And then we die. And then there is nothing. It was all pointless."
7. "Drama is conflict. We don't want to watch twelve people sitting around having a nice conversation. We want a fist fight. It appeals to the worst of our instincts."
Ricky Gervais Quotes… on Reputation and Audience Reaction
8. "Reputation is what strangers think of you. And who you really are is what you're friends and family think of you. And they stay forever. So I just don't care now"
9. "I embrace the gasps as much as the laughs because that means they are listening. Offence is good. Offence makes people think. It makes them come up with another argument. I'm tired of people saying, 'I'm offended.' I want to say, 'So what? You're just telling me your feelings'."
10. "I just don't want to be judged. I don't change anything that I wouldn't want to do. To find an audience, I do what I do and somewhere in the world, there's enough people that want to come and fill that venue."
11. "When I was about to be famous, I feared it on a few levels. I feared it because I didn't want people to lump me in with those people who'd do anything to be famous. I didn't like the word 'celebrity', I feared intrusion, you know? 'Make me famous, and suddenly you can go through my trash bins'."
12. "I get so sick of people asking: "What's your demographic?" Or: "Oh we've got to aim this at…" No, you have to aim it at you. You do the thing you would love… make the thing you would love and be proud of. There are enough people in the world that, if you do that and do it well as a single vision, they'll go: "That's my favorite thing ever!"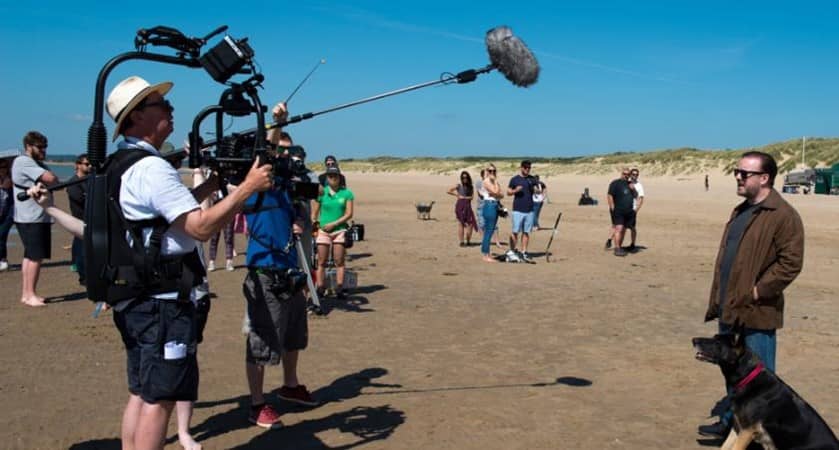 Ricky Gervais Quotes on…Writing & Directing
13. "Comedy and drama are different sides of the same coin. And the thing about comedy and drama is about likability. It's about character first. It's about the story. And for me, it's about empathy, and I think the more real someone is, the further you can go either way with them."
14. "An hour's stage time is worth fifty hours writing. It's just doing it and doing it. You've got to have a passion for it and find your voice."
15. "Making people laugh is easy for me. I'm quite proud of that. But I'm prouder of silencing an audience for a minute because they're thinking about something."
16. "Write about what you know. Being honest is what counts. Trying to make the ordinary – extraordinary…As a creator and director, it's your job to make an audience as excited and fascinated about a subject as you are. And real life does that."
17. "When I first started, I thought I was a writer. I probably only directed because I realised I could protect the writing. And then I produced to protect the directing. It's all to protect the idea."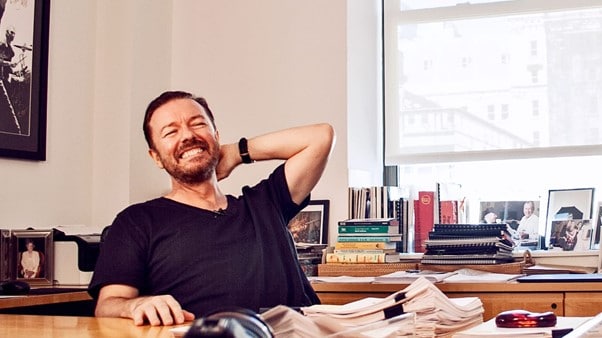 Ricky Gervais on…Making Art
18. "I think all art – even one as lowly as making jokes about celebrities – is there to make a connection."
19. "Real life is the biggest influence on me. Observation and realism in the production. I write about what I know. I wanted to be an antidote to all the stuff I had experienced. Comedy is a normal person trying to do something big and they're not equipped. You're either laughing with them or at them. Comedy is more about empathy than people think. It's an intellectual pursuit and it helps if you root for them. It's best when it lets you know that there is nothing wrong with you."
20. "You should make something. You should bring something into the world that wasn't in the world before. It doesn't matter what it is. It doesn't matter if it's a table or a film or gardening-everyone should create. You should do something, then sit back and say, 'I did that'."
Enjoyed our list of Ricky Gervais quotes? Why not have a look at our other quotes articles, such as Wes Anderson and David Fincher.
– What did you think of this article? Share It, Like It, give it a rating, and let us know your thoughts in the comments box further down…
– Struggling with a script or book? Story analysis is what we do, all day, every day… check out our range of script coverage services for writers & filmmakers.
This article was written by Hannah Taylor and edited by IS Staff.
Get *ALL* our FREE Resources
Tackle the trickiest areas of screenwriting with our exclusive eBooks. Get all our FREE resources when you join 60,000 filmmakers on our mailing list!