In this series we look at scenes and moments where a film or TV show has revealed a great deal of character information in a short amount of screen time. In this installment, we focus on how BRIDGE OF SPIES introduces Jim Donovan (Tom Hanks).
Steven Spielberg directs, from a screenplay based on true events by Matt Charman (SUITE FRANÇAISE) and the Coen brothers (who need no introduction). BRIDGE OF SPIES was nominated for six Academy Awards, with Mark Rylance winning for Best Supporting Actor.
BRIDGE OF SPIES
1957, Brooklyn. Abel (Mark Rylance), a Soviet, spy is caught, accused of espionage and set to go to trial. James B. Donovan is the lawyer selected to defend him. The government want a fair trial so the Soviet Union can't use Abel's case for propaganda.
Later, when the Soviets capture the pilot of an American spy plane, it's up to Donovan to negotiate a trade.
Who is Jim Donovan?
Jim Donovan is a lawyer specialising in insurance, although he was part of the prosecution team at the Nuremberg trials after the war. He has a wife, Mary (Amy Ryan), and several children.
Donovan is a good man trying to do the right thing in a complex, morally grey world . He's a classic Tom Hanks character, cementing his reputation as his generation's Jimmy Stewart.
How is Jim Donovan's character revealed by the action and dialogue?
The Harvard Club. Two lawyers are talking, but for now we only see Jim Donovan.
Donovan quibbles with the other man (Joshua Harto). They're not talking about "my guy," but a guy insured by Donovan's client.
The other man describes what happened. The guy insured by Donovan's client lost control of his car and hit five motorcyclists. This counts as five accidents.
The five guys who hired me to represent them because you're not honouring your claim.
Donovan insists the insurance company are honouring the claim, as it is one incident, not five. He uses the metaphor of bowling. If he throws a strike, one thing happened, not ten. If a tornado carries away a house, that is one event.
Later, Donovan steps into the offices of his law firm. His secretary tells him she's moved his morning meeting.
Watters (Alan Alda) invites him into his office. Inside, Donovan greets Lynn Goodnough (John Rue), the Chairman of the New York Bar. They joke about their families.
Watters' secretary leaves, shutting the door, and the mood instantly turns serious.
What do we learn about Jim Donovan in these scenes?
While this scene is an informal chat, rather than a court case, Jim Donovan's skills as a lawyer are on full display.
Donovan plays dumb, but knows the importance of language. He resists the casual and personal association implied by the phrase "your guy."
Donovan is not here to defend what the man in question did. The legal and moral distinction is very important for Donovan, as it's what allows him to do his job effectively. Naturally, Donovan and the audience have sympathy for the motorcyclists, but his job is to defend the insurance company.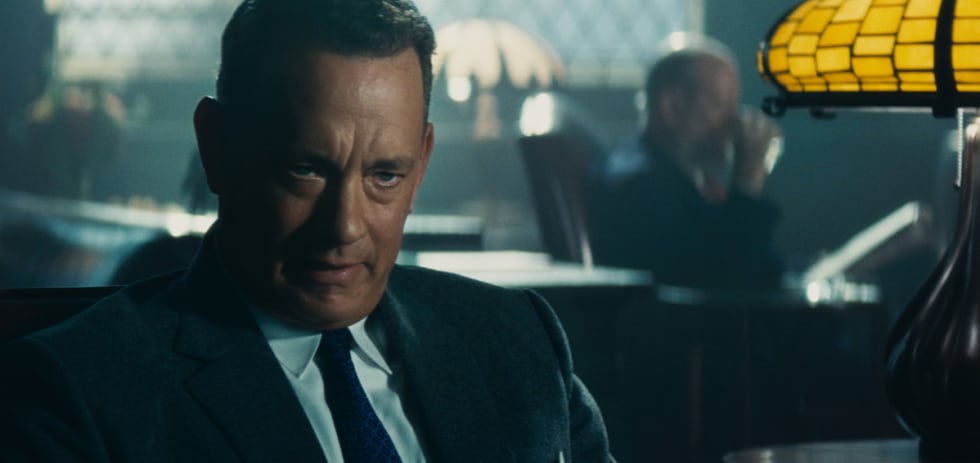 Donovan's first small victory is getting Bob to accept his terms. Bob agrees to reframe "your guy" as "the guy insured by your client."
Another seemingly small difference, that Bob says "these things" rather than "this thing," also has significant implications. Jim Donovan challenges this too.
Donovan however is a civil person as well as a civil lawyer, and never talks down to Bob. He uses first names (and Jim rather than James) to put them on an even, friendly level.
His use of bowling and tornado metaphors show that he's a down-to-earth guy, not an out of touch elite lawyer. He's good at making things understandable, at communicating with normal people.
If that's what you're saying, well, then there is never any limit to our liability and that is the end of the insurance business. And then, Bob, nobody is safe.
Jim Donovan's final lines in this scene perhaps cross over into fear-mongering. However, they speak less to this specific case than the story that follows.
If you suspend the rule of law now, then nobody is safe. No matter what someone has done, be it hitting motorcyclists with their car or spying for Russia, the Constitution entitles them to a legal defence.
This is what Jim Donovan believes and, despite his protestations, it's what makes him the perfect protagonist for the story.
Watters, Cowan and Donovan, how may I direct your call?
In the office, Jim Donovan's status is established. A receptionist answers the phone, revealing his name is one of the three that make up the firm. He's also shown to be a family man and on friendly terms with Goodnough.
Jim Donovan's relationship with Watters is different. Watters knows Donovan's coffee order, to his surprise. There's familiarity there, but not too much. Although they're both partners, Watters definitely has seniority.
Watters has the power to rearrange Donovan's meetings for him and, as it turns out, to force him to defend a Soviet spy because:
it's a patriotic duty, this is an important mission. I told Lynn the firm can't say no, and you'd have a tough time saying no too.
This is Jim Donovan's struggle. He's caught in the middle of the Cold War, a war fought in this case through propaganda. Both sides want to make him a pawn. He has to cut through these vested interests and bureaucracy to do what he thinks is right.
Why is this an example of brilliantly succinct screenwriting?
BRIDGE OF SPIES begins with Abel being arrested. It would have been easy to cut these two small scenes that follow. The arrest could transition straight into Goodnough dropping the file on the desk in front of Jim Donovan.
However, Charman, the Coen brothers and Spielberg know that this story is bigger than one court case. Donovan will go on to negotiate the exchange of Abel for Gary Powers, putting all his skills of communication and persuasion to the test.
For Jim Donovan, the plot begins when the door Watters' office shuts, but the audience already know a lot about his profession, family, and most importantly, his morals.
What did you think of this article? Share it, Like it, give it a rating, and let us know your though in the comments box further down…
Struggling with a script or book? Story analysis is what we do, all day, every day… Check out or range of services for writers & filmmakers here.
Get *ALL* our FREE Resources
Tackle the trickiest areas of screenwriting with our exclusive eBooks. Get all our FREE resources when you join 60,000 filmmakers on our mailing list!