About The TITAN Awards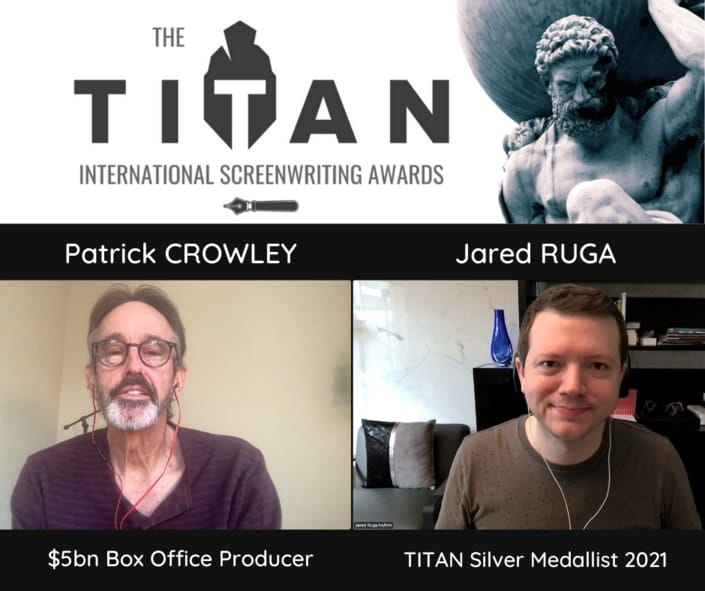 TITAN Awards Winner – Jared Ruga
An altruistic billionaire with an enigmatic past sets out to build an environmental utopia, even as enemies – known and unknown – stop at nothing to destroy his dream.


So after Jared's amazing victory, we sat down with him to ask him a few questions about how he feels being a TITAN Awards winner, his inspirations and his path to becoming a screenwriter…
Interview with TITAN Awards Winner Jared Ruga
Firstly, Tell us About You: Where Are You From, What's Your Background in the Business?
JARED RUGA:
"Born and raised in Salt Lake City, Utah, I've been making (terrible) movies since I was 13, and (much improved) films professionally since 2015, the year Quiet Heroes got started.
That documentary largely launched my career in entertainment, as it premiered at Sundance in 2018, played the festival circuit and wound its way through international distribution, and eventually picked up an Emmy Award in 2019 after its US run on LOGO TV. Since then I've continued producing documentary projects and developing narrative content.
I'm excited to focus on producing the scripted content this year."
How Long Have You Been Writing Seriously For?
JARED RUGA:
"Writing's been in my blood since the very beginning – I remember sneaking off during recess to work on stage plays I had in the works in the Fourth Grade, but I honed my screenwriting craft while working on my MFA at the University of Utah.
By the time I graduated I'd accumulated over 450 pages of shorts and features, but of course, that's really just the beginning. Working with talented writers on projects at Vavani Productions gave me more depth and range, but that's what keeps the craft exciting: no matter how much you improve, you're never quite as good as you could be with a little more work."
How Does it Feel to Have Won The TITAN?
JARED RUGA:
"We applied to TITAN on a whim and didn't think much of it; rejection and disappointment tend to be the emotional baseline in the entertainment industry, so I try not to get my hopes up too early in the process.
But when we received the notice we'd won our category, that temperance went out the window. I spent the next hour sending texts and making calls to celebrate with many of the people who'd touched the project in one way or another since its inception.
Double—nay, triple—that excitement when we found out we'd taken second place overall!"
Can You Tell Us More About the Project You Won With?
JARED RUGA:
"Meet Jensen Poplar, a mega-billionaire and environmental evangelist with a dream to build an eco-utopia from the ground up. He's the protagonist of SHINING CITY, a one-hour, serialized eco-political drama.
This "shining city" will have every real social and technological innovation known – and a few we haven't quite heard about yet. And Jensen Poplar, its chief visionary, well, he might have a little bit of a Messiah complex. He really wants to make his city, Poplar Grove—named after himself, of course—the tinder box for world change. To create a net-zero, currency-free Earth of the future designed for humans thriving in harmony with nature.
But here's the rub. Nothing about Jensen Poplar is quite what it seems. Yes, he's handsome and generous and charming. He's also insanely manipulative. Cruel, at times.
As the season plays out, everyone tries to stop him. At first, it's the enemies he can see – Big Oil, Republican senators. But soon enough, enemies emerge from places he never dreamed of, including the people who are closest to him. People he trusted with his life.
SHINING CITY explores the collision course between one man's wildest ambition of building an environmental utopia — saving humanity — and the status-quo forces hellbent on stopping him. Either Poplar wins, or we all lose."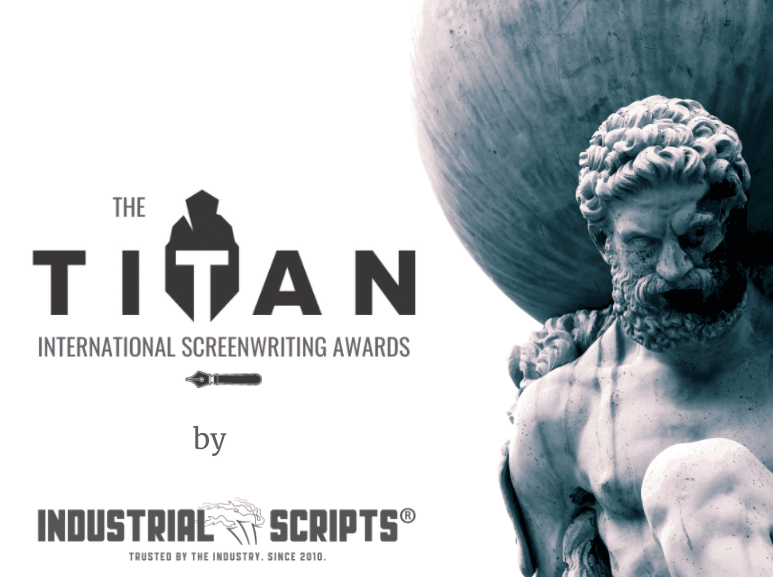 Where Did the Idea for This Project First Come From?
JARED RUGA:
"After I finished my second year of law school at the University of Utah, I packed my whole life into my car for a road trip to L.A. to work on a congressional campaign for the summer. As I was driving through the vast swaths of open land in Central Utah while contemplating my candidate's policy platform, I kept thinking:
Solar panel subsidies and five-minute showers won't save the planet. The socio-political structures destroying the environment are so interconnected, we'd almost be better off starting from scratch. After all, over 70% of global emissions come from just 100 companies: citizens aren't to blame – the system is. These giant conglomerates that dominate industry and politics. There's just no stopping them. Unless you're one of them.
Attacking the system from the inside. Leveraging billions to render irrelevant the very power structures that made you rich. Brilliant—or at least crazy enough to think you can win. Who could that person be? How would they do it? And who would stop at nothing to sabotage their efforts in defense of the status quo? Enter SHINING CITY."
What Would You Say the Key Cinematic Touchstones Are, For It?
JARED RUGA:
"SHINING CITY jumps between three key timelines in Poplar's life, all set in different geographies, so each period offers rich opportunities to specialize the visual style, mood, and pacing.
And because it incorporates so many different disciplines through the supporting characters – technology, ecology, urban planning, etc. – it's a solid mashup of what the wildland-urban interface could be with more conscious design. Glass and steel are softened by vertical gardens and blend-in architecture. Technology in harmony with nature and people in sync with each other—aspirational but challenging."
What Scene in the Script Are You Most Fond Of?
JARED RUGA:
"We open the pilot with a hook: it's the gory aftermath of a keynote presentation gone very wrong, where Poplar lies bleeding onstage as medics tend to him and bodyguards whisk him away.
Then we wind back the clock and show you how we got there. It's become a reasonably common device, but it plays really well with our story, cliché be damned."
Why Did You Choose to Enter The TITAN and What's Been Your Experience With Other Contests?
JARED RUGA:
"The TITAN had the best perks if you won, particularly the one-on-one meetings with the Titans (more on that below). It was also a new contest, so we figured we'd toss SHINING CITY in the ring and see what happened. I'm so glad we did!"
In Terms of the Winners' Benefits, Which Run Over the Whole Course of a Year, Which One Are You Most Excited About?
JARED RUGA:
"This one's easy: the meetings with the real-life Titans.
I've already had one-on-one Zoom chats with Ed McDonnell and Patrick Crowley, both of whom were incredibly encouraging and helpful.
What surprised me a bit was how well they knew my material—given how busy they are, I thought their notes would be high-level, but they both gave specific, actionable feedback on how I could improve the pilot and bible."
What Are You Working on Next?
JARED RUGA:
"Next up for SHINING CITY is refining the pitch and then booking as many pitch meetings as I can.
As far as other projects go, I'm producing a feature-length biopic based on our doc Quiet Heroes, and have a docuseries about homelessness currently in production as well."
Where Do You Hope to Be in 5, and 10 Years?
JARED RUGA:
"In five years, I want to be a showrunner on a hit series (hopefully one I've created, but I'm not picky!). In 10, I hope Vavani (my startup independent production company) is a well-oiled machine creating socially conscious content that also happens to be immensely entertaining."
What Advice Would You Give to Writers Entering Competitions in Terms of Honing Their Screenplays?
JARED RUGA:
"Take care to ensure the competition is credible – there are lists posted online by reputable sources that rank prestige and utility, but you can also look at previous winners' success stories as an imperfect barometer.
You don't want to take a shotgun approach and apply to everything because those submission fees add up and at some point, you could've just made your movie or pilot for all you've spent. But the key ones really do have the power to nudge your career trajectory."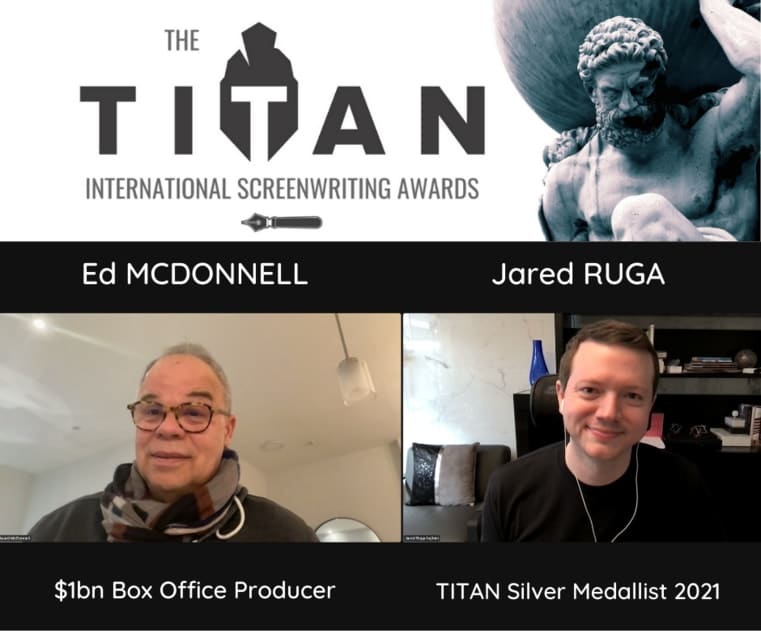 What's the Biggest Thing You've Learnt in Your Career as a Writer So Far?
JARED RUGA:
"I tend to be a perfectionist and tinkerer – I want things to be so good they blow you away before I share them with anyone.
The problem with that line of thinking is twofold: things don't get mind-blowingly good without thoughtful feedback from trusted advisors, and timing is everything; you don't want to miss a window of opportunity because you didn't feel like a project was perfect. It's never going to be. Good enough is good enough.
A masterpiece of a script that gets preempted by a lesser but similar project loses its relevance. So don't be afraid to show your work early and often."
What's the Most Useful Piece of Advice You've Found From a Craft Perspective? Something That Was a Fundamental Shift in Your Writing Process.
JARED RUGA:
"I took a workshop recently put on by Resetting the Table in which they trained writers and other storytellers how to radically understand people whose positions they disagreed with.
That exercise lent so much deeper empathy to how I write antagonists/villains—most are just people who believe they're doing the right thing, but whose life experience and genetic makeup have put them on a different path.
Maybe the protagonist's path is more righteous, or maybe it's more complicated than that. But giving the antagonist the benefit of sympathetic understanding enriches everything about them, from motives, to dialogue, to character development."
What Does Your Writing Routine Look Like?
JARED RUGA:
"I wish it were more routine, but in my current role, I'm producer-first, writer (a very distant) second.
If I really had to prioritize it, I could probably write for a couple of hours a day, but that time most often gets gobbled up by my rapidly replicating inbox and various producing responsibilities.
So to date, my writing has happened in explosive bouts of concentrated activity, where I set aside a day or two, get into the flow, and write for 8-12 hours in a row."
Quickfire Round:
Favourite Movie Made by the Judges:
"Jurassic World by Patrick Crowley because it was an incredibly well-executed reboot of a franchise I adored as a kid."
Favourite TV Show Made By the Judges:
"Dead-heat between Ed McDonnell's Mosquito Coast and Karen Moore's Breaking Bad. Both are thrillers with somewhat untrustworthy antihero protagonists and big-budget action sequences coupled with a deep analysis of what we'll do for family. What more could you need?"
Your Top 10 Movies of all Time:
"A marketing masterpiece that invented the slasher genre and told a captivating (and adapted) story with electrifying performances by Janet Leigh and Anthony Perkins."
"A wildly inventive application of the Sapir-Whorf hypothesis in a sci-fi setting with one of those Contact-style twists."
"Gripping, entertaining, ripped from the headlines, with an expertly transformed, luminous performance by Charlize Theron. An important marker of the #MeToo movement."
"Chilling reminder of how important a free press is to a healthy democracy—a woman fighting the misogyny of her time to lead us back into the light. Meryl Streep in that role is resplendent; Tom Hanks as a hard-ass editor is delightfully against type."
"Heartbreaking story of a brilliant man born in the wrong era—Turing was still able to overcome the limitations of his time and end WWII, despite the homophobia that tried to keep him small. A triumph of human will."
"Taraji P. Henson, Octavia Spencer, and Janelle Monáe all in the same movie? Their performance tour de force telling such an important story history almost forgot."
"Christopher Nolan's breakout film with a brilliant concept and razor-sharp editing, which set the tone for the rest of Nolan's career to date. Guy Pearce delivered a great performance as well."
"Iconic, nightmarish Anthony Hopkins as Hannibal Lecter with excellent cat-and-mouse by Jodie Foster in a taut plot – pairs nicely with some fava beans and a nice Chianti."
"Moody, psychological, character-driven take on the spy genre that I watched a dozen times in middle and high school. Reset the genre and paved the way for the Bond franchise to become what it did with Casino Royale."
"Such a brilliant adaptation of the beloved novel series with expert directing by Chris Columbus of child actors who didn't let us down. And I still find myself humming those riffs in the John Williams score from time to time."
Your Top 10 TV Shows of All Time:
"The searing dialogue. The interconnected characters with no boundaries. The King Lear family dynamics. I'm here for all of it."
"Carrie and Saul's relationship drove the show, but almost every season had that slow build for the first few episodes that exploded into edge-of-your-seat-yelling-at-the-TV chaos by about episode five. It was also nice to see a strong female protagonist (played by the scary-good Claire Danes) struggling with her mental health in such a human way."
"Sorkin's famous walk-and-talks were always a delight, but the real magic was that it was such an overtly political show that never felt like a sellout. I miss President Bartlet dearly."
"Never before have I so badly wanted to protect a little green monster. Sure, you had the sci-fi action sequences and interesting plots, but this is ultimately a story about fatherhood against all odds. And Baby Yoda is just so. damn. cute."
"Kaley Cuoco is a national treasure. I gained a deep respect for her acting chops in this one, and the rest of the cast was fantastic as well. It was a show that was so much fun I counted down the days to new episode drops."
"I adored Buffy as a kid, and even tried to make a knockoff film inspired by it (Kid Slayer, by 9-year-old me—we shot the opening title sequence and… nothing else). I re-watched it in college and was stunned by how much it still resonated. And the visual effects were also quite good considering it was TV in the '90s."
"I made a point never to drink while watching this show (not just alcohol, but literally no liquid intake) for fear of drowning during fits of laughter. The absurd humor and cutting insults never disappointed. If I ever have the honor of meeting Julia Louis-Dreyfus, I sincerely hope she's as mean to me as Selina was to her staff. That would be a dream come true."
"Haunting and atmospheric, this Psycho prequel masterfully captured the feeling of the film while rendering it in a novel scenario and deeply mining the characters. Vera Farmiga and Freddie Highmore had chemistry you really didn't want a mother and son to have—and that was exactly the point."
"This show became a summer ritual throughout college and grad school, around which a good part of my social life revolved. The LGBTQ allegory and character representation was a refreshing take on the monster fantasy genre."
"While the CGI might not have stood the test of time, the gripping plots and flawed but deeply sympathetic characters certainly made up for it. And the twist at the end of the series finale was genius, if not completely original."
If you Could Emulate Anyone's Career, Whose Would it Be? (And Why)
"Shonda Rhimes or Greg Berlanti – both have already left such an indelible mark on TV (and film!) and they're still in the prime of their careers. That level of output is incredibly impressive."
Thanks Jared!
Learn more about The TITAN Screenwriting Contest.
– What did you think of this article? Share It, Like It, give it a rating, and let us know your thoughts in the comments box further down…
– Struggling with a script or book? Story analysis is what we do, all day, every day… check out our range of script coverage services for writers & filmmakers.
Get *ALL* our FREE Resources
Tackle the trickiest areas of screenwriting with our exclusive eBooks. Get all our FREE resources when you join 60,000 filmmakers on our mailing list!