This latest iteration of our Insider Interviews Series is with producer Karen Moore, one of the three judges of Industrial Scripts' inaugural screenwriting contest, The TITAN Awards.
Karen Moore Biography
Karen Moore has enjoyed a 30-year career in high-end television production. She started out producing shows and TV movies from the late 1970s onwards and has gone onto produce some of the most successful series of recent years.
Karen was an early producer on Breaking Bad, producing 20 episodes overall. She has also produced multiple episodes of Hannibal, Blood and Oil and House of Cards and Chambers for Netflix.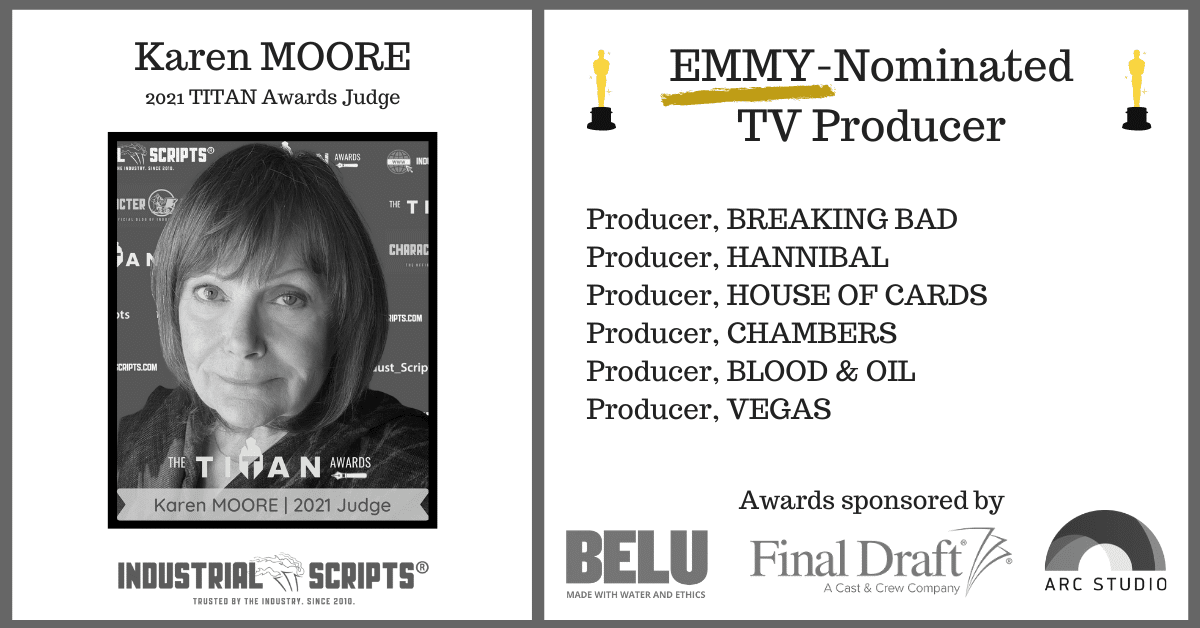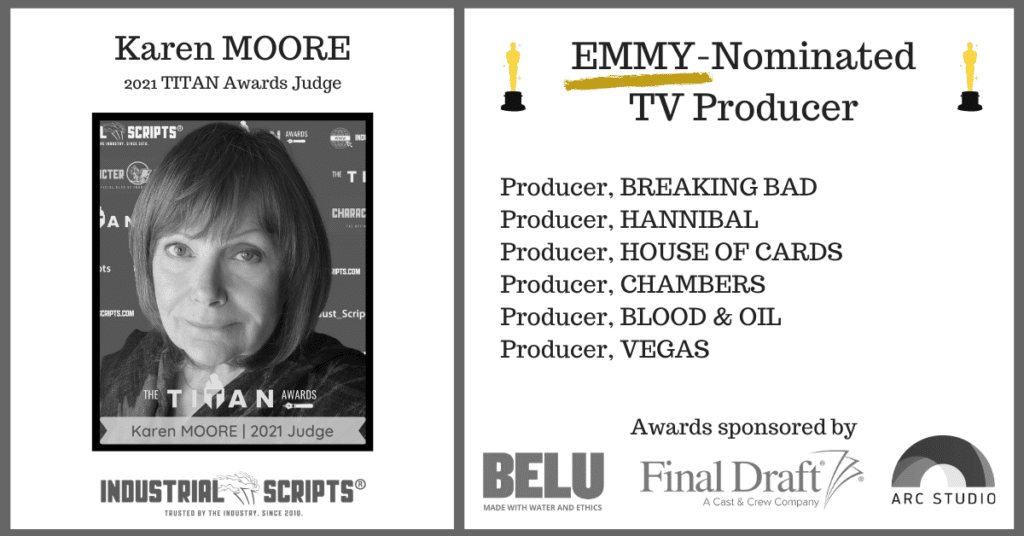 We sat down with Karen and talked with her about her career beginnings, what it was like to find and work on Breaking Bad, the difference between producing for TV and film and why she's excited to judge The TITAN Awards.
Interview with Karen Moore
How did you get started in the industry?
KAREN MOORE:
"I was at Penn State University and decided that I wanted to move to New York. I was in University to get a degree in fine arts and painting. So I felt at that age that I wanted to be in New York.
And then one day I realised I needed to be able to support myself as I was painting and so I started going to the Fashion Institute of Technology at night to get a degree in Fashion Design and Merchandising, which I did.
I got a job at Bloomingdale's as an Assistant Buyer. And two weeks after I got that job, a friend called me and was making this documentary about a very controversial mental health psychiatrist and said, "Hey, do you want to do this with us?".
I met this doctor and was so intrigued by his whole process that I decided to do it. He said it would take three weeks. So I went into Bloomingdale's to my boss and said, "I have a family emergency, I need to take three weeks off." And basically I never went back.
I spent several years in New York making documentaries with documentarians. Then I teamed up with a couple of guys and we did a documentary about Princeton called Princeton: A Search For Answers, which won the Academy Award that year for Best Documentary Short.
These films were all financed by various grants, such as the Ford Foundation. That's how everybody did it in those days. A lot of us used our own money or parts of it. And we just kept going. To me, documentary filmmaking is the purest form of filmmaking. Because you have to work with whatever you're able to film.
The Oscar allowed us to do more. We had a friend who brought us an idea that was really interesting for its time, which was to interweave an actor, playing an elderly Italian immigrant, taking us through a tour of Ellis Island and telling the story of he and his brother's journey to America. And it was interwoven with three families that we found in Austria in a refugee camp, who we followed to the United States. We sold it to CBS when they used to do fabulous specials like that.
And when we were done, Robert Wood, president of CBS at the time, said to me, "what are you going to do next?" I said, "I think I might go to Los Angeles because I understand they're going to start making these movies for television."
To me, documentary filmmaking is the purest form of filmmaking. Because you have to work with whatever you're able to film.
Anyway, that just started a very unconventional journey for me. I got a call from Louis Malle, who was doing a movie for Paramount at the time, Pretty Baby. The star of that movie was a close friend. And Louis had looked at some of the documentaries I'd made. He said to me, "will you meet me tomorrow for breakfast?".
There, he told me the problems that he was having on the film, with the studio and with one of his co-producers and with the production manager. And I said, "I think you just need to sort out what you want to do versus what they're telling you the unions will do, and versus what Paramount is telling you they'll pay for."
He thanked me very much and left. Then the next day, I got a call from the guy who was Head of Business Affairs for Paramount Pictures. And he said, "I need the name of your agent. We're going to hire you to be the Production Executive on Pretty Baby.
I spent the next two years of my life doing Pretty Baby. It was a lot of fun. It was personally, artistically, and spiritually rewarding."
Some people point to big breaks in their career. Other people point to a series of medium sized-breaks, strung together. Which one was Pretty Baby?
KAREN MOORE:
"I view it as a big break in my career.
Louis Malle wouldn't talk to anybody at Paramount, so I had to interface with everybody, including even Michael Eisner and Barry Diller. I had to talk them through what his process was going to be.
When we were done, I met with Michael and Barry and they asked me what I wanted to do and I said: "Well, I understand there's a lot of money to be made in television series, I think I want to focus on that". They made me a deal and gave me an office on the Paramount lot. I went off from there and sold a pilot script to CBS. This was 1979.
And in the process of having that script being written, Gary Nardino, who was president of Paramount Television at that time, called me into his office and said: "I'm firing the guy who was Head of Drama Series, and I need you to take the job".
And I decided that was the best move for me to make at that time. Even if my pilot script got picked up at CBS, this was a much more high profile thing. And so that's what I did.
We did shows such as Shogun, Winds of War and War and Remembrance and I sold a lot of pilot scripts. It was not easy being the only woman and I mean, the only woman, in the entire Paramount Television division. But it was fun and educational.
Gary Nardino was the kind of guy who just believed in throwing stuff against the wall to see what would stick. So you had to navigate bad stuff that you really didn't have your heart into with great stuff that you really did.
Ultimately, the underlying tension between the feature division and the TV division started to drive me crazy. I decided I had to leave. I just needed to reclaim myself and go back to doing things I really cared about. I just needed a break.
I needed to figure out what I wanted to really do next. A friend of mine introduced me to Michael Filerman, who was looking to bring in a producing partner because he had four TV series on the air. He had Dallas, Knott's Landing, Falcon Crest and Flamingo Road on at the same time and so he was very overwhelmed.
I did that for a couple of years before we made a huge deal with Fox. We did a lot of TV movies at Fox and a series, Emerald Point N.A.S. I did this long run of TV movies that stretch from around 1984 to 2005."
So that's almost 20 TV movies. Obviously, that's prolific, versus an independent movie producer, for example. Were you ever looking enviously across the fence at the theatrical movie producers, though? Or were you thinking: "This is amazing, I'm getting stuff into production literally continuously?"
KAREN MOORE:
"When I was in New York scrapping around trying to work and going to FIT at night, a friend of mine who had just gotten into the DGA training programme said, "You've got to apply, we'll get you on a film as a PA". And I looked into it and thought, "well, this might be a way to go".
I got a job on this movie that was being made in New York that was being directed by Michael Winner, The Sentinel.
I was so shocked at the waste of money, the behaviour of Michael Winner and the slowness of production. We did like a quarter to a half a page a day. I get the perfection part but with guys like Michael Winner, I don't know if he was like trying to torture some of the actors or what he was doing.
And I thought: "I'll lose my mind if I keep doing this". It just wasn't for me."
You produced fully 20 episodes of Breaking Bad, including the pilot. What was it like seeing that project in its early stages?
KAREN MOORE:
"When Sony sent me the pilot script for Breaking Bad, I couldn't sleep that night.
I couldn't wait to talk to Vince Gilligan. I got on a plane the next morning and flew to LA. I didn't even have an interview yet but I thought "I know how to do this show".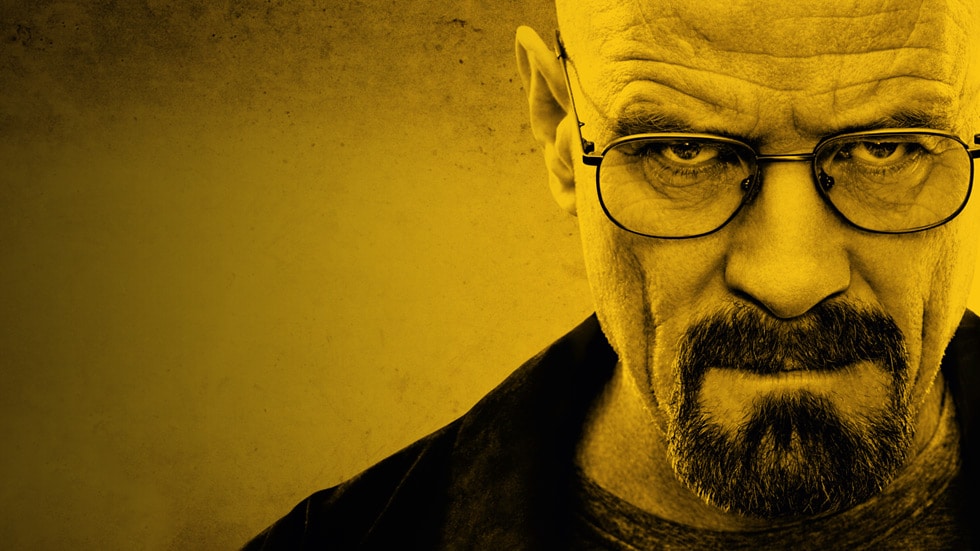 Sony explained to me that they didn't have the money to make the show that Vince wanted to make. Originally the series was set in Riverside, California. So we all just started looking around. And it seemed like Vince was obsessed with the red rocks. But we couldn't shoot in Arizona because there was no tax rebate. And then I went to Albuquerque, New Mexico.
I was there maybe four hours and I was transfixed. I called Vince and said, 'You've got to get on a plane here now". He said, "I don't want to go to New Mexico. I want to shoot this in California" and I said, "No, you want to make your pilot and you're going to come to New Mexico".
He came and we drove around and he looked at me and goes… "This is f*cking great".
And so that that was the beginning of a very wild journey.
Vince had only directed, I think at the time, one or two episodes of X Files. And I think it was a learning curve for him. I said, "what's gonna set the show apart will be the colour palette that you choose". And he didn't quite grasp that at first. He goes, "What do you mean?"
We'd hired a costume designer at this point (Kathleen Detoro). I said, "so Kathleen will build colours for all the actors to be dressed in. And then if we project out 13 episodes, those colours will start to change as the characters change along the way".
I still have these fabulous colour boards from the first few seasons of Breaking Bad, where the colours were literally changed as each character changed within each show."
You went on to produce Hannibal. How did you get involved in that series?
KAREN MOORE:
"When I finished House of Cards, I was packing up my apartment in Baltimore and a friend called who had a new show she was doing down in Columbia.
She said, "I need you to fly to Toronto right now and meet with Bryan Fuller". I asked why and she goes, "Well, he's angry and I need to fire the Line Producer".
I so love that show.
Bryan presented me with a series of the Red Dragon paintings and I think it's because that was part of my background in painting, I saw the connection. From that to sets and transitions to food. He and I got along like gangbusters in that way.
How we didn't get along was because I had to adhere to a budget. That's always the problem."
The tension between art and commerce never goes away does it? It's interesting that you say that you got on like gangbusters creatively, but then it's almost in a creative's job description to push back when it comes to the money…
KAREN MOORE:
"It's not the creatives pushing back. In this instance, it was the studio that was freaking out about the money that was being spent.
On Hannibal, we ran a full second unit with principles, little tiny things, whether it was the slicing of some liver into a pan or Mads Mikkelsen covered like a stuffed, suckling pig.
We had a full second unit on that show, shooting five days a week, getting all of the little pieces that Bryan wanted."
Do you feel that to get to that level of the business creatively, you have to be phenomenally belligerent in the first place?
KAREN MOORE:
"I think there are a lot of show-runners like that.
I had a Zoom meeting with a young successful writer, who has a series he's going to do, and he's very socially facile. But I could sense the underlying feeling of 'we're going to do it this way'. That has become very prevalent in this town.
In a way, I think it's gotten worse, because the production executives are younger and they just want to keep whoever the show-runner or director is happy, even if they've only ever written one script or the director has had disastrous features.
They just want you to keep them happy. And then the older guys above them are calling you up saying, "not a nickel more!"
So it's tough.
I did this series two years ago for Netflix called Chambers that ended up being a mess.
It starred Uma Thurman and Tony Goldwyn, who were fabulous. It was one of the first shows that hired Native American actors, most of whom were inexperienced. But to me, that was the challenge.
I love the challenge of that. But that show just about killed me."
Was that the show or because of Netflix? Because their reputation is very hands-off , "here's the money, go do your thing", isn't it?
KAREN MOORE:
"Yeah, that's exactly what they do. And then in the end, for example, we needed about $2.5 million for VFX fixes. There were a lot of those moments throughout the season. But I had squirrelled away the money to pay for it.
And you know, that's part of my skillset.
When that director started shooting the first day, I went back to the office and said to the production manager and production accountant, "starting today, they're only going to work 12 hours, you're not going to work 12 hours and one minute, they are going to only have half-hour lunch breaks. We're just going to ride this guy." And it was tough because this guy was tough. But I said, "we have got to start saving money"."
Is there a part of you that enjoys the firefighting and the chaos that can frequently come with production?
KAREN MOORE:
"I'm just used to it.
When I ventured into television at Paramount as the Head of Drama and Miniseries, I was dealing with guys like Jerry London (the director of Shogun), who at the time was the most sought-after director of TV. Or Dan Curtis (who directed The Winds of War, War and Remembrance) who was the most gnarly director I've ever worked with in my life.
Dan was the kind of guy to call you at three in the morning from Yugoslavia and start cursing you and telling you to tell Gary Nardino to go f*** himself.
I just grew up in the business of that challenge. Television is the hardest work there is. There's just no doubt about it. It's the conveyor belt element of it.
From 2014 to 2016, I went from House of Cards to Hannibal to Blood and Oil. And by the time I got back home, I slept for three weeks. So I had to pull back at a certain point. I turned down a lot of episodic work in 2016 because I just needed to regroup creatively for myself."
You worked on House of Cards, which was a show that really kicked things off for Netflix in terms of being a content producer rather than a content acquirer. What was that like?
KAREN MOORE:
"You have to remember, Netflix didn't really finance it. MRC was first in line. When they made the deal at Netflix, it was to repay back all the money that MRC had already put in.
When I got there and a guy from MRC handed me the budget of $10 million an episode I was like, "how on earth are you going to spend that?" But that show skimped on nothing.
And the craziest thing was that Beau Willimon (the show's creator) had never been to the White House. Neither had the production designer. And so when Obama was in office, a friend of mine's daughter who was working for me was his head of communications, Jennifer Palmieri. She organized a tour for us.
And it was the most amazing experience because the guys built the White House all from reference photos. We were walking around and going "Oh look, they have recreated those gold brass sconces that you see at the end of the hallway".
And we bought very expensive period furniture and covered it in fabrics that were almost identical to what we'd seen in photos.
It was like kids going into a candy store."
So was it a positive experience overall on House of Cards?
KAREN MOORE:
"That's a hard question for me to answer because it's coloured by Kevin Spacey for me.
And the fact that nobody, regardless of how many times I called and spoke to them, wanted to deal with what was happening with Kevin.
And he was very difficult to deal with.
We had arranged his work so that he would only shoot for four hours a day because he didn't want to work past that. And he'd be in the middle of a lengthy master shot, and the director called cut, and then Kevin would send his Assistant over to say, "Kevin wants to go home now".
I went up to him and I said, "Kevin, look, we rearranged everything so that you could have Thursday, Friday, Saturday, Sunday, Monday off, and if we can just get this master done today, you can do that".
And he just looked at me and said: "No".
But it was the other things that he was doing that really upset me. And it upset me that nobody at MRC would do anything about it.
So when Netflix finally found out what had been going on, there was a sh*tstorm. But I wasn't there for that, that happened after I left, because I was like, "I can't do this again. I just can't". "
When you read a script, if you had to nail the primary things that a great screenplay has to do, what would they be?
KAREN MOORE:
"I think a script shouldn't have too much exposition. I think that the audience needs to learn with the characters at the same time.
I hate telegraphing to the audience, it drives me crazy. Particularly in American television.
Also, I think that each character has to have their own voice. I've read a lot of scripts that are interesting but where all the characters talk the same."
How much of a problem is true, real originality? Those X factor scripts are still as rare as they ever were. Do you agree?
KAREN MOORE:
"Yes.
When I met with this young man about the show he wanted to do, he said, "What are your thoughts on the script?" I said, "Well, I think people need to stop talking about how wealthy these people are. And you just need to see them living their lives and the attitudes that they have, how they have an eight-car garage filled with very expensive cars and the attitude of the man of the house, how he treats the help etc."
And he just sat there and went, "Wow. Nobody said that to me yet."
I said, "No, that's just my opinion from a first read. You've done an interesting thing with using devices to cross present-day and past consistently throughout the script. But to me, they're just television touchstones that you have in here, that if you could get rid of, would make the script awesome." "
So you're essentially highlighting one of the oldest screenwriting adages of them all which is 'show don't tell'.
KAREN MOORE:
"Right, right."
On that note, how excited are you to be a judge for The TITAN Awards? The uncertainty of what's going to emerge must be quite exciting…
KAREN MOORE:
"First of all, I'm excited because I think I'll get to read and hear voices of writers who are not American.
There was a guy in LA years ago who taught some screenwriting course. As the years went on, the writers who would come up through the shows I was working on had all taken this course. And there was no originality. They all followed what he had carefully taught them to do. So I'm excited about hearing different voices.
I think that someone can create a unique concept, and it may have flaws to it, but if the concept is pretty extraordinary, then that starts something inside of me.
It makes me want to call the writer and go, "Okay, let's just look at how what happens here on page 4 affects page 42". And so on.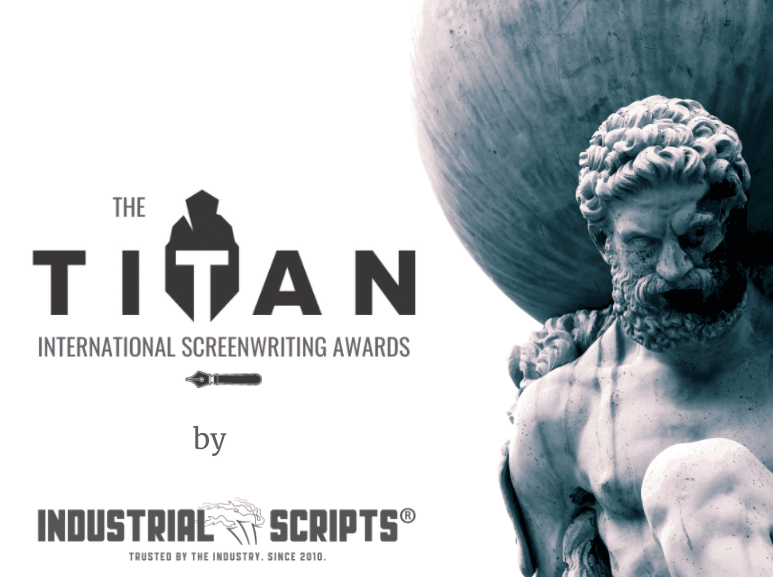 There was a script that a friend of mine sent me that his cousin in India wrote, that was probably one of the best scripts about growing up in the San Fernando Valley that I had ever read.
He's Indian but he's written a script about growing up in the Valley! And I said, "Okay, you need to go back to your cousin and tell him don't write for the San Fernando Valley, write about whatever the equivalent is in India".
He was startled by that response. But I said, "I guarantee you it's going to be as funny and interesting in that setting rather than mimicking something that's already been done in an American setting".
So I'm excited to be able to read scripts that may not have been tainted fully by America."
Thanks Karen!
Karen Moore was speaking as a judge of the inaugural TITAN Screenwriting Contest, by Industrial Scripts. Read more about the contest and enter at the link below.
Get *ALL* our FREE Resources
Tackle the trickiest areas of screenwriting with our exclusive eBooks. Get all our FREE resources when you join 60,000 filmmakers on our mailing list!