In this series we look at scenes and moments where a film or TV show has revealed a great deal of character information in a short amount of screen time. This instalment focus on Holland March (Ryan Gosling) from the crime comedy THE NICE GUYS, written by Shane Black and Anthony Bagarozzi and directed by Black.
Shane Black's writing is always entertaining on the page, one of the factors that made him the highest paid screenwriter in Hollywood at one point. That sense of energy and fun translates to the screen, not least through the performances.
His approach is not going to work for every genre or writer. Style tends to be better when developed organically rather than just through imitation.
Still, his work is definitely worth studying, especially as he's managed to have such a long career. After spending many years away from the industry, Black has staged a comeback recently, writing and directing IRON MAN 3. His take on THE PREDATOR is currently filming.
The Nice Guys - Official Final Trailer [HD]
THE NICE GUYS
1977, Los Angeles. Detective Holland March and enforcer Jackson Healy (Russell Crowe) cross paths when they both become involved in the case of an adult actress who may or may not have died in a car crash.
THE NICE GUYS is a blend of genres – a neo-noir mystery with a generous dose of farcical and slapstick comedy – which might explain why it didn't make a huge dent at the box office.
However, it was very well received by those who did see it, and is ready to take on the status of modern cult classic.
Who is Holland March?
Holland March is an alcoholic, single father, and private detective.
He's also clumsy, a classic screw-up. Things don't tend to go his way, whether that's his own doing or fate.
 

The Nice Guys Movie CLIP - Deep Breath (2016) - Russell Crowe, Ryan Gosling Movie HD
How is Holland March's character revealed by the action and dialogue?
Holland March wakes, dressed in a blue suit, in a full bathtub. He blinks. A representative from Detroit Auto Manufacturers gives an interview on the TV in front of him.
March's phone is ringing. He lets the answering machine run. It's his daughter, reminding him that it's her birthday.
March struggles out of the bathtub, falling onto the floor, and crawls towards the phone.
She tells him he's supposed to be working today. She hangs up before he can get to the phone. He leans against the wall, sighs and looks at his hand.
A ring on one finger, but not a wedding ring. And a tattoo between his thumb and forefinger:
You will never be happy.
Later he sits in his car, waiting at a crowded petrol station. He reads about Brazil's "Killer Bee" rampage in a newspaper and runs an electric shaver around his moustache and goatee.
A fight breaks out, distracting him, and he cuts himself.
Later still, now fully groomed, he sits in an old woman's living room and listens to her explain her problem.
Her husband is missing. March spots an urn on the mantelpiece and debates with himself before asking:
– How long has he been missing?

– Since the funeral.

– Well, I can start right away.
What do we learn about Holland March in these scenes?
Holland March is introduced as a bumbling alcoholic, undercutting Ryan Gosling's movie star handsomeness.
At the same time, his clumsiness and the slapstick do have consequences in this world. When he leans his head against the wall, harder than he intended, he does feel pain. He suffers a hangover from the night before.
March's relationship with his daughter is key to his character. While he's forgotten her birthday, she doesn't sound too upset about it.
This suggests they've fallen into a familiar and comfortable, albeit dysfunctional, dynamic. She's hyper-competent, wise beyond her years, a stark contrast with March himself. They are more like adult friends than father and daughter; rather, she's more like a secretary and mother to him than he is a father to her.
Introducing her off screen, with March not even making it to the phone in time, reinforces his neglectfulness and her ability to take care of herself. In this scene she's like the voice of God, or more accurately the voice of March's conscience.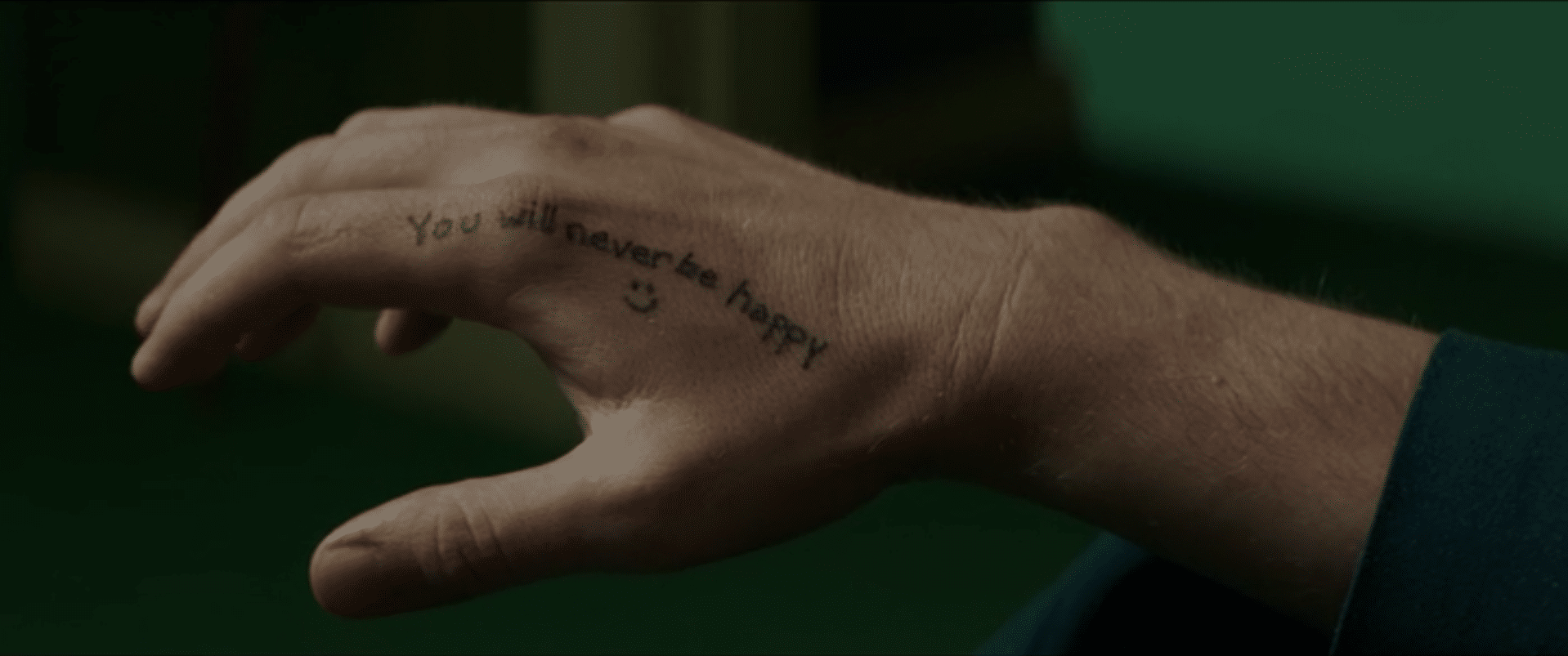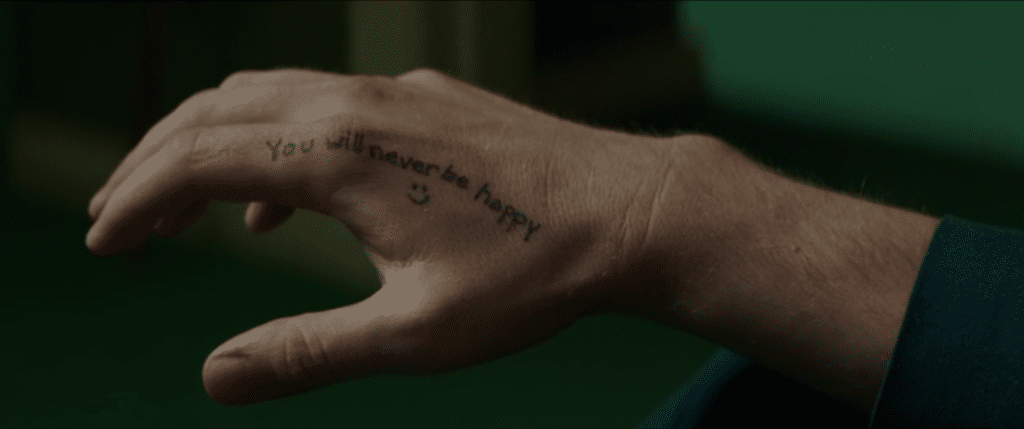 March's tattoo is potentially an on the nose device that literally tells the audience the character's flaw.
Yet, somehow, it works, at least within this story and its tone which are already fairly broad and comedic.
March is the kind of self-pitying character who would get this tattoo. It suggests some interesting backstory, perhaps related to the mother of his daughter.
March shaving in his car establishes him as somewhat of a functioning, efficient slob. He's also observant, paying attention to the world around him, suggesting that perhaps he could be a good detective after all.
This also sets up another quick bit of physical comedy when March cuts himself and drops his razor. His curiosity is already getting the better of him, hurting him. This will only cause him more problems and pain as the story goes on.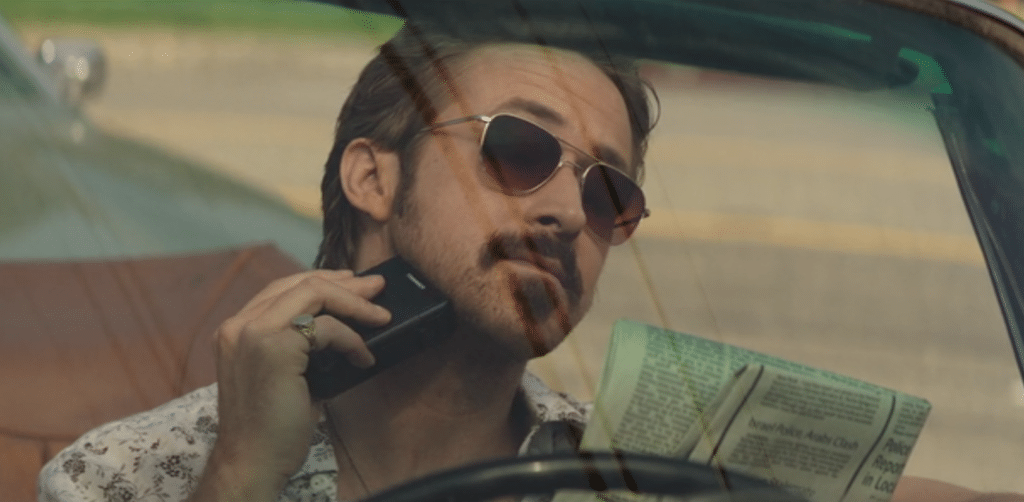 The true test of his detecting skills will have to wait, however. March pretends to care about his client's problem, but his disinterest is fairly transparent. When he instantly solves "the case," a brief moral dilemma plays out on his face.
With only a little hesitation, March accepts her as a client, telling the audience a lot about how this character sees himself, his self-worth, and how far he's willing to go for money.
Still, while there's no question that March is exploiting this woman, but because of the preceding scenes he remains a sympathetic character. He's not exactly doing this maliciously, or without a second thought.
Still, it's fair to say, Holland March does not have it together. If it's not clear by now, the title, THE NICE GUYS, is ironic.
Why is this an example of brilliantly succinct screenwriting?
Many of Shane Black's character introductions follow a similar pattern. What is the image the character is trying to project to the outside world? And who is the character deep down, privately?
The differences between these two are immediately clear, to the audience and often to the characters themselves. Nevertheless, their self-awareness can't help them navigate these big contradictions in their lives.
Black uses the gaps between these two personae not only to create comedy but also lay the groundwork for strong character arcs in which these two halves are reconciled.
LETHAL WEAPON introduces Riggs (Mel Gibson) waking up in his beach trailer, gun on his pillow, TV on and dog waiting expectantly. His life is a mess, especially compared to the happy domesticity enjoyed by Murtaugh (Danny Glover). However, he goes on to bust some drug dealers, establishing that he's still an effective, if unconventional, cop. His coworkers don't know that his self-destructive bravado is actually a mask for him being suicidal.
Lethal Weapon (1/10) Movie CLIP - Crazy Cop (1987) HD
KISS KISS BANG BANG introduces Harry Lockhart (Robert Downey Jr.), or rather he as the narrator introduces himself, struggling to fit in at an LA party. To explain how he ended up here, Harry flashes us back to show him in the process of trying to rob a toy store. He's doing this, however, for his niece, and keeps her on the phone to describe the right toy, lying to her that the store is open.
Across three short scenes in THE NICE GUYS, Holland March is introduced as a bumbling alcoholic fool in private who plays the role of professional detective in public.
This makes him the polar opposite to the gruff enforcer Jackson Healy, which makes them the perfect characters to team up. March's drunkenness becomes an asset (he stumbles into clues) and a liability (he falls asleep while driving). It's not until the third act that he's forced to become a responsible parent in an ending that pays off his introduction and his tattoo.
If you enjoyed this article, why not check out our article about the GENIUS CHARACTER REVEAL of Dale Cooper (TWIN PEAKS)?
What did you think of this article? Share it, Like it, give it a rating, and let us know your though in the comments box further down…
Struggling with a script or book? Story analysis is what we do, all day, every day… Check out or range of services for writers & filmmakers here.
Get *ALL* our FREE Resources
Tackle the trickiest areas of screenwriting with our exclusive eBooks. Get all our FREE resources when you join 60,000 filmmakers on our mailing list!