THE INSIDER INTERVIEWS: CAROLINE HARVEY
The Insider Interviews series started in 2010 as a set of recorded interviews, featuring the likes of Tom Hiddleston, Gareth Unwin, who produced THE KING'S SPEECH, Ben Wheatley and Hossein Amini, the Oscar-nominated writer of DRIVE and THE TWO FACES OF JANUARY. You can watch these here.
The Insider Interviews now exist as live monthly events in central London, which is a combination of a compered interview and taking questions from audience members.  If you would like to check out future speakers and join an Insider Interviews Live evening, you can see more details here.
Caroline Harvey has worked alongside Anthony Minghella and Sydney Pollack at Mirage and been Development Executive at Working Title. Now she's an independent producer.
Films she's been involved with include – COLD MOUNTAIN, MICHAEL CLAYTON, THE READER, ANNA KARENINA, No 1 LADIES DETECTIVE AGENCY, LES MISERABLES and TINKER TAILOR SOLDIER SPY.  She has also written, produced and directed award-winning short films.
Caroline currently runs Sally Greene's film and TV slate at Greene Light Films.
This interview was hosted by producer, James Cotton.
Can you, in your own words, describe where you are today in the industry?
I would say I'm a 'Jack of all trades'. I am currently producing, but also doing bits of writing. I'm also running a development slate for Sally Greene. Sally Greene owns the Old Vic Theater and Ronnie Scotts, and she's just started a company called Greenlight Films, because she wants to move into the film business. She also produced BILLY ELLIOT the musical, so she's very familiar with everyone in film.
THE EARLY YEARS
Could you tell us a bit about your early experiences that lead to your career in film?
I read a lot as a child. I was ill when I was little, so I wasn't always at school. I think that's what really pushed me towards reading and watching films. I watched a lot of stuff when I was little, stuff I probably shouldn't have watched! I just became fascinated with storytelling, I knew I wanted to do something in that arena, so studying English Literature seemed like the natural thing to do. It was what I was best at, the thing I really got good results in, so I decided to go on to study it at a higher level.
What was it like taking American Studies, and trying to make it in the US?
I studied film for a year in California, which was really useful. I made three appalling student short films, learned a lot from them , and studied all sorts of things within film, whilst doing literature at the same time. It was really good to be there. Unfortunately, I couldn't sneak in any work experience while I was over there.
What was your first experience in the UK?
Whilst I was still at university, it was in my fourth year. I did a four-year course because it allowed me to have a year in the states. I did running at Working Title. My sister was an assistant at Working Title. Whenever they needed somebody, they'd call me, and I'd bunk off of university for three weeks, or a month, to try to keep up with the reading for my English degree!
From then, after I graduated, I worked with them over the summer. But I did write a lot of letters to other production companies, because there wasn't a permanent job for me there. I sneakily wrote it on Working Title headed paper to help me get a look in!
I had a lot of meetings with people after that, but it's very difficult to get a job working as a runner. So I started freelancing running on set for music videos, being a receptionist, working in post-production houses. Just a lot of jobs to really keep me afloat, whilst continuing the relationships with the people I'd met in working title, and the other companies I'd worked in.
Continued inside the vault…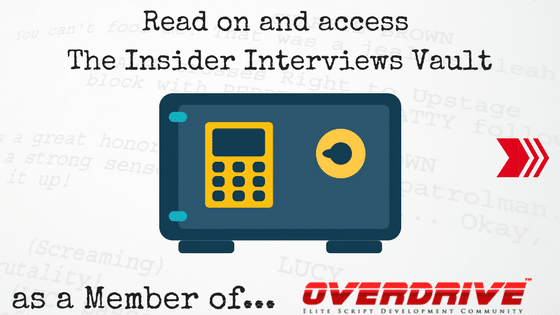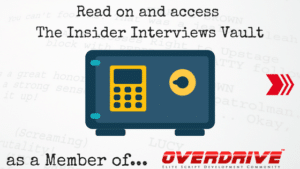 If you enjoyed this interview, make The Insider Interviews LIVE your regular monthly networking event.
See upcoming speakers, future dates and ticket details here.
Get *ALL* our FREE Resources
Tackle the trickiest areas of screenwriting with our exclusive eBooks. Get all our FREE resources when you join 60,000 filmmakers on our mailing list!