In our Genius Character Reveals series we examine scenes and moments where a film or TV show reveals a tremendous amount of character information in a compressed amount of screen time. This instalment focuses on Conor, a.k.a. Cosmo Lawlor (newcomer Ferdia Walsh-Peelo), from SING STREET.
Cosmo Lawlor and SING STREET
From writer-director John Carney (ONCE), SING STREET is a sweet and touching musical coming-of-age dramedy.
An Irish-British-American co-production, it premiered at Sundance in 2016 to critical acclaim. It was later nominated for Best Motion Picture – Comedy or Musical at the Golden Globes.
Who is Cosmo Lawlor?
Dublin, 1985. Cosmo Lawlor is a 15 year old kid with a passion for music.
At his new school, he spots an enigmatic girl, the aspiring model Raphina (Lucy Boynton). In order to impress her he tells her he's in a band. Cosmo even asks her to appear in his music video.
The only problem is that there is no band…
How is Cosmo Lawlor's character revealed by the action and dialogue?
The film opens on Conor sitting in the privacy of his room. (He'll gain the "Cosmo" nickname later.) He's strumming his guitar and singing to himself under his breath.
Elsewhere in the house, his parents shout at each other.
Cosmo slams his door shut. He starts imitating his parents, incorporating their argument into his song.
Later, his father Robert (Aidan Gillen) calls a family meeting. A TV in the background airs a report on Irish people leaving the country for London because of the economic situation.
Cosmo, his mother Penny (Maria Doyle Kennedy), and his brother Brendan (Jack Reynor) join Robert around the table.
We've had a look through the accounts, and we see quite a significant saving if we were to alter the education situation.
The family is struggling financially. As a result, Robert and Penny are changing Cosmo's schooling. They are transferring him into a school run by the Catholic church.
Robert and Brendan bicker over this. Cosmo protests but ultimately accepts his fate.
What do we learn about Cosmo Lawlor in these scenes?
Immediately SING STREET establishes the importance of music not only to the story but to the main character.
This is somewhat of a trademark for writer-director John Carney. Both ONCE and BEGIN AGAIN are about characters brought together by music.
At this stage in the story however, Conor's music is more of a private passion. The film introduces him alone in his room.
This creates the impression that Cosmo Lawlor is somewhat of a reserved person. He's not particularly sociable.
This creates a special bond between the audience and the protagonist. It also sets up expectations for a character arc where he comes out of his shell.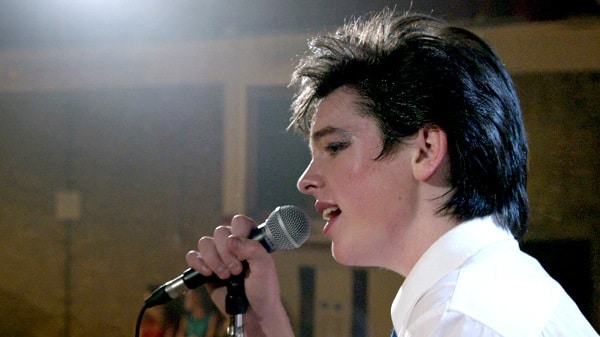 This first impression of Cosmo Lawlor is confirmed when the film introduces the rest of his family.
In comparison his brother and father are loud and eccentric.
This is why introducing Cosmo in the quiet, creative, private space of his room is so important.
In a down to earth comedy like this, supporting comic relief characters tend to have bigger personalities. It's important to not let them swamp the main characters.
We have to make some cuts to the budget. I'd suggest taking your brother out of college, but he's already dropped out of his own volition.
Cosmo's family life is dysfunctional, but not in a dark or depressing way. He uses the tension around him creatively. He turns his problems into music and comedy.
The film does the same with the wider situation in Ireland in 1985.
Using TV news to establish a story's wider political and historical context is an old screenwriting trick. However, as this scene shows, it still works when used well.
Cosmo is school-aged. Unlike the rest of his family he doesn't have to worry about work just yet. Still, the lack of economic prospects adds to his general feeling that he needs to escape.
Cosmo needs to escape his bickering family but also his country. However, this is presented with a mostly comedic, light-hearted tone. The helplessness doesn't lead to despair.
Instead, it creates a sense of possibility. There's nothing to lose from talking to that mysterious girl at school. Nothing to lose from following your dream.
Why is this an example of brilliantly succinct screenwriting?
How does a screenwriter get an audience to like and root for a character very quickly?
One way is to have something unfair happen to them, something that's out of their control. This is also effective because it upsets their status quo. It forces them out of their comfort zone.
Here, family strife causes Cosmo to change school. This inciting incident creates a fish out of water situation. This forces him into new and uncomfortable social encounters.
It also creates immediate audience sympathy and identification. The audience discover his new school, Synge Street, at the same time he does.
However, Cosmo Lawlor can't simply be a victim. Someone who's consistently put upon without actually acting themselves isn't that interesting. They can quickly become pitiable and pathetic, rather than compelling.
Sing Street Movie CLIP - Principal's Office (2016) - Ferdia Walsh-Peelo Movie HD
Cosmo has ways of resisting his situation. He uses his sense of humour. He tries to argue back with his father. Later, he finds a clever workaround for having the wrong colour shoes. (He paints his brown shoes black).
However, as his genius character reveal shows, Cosmo firstly and ultimately defies through music. Because music is so important to the character, it becomes important for the audience as well.
What did you think of this article? Share it, Like it, give it a rating, and let us know your though in the comments box further down…
Struggling with a script or book? Story analysis is what we do, all day, every day… Check out or range of services for writers & filmmakers here.
Get *ALL* our FREE Resources
Tackle the trickiest areas of screenwriting with our exclusive eBooks. Get all our FREE resources when you join 60,000 filmmakers on our mailing list!