Unheralded Scene: RUNNING ON EMPTY (1988)
In our "Unheralded Scene" series, our consultants nominate a classic film or TV scene, which in their view hasn't received the admiration it deserves. It might be a scene from a classic movie, which has been crowded out by other, more "showy" scenes and set-pieces. It might be a deleted scene which is outstanding in its own right but wasn't quite in-sync or critical to the final cut of the film.
***Warning: plot spoilers below***
Focus On: RUNNING ON EMPTY (1988)
The film: Written by Naomi Foner and directed by Sidney Lumet, timeless and deeply affecting coming-of-age drama RUNNING ON EMPTY received two Academy Award nominations on its release in 1988 (one for best original screenplay, the other to River Phoenix for best supporting actor) but has since unfairly dwindled to cult status.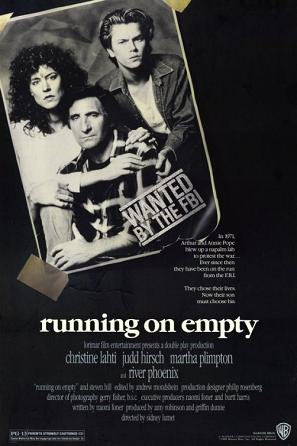 The plot: The story tells of a pair of fugitives from the FBI bringing up their two sons, the elder of whom is a promising young pianist (Danny, played by Phoenix). Although it isn't really Danny's story, his subplot takes up a major part of the narrative, but the biggest dilemma goes to Christine Lahti as Danny's mum who has to choose whether to let her son take up a scholarship to Julliard music school knowing that if she does so she'll almost certainly never be able to see him again.
The scene: Annie Pope (Lahti) arranges a meeting with her father (Steven Hill), whom she hasn't seen in fourteen years since she and her husband Arthur (Judd Hirsch) accidentally killed a man blowing up a napalm laboratory in protest against the Vietnam War, to see if he'll take Danny in and look after him so he can go to music school. The weight of their years apart and what happened between them last time they saw one another infuses the scene and makes every line rich with emotion.
Father: It's all Arthur's influence.
Annie: No, Dad. It isn't. It was my idea. I'm living with the consequences of my own choice.
Father: I don't believe it.
Annie: Well, that's your problem.
Father: Your mother and me…do you ever think about us?
Annie: You really have to ask that?
Father: Yes. The last thing I remember you saying to me was that I was an imperialist pig personally responsible for the war, spread of poverty, racism…
Annie: I was young.
Father: Yes. Yes, you were young. And talented. And beautiful.

Why it's unheralded: To be fair, the whole film is unheralded even though both director and younger star were icons of great cinema at the time. Lumet might have gone through sporadic lean years but as director of 12 Angry Men, Dog Day Afternoon, and The Verdict his place as one of the all-time greats is assured, while Phoenix was just coming into his own. Its most memorable scene is a wordless one where the family dances to James Taylor's Fire And Rain. This scene, however, belongs to two actors better known for their TV work and even though the film itself is beautifully understated, this scene manages to pack a huge punch without fireworks or fancy camerawork.
Why it's great: The scene's power comes from all the unspoken tension going into it, which fills it with subtext: father and daughter haven't seen each other in over a decade; last time they saw each other, Annie was filled with hatred towards her dad, but now having becoming a mum she sees the other side of the coin; and the whole scene is primed for an incredibly moving exchange because of what isn't said, in particular by Hill, whose performance is a master-class in understatement. The moment when he almost breaks down, just too late for Annie to see, bristles with repressed emotion and would surely melt the hardest heart alive. Here's the scene in all its glory.
If you enjoyed this article, why not check out our Unheralded Scene: PI (1998)?
– What did you think of this article? Share It, Like It, give it a rating, and let us know your thoughts in the comments box further down…
– Struggling with a script or book? Story analysis is what we do, all day, every day… check out our range of services for writers & filmmakers here.
Get *ALL* our FREE Resources
Tackle the trickiest areas of screenwriting with our exclusive eBooks. Get all our FREE resources when you join 60,000 filmmakers on our mailing list!