Unheralded Scene: NOTES ON A SCANDAL (2006)
In our "Unheralded Scene" series, our consultants nominate a classic film or TV scene, which in their view hasn't received the admiration it deserves.
It might be a scene from a classic movie, which has been crowded out by other, more "showy" scenes and set-pieces. It might be a deleted scene which is outstanding in its own right but wasn't quite in-sync or critical to the final cut of the film.
***Warning: plot spoilers below***
Focus On: NOTES ON A SCANDAL (2006)
The film: Written by Patrick Marber (keen eyed viewers might remember him from Alan Patridge's KNOWING ME KNOWING YOU) and adapted from the novel by Zoe Heller, the film tells the relationship and power struggle between two high school teachers.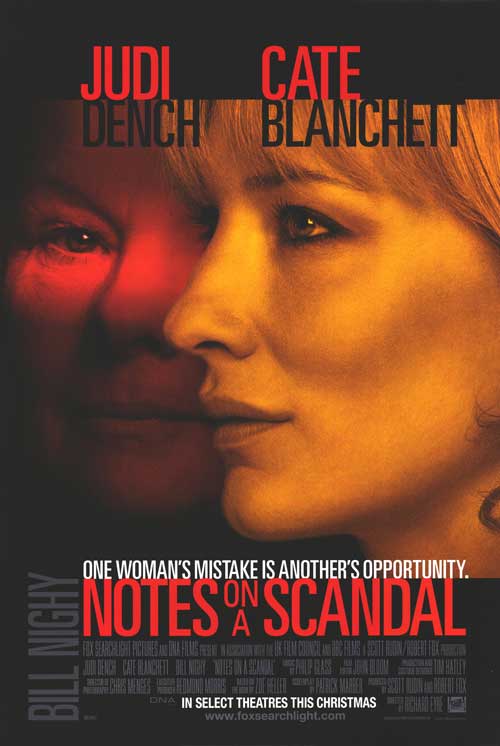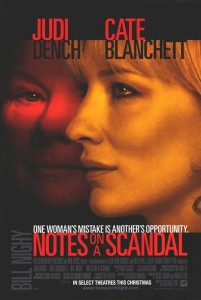 The plot: Strict Barbara Covett (Judi Dench) is respected in school, but lonely at home – a spinster keeping a diary of her life – which is perked up when vibrant bohemian art teacher Sheba Hart (Cate Blanchett) joins the school. But things take an interesting turn when Sheba embarks on a short-lived affair with an underage teenage boy – betraying her husband and two children. Barbara uses her knowledge of the secret scandal to worm her way into Sheba's life, becoming confidant and enemy all in one, a brittle, complex relationship as she can both save and destroy Sheba.
The scene: Having promised she'll end the affair, Sheba is caught out by Barbara who confronts her – Barbara claims she has risked everything in keeping Sheba's secret and threatens to expose her. What follows is a stream of 'harsh truths' from Barbara;
"You're in love? And the child – do you imagine he reciprocates your soppy feelings?"
"I daresay he's fascinated by the neurotic compulsions of a middle class lady with marital problems"
"There's nothing crueller than the adolescent boy – I know them. Once he's had his fill he'll discard you like an old rag. You're not young!"
Why it's unheralded: Other scenes steal the limelight – such as the eventual revelation of Barbara's backstory as Sheba reads her diary.
Why it's great: This is a fascinating combination of strategy and pent-up feelings. Barbara uses the excuse of Sheba's betrayal to open up – but she does so in clever fashion, framing all of her criticisms of Sheba and the situation from the teenage boy's perspective. By casting her words into someone else's mouth and perspective, Barbara protects herself from accusations of being the origin of these thoughts – she has invoked the energy of another character in her pursuit, a cunning stratagem.
Sheba doesn't need to respond with words – the subtext of her understanding is enough – each line lands like a punch, to which she has no response.
This also represents a major escalation in strategy and conflict from their previous discussions on the topic, showing how even characters who will remain closely bonded can have major flare-ups – too often writers hide from pushing relationships to their limits.
If you enjoyed this article, why not check out our Unheralded Scene: HAROLD & MAUDE (1971)?
What did you think of this article? Share it, Like it, give it a rating, and let us know you though in the comments box further down…
Struggling with a script or book? Story analysis is what we do, all day, every day… Check out or range of script coverage services for writers & filmmakers.
Get *ALL* our FREE Resources
Tackle the trickiest areas of screenwriting with our exclusive eBooks. Get all our FREE resources when you join 60,000 filmmakers on our mailing list!