Well, there's one word for this article: contentious.
Nowadays British screenwriters are at the top of their game, ranging from Dominic Minghella to Jed Mercurio, however this hasn't been always the case
We could all name our top 10 favourite screenwriters, or even our top 10 favourite British screenwriters, but '…of all time."? That's tough. How do we decide what constitutes 'greatness'? Is it something tangible like having sold multiple spec scripts or winning an Academy Award or two? Is it keeping the industry afloat with consistent box office success or being the go-to writer for a particular genre. Or is it as simple as having a tremendous way with language, writing for the joy of it?
We think the truth lies somewhere between all of these things. Great writing can bring success, success brings more opportunities (more chances for more success) which increases the chance of winning awards and so on, it's a virtuous circle. But for the purpose of the exercise, the most important yardstick for a great writer is a strong track record, something to stand up and be judged against, so no one-hit-wonders here.
But it's also important recognise that a track record demonstrates the single most common trait of all successful screenwriters – persistence – because in the end it's the ones that keep going that eventually reap the rewards. If you don't quit you cannot fail and the one thing that all of these writers have in common is a determination to succeed, so that when their chance came, they took it.
So, in no particular order, here's our list. Where did we go right? Where did we go wrong? Let us know in the comments box down below.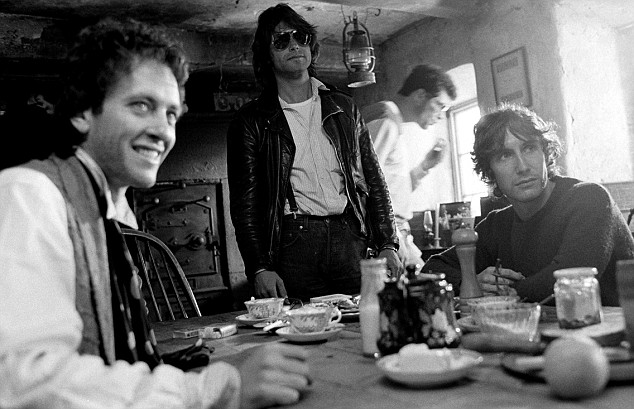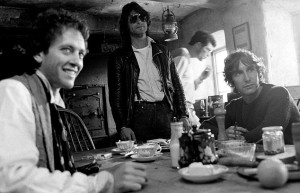 Robinson originally trained as an actor at Central School of Speech and Drama in London. His early career looked like taking off with the role of Benvolio in Franco Zeffirelli's ROMEO AND JULIET, Alexei Sofronov in Ken Russell's THE MUSIC LOVERS and the lead as Lt Albert Pinson in L'HISTOIRE D'ADELE H for François Truffaut, but having discovered that acting mostly consists of waiting for the phone to ring broken up by the occasional TV commercial while being permanently skint he began writing screenplays. Once again he fell on his feet by securing patronage from David Putnam who ended up producing his first script, THE KILLING FIELDS, for which he was Oscar nominated. True cult status arrived a little later when he wrote and directed the openly autobiographical WITHNAIL & I, about the squalid lives of two unemployed actors, but he has gone on to pen screenplays in a mix of genres, including JENNIFER 8, IN DREAMS and THE RUM DIARY.
It's hard to know where to start with Powell and Pressberger such was their talent and influence but they are synonymous with great British Screenwriting. Michael Powell was brought up between Canterbury and the South of France, a self-confessed movie addict. Educated at Kings School, Canterbury & Dulwich College he eschewed a career in banking and learnt film craft by working in various jobs at Denham & Pinewood studios. He managed to fast-track his way to director thanks to 'Quota Quickies', short films made to fulfil tariff agreements between the UK and US between the wars. A Hungarian Jew, Emeric Pressburger was a journalist in Hungary and Germany and an author and scriptwriter in Berlin and Paris before escaping to London at the start of WWII. When he arrived he didn't speak English but he set about teaching himself not just the language and it's subtle nuances, but also learning about the British people in all their myriad differences, priding himself on being "more English than the English" because he wasn't just born English, he chose to become English. Friends of friends led him to Powell and together, under the banner of 'The Archers' they made some of the most important, complex and enduring films of the 40s and 50s. It's impossible to list all of their achievements in this brief piece, but it includes 49TH PARALLEL (for which Pressburger won the oscar), ILL MET BY MOONLIGHT, BATTLE OF THE RIVER PLATE, THE TALES OF HOFFMANN, THE ELUSIVE PIMPERNEL, THE RED SHOES, BLACK NARCISSUS, A MATTER OF LIFE AND DEATH, THE LIFE AND DEATH OF COLONEL BLIMP, ONE OF OUR AIRCRAFT IS MISSING and CONTRABAND.
A controversial choice for some but we would argue that not only does Goldman have a good track record, but she's largely done it in the extremely male-dominated genre of comic book adaptations. A former journalist and freelance writer she wrote the books Dreamworld (2000) and The X-Files Book of the Unexplained (1997) and presented her own paranormal TV series, Jane Goldman Investigates, on Living. Her move into screenwriting started when she set out on a very successful partnership with writer/director Matthew Vaughan beginning with STARDUST and followed quickly by KICK ASS and the excellent THE DEBT. The two went on to even greater success with X-MEN: FIRST CLASS and X-MEN: THE LAST STAND. Her first solo effort was the DANIEL RADCLIFFE starrer THE WOMAN IN BLACK and her latest, KINGSMAN: THE SECRET SERVICE, is due out next year.
Morgan is the go-to guy for historical bio-pics, and he does do them far, far better than anyone else. Born in London, he got a degree in Fine Art from the University of Leeds and spent the 90s writing for television. His breakthrough work was with THE DEAL, a 2003 television drama about the power-sharing deal struck between Tony Blair and Gordon Brown. He followed that up with THE LAST KING OF SCOTLAND which netted Forest Whitaker an Oscar, and THE QUEEN, which did the same for Helen Mirren and garnered him an Oscar nomination and a Golden Globe to boot. He adapted his own play FROST/NIXON into the subsequent film which got him another Oscar nod but sadly no statue and has since written the excellent THE DAMNED UNITED, about Brian Clough's ill-fated turn as manager of Leeds United FC, the thriller 360 and RUSH, about the intense rivalry between 1970s Formula One racing drivers, James Hunt and Nikki Lauda.
At the time of writing Christopher Nolan's career spans just 16 years, but huge talent and vision as a filmmaker and storyteller has already elevated him to the ranks of directors for whose next film we wait with baited breath and much anticipation. Born in London he began making films at the age of 7 with his father's Super-8 camera and a pile of action figures. He carried on honing his craft while at UCL and put the guerrilla techniques he learned to use on his first feature, FOLLOWING, which he made for $6000. His second feature, MEMENTO garnered huge praise from critics and audiences alike and got him the directing gig on INSOMNIA, starring Al Pacino, Robin Williams and Hilary Swank but (as if we need to tell you) it was his rebooting of the Batman franchise with BATMAN BEGINS that saw his career go stratospheric. In between the epic sequels THE DARK KNIGHT and THE DARK KNIGHT RISES, he managed to churn out a couple of little 'filler movies' in THE PRESTIGE and the oft-argued about INCEPTION and his latest opus, INTERSTELLAR, due out later this year, already has the Nolan fanboys chomping at the bit.
Famous for his gritty, ultra-realistic 'kitchen sink' dramas, Writer/Director Mike Leigh was born in Salford, Greater Manchester, but studied theatre at RADA and began as a theatre director and playwright in the mid-1960s. The 1970s and 1980s saw him switch between theatre and making films for BBC TV and he has worked with the cream of British acting talent over the years, often working with the same actors over and over on different projects. He is well known for starting his projects without a script, rather taking a basic premise and working through lots of improvisation with his actors until, sometimes months later, he feels the character and situations have gelled sufficiently to write a shooting script, and even then it often gets re-written during the shoot once everyone is on location. Leigh's career can stand up with anyone's, but he is best known for television play ABIGAIL'S PARTY, and the films LIFE IS SWEET, CAREER GIRLS, the Gilbert and Sullivan biopic TOPSY-TURVY, ALL OR NOTHING, NAKED, for which he won Best Director at Cannes, Palme d'Or winner SECRETS & LIES and Golden Lion winner VERA DRAKE.
Julian Fellowes is another screenwriter who has become the go-to guy for a particular genre, in his case, period drama but particularly the 'upstairs/downstairs' type of period drama where the lives of those who serve are just as important, complex and interesting as the lives of the wealthy whom they serve. Born in Cairo to a life of privilege that gave him first-hand knowledge of what he would later write about, Fellowes was educated at several private schools in England but through a family connection found his way to films and began life as an actor. A busy but largely undistinguished acting career led him into screenwriting where he has excelled ever since. He started on TV series LITTLE LORD FAUNTLEROY and THE PRINCE AND THE PAUPER but it was with GOSFORD PARK that he made his name, winning the academy award amongst a host of other awards. He has since written VANITY FAIR, PICCADILLY JIM, SEPARATE LIES, THE YOUNG VICTORIA, THE TOURIST and ROMEO & JULIET among other projects, but it is DOWNTON ABBEY, the series that has legions of fans on both sides of the Atlantic and across the globe that he will be forever remembered.
Tom Stoppard left his native Czechoslovakia as a child refugee in 1939, fleeing imminent Nazi occupation, and eventually settled in Britain with his family after WWII. He was educated at schools in Nottingham and Yorkshire, becoming first a journalist, then a drama critic and eventually, in 1960, a playwright, gaining recognition for ROSENCRANTZ AND GUILDENSTERN ARE DEAD, which he later adapted for the film of the same name. His output is vast and varied but all good, with recurring themes of human rights, censorship and political freedom along with exploration of linguistics and philosophy. His output is vast and most notably includes the Terry Gillian directed BRAZIL, EMPIRE OF THE SUN for Steven Spielberg, THE RUSSIA HOUSE, BILLY BATHGATE, ENIGMA, ANNA KARENINA and SHAKESPEARE IN LOVE for which he won an Oscar.
Born in New Zealand to Australian parents, Curtis is one of Britain's most successful comedy screenwriters. Known primarily for romantic comedies, he actually started out collaborating with Rowan Atkinson in the Oxford Revue and then appeared alongside him at his breakthrough Edinburgh Fringe show. The attention eventually led to being a regular writer on TV series NOT THE NINE O'CLOCK NEWS, where as well as writing sketches with Atkinson he wrote many of the show's songs with Howard Goodalls. Curtis wrote the BLACKADDER series from 1983 to 1989, first with Atkinson then later with Ben Elton, and he remains the only person to have been a writer for every episode of Blackadder. He followed this with more hit series in MR. BEAN and THE VICAR OF DIBLEY. His first film THE TALL GUY was followed by FOUR WEDDINGS AND A FUNERAL, NOTTING HILL, BRIDGET JONES DIARY, and his directorial debut LOVE ACTUALLY making him the undisputed king of romantic comedies, but to show that he has more in his locker he also penned the adaptations of THE NO. 1 LADIES DETECTIVE AGENCY and WAR HORSE. Curtis is the founder of Comic Relief along with Lenny Henry.
Possibly the most innovative dramatist ever to write for British television, Potter originally embarked on a career in politics, but failure in that arena set him up for three decades of success on the small screen before he eventually branched out into films and novels. Exploring themes of consciousness and memory, his work has been widely acclaimed and led to some major innovations in television drama. His personal battle with Psoriatic Arthropathy informed his semi-autobiographical masterpiece, THE SINGING DETECTIVE (1986), regarded in some quarters as the best original work ever created for television, but with a résumé of 40 television productions including 28 single original plays, 11 serials, 9 screenplays, a stage play, a short story and 3 novels, which includes PENNIES FROM HEAVEN, BLACKEYES, GORKY PARK, BRIMSTONE AND TREACLE, BLUE REMEMBERED HILLS, LIPSTICK ON YOUR COLLAR and COLD LAZARUS, it would be very difficult to omit him from any list of great British screenwriters.
– What did you think of this article? Give it a rating and let us know your thoughts in the comments box further down…
– Struggling with a script or book? Story analysis is what we do, all day, every day… check out our

range of services

 for writers & filmmakers

here

.
Get *ALL* our FREE Resources
Tackle the trickiest areas of screenwriting with our exclusive eBooks. Get all our FREE resources when you join 60,000 filmmakers on our mailing list!