This month's featured industry guest at The Insider Interviews is Tom Daley of eOne Entertainment.
The Insider Interviews series started in 2010 as a set of recorded interviews, featuring the likes of Tom Hiddleston, Gareth Unwin, who produced THE KING'S SPEECH, Ben Wheatley and Hossein Amini, the Oscar-nominated writer of DRIVE and THE TWO FACES OF JANUARY.
The Insider Interviews now exists as a series of live, regular events, which are a combination of a compered interview and questions from audience members.

About Tom Daley
Tom Daley is Vice President of Scripted Television at Entertainment One UK.
He started his career as an Assistant Director at the Royal Shakespeare Company and was then the recipient of the Bulldog Bursary as Director-on Attachment at the Royal National Theatre. Tom directed at the Royal Shakespeare Company and at regional theatres across the UK as well as directing the voice work in major Computer Game titles at Side where credits included GOLDENEYE, KINECT SPORTS (Best Family Game, BAFTA 2011), SHOGUN 2 (Best Strategy Game, BAFTA 2012), ASSASSINS CREED and SPLINTER CELL. Tom transitioned to producing in 2015 and was a producer on MGM's OPERATION FINALE (2018) with Oscar Isaac and Ben Kingsley, from his original idea.
Tom studied English Literature at Edinburgh University. He also runs his own Drama School and sits on the audition panel at the Guildhall School of Music and Drama. In 2015, Tom directed his first feature, Tiger House, which was released internationally.
OPERATION FINALE | Official Trailer | MGM
Tom Daley Interview Excerpt
Tom, how did you come to your role and what does it entail?
I came to the role in a very circuitous and slightly unusual way in that for most of my career I've been a director. I went to Edinburgh University (where I) directed a lot of quite bad plays but really fell in love with theatre and with playwrights and all things theatrical. I then went quite quickly to be an Assistant Director at the Citizens Theatre in Glasgow, the Chichester Festival Theatre and then the Royal Shakespeare Company for two years. That's where I kind of went thinking I knew everything but actually realised I knew very little.
Then ultimately I was a director on attachment at the National Theatre. So I went from the Royal Shakespeare Company, where obviously you're working with either Shakespeare or Spanish Golden Age plays and these fantastic classical plays, to the National Theatre where my responsibility was liaising with contemporary playwrights. That was great grounding in all things to do with writing.
I then went and directed regional theatre and I directed an opera for English Touring Opera. Ultimately I directed a genre movie in South Africa in 2014 for Altitude, called Tiger House. I've always been a director with a kind of producorial, entrepreneurial spirit and ultimately I ended up finding a story about the capture of Eichmann in Argentina in 1960 that suddenly became a huge movie and was ultimately made for MGM, which I was a producer on (OPERATION FINALE).
From 2013 through to 2018 I really started to realise that my strengths and passion was really more in producing than in directing. Ultimately, I was headhunted for an executive role in the US last year and that turned my head to being an exec.
I felt that having sat on the other side of the table for a long time, I had a kind of empathy to creatives and to the creative process.
Whilst I didn't take that job in the US I really clicked with Polly (Polly Williams, Head of Script of Scripted Drama) who I work with here at eOne. I started at eOne in January (2019). I feel I've come to television at an incredibly exciting point.
Polly and I run a slate of around forty projects, between two of us and then we also have a brilliant co-ordinator who helps run our diaries but is also whip-smart as a reader and as another pair of eyes.
We have the main slate and in addition to that we have five producing deals that we run (Emily Mortimer and Alessandro Nivola/Tom Harper/Xavier Marchand/Tally Garner/Simon Howley & Fired Up Films).
So we have the main slate which we're servicing, then we have the producing deals and we are across all those projects. Then it's mine and Polly's job to receive scripts or projects from agents and writers and to assess those on behalf of the company.
We look at things from a very early stage – from one or two pages all the way through to something packaged.
So the role is number of things – working on the main slate, working with the producers and then finding new projects and new producers…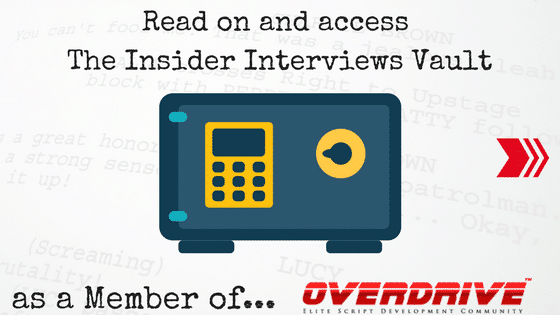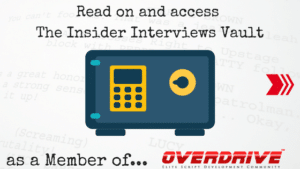 Did you enjoy this interview? Why not check out our Doug Mankoff interview, too?
View all previous Insider Interviews, here.
Get *ALL* our FREE Resources
Tackle the trickiest areas of screenwriting with our exclusive eBooks. Get all our FREE resources when you join 60,000 filmmakers on our mailing list!