About The TITAN Awards
1 Year On Interview With TITAN Awards Bronze Winner Todd Restler
So we caught up with the 2021 TITAN Awards Bronze winner Todd Restler one year on from his award win. We talked about how his writing is getting along and what he had to say about the winning package that he experienced over the course of the year following his win.
How Did You Feel When You Found Out You Had Won the TITAN Awards?
TODD RESTLER:
"I was extremely excited. I felt this probably had the best overall prize package of any screenwriting contest I entered, and I think that has been proven correct."
How Has Your Winning Script Developed Since Winning the TITAN Awards?
TODD RESTLER:
"I have a lot of momentum. I just signed with a manager and we are going to begin marketing the script over the next few weeks. That's a big step. I also have a director interested in self-financing an independent version if I can't sell it into Hollywood. So I am cautiously excited.
The script itself has come a long way since winning the contest, as I never stopped working on it after the win. It took until about October of last year when I felt the ground shift and suddenly I started getting a lot more calls and meetings with the version that is in the marketplace now."
What Was Your Experience Like Working With the Judges?
TODD RESTLER:
"Incredible, and I say that with no hesitation. They were completely familiar with every aspect of my script and were warm, honest (brutally at times which is great), and engaging.
They are who they are for a reason. Their ability to break down story and character seemed almost preternatural. I learned enough to write a book."
What Was the Best Piece of Advice/Insight You Garnered From the Judges?
TODD RESTLER:
"Character, character, character. WHY is a character behaving a certain way? Not just the lead, but everyone in the script. WHO are they? WHAT is their backstory? I have enough trouble just getting the words in the script on the page, and had not previously done much work on character backstory and bio information that won't appear in the script, but I do now, and it's a big help to my writing and worth the extra effort.
I also learned to approach the script from the standpoint of attracting a lead actor, by making the character truly unique and something never before seen on screen. He is now narrating the story (as opposed to a 'voice of God' narrator in prior versions), and is more dynamic in driving the action."
How Many Different Scripts Did You Develop as Part of Your Winning Package?
TODD RESTLER:
"Two. Continued development of THE CARRIER and a 1 hour TV pilot called BROKERS"
What Was the Part of the Winning Package That You Found the Most Rewarding/Useful?
TODD RESTLER:
"As I said, I developed the script throughout the year, and I did that with the help of the script consultant assigned to me by Industrial Scripts. We had meetings every three months, and those were both motivational (I wanted to get him pages to read) and incredibly valuable from a development standpoint.
All writers get notes, the frustrating part sometimes is not being able to offer a rebuttal, a WHY we chose to do something. Working with my script consultant was so valuable, just getting to talk through my scripts and spitball ideas, everything from big structural ideas to small dialogue changes. It was really valuable, and I could feel myself getting better as a writer throughout the year."
What Most Surprised You About the Whole Experience of Winning the TITAN and the Winning Package?
TODD RESTLER:
"Not only did everything get delivered on time and as promised, but everyone I worked with and spoke to at both Industrial Scripts and the Titans themselves seemed genuinely interested in helping me and was completely engaged in the process.
It never felt like they were just 'checking a box' with regard to the winning pieces of the package, but rather that they went above and beyond. So I don't know if that's surprising but it's greatly appreciated."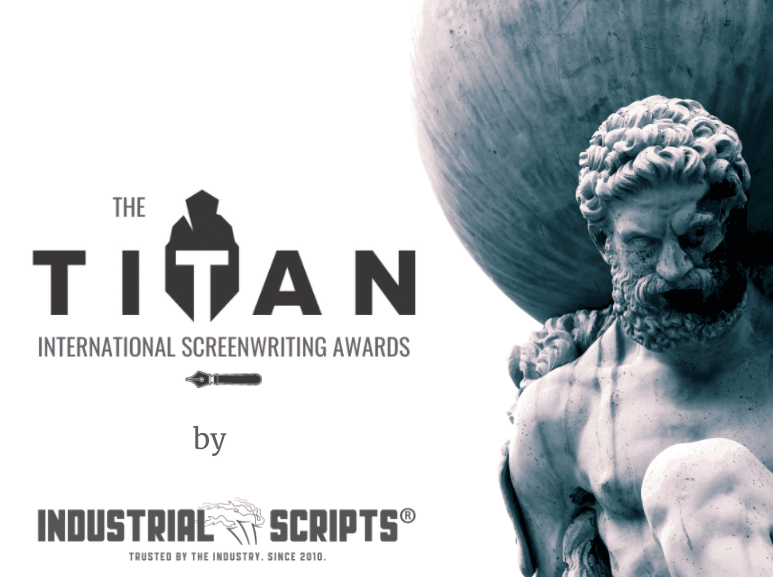 How Do You Feel Your Writing Has Developed Since Winning the TITAN?
TODD RESTLER:
"It's getting better and better. Specifically my character work. My strengths are probably plotting and structure, dialogue, pacing. But I need to get my characters to match that level. I am getting there.
I also have a clearer understanding of just how high the bar is for someone trying to break in like myself (much higher than for established writers). It's made me continue to push forward with this script in an effort to achieve perfection."
What Have You Learnt This Year That You Will Carry Forward in Your Writing Process or Approach to Writing Overall?
TODD RESTLER:
"My IS script consultant gave me so many great insights, but I think the best one was: 'the setting or world is just a Trojan Horse for what the story is really about.'
I have an advantage over some writers due to my age and real-world business experience. I can write with great detail and accuracy about both the stock market and insurance industry after having spent decades working there, and one of my strengths is 'world building'. But I have learned that building a great world is not enough (it always gets back to character).
I'll give two examples we discussed from two great shows, Succession and Billions. They both take place in the world of billionaires, and could conceivably have the same logline: An egotistical, smug billionaire tries to avoid his comeuppance.
But what are they ABOUT?
Succession is about the fact that a man has four adult children, and he has never told them that he loves them, and he never will, and no matter how hard they try he will never give them the affirmation that they seek.
Billions is about the fact that Chuck Rhoades' wife worked for a younger, better-looking, more successful man (that maybe she has slept with?) and she is also the main breadwinner, and he is unable to live with that. (It's why the show has suffered so much without Damien Lewis and that dynamic.)
Getting to the heart of that emotional core is crucial and separates the good from the great."
What Has Been the Best Experience to Come out of Winning the TITAN Awards?
TODD RESTLER:
"My script is at a level I feel that is now bulletproof. My manager said the golden words every writer wants to hear, 'I wouldn't change a word'.
That is in great part due to the advice I got from the Titans and the work with my script consultant at Industrial Scripts."
What Advice Would You Give to Those Entering the TITAN Awards This Year?
TODD RESTLER:
"I think having a great premise is really important. From day one everybody said that THE CARRIER was a great idea for a movie…
The CEO of a struggling health insurance company devises a scheme to kill high cost clients to increase profits and boost the stock price.
So focus your energy on your great idea, if you hopefully have one. I am not suggesting that is easy. But a good tight script that checks the screenwriting boxes but doesn't have a great premise is less interesting than a poorly executed great premise.
And to the WINNERS, it would be logical to think that if you win that your script is 'good enough'. And you're probably right. I would say that if you win a screenwriting contest, any movie made from that script would be a pretty good movie. But pretty good is not NEARLY good enough. It's got to be mind-blowingly great, flawless even, to have a chance. So view the win as an opportunity to work with people that can help get you and your script to that level."
What Are you Working on at the Moment That You're Most Excited By?
TODD RESTLER:
"Other than THE CARRIER, my pilot BROKERS…
A pair of young men with stars in their eyes meet on Wall Street right before the internet boom and chase their dreams
…is in pretty good shape and is starting to have some festival success, but I am the first to say it is not ready for production just yet (allllmost though)."
What's Been Your Favourite TV Show and Movie of the Last Year?
TODD RESTLER:
"White Lotus & Fleishman Is in Trouble were both great and right up my alley. Also just finished The Bear, which is really interesting. It's billed as a comedy, and the episode lengths suggest that, but it's NOT, at all. Great writing and acting.
Tar was fantastic. I saw Todd Field answer a Q&A at the Jacob Burns center in Pleasantville, NY a few months ago. You want to know how hard the movie business is? His first two movies as a director were In the Bedroom and Little Children, which are both fantastic and received 8 combined Oscar nominations. It took him 15 years to finally direct another movie (not for lack of trying). And it only happened because a guy at the studio called him out of the blue and said 'I love your work, I'll give you $10 million to make whatever you want'. (That was more or less the story, I am paraphrasing).
And it's a wonderful film, and he might win Best Director, and Cate Blanchett will probably win Best Actress, and they will deserve it, and it won't make much money, and it will still be a fluke when a movie like Tar even gets made."
What Are the Best Movies/TV You Have Watched in the Last Year That Have Helped You in Your Writing? And How?
TODD RESTLER:
"Investigation of a Citizen Above Suspicion won the 1971 Oscar for best foreign film. It's about a police detective that murders his mistress, and plants clues leading to himself, and then gets increasingly frustrated that his idiot coworkers can't track him down. It's the darkest of dark comedies, and has a line of dialogue I just flat-out stole for THE CARRIER, so it didn't just influence the script, it's IN the script.
Also The Friends of Eddie Coyle is a masterpiece that I can't believe I hadn't seen before. I think it's important to seek out old titles, especially ones in your preferred styles or genres – these are all the best movies anyway, and they have influenced my writing a great deal.
I also devour commentary tracks and special features, which has been my version of film school. Since I am slightly nuts with regard to movies, I have a spreadsheet with every movie I have seen since 2011 (I wish I started it sooner).
Thanks again to everyone at Industrial Scripts, it has been a pleasure working with you!
Thank You Todd!
Learn more about The TITAN Screenwriting Contest.
– What did you think of this article? Share It, Like It, give it a rating, and let us know your thoughts in the comments box further down…
– Struggling with a script or book? Story analysis is what we do, all day, every day… check out our range of script coverage services for writers & filmmakers.
Get *ALL* our FREE Resources
Tackle the trickiest areas of screenwriting with our exclusive eBooks. Get all our FREE resources when you join 60,000 filmmakers on our mailing list!