Our scores in this in-depth Shonda Rhimes MasterClass review:
Lessons – 7/10
Workbook – 9/10
Community -7/10
Value – 8/10
Overall Verdict – Thumbs Up!
Pros of the Shonda Rhimes Masterclass
The Shonda Rhimes MasterClass is a well structured and nicely paced course that guides you through the basics of becoming a screenwriter.
Shonda Rhimes' tone is inviting and supportive, making you feel reassured to start your writing journey with the exclusive tips and tricks she's learned over the years.
The lessons and workbook guide you through pieces of Shonda Rhimes' work as case studies to provide a full learning experience, encouraging you to actively participate in the content.
The longest lesson is eighteen minutes long, making all lessons manageable to finish at your own pace. With all classes uploaded to the website, you get the added benefit of pausing or rewinding the lesson to rewatch any sections as you wish.
Shonda Rhimes talks about writing with romantic expression. She exudes a love for writing as a passion and a craft.
Cons
If you watch the lessons consecutively they become a little visually monotonous. Whilst it is comforting to have Rhimes sat directly in front of the camera talking to you as if you are having a one on one discussion with her, the structure can become a little repetitive.
Some of the points made by Rhimes seem basic, even from a beginner's perspective. They are suggestions that can be found online for free.
Additionally, Rhimes explores her shows as case studies, giving a rounded explanation of the writing and shooting process. This can become a little repetitive, especially if you are watching the MasterClass without having watched her work beforehand.
What is MasterClass?
MasterClass offer video lessons by over 85 experts in a range of fields, from cooking and fashion to filmmaking and photography. Classes include roughly 20 video lessons that you can access on your television, phone, tablet or laptop.
Learn to act from the likes of Natalie Portman, explore self-expression and authenticity from RuPaul, or practice your creativity and filmmaking with David Lynch.
Shonda Rhimes MasterClass
Have you ever seen an episode of Scandal? How about Grey's Anatomy? Maybe you have heard of How To Get Away With Murder? In the Shonda Rhimes MasterClass, you meet the showrunner, the boss, and the brains, behind these beloved television shows.
She shares her experience and tips on how to progress your career and improve your screenwriting, whilst predominantly focusing on her own character-based television screenwriting.
Additionally, Rhimes covers topics such as;
The initial stages of catching an idea and how to develop it
How to make your characters memorable and authentic to an audience
Her personal process and preference for pitching ideas to executives
The actual writing process and how Rhimes navigates the reality of writing a script
Shonda Rhimes MasterClass – The Lessons
The Shonda Rhimes MasterClass consists of an introduction from Rhimes and 14 video lessons, which range from just over 8 minutes to just under 20 minutes in length.
The lessons place Shonda Rhimes directly in front of the camera, giving you direct eye contact as she talks about her experiences and offers her advice.
The one-on-one feel of the lessons makes them feel personal rather than content produced for a mass audience.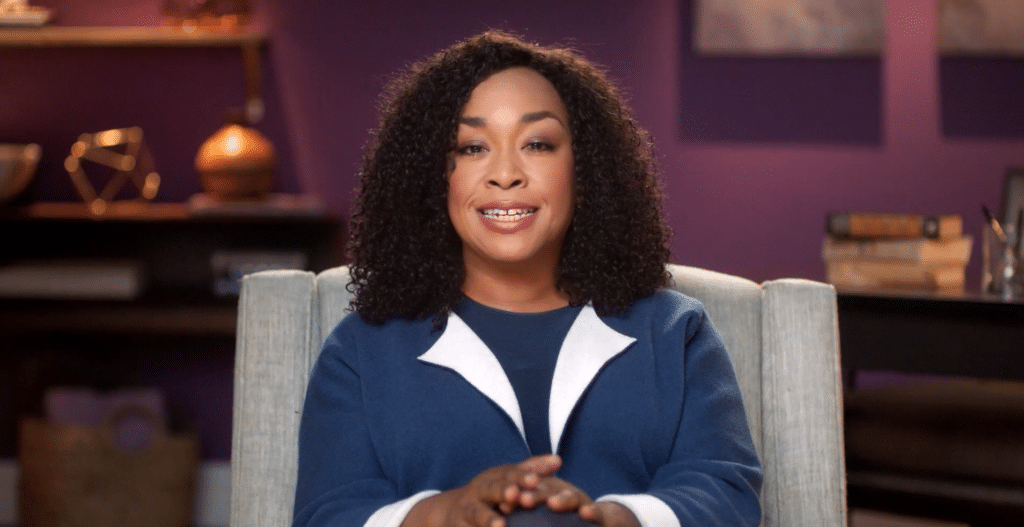 Following a 4 minute introduction from Rhimes in which she establishes her passion for writing, she discloses why she chose to participate in the MasterClass lessons – to pass on what she has learned and to help 'build the next group of writers'.
Lesson 1 – Teach Yourself TV Writing
Firstly, Rhimes outlines how writing for television is different from film;
She claims that the writer is in control rather than the director.
Rhimes reasonably focuses on the importance of writing authentic characters, as she says
'…you spend more time with characters than members of your own family'.
Throughout all of the lessons, Rhimes draws back and stresses how to write and build authentic worlds. She says you must…
Research television and know what has come before
Read scripts and understand previous rules of writing television
Digest the news and understand the world around you
The first lesson glosses over the basics of what to do before starting your writing process.
Lesson 2 – Finding an Idea
Secondly, Shonda Rhimes gives her own perspective of how she chooses which ideas to write;
Shonda Rhimes is good at identifying the logistics and reality of the writing process. She considers that although a writer wants creative control they do have to consider that the studio does also have a say over the future of your work.
She talks about original ideas for projects as if they come to every person naturally and can be sourced from anywhere.
Furthermore, she claims that writer's block isn't an issue, which is arguable.
Most points in this lesson seem pretty basic. To assume that her method will suit every writer is problematic. Not that she claims that her methods will work for everyone, but it would be beneficial to consider what would work for you personally and take from the lessons what you find to be the most useful.
Lesson 3 – Developing the Concept
The Shonda Rhimes MasterClass hones in on how character development takes priority over all other elements to inform your story. The questions she poses are fairly basic but when writing, they remain fundamental to the process:
What are your character's motivations and needs?
Do they have any obstacles to overcome?
What story do you want to tell? What do you want the audience to get from it?
The dominant positive that this lesson offers is that Rhimes divulges her process of creating a Story Bible. This is where Rhimes is truly helpful. She informs you of how you need to be the expert of your own story whilst disclosing how to do it.
Lesson 4 – Researching Your Story
In this lesson, Shonda Rhimes is resourceful by suggesting specific links and useful connections. Her instruction to research the work of others without stealing their work steers you in the right direction to ensure that your story is unique.
She encourages you to listen. To spend time with the people who help you research your topic.
She mentions places you can contact to gain information.
Her belief is that smaller details of the everyday create an authentic world for the characters to live in.
The Shonda Rhimes MasterClass explores Rhimes' strategy as she gives you the do's and don'ts of the researching process or at least a place to start. Contrastingly, her most insightful points are accompanied by some of her most basic.
Whilst it is informative to hear her note-taking process, it is specific to her and won't work for everyone.
Sometimes the points regarding her methodology become slightly repetitive as they sound fairly elementary.
Lesson 5 & 6 – Creating Memorable Characters
Through tracing the steps of her writing process Shonda Rhimes considers the best ways to write memorable characters. She uses case studies from her own work (Grey's Anatomy, Scandal, Private Practice) to exemplify what makes a character noteworthy.
The class teaches you to treat your characters as if they are people.
Rhimes shares the point that characters serve a specific purpose. They could be written to present a moral perspective or be the audience's educator.
Consider what your character wants and if that differs from what they need.
Lesson 7 – Pitching Your Show
This is Shonda Rhimes' most accommodating lesson by far. Her reference to case studies and personal experiences give you a taster of the reality of the industry and the process from script to screen.
She considers how to capture the imagination of the executives, the lexicon you should use when pitching, and other aspects to be conscious of when trying to sell your idea.
This lesson is the strongest of them all in that it uncovers insights that you couldn't necessary find for free online elsewhere. There is more specific detail to her points here than the previous more basic points.
Lesson 8 – Writing a Script: Structure
This is the first of the lessons in the Shonda Rhimes MasterClass that consider Rhimes' key writing framework. Rhimes repeats how researching is key to the writing process.
She explains the basic progression from act to act, delving deeper into how a TV show should be structured.
Her suggestions exemplify the rules of writing a script that she frequently mentions.
This lesson is a methodical approach to the writing process. Rhimes offers a clear and concise outline of how to structure a pilot. This is valuable information for any beginner.
"You can break the rules but you have to understand what the rules are first."
Lesson 9 – Writing a Script: Process
Like her recommendation to create a Story Bible, Shonda Rhimes tasks you with creating a Beat Sheet. Another tactical suggestion of a practical task to complete to make your writing process easier.
Through presenting you with the in-depth explanations of her process, she offers a worthwhile perspective on her own writing process that is inarguably successful.
Lesson 10 – Writing a Script: Effective Habits
You are responsible for your own success. In the tenth installment of the Shonda Rhimes MasterClass, she encourages you to see how you are in control of your productivity.
She states that self-discipline is helpful.
Practice makes perfect!
Creating a specific writing routine tricks your brain into work mode.
It is here that Shonda Rhimes really pushes the reality of working to a schedule and a deadline. If you don't allow for any excuses then you ensure that your work is done and at its best.
Her tone remains encouraging in every video whilst still having the ability to be stern in order to authentically delineate a realistic representation of the job.
Lesson 11 – Writing a Script: The Pilot
Again, Shonda Rhimes focuses on how important it is to focus on character. Characters are undoubtedly crucial to the audience's investment in your pilot. However, Rhimes is crafting her lessons to be more for the serialised drama writer.
It is obvious that it is the most beneficial for Rhimes to talk from her own experience, but she hardly reminds the learner that they are learning the skills and techniques of a drama writer and what is important to her specifically.
This isn't necessarily a bad comment about the lesson. If this is of interest to you then it is an extremely beneficial tutorial of a writing process, but it remains a point to consider.
Lesson 12 – Writing Authentic Dialogue
This shorter lesson is a brief overview of the power of dialogue. The power is in what you allow your characters to say, but also in what they don't say.
Shonda Rhimes persistently focuses on the authenticity of her characters.
She stresses to not make your dialogue perfect as it isn't how people talk to one another.
Lesson 13 – Editing Your Script
Rhimes usefully creates a check-list like lesson for you to ensure that you get the most out of what your show can be, and out of the feedback you are given. Her advice can be reduced to these few points…
Act out the show – you get a feel for the tone and pacing of the show.
At the end of an episode give the audience a hook to keep them interested.
Don't be hurt by the feedback you get – listen to what people are telling you and consider what they don't understand about your script and why.
She closes the lesson with a reference to another Grey's Anatomy case study. The handbook does suggest watching her work before taking the MasterClass, if you don't get the chance to do so the case study references can become a little repetitive.
Rhimes describes the worlds of her shows and the characters within them with great clarity. However, the classes would be that little bit more insightful and fulfilling if you have seen her work and fully understand her references.
Lesson 14 – Beyond the Pilot: Writing a Series
In anticipation of a conclusive lesson that brings all notes together, Shonda Rhimes steers away from making one overall comment to suggest things to remember.
She stresses that nothing is guaranteed and that you should use all your good ideas.
Everything has to have a reason.
She reiterates thinking of your characters as people with needs.
If the audience emotionally resonates with your story then they will be more considerate towards risks you take or rules you break.
Rhimes romantically discusses the writing process throughout her lessons. Talking about her characters as if they are real people. Her love for her craft shines through in her videos, sitting at the forefront of all her points. It is her encouragement and love that really makes the lessons something special.
The Lessons & Their Ratings
1. Teach Yourself TV Writing – 8/10
2. Finding an Idea – 8/10
3. Developing the Concept – 7/10
4. Researching Your Story – 7/10
5. Creating Memorable Characters: Part 1 – 8/10
6. Creating Memorable Characters: Part 2 – 8/10
7. Pitching Your Show – 9/10
8. Writing a Script: Structure – 7/10
9. Writing a Script: Process – 9/10
10. Writing a Script: Effective Habits – 7/10
11. Writing a Script: The Pilot – 8/10
12. Writing Authentic Dialogue – 8/10
13. Editing Your Script – 9/10
14. Beyond the Pilot: Writing a Series – 8/10
Shonda Rhimes MasterClass – The Workbooks
To make the course as cost-effective as possible MasterClass offers a downloadable and printable PDF document to accompany the course. With a brief introduction to Shonda Rhimes and the course itself, the book outlines the classes with all the main points and offers a note section for you to complete.
Although there is no suggestion on the website or in the lessons to read the workbook beforehand, in the workbook itself it suggests

watching

Grey's Anatomy and Scandal before watching the lessons.
Therefore, it's also better to read the workbook introduction section first and work through the other sections simultaneously to get the most out of your experience.
The workbook offers additional content for your money, the suggestion of watching Rhimes' work beforehand is an added cost to the experience after already paying for your MasterClass membership.
The workbook sets additional assignments under the heading 'Take It Further': the tasks encourage participation.
If you complete the tasks it puts Rhimes' advice into practice and helps you transition from wanting to write something to actually doing it. Throughout the lessons, Rhimes stresses that your success is of your own volition; the more work you put in the further you will get.
We'd suggest spreading out the classes:
Take your time to go through, listen, and practice what Rhimes suggests.
Make use of the workbook and absorb the information.
Practice your skills and learn your craft!
Shonda Rhimes MasterClass – The Community
The workbook helpfully reminds users to visit The Hub. The Hub is the extension of the MasterClass website, where discussions and comments regarding the lesson content and tasks can be found.
The community is very active. Some comments are short and sweet, stating their positive feedback. Whilst other comments are detailed paragraphs sharing ideas and stimulating discussions.
An online community makes it feel like it is an interactive class with real-life people. That could be a daunting idea as you can literally see the number of aspiring writers there are, it is also reassuring to know that others are learning and in the same position.
For the most part, the website is fairly easy to navigate and contains numerous blog posts that are updated every few days. The users on the website and within the community appear very supportive and productive, constantly sharing links and creating groups with each other.
Shonda Rhimes MasterClass – The Value
New classes are added to MasterClass every month. They do not indicate what those classes will be or who will be teaching them, therefore, they expect you to commit to the annual membership in the hope that you will like the classes they create.
The membership is sold as £170 annually. It is a hefty sum to pay for online classes, but as previously mentioned, the classes are what you make them. If you utilise the information, read the workbooks and complete the tasks then perhaps the MasterClass membership is worth it.
If you think that the Shonda Rhimes MasterClass is of interest to you but don't want to commit to the membership, they do offer a free three-day trial. Although it isn't a long time for you to watch hours worth of lessons and fully enjoy the course, it is enough time to see if the format is for you and if you wish to learn more.
The Shonda Rhimes MasterClass is worth the money because:
You gain an understanding of the industry from the perspective of the writer.
The course offers an overview of how the industry works and the process it takes to take a project from script to screen.
The one-to-one feel of the videos makes your learning experience more personal.
Rhimes is a success story, her work is widespread and stands the test of time, so why not learn from the best!
If you don't enjoy the courses you take MasterClass does offer a 30-day guarantee, where if you are not happy with your experience they will offer a refund. The perks of the membership are unlimited access to all lessons and workbooks, and you also receive an exclusive member newsletter.
Shonda Rhimes MasterClass – Overview
It is Rhimes' reassuring tone that shines through in every class. She makes every task feel achievable. Her passion and love for writing and the process is at the core of her classes and will keep you engaged throughout.
Albeit, some points made are basic and would be assumed to come naturally as a rule of thumb to anyone who owns a television. However, writing can be an overwhelming process, making her more basic points useful to refer back to at any stage of the writing process to ensure that you escape from your perspective.
This collection of lessons is specifically targeted towards aspiring television drama writers with little to no experience. In one lesson, Rhimes says 'why should you know?'. She is deliberately and directly talking to someone new to the industry.
The Shonda Rhimes MasterClass is a brilliant place to start. If you need help with learning to write for television and want to work on your characterisation, structure, or even your pitching skills, this is the MasterClass for you!
Did you like this article? Was it useful? Share it, Like it, give it a rating, and let us know your thoughts in the comments box below!
Are you struggling with a script? Let us help! Script development is our forte. We have a cherry-picked team on hand to help you…check out our services for writers & filmmakers here.
This article was written by Ellyse Partington and edited by IS Staff.
Get *ALL* our FREE Resources
Tackle the trickiest areas of screenwriting with our exclusive eBooks. Get all our FREE resources when you join 60,000 filmmakers on our mailing list!