THE INSIDER INTERVIEWS: SARAH RADCLYFFE
The Insider Interviews series started in 2010 as a set of recorded interviews, featuring the likes of Tom Hiddleston, Gareth Unwin, who produced THE KING'S SPEECH, Ben Wheatley and Hossein Amini, the Oscar-nominated writer of DRIVE and THE TWO FACES OF JANUARY. You can watch these here.
The Insider Interviews now exist as live monthly events in central London, which is a combination of a compered interview and taking questions from audience members.  If you would like to check out future speakers and join an Insider Interviews Live evening, you can see more details here.
Sarah Radclyffe has a host of impressive credits on often challenging-to-finance pictures, including MY BEAUTIFUL LAUNDRETTE, CARAVAGGIO, THE WAR ZONE, THE EDGE OF LOVE and RATCATCHER.
A great and consistent champion of emerging UK
filmmaking
and writing talent, Sarah's track record in independent film speaks for itself, and as the co-founder of Working Title too, she's basically seen and done it all.
This interview was hosted by producer, Pete Smyth.
CURRENT WORK
You have been running SRP since 1993, can you tell us about your day-to-day life is like and the project you are working on at the moment?
I am working on my first animation, which is mind-blowingly different – there is not as much adrenalin from a producer's point of view as there is with live action film-making.
It's an adaptation of a Michael Morpurgo children's book – KENSUKE'S KINGDOM, which we originally tried to do as a live action film – which I am reliably told is NOT the way to pick an animation!  It features orangutans and we managed to find some who had worked on the film CREATION who live in Thailand, but it proved to be completely impossible insurance-wise and budget-wise.
Then I met some incredibly talented animation directors, who had both done amazing shorts.  We set out on this journey, which has been a very long journey, but we have recently teamed up with Camilla Deakin at Lupus Films, who made ETHEL AND ERNEST and suddenly with that kind of knowledge on board the development process became much easier.
We've just completed about a minute's worth of test animation – like a teaser.  You can't approach a sales agent, like you can with a script for a live action film, unless you can show them what it is going to look like.  I naively thought you could go with character sketches and drawings.  But no, you can't.  The test cost about £90,000.
It's very different to everything I have done before – it's a bit like going to work (!), but I am enjoying it.
I'm also developing two live action projects.  One is an Australian co-pro, based on a novel – JULIAN CORKLE IS A FILTHY LIAR – a coming of age story, it's quirky, and set in Tasmania in the 1980s.  I am setting that up with Marian Macgowan, an Australian producer, and we've been co-developing it with the BFI and Screen Australia who have been incredibly supportive.  We have a script, and a fabulous director – MJ Delaney, who did POWDER ROOM, attached and we are just doing a polish and hope to go into production next year.
Then I have a project with a theatre director, Tom Morris, who is Artistic Director of the Bristol Old Vic.  It will be his first feature.  It's a gothic thriller, also based on a novel, adapted by screenwriter Nick Vivian, also developed with the BFI – I have been very lucky with them recently.
The other project I am working on is a female action movie.  I've never done an action film before but the young director, Vicky Jewson, is so talented , so I am exec-ing and introducing her to as many people as I can.
If you enjoyed this article, why not check out our Insider Interview with Colin Vaines?
Continued inside the vault…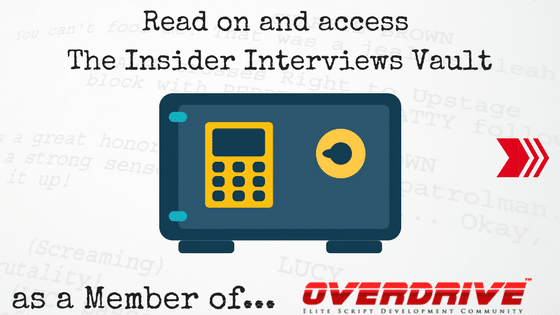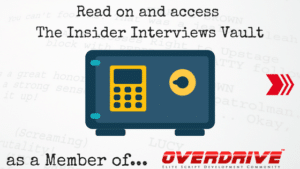 If you enjoyed this interview, make The Insider Interviews LIVE your regular monthly networking event.
See upcoming speakers, future dates and ticket details here.
Get *ALL* our FREE Resources
Tackle the trickiest areas of screenwriting with our exclusive eBooks. Get all our FREE resources when you join 60,000 filmmakers on our mailing list!