Producer Richard Holmes is that reassuring thing: a successful UK film producer who, on the evidence of our interview, is apparently an affable, centred human being.
Such a disposition probably benefited the on-set atmosphere during production of the bloodcurdling EDEN LAKE (2008), his most recent success. His forthcoming film RESISTANCE (2011) is based on the celebrated novel by Owen Sheers and stars Michael Sheen and Andrea Riseborough. Turning to the past, his first feature SOFT TOP HARD SHOULDER (1993) starred a young Peter Capaldi and has attracted a cult following, whilst SHOOTING FISH (1997) and WAKING NED (1998) were popular at the UK and international box office. Other credits include SOLITAIRE FOR 2 (1995) and DEAD BABIES (2000).
Back in 2011, Richard spoke to us with entertaining frankness about the delights and agonies of being an independent UK film producer. Richard is currently Senior Film Executive – Production at Creative England.
Going back to the beginning, how did your career in film start?
I got started at university working with a man called Stefan Schwartz and we did a comedy double act called The Gruber brothers. The Gruber Brothers was in that era of alternative comedy or New British comedy but we were very unfashionable in that we didn't do any stand up or interaction. What we tended to do was film sketches, so we did things STAR WARS in two minutes or the horror movie genre in three minutes. It was very physical stuff and it was very condensed, we abbreviated the genres into a few visual gags. It was all about film, really. We did that for two and a half years professionally and did OK but then got bored of condensing stuff and decided to write a short film, inspired by having seen Aliens. It was terrible and making it was a mistake but it was a very interesting mistake in that we shot it on 35mm and we got to see how effects were created. And weirdly the film got sold to the BBC for half what it cost to make it – wouldn't happen anymore. It was called BONDED, it was in the Sci-Fi/Horror genre and it was awful. But it was a very good educational experience and we finished that and thought "actually we should try and make a good short" and we wrote a kind of Tales of the Unexpected short which was a thriller and we made that and it was pretty good. By this point we were both doing a bit of writing, a bit of acting and a bit of comedy. We gave up the comedy and we went hell for leather and we made this short film which turned out well. It had a decent cast, including Frances Barber, people helped us out and it gained a sort of profile which led directly to a man giving us £181,000 to make our first feature film. It's called SOFT TOP HARD SHOULDER and we made it over a long hot summer of love in 1992 and the film did pretty well. It was a road movie between London and Glasgow and it starred Peter Capaldi. That film was again a fantastic educational experience for me because it was a proper feature film, Henry Braham shot it and he later went on to shoot various things including THE GOLDEN COMPASS. And Stefan, Peter and me put it together creatively and financially. It won the London Film Festival audience award and it won a Scottish BAFTA for best film and best actor for Peter. And it returned its investment. It was fantastic to be able to give the investor back their money and to make a little bit of profit – which we're all still benefitting from. I felt for the first time when I went to the barbers I could say "I'm a film producer".
The late 90s witnessed something of a boom in UK film production as a result of new public funding and tax regulations. How do you feel about the period, especially in relation to the current culture of austerity? Is there an element of rose-tinted spectacles?
I can talk about two aspects: production and development. I think that era will be looked back on as a golden age, I really do. There was enormous amount of money, too much really, washing about but a lot of people got to be professional writers upfront. In other words they didn't need to have two or three day jobs so they could write. It went from British Screen having £2 million a year to put into British film – almost all into production – to there being £2 million a year going into development. It was just an astonishing amount of money. And inevitably there was waste and fat that needed to be trimmed but it will be looked back on as an amazing time for many writers; although maybe not for five, ten, fifteen years. So I'm very positive about that. I benefited: I had the first feature film that was funded by the lottery, a film called SHOOTING FISH which got money from the Arts Council all those year ago. And it was the first or second film to benefit from the Isle of Man's fund. So I'm very grateful. Weirdly I never got a penny from the Film Council in terms of production although I did get a very healthy chunk of development money to give to writers. So positive on the public funding side. On the tax-driven sale and leaseback side it was actually a disaster…
If you enjoyed this article, why not check out our Insider interview with Sophie Meyer?
Continued inside the vault…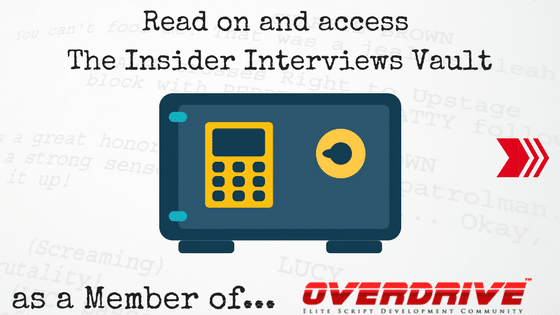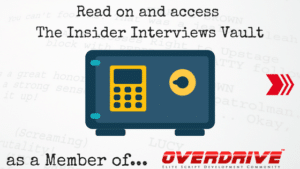 Get *ALL* our FREE Resources
Tackle the trickiest areas of screenwriting with our exclusive eBooks. Get all our FREE resources when you join 60,000 filmmakers on our mailing list!