THE INSIDER INTERVIEWS: PAUL WEBSTER
The Insider Interviews series started in 2010 as a set of recorded interviews, featuring the likes of Tom Hiddleston, Gareth Unwin, who produced THE KING'S SPEECH, Ben Wheatley and Hossein Amini, the Oscar-nominated writer of DRIVE and THE TWO FACES OF JANUARY. You can watch these here.
The Insider Interviews now exist as live monthly events in central London, which is a combination of a compered interview and taking questions from audience members.  If you would like to check out future speakers and join an Insider Interviews Live evening, you can see more details here.
Paul Webster has been involved in making 100 films over the last 30 years.  He is Oscar nominated, and a BAFTA and Golden Globe winner.  He's one of the leading British film producers of his generation.
He produced 5 features with Working Title and set up their LA office.  He then independently produced LITTLE ODESSA and THE YARDS while based in America.
Paul went on to become Head of Production for Miramax Films, supervising THE ENGLISH PATIENT, GOOD WILL HUNTING, and SHAKESPEARE IN LOVE.
A 12-year association with Joe Wright, has seen them working together on award-winning films such as ATONEMENT.
He has created or co-founded numerous companies – FilmFour, which produced 50 films (6 Oscar noms) and numerous shorts over 5 years; Kudos Pictures, making – among others – EASTERN PROMISES and BRIGHTON ROCK; and, most recently, London-based production company Shoebox Film & TV.
Some of Paul's most recent work includes PAN, LOCKE, ANNA KARENINA and SALMON FISHING IN THE YEMEN.
This interview was hosted by producer, James Cotton.
PAUL WEBSTER INTRODUCTION
You're producing at Shoebox Films, you recently launched Shoebox Television with Guy Heeley and Joe Wright, you have 51 producer credits; but what do you do day-to-day in 2016? 
I get up pretty early, do my exercise and meditation. I work from home initially from around 9am, then I go into the office as late as possible, usually for meetings at around 11am. At the moment it's mainly development, so depending on the project, I will be working on the finance plans, the casting, as well as a lot of script work.
Every week we have a development meeting where we go through the entire slate and the new submissions. I have very few phone calls, which is a change that I'm still getting used to. My life used to be about being on the phone all the time, but now I'm in offices which are dead silent, because everyone is glued to their screen. So I try and break that routine by calling people and having old fashioned analogue conversations. I usually work until about 7pm. LA phone calls will start from around 4.30pm, because you have to catch them before they go into their staff meetings at the agencies from 9.30 until 11am. I have a 9pm shut off  for LA calls these days, unless absolutely necessary, in which case I'll finish those calls at 11pm. Usually in the evening, I will go to a screening or a play.
If you enjoyed this article, why not check out our Insider Interview with Celine Haddad?
Continued inside the vault…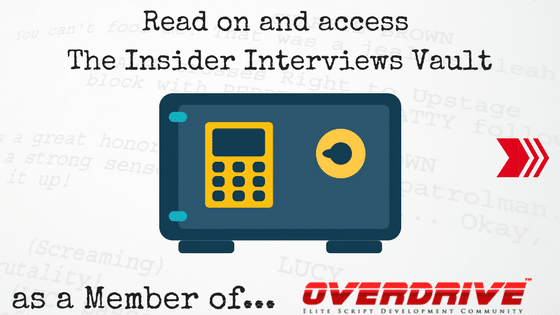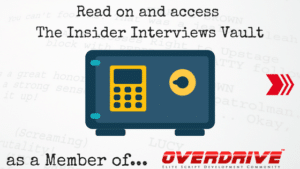 If you enjoyed this interview, make The Insider Interviews LIVE your regular monthly networking event.
See upcoming speakers, future dates and ticket details here.
Get *ALL* our FREE Resources
Tackle the trickiest areas of screenwriting with our exclusive eBooks. Get all our FREE resources when you join 60,000 filmmakers on our mailing list!