THE INSIDER INTERVIEWS: ANDY PATERSON
The Insider Interviews series started in 2010 as a set of recorded interviews, featuring the likes of Tom Hiddleston, Gareth Unwin, who produced THE KING'S SPEECH, Ben Wheatley and Hossein Amini, the Oscar-nominated writer of DRIVE and THE TWO FACES OF JANUARY. You can watch these here.
The Insider Interviews now exist as live monthly events in central London, which is a combination of a compered interview and taking questions from audience members. If you would like to check out future speakers and join an Insider Interviews Live evening, you can see more details here.
Andy Paterson is a British producer best known for period pieces RESTORATION and GIRL WITH A PEARL EARRING, Bobby Darin biopic BEYOND THE SEA, terrorism drama INCENDIARY, and THE RAILWAY MAN, which is based on a true story about the complex trauma of war.
Andy Paterson at The Insider Interviews LIVE
ANDY PATERSON
When you're choosing projects, do you pay attention to what's in the zeitgeist? Or is it much more instinctive than that? 
It's always hard to know. Inevitably, you have to find reasons why something is relevant and why an audience is going to want to see it. Sometimes you're looking at different kinds of audiences.
When I was talking to Zygi [Kamasa] at Lionsgate UK about THE RAILWAY MAN, when he was bidding for the UK rights, I told him he had to persuade me.
He was so clear about why this story would appeal to a particular demographic, why Colin Firth was the right person to appear in the role, and the number he thought he could do with it in the UK. He knew what he could do with it.
When you're starting out, you're just desperate to get a film made. When you've had a few films that didn't really perform, you really don't want to go through it all and then have another that doesn't perform.
So you're looking at what the audience might be and why they might want to watch it. Sometimes, if it's something they don't yet know they want, you have to feel out the way to do that. And obviously, you make costly mistakes all the time.
You've been in the industry for a long time. How have you seen it change? 
It's difficult to imagine that I've been doing it so long, because it feels like it all happened the other day. We've been through so many different technologies, so many different ways of doing things, but I don't think it's so different now in terms of making people want to watch a story.
Long ago, we made our first student movie. We were lucky enough to have John Schlesinger, who was a friend of a friend, come along to talk to us. He said there's only really one thing you need to know – there's only one camera. You can work everything else out from there. And we did.
We watched movies and planned out where the camera was, the technicalities of it. What's hardest, and what drives me, is what is it about the story that makes the audience desperate to know what happens next? How do you get the energy into the story?
Girl with a Pearl Earring (2003) Official Trailer - Scarlett Johansson Movie
For example, when I was sitting at Telluride watching an audience watch GIRL WITH A PEARL EARRING for the first time. In the last 20 minutes of that movie, the American audience barely breathed.
That's when you know something is going to work. They have to know what's going to happen, and they will not move until it's played out.
Often when you read scripts, you feel like that maybe isn't as obvious as it sounds. I sometimes wonder if people realise that is the most important thing.
It's the feeling of sitting in a movie audience and wanting to be there, as opposed to thinking, "I know where this is going. I know what that next line is going to be."
It's dramatic tension. That hasn't changed, and that's what you want to find.
If you enjoyed this article, why not check out our Insider Interview with Faye Ward?
Continued inside the vault…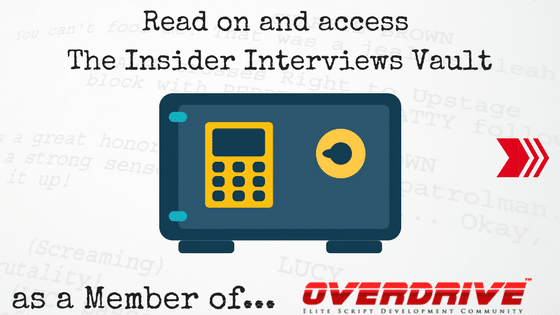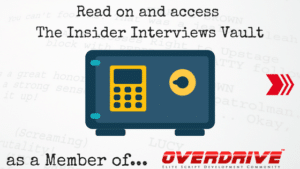 If you enjoyed this interview, make The Insider Interviews LIVE your regular monthly networking event.
See upcoming speakers, future dates and ticket details here.
Get *ALL* our FREE Resources
Tackle the trickiest areas of screenwriting with our exclusive eBooks. Get all our FREE resources when you join 60,000 filmmakers on our mailing list!