In this series we look at scenes and moments where a film or TV show has revealed a great deal of character information in a compressed amount of screen time. In this instalment we focus on John McClane (Bruce Willis) from DIE HARD.
DIE HARD is the quintessential, archetypal modern action film. It endures for many reasons, not least because of its seasonally appropriate setting.
The most important factor, however, has to be its brilliant script, and particularly the way it persuades the audience to invest in its protagonist, John Mcclane.
DIE HARD
DIE HARD is the story of New York cop John McClane visiting his estranged wife's office Christmas party in Los Angeles.
When a group of thieves, led by Hans Gruber (Alan Rickman), pose as terrorists and take over the building, McClane is the only one who can stop them.
Jeb Stuart and Steven E. de Souza wrote the script, adapting Roderick Thorp's novel, and John McTiernan directed.
Who is John McClane?
John McClane is a grizzled, wise-cracking New York cop. He's married with two children, but they are in Los Angeles where his wife Holly's (Bonnie Bedelia) career is taking off.
Die Hard - Official® Trailer [HD]
How is John McClane's character revealed by the action and dialogue?
A plane lands.
A hand with a wedding ring grips an armrest. The passenger next to him notices and offers the secret to surviving air travel:
After you get where you're going, take off your shoes and your socks. Then you walk around on the rug barefoot and make fists with your toes… Trust me, I've been doing it for nine years.
The plane finishes taxiing and the nervous man, John McClane, gets up to open the overhead apartment. He's carrying a gun.
McClane reassures his neighbour:
It's okay. I'm a cop. Trust me, I've been doing this for 11 years.
After a brief, slightly flirtatious look at a flight attendant, McClane leaves with his luggage: a giant stuffed teddy bear.
Fists With Your Toes... Better Than a Shower and a Hot Cup of Coffee
What do we learn about John McClane in this scene?
There's a common saying that acting is reacting. By playing it cool and not saying much, the script shows that McClane is in control of the scene, even if he's nervous.
In contrast, his neighbour fills up the silence with talking.
McClane also demonstrates a dry sense of humour. This will serve him and the audience well in the story to come.
McClane's quips become a weapon themselves, enraging Hans Gruber and making him act recklessly. At the same time, they make him a fun protagonist to follow.
They reassure the audience that, whatever the danger, he and his sense of humour will survive. When he runs out of jokes, the threat becomes real.
McClane is prepared but human. He carries a gun but dislikes flying. He's an everyman. It's this balance of ability and vulnerability that makes him an interesting action hero.
It's also an idea that gradually drops off in the sequels, which more and more become interchangeable with other action films. (DIE HARD WITH A VENGEANCE was at one point intended to be a LETHAL WEAPON sequel.)
That McClane has been a cop for 11 years is a vital piece of his backstory. The script works this information into the scene organically and comedically.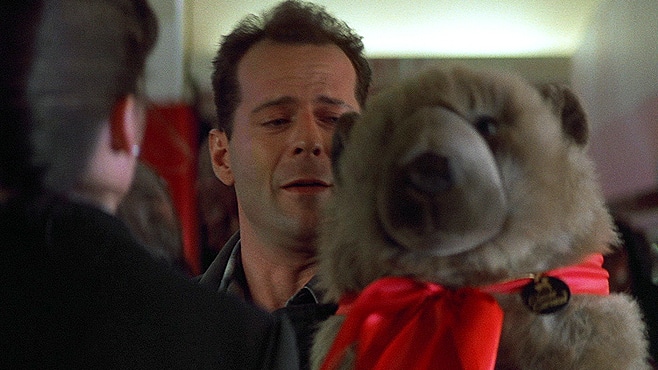 The giant stuffed bear demonstrates a potentially sentimental streak. His attitude towards it, however, also demonstrates his sarcasm. This man finds it difficult to express his emotions sincerely.
While this line answers one question about his backstory (his job), it creates a small mystery about the rest. McClane is a fish out of water in several ways.
Where is he coming from and where is he going, travelling alone? Who is the bear for? His wife?
The cut to the next scene, the office Christmas party, answers these questions, although the audience don't know this yet.
Vitally, his wife Holly is introduced as her own character first. She finishes off paperwork, brushes off the advances of a creep, and tells her secretary to join the party.
It's not until she calls her children that a clever camera move reveals the family portrait and the family connection. Her, John McClane, and their two children. (This prop too is not merely expositional – it serves a plot function later on.)
Again, this answers questions. We know who the bear is for. But it raises more questions, about how and why they are estranged. Anticipation builds for their first meeting.
Die Hard (1988) - Ho Ho Ho Scene (1/5) | Movieclips
Why is this an example of brilliantly succinct screenwriting?
"The moment before" is another term used by actors. In order to get into the right mental space for a scene, it can be helpful to imagine what the character was doing just before it begins. The same approach can work with writing and with the story.
Even if subsequent drafts cut the resulting scene, this can be a valuable exercise to discover who a character is before the action begins. What is John McClane doing on the plane on his way to Los Angeles? This leads to a great opening scene that serves multiple purposes.
As well as establishing his character, his backstory, and creating a mystique around both, the conversation pays off later in a more direct way.
McClane seems to dismiss the advice his neighbour gives him. However later, when he gets to the party, he tries it out and finds that it works. This is the reason McClane is shoeless throughout the film, leaving him vulnerable.
It also shows that McClane, even when he's playing at being a lone cowboy, will listen and trust others. This is vital for his relationship with the only helpful person on the outside, Sgt. Al Powell (Reginald VelJohnson).
What did you think of this article? Share it, Like it, give it a rating, and let us know your though in the comments box further down…
Struggling with a script or book? Story analysis is what we do, all day, every day… Check out or range of services for writers & filmmakers here.
Get *ALL* our FREE Resources
Tackle the trickiest areas of screenwriting with our exclusive eBooks. Get all our FREE resources when you join 60,000 filmmakers on our mailing list!