Strong premise
Well-crafted characters
Logical structure
Deliberate pacing
Interesting themes
Satisfying conclusion
What Are the Best Screenplays Ever Written?
The 101 Greatest Screenplays Ever Written
Billy Wilder
Woody Allen
Francis Ford Coppola
John Huston
In regard to determining 'the best screenwriter of all time', you could make a case for any of the above. Each of these writers, and several more besides, have multiple entries on the list. At four mentions apiece, however, Billy Wilder and Woody Allen appear to be the most prolific screenwriters featured.
The Full List
The full list reads as follows:
1.
CASABLANCA
Screenplay by Julius J. & Philip G. Epstein and Howard Koch. Based on the play "Everybody Comes to Rick's" by Murray Burnett and Joan Alison
2.
THE GODFATHER
Screenplay by Mario Puzo and Francis Ford Coppola. Based on the novel by Mario Puzo
3.
CHINATOWN
Written by Robert Towne
4.
CITIZEN KANE
Written by Herman Mankiewicz and Orson Welles
5.
ALL ABOUT EVE
Screenplay by Joseph L. Mankiewicz. Based on "The Wisdom of Eve," a short story and radio play by Mary Orr
6.
ANNIE HALL
Written by Woody Allen and Marshall Brickman
7.
SUNSET BLVD.
Written by Charles Brackett & Billy Wilder and D.M. Marshman, Jr.
8.
NETWORK
Written by Paddy Chayefsky
9.
SOME LIKE IT HOT
Screenplay by Billy Wilder & I.A.L. Diamond. Based on "Fanfare of Love," a German film written by Robert Thoeren and M. Logan
10.
THE GODFATHER II
Screenplay by Francis Ford Coppola and Mario Puzo. Based on Mario Puzo's novel "The Godfather"
11.
BUTCH CASSIDY AND THE SUNDANCE KID
Written by William Goldman
12.
DR. STRANGELOVE
Screenplay by Stanley Kubrick and Peter George and Terry Southern. Based on novel "Red Alert" by Peter George
13.
THE GRADUATE
Screenplay by Calder Willingham and Buck Henry. Based on the novel by Charles Webb
14.
LAWRENCE OF ARABIA
Screenplay by Robert Bolt and Michael Wilson. Based on the life and writings of Col. T.E. Lawrence
15.
THE APARTMENT
Written by Billy Wilder & I.A.L. Diamond
16.
PULP FICTION
Written by Quentin Tarantino. Stories by Quentin Tarantino & Roger Avary
17.
TOOTSIE
Screenplay by Larry Gelbart and Murray Schisgal. Story by Don McGuire and Larry Gelbart
18.
ON THE WATERFRONT
Screen Story and Screenplay by Budd Schulberg. Based on "Crime on the Waterfront" articles by Malcolm Johnson
19.
TO KILL A MOCKINGBIRD
Screenplay by Horton Foote. Based on the novel by Harper Lee
20.
IT'S A WONDERFUL LIFE
Screenplay by Frances Goodrich & Albert Hackett & Frank Capra. Based on short story "The Greatest Gift" by Philip Van Doren Stern. Contributions to screenplay Michael Wilson and Jo Swerling
21.
NORTH BY NORTHWEST
Written by Ernest Lehman
22.
THE SHAWSHANK REDEMPTION
Screenplay by Frank Darabont. Based on the short story "Rita Hayworth and the Shawshank Redemption" by Stephen King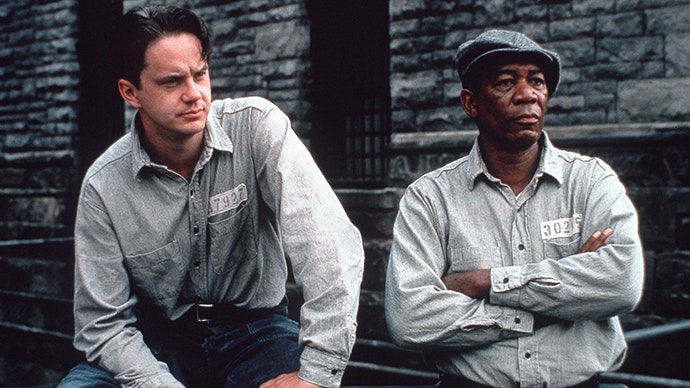 23.
GONE WITH THE WIND
Screenplay by Sidney Howard. Based on the novel by Margaret Mitchell
24.
ETERNAL SUNSHINE OF THE SPOTLESS MIND
Screenplay by Charlie Kaufman. Story by Charlie Kaufman & Michel Gondry & Pierre Bismuth
25.
THE WIZARD OF OZ
Screenplay by Noel Langley and Florence Ryerson and Edgar Allan Woolf Adaptation by Noel Langley. Based on the novel by L. Frank Baum
26.
DOUBLE INDEMNITY
Screenplay by Billy Wilder and Raymond Chandler. Based on the novel by James M. Cain
27.
GROUNDHOG DAY
Screenplay by Danny Rubin and Harold Ramis. Story by Danny Rubin
28.
SHAKESPEARE IN LOVE
Written by Marc Norman and Tom Stoppard
29.
SULLIVAN'S TRAVELS
Written by Preston Sturges
30.
UNFORGIVEN
Written by David Webb Peoples
31.
HIS GIRL FRIDAY
Screenplay by Charles Lederer. Based on the play "The Front Page" by Ben Hecht & Charles MacArthur
32.
FARGO
Written by Joel Coen & Ethan Coen
33.
THE THIRD MAN
Screenplay by Graham Greene. Story by Graham Greene. Based on the short story by Graham Greene
34.
THE SWEET SMELL OF SUCCESS
Screenplay by Clifford Odets and Ernest Lehman. From a novelette by Ernest Lehman
35.
THE USUAL SUSPECTS
Written by Christopher McQuarrie
36.
MIDNIGHT COWBOY
Screenplay by Waldo Salt. Based on the novel by James Leo Herlihy
37.
THE PHILADELPHIA STORY
Screenplay by Donald Ogden Stewart. Based on the play by Philip Barry
38.
AMERICAN BEAUTY
Written by Alan Ball
39.
THE STING
Written by David S. Ward
40.
WHEN HARRY MET SALLY
Written by Nora Ephron
41.
GOODFELLAS
Screenplay by Nicholas Pileggi & Martin Scorsese. Based on book "Wise Guy" by Nicholas Pileggi
42.
RAIDERS OF THE LOST ARK
Screenplay by Lawrence Kasdan. Story by George Lucas and Philip Kaufman
43.
TAXI DRIVER
Written by Paul Schrader
44.
THE BEST YEARS OF OUR LIVES
Screenplay by Robert E. Sherwood. Based on novel "Glory For Me" by MacKinley Kantor
45.
ONE FLEW OVER THE CUCKOO'S NEST
Screenplay by Lawrence Hauben and Bo Goldman. Based on the novel by Ken Kesey
46.
THE TREASURE OF THE SIERRA MADRE
Screenplay by John Huston. Based on the novel by B. Traven
47.
THE MALTESE FALCON
Screenplay by John Huston. Based on the novel by Dashiell Hammett
48.
THE BRIDGE ON THE RIVER KWAI
Screenplay by Carl Foreman and Michael Wilson. Based on the novel by Pierre Boulle
49.
SCHINDLER'S LIST
Screenplay by Steven Zaillian. Based on the novel by Thomas Keneally
50.
THE SIXTH SENSE
Written by M. Night Shyamalan
51.
BROADCAST NEWS
Written by James L. Brooks
52.
THE LADY EVE
Screenplay by Preston Sturges. Story by Monckton Hoffe
53.
ALL THE PRESIDENT'S MEN
Screenplay by William Goldman. Based on the book by Carl Bernstein & Bob Woodward
54.
MANHATTAN
Written by Woody Allen & Marshall Brickman
55.
APOCALYPSE NOW
Written by John Milius and Francis Coppola. Narration by Michael Herr
56.
BACK TO THE FUTURE
Written by Robert Zemeckis & Bob Gale
57.
CRIMES AND MISDEMEANORS
Written by Woody Allen
58.
ORDINARY PEOPLE
Screenplay by Alvin Sargent. Based on the novel by Judith Guest
59.
IT HAPPENED ONE NIGHT
Screenplay by Robert Riskin. Based on the story "Night Bus" by Samuel Hopkins Adams
60.
L.A. CONFIDENTIAL
Screenplay by Brian Helgeland & Curtis Hanson. Based on the novel by James Ellroy
61.
THE SILENCE OF THE LAMBS
Screenplay by Ted Tally. Based on the novel by Thomas Harris
62.
MOONSTRUCK
Written by John Patrick Shanley
63.
JAWS
Screenplay by Peter Benchley and Carl Gottlieb. Based on the novel by Peter Benchley
64.
TERMS OF ENDEARMENT
Screenplay by James L. Brooks. Based on the novel by Larry McMurtry
65.
SINGIN' IN THE RAIN
Screen Story and Screenplay by Betty Comden & Adolph Green. Based on the song by Arthur Freed and Nacio Herb Brown
66.
JERRY MAGUIRE
Written by Cameron Crowe
67.
E.T. THE EXTRA-TERRESTRIAL
Written by Melissa Mathison
68.
STAR WARS
Written by George Lucas
69.
DOG DAY AFTERNOON
Screenplay by Frank Pierson. Based on a magazine article by P.F. Kluge and Thomas Moore
70.
THE AFRICAN QUEEN
Screenplay by James Agee and John Huston. Based on the novel by C.S. Forester
71.
THE LION IN WINTER
Screenplay by James Goldman. Based on the play by James Goldman
72.
THELMA & LOUISE
Written by Callie Khouri
73.
AMADEUS
Screenplay by Peter Shaffer. Based on his play
74.
BEING JOHN MALKOVICH
Written by Charlie Kaufman
75.
HIGH NOON
Screenplay by Carl Foreman. Based on short story "The Tin Star" by John W. Cunningham
76.
RAGING BULL
Screenplay by Paul Schrader and Mardik Martin. Based on the book by Jake La Motta with Joseph Carter and Peter Savage
77.
ADAPTATION
Screenplay by Charlie Kaufman and Donald Kaufman. Based on the book "The Orchid Thief" by Susan Orlean
78.
ROCKY
Written by Sylvester Stallone
79.
THE PRODUCERS
Written by Mel Brooks
80.
WITNESS
Screenplay by Earl W. Wallace & William Kelley. Story by William Kelley and Pamela Wallace & Earl W. Wallace
81.
BEING THERE
Screenplay by Jerzy Kosinski. Inspired by the novel by Jerzy Kosinski
82.
COOL HAND LUKE
Screenplay by Donn Pearce and Frank Pierson. Based on the novel by Donn Pearce
83.
REAR WINDOW
Screenplay by John Michael Hayes. Based on the short story by Cornell Woolrich
84.
THE PRINCESS BRIDE
Screenplay by William Goldman. Based on his novel
85.
LA GRANDE ILLUSION
Written by Jean Renoir and Charles Spaak
86.
HAROLD & MAUDE
Written by Colin Higgins
87.
8 1/2
Screenplay by Federico Fellini, Tullio Pinelli, Ennio Flaiano, Brunello Rond. Story by Fellini, Flaiano
88.
FIELD OF DREAMS
Screenplay by Phil Alden Robinson. Based on the book by W.P. Kinsella
89.
FORREST GUMP
Screenplay by Eric Roth. Based on the novel by Winston Groom
90.
SIDEWAYS
Screenplay by Alexander Payne & Jim Taylor. Based on the novel by Rex Pickett
91.
THE VERDICT
Screenplay by David Mamet. Based on the novel by Barry Reed
92.
PSYCHO
Screenplay by Joseph Stefano. Based on the novel by Robert Bloch
93.
DO THE RIGHT THING
Written by Spike Lee
94.
PATTON
Screen Story and Screenplay by Francis Ford Coppola and Edmund H. North. Based on "A Soldier's Story" by Omar H. Bradley and "Patton: Ordeal and Triumph" by Ladislas Farago
95.
HANNAH AND HER SISTERS
Written by Woody Allen
96.
THE HUSTLER
Screenplay by Sidney Carroll & Robert Rossen. Based on the novel by Walter Tevis
97.
THE SEARCHERS
Screenplay by Frank S. Nugent. Based on the novel by Alan Le May
98.
THE GRAPES OF WRATH
Screenplay by Nunnally Johnson. Based on the novel by John Steinbeck
99.
THE WILD BUNCH
Screenplay by Walon Green and Sam Peckinpah. Story by Walon Green and Roy Sickner
100.
MEMENTO
Screenplay by Christopher Nolan. Based on the short story "Memento Mori" by Jonathan Nolan
101.
NOTORIOUS
Written by Ben Hecht
The 101 Greatest Screenplays of the 21st Century (So Far)
Fifteen years later, the WGA released a second list: the 101 Greatest Screenplays of the 21st Century (*so far). This latest list featured a diverse array of writers as well as translations of foreign language screenplays such as:
Get Out (2017) topped the list, one that also included the works of acclaimed screenwriters such as:
The Coen Brothers
Paul Thomas Anderson
Quentin Tarantino
Aaron Sorkin
Greta Gerwig
Diablo Cody
Pete Docter
Brad Bird
Using both these lists for inspiration, let's examine a handful of screenplays and explore the characteristics that make them so revered.
What Makes A "Best Ever" Screenplay? An Analysis:
#24. Eternal Sunshine of the Spotless Mind (2004)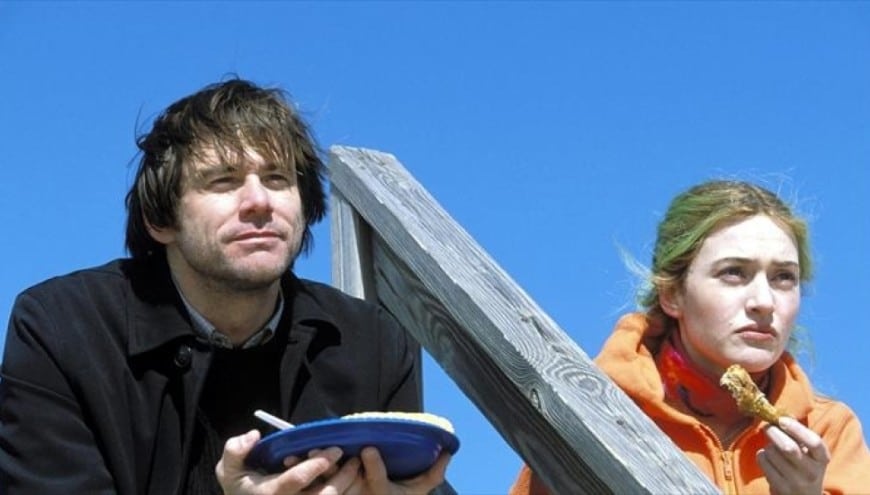 Sticking broadly to the list of attributes as set out at the beginning of the article, let's start by looking at a fantastic high-concept screenplay: Eternal Sunshine of the Spotless Mind. But first, what do we mean by 'high concept'?
A high concept is a captivating premise for a movie that generates audience appeal without attached elements, such as critic reviews or casting.
So what makes Eternal Sunshine of the Spotless Mind a high-concept film? The story began with an abstract thought experiment: what if a person were to receive a postcard telling them that they had been erased from someone else's memory?
Kaufman's screenplay revolves around this central idea: the premise infuses the story, informing the plot and motivating the characters. The primary purpose of the narrative is to explore the emotional and ethical consequences of the decision to wilfully repress – or obliterate – one's memories.
But one of the (many) reasons for Eternal Sunshine's success is the fact that the high-concept premise doesn't overwhelm the narrative.
Kaufman avoids the common pitfall – of having a bloated concept and barebones characters – by constructing credible character relationships.
Kaufman's characters are fully formed and compelling. They are complex and contradictory – alternately abrasive and tender, cynical and vulnerable – which lends them a multifaceted authenticity.
The characters explore the premise without becoming subservient to it.
Eternal Sunshine deserves praise for its meticulous, non-linear structure, its excellent dialogue, and its use of side characters and subplots to further develop its premise.
The screenplay's crowning achievement, however, is its unwavering commitment to telling a touching and distinctly human story. In spite of its high-concept premise and abstract sequences, Kaufman's screenplay is rooted in the humanity of its themes: love and loss, acceptance and regret, fate and freedom.
#1. Casablanca (1942)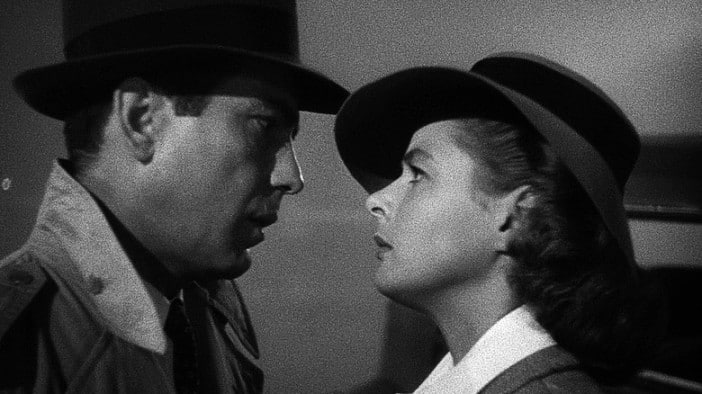 Next up, let's look at a revered classic: Michael Curtiz's beloved wartime romance Casablanca. As with any other screenplay on this list, there's far more to be praised than can be covered in so few words. So let's narrow our focus and examine Casablanca in regard to its use of conflict.
The story is that of Rick Blaine, a cynical expatriate in French-occupied Morocco during the Second World War. Prompted by the arrival of his former lover and her fugitive husband, Rick considers helping the couple escape the Nazis.
As we can see, the premise of the story is wrought with conflict. Set during the Second World War, the story is inherently imbued with a sense of urgency and the threat of violence. We can see this tension in the opening pages of the script, which contains shots of sudden panic and brutality:
"women run screaming"; "[police offers] dragging frightened refugees"; "the shadow of a man hanging by a rope"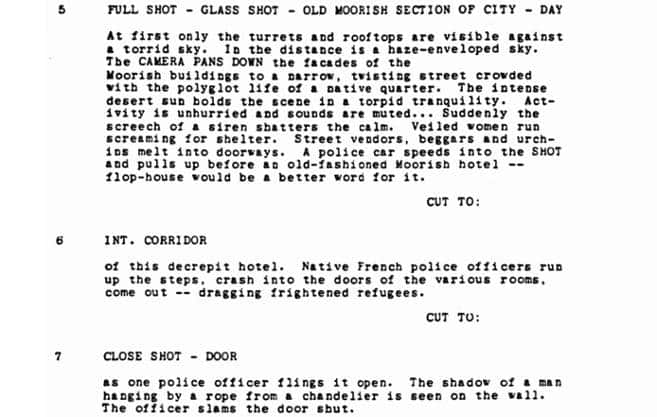 The external conflict intrinsic to the setting is further complemented by the internal conflict of the protagonist.
Rick's Internal Conflict
Rick tussles with several contradictions and competing motivations.
For instance, he is outwardly cynical yet deeply compassionate. Despite being impartial to the conflict (his nightclub, Rick's Café Américain, is open to all), he resents the German repression.
Rick finds his position further complicated by the arrival of Ilsa and Laszlo, who are trying to escape Casablanca.
As Rick's former lover, Ilsa introduces a degree of emotional uncertainty. Will Rick help or hinder the couple's goals?
Additionally, Laszlo's position as a prominent figure in the Resistance movement creates further complexity. Any action that Rick chooses to take now has broader political implications. As such, Rick's dilemma is both intensely personal and acutely political.
Ilsa and Laszlo are catalysts, spurring Rick into action and prompting him to abandon his neutrality. Rick subsequently chooses to assist the couple – even to his detriment – in a series of gestures that demonstrate the triumph of moral duty over self-interest. This completes Rick's character arc: moving from cynical indifference to decisive action.
#11. Butch Cassidy and the Sundance Kid (1969)
Another screenplay with great characterisation is the 1969 western, Butch Cassidy and the Sundance Kid.
The story is a loose dramatization of the real bandits' lives and the fall of their criminal gang. It follows Butch and Sundance as they take on a string of robberies, quickly gaining notoriety and becoming hunted by a relentless posse of lawmen before attempting to adopt new lives in South America.
Goldman's principal characters, rather than being conventional, stoic gunslingers, are instead charming and fallible, matching quick wits with a capacity for vulnerability.
What's more, the screenplay is also frequently funny, often indulging in comedic sequences and sharp exchanges to reflect the carefree levity of its characters' dispositions.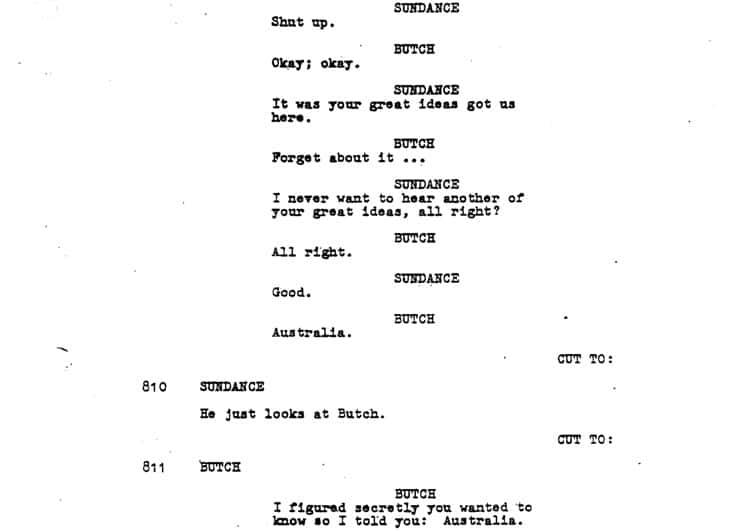 In contrast to this spirit of optimism, the screenplay carries a disempowering sense of fatalistic foreboding.
On the run from the mysterious super-posse, Butch and Sundance spend the majority of the narrative only narrowly evading the long arm of the law, and – coming within a hair's breadth of a fresh start – learn too late that they can escape neither their nefarious pasts nor their very natures.
Here, Goldman's screenplay should also be commended for its approach to the genre. The cathartic violence often found at the climax of traditional westerns is notably absent. Lethal violence occurs only sporadically throughout the screenplay and becomes an ugly, shocking thing devoid of satisfaction.
This is particularly apparent during the scene in which Butch and Sundance, whilst working as payroll guards, are confronted by bandits. Unable to de-escalate the situation and yet desperate to avoid violence – "Please go. Please. Por favor" – a reluctant bloodbath ensues.
The violence is drawn-out and depicted in harrowing detail. Ultimately, there is nothing heroic about it. Consequently, it subverts the genre and delivers a powerful message on the nature of violence, heroes and folklore.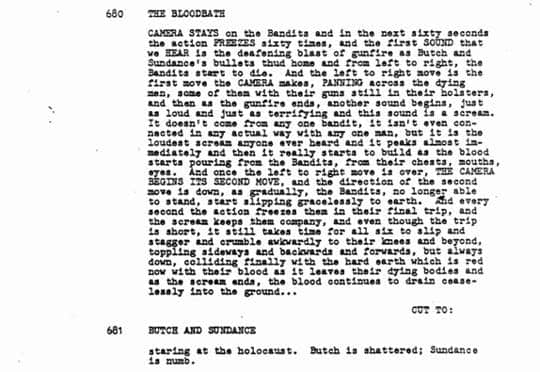 #3. Chinatown (1974)
Robert Towne's Chinatown, is another screenplay that comes close to taking the title of 'Greatest Screenplay Ever Written'. Let's focus particularly on visual motifs and thematic foreshadowing.
Chinatown is a neo-noir detective mystery centring on Jake Gittes, a private detective hired to investigate a case of suspected infidelity. Before long, however, the case takes an unexpected turn and Jake becomes embroiled in the murky waters of political corruption and murder.
In his 1979 book 'Screenplay: The Foundations of Screenwriting', Syd Field writes at length about the tight three-act structure of Chinatown, commending Towne's expert use of plot points to maintain a structurally cohesive narrative.
A plot point, as Field explains, is an event that "spins the action around, shifts it into another direction", and thereby ensures that a story continues to develop toward its natural conclusion.
Field also praises Chinatown's screenplay for the introduction of its themes.
As Field observes, the core concept of "money, power, and influence being a corruptive force" is established as early as page three, in a moment in which Gittes chastises Curly for his naivety:
"You gotta be rich to kill somebody, anybody, and get away with it."
Gittes' naivety is also on display. His confession to Evelyn – "I thought I was keeping someone from being hurt and actually I ended up making sure they were hurt" – preempts the tragic conclusion at the story's end.
Gitte's journey is one of cyclical futility: the same mistake brings about the same fate. Consequently, the screenplay ends with an uncomfortable disjunction between truth and justice.
#1. Get Out (2017)
Leaping forward to the 2010s, another fantastic screenplay worth analyzing is writer-director Jordan Peele's Get Out. In this section, we'll discuss the social themes raised in the screenplay as well as its use of symbolism.
Described by Peele as a "social thriller", Get Out is a psychological horror film about Chris, a young African-American man, meeting the liberal family of his white girlfriend, Rose.
Already imbued with implicit tension, our expectations of the encounter are subverted by the family's ostensibly warm reception of Chris.
However, the family's hospitality is overly-accommodating and artificial, heightening the tension. The sense of insinuated threat is further compounded by the family's eerie fascination with Chris' race.
This sinister fixation develops as the story progresses and the Armitage family reveal their true intentions. Chris is one of many black men and women who are abducted by the family, and whose bodies are used to house the minds and souls of rich, white patrons.
Consequently, it becomes clear that this fetishization of the black body – "black is 'in fashion!'" – is another form of subjugation. It masks a desire to control, and the result – the erasure of black identity – is as detrimental as overt racism.
"we don't hate you […] we want to be you"
Peele masterfully uses tension to lure the audience into the movie's thematic subtext. We, from the very start, suspect something is off about this dynamic. The language of cinema is used to both play on and subvert our expectations.
Symbolism
Another factor that makes Peele's screenplay so highly regarded is its use of symbolism. One prominent example is the motif of a deer, which reoccurs throughout and is representative of Chris' identity.
The scene in which Rose (Chris' girlfriend) hits a deer with her car, for instance, is symbolically significant.
For one, the incident anticipates Rose's duplicity and her disregard for Chris.
Secondly, the deer later becomes associated with Chris' mother, who similarly died in a car accident.
Another example is the decaying "antlered thing" in the Sunken Place. The creature signifies the existential threat to Chris' identity and the purgatorial state that awaits him. As a visual metaphor, it states that Chris – in his subdued state of hypnosis – will become neither living nor dead.
The stag's head, mounted in the games room, also plays an important role, again alluding to Chris' fate (taxidermy being the false visage of life) and later becoming instrumental to his escape.
Lastly, Walter's moment of lucidity – freed from his stupor by the flash of Chris' phone – is accompanied by a "pained moan reminiscent of the deer's", showing Walter's return to consciousness and the restoration of his bodily autonomy.
Get Out is ultimately a film acutely aware of its cinematic language. It's one of the main reasons that the script is so highly regarded and easy to see, therefore, why it places at the list's summit.
– What did you think of this article? Share It, Like It, give it a rating, and let us know your thoughts in the comments box further down…
– Struggling with a script or book? Story analysis is what we do, all day, every day… check out our range of script coverage services for writers & filmmakers.
This article was written by Joe Davidson and edited by IS Staff.
Get *ALL* our FREE Resources
Tackle the trickiest areas of screenwriting with our exclusive eBooks. Get all our FREE resources when you join 60,000 filmmakers on our mailing list!