Hi and welcome to Industrial Scripts!
We're a leading film and TV consultancy delivering script coverage, training and other services to writers and filmmakers from around the globe.
To download your free copy of the brilliant A BEAUTIFUL MIND SCRIPT script simply click the link below to be taken to our main script download page.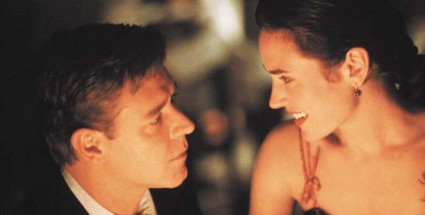 About A Beautiful Mind script
A BEAUTIFUL MIND, the intensely human drama of a true genius, is inspired by events in the life of mathematician John Forbes Nash, Jr.
The handsome and highly eccentric Nash made an astonishing discovery early in life and stood on the brink of international acclaim. But his white-hot ascent into the intellectual stratosphere drastically changed course when Nash's intuitive brilliance was undermined by schizophrenia.
Facing challenges that have destroyed many others, Nash fought back, with the help of his devoted wife Alicia.
After decades of hardship, he triumphed over tragedy, and received the Nobel Prize in 1994. A living legend, Nash continues to pursue his work today.
A Beautiful Mind - Trailer
DISCLAIMER: All movie screenplays on this website are intended for teaching /educational purposes only. These screenplays fall under the U.S. Code 17/Sec. 107 – Limitations on exclusive rights: 'Fair Use'. Notwithstanding the provisions of sections 106 and 106A, the fair use of a copyrighted work, including such use by reproduction in copies or phonorecords or by any other means specified by that section, for purposes such as criticism, comment, news reporting, teaching (including multiple copies for classroom use), scholarship, or research, is not an infringement of copyright.
If you enjoyed this article, why not check out the 500 DAYS OF SUMMER script?