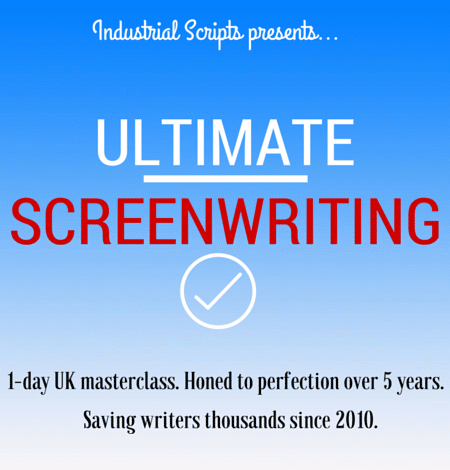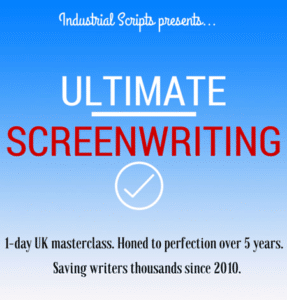 £150.00
Ultimate Screenwriting is everything we've learned over 14 yrs in film & TV, packed into one intense day.
Suited to new or returning screenwriters, covers all core areas of the craft and theory of screenwriting & also educates on the business, pay and life of the screenwriter, both in London and LA.
Saves writers thousands of pounds in redundant screenwriting degree courses. They carry no weight in an industry where your writing is your CV. We'll save you from all the rookie mistakes, for £150.
View the full course breakdown, below… ↓↓↓↓↓

Ultimate Screenwriting has been designed for creative individuals who have either already had some experience in screenwriting, and are now looking to build on their knowledge and skills, or those new to the craft who possess great ideas for films or TV shows, but don't know where to begin.

It delivers a huge amount of information, packed into one very intense day, and costs a tiny fraction of the fees associated with doing a degree in screenwriting.

Now into its sixth year, the course has been honed to within an inch of its life(!!), taking on board feedback from hundreds of writers and filmmakers, and receives 5-star feedback as a matter of course. It is, to quote Jeffrey "The Dude" Lebowski, "a Swiss fu*kin-watch" of a course!

No-one in the industry cares about degrees in screenwriting. They're not going to hire you just because you've got an MA in it. They're going to hire you based on the quality of your writing. In the world of screenwriting, your writing is your CV…nothing else matters.

– Anonymous Studio Executive

WHY BOOK OUR SCREENWRITING COURSE?

We don't believe in screenwriting degree courses here at Industrial Scripts – they cost thousands of pounds and carry no weight in an industry where the quality of writing IS your CV.

Focusing on both the writing process, and the industry writers find work in, our screenwriting course aims to heavily de-mystify the process by which people become professional screenwriters, and help new writers navigate the sometimes precarious early years of the screenwriter.

The course was extremely enjoyable and informative. The tutor was very knowledgeable about all aspects of the craft and business of screenwriting, and was very approachable and helpful when I asked her some questions in the break.

– Griff Phillips, verified customer review April 2015.

Participants are likely to leave with: an improved ability to identify a good concept or idea; a thorough understanding of what producers are looking for; an appreciation of the importance of genre; knowledge of the fees paid to screenwriters and typical industry screenwriting contracts; as well as a host of other information relating to the world of a screenwriter.

In addition, the course also delivers detailed information on the key production companies, distributers, sales agents and funding bodies operating in the UK marketplace, for whom screenwriters are vital.

Fantastic course! I found it so helpful and came away with a lot of clear concise information! I'd highly recommend this course to anyone serious about writing a screenplay. I'm halfway through mine already and wouldn't have managed it without this course!

– Angela Peach, verified customer review, April 2015

SCREENWRITING COURSE OUTLINE

10am – 1pm
– Introduction: the unique challenges of Screenwriting
– A guide to screenplay format and its importance
– The stages of screenwriting: idea, logline, treatment, screenplay
– Ideas: how to generate them and the importance of having many projects
– Ideas: tactics to avoid channeling energies into the wrong projects
– Which genres are the easiest to break into as a new writer?
– Approaches to structure
– Knowing screenwriting theory, but not being wedded to it

***1 hour break for lunch at 1pm***

2pm – 7pm
– Dialogue: how to develop a phonetic ear for speech
– Creating characters who "leap off the page"
– Show don't tell: writing cinematically
– Overview of the industry: the life, pay and world of the screenwriter
– From draft-to-draft: examining a typical screenwriting deal
– Marketing yourself as a screenwriter in the digital age
– Industry etiquette & how to conduct yourself
– Recommended Reading list
– Q & A
– Informal networking drinks with the course tutor

Over a 5-year period we've devised the following 6-step program which costs less than £400 and will give you the absolute best start to your career as a screenwriter, bar none:

How to Save Yourself Thousands Becoming a Screenwriter: Our 6-Step Guide!

Book onto our acclaimed 1-day screenwriting course. Why? Because we've made all the mistakes you WILL make, and we've assessed literally thousands of screenplays professionally.
After the course, buy Final Draft professional screenwriting software for £130. It'll make your life so much easier, and is the only script format the industry accepts.
Next, start reading scripts – at least 2 a week. Buy our giant PDF Screenplay Suite of over 1000 scripts, here.
Put together an Excel sheet of your best TV and film ideas. Keep these ideas to 25 word "loglines".
Ask 5 of your most honest friends – or book our "Which Logline?" service – to look at the ideas and tell you which they think is the strongest and why. If the 5 people agree you'll know which should be your 1st script.
Finally, start writing and pat yourself on the back for having saved yourself thousands of pounds!

SCREENWRITING COURSE DETAILS

Our screenwriting course always runs from Central London, and participants are informed of the precise location moments after purchasing, along with all other details.

The course fee is £150.00. Places are strictly limited and participants are advised to book early to avoid disappointment. Networking is firmly encouraged so please bring business cards. Lunch and networking drinks are not included.

I attended the course just before Christmas and was very impressed by the amount of information conveyed and by the very professional manner in which it was done. The staff were friendly and knowledgeable and the atmosphere was very relaxed. The time passed quickly and the course certainly gives you a lot to think about. I have now started the online course and feel inspired to write a screenplay. Thanks again!

– Eric Henderson, verified customer review, January 2015

Industrial Scripts is a Verified PayPal seller. To secure your place on the course simply select the course date you which to attend on using the drop-down menu, click "Add to Cart" and then follow the on-screen instructions to book using any debit or credit card via the secure PayPal link (note: you do not need to have a PayPal account already in order to book with us).

***4 Cast-Iron Reasons to train with us…***

Our courses have received a 98% positive rating – we like to think these customer reviews say it all.
Many screenwriting courses are led by people with limited industry credentials, often on the periphery of the business. Ours, are not.
This is one of the very few UK screenwriting courses led by a current, industry-trusted script editor presently assessing scripts for the top companies.

Finally – it's a harsh truth for many graduates but the industry pays little attention to degree courses in screenwriting. You can spend 3 years of your life and thousands of pounds on something that will not carry any weight with anyone. It is far smarter and kinder on your wallet to attend short courses, absorb screenwriting theory, read tons of scripts, and WRITE very, very hard. The quality of your writing IS your CV…

*As featured in Stylist magazine's "Top 12 Dream Courses to Enrol On"*