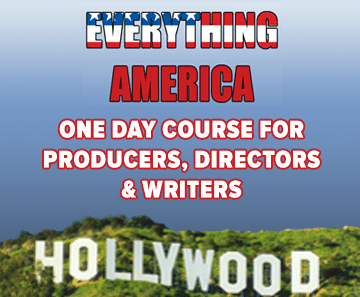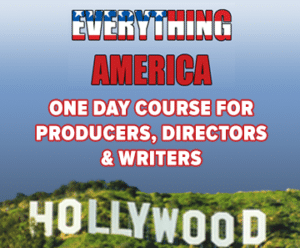 £150.00
The perfect introduction to everything relating to a career in Hollywood.
Agents, managers, attorneys, pilot season, VISAs, money, where to stay, where not to stay, what time of year to go, LA, NYC…participants will leave with a huge amount of knowledge about the US entertainment industry.
Runs bi-monthly in central London, and also available online.
Choose your Course Date below, then Add to Cart.
EVERYTHING AMERICA – the 1st UK training course for Producers, Directors & Writers to focus exclusively on how to make it in the world's largest film & TV industry.
Our
"Everything America"
course does what it says on the tin: it delivers a vast amount of knowledge and learning to producers, writers and directors about every conceivable area of the US film and
TV
industry. Our course is aimed at Producers, Writers and Directors with the intention of working in the American film and
TV
industries, whether remotely (in the case of writers) or actually in the USA itself. The course is suitable both for those new to the industry looking to channel all their energies into a career in the US, and more experienced UK film professionals intending to make the move or begin dividing their time between London and LA. So from
Agents
to
Managers
, Attorneys to where to live, "Pilot Season" to Unions, our course literally is: "Everything America".
COURSE OUTLINE
10am – 1pm
– Introduction and Agenda
– Why go to the US?
– Map of the Industry
– Box Office Industry Figures & Trends
– The Spec Script Market
– Representation- Agents, Managers, Attorneys
– Spec Sales Marketplace & Agents' strategies
– Getting Representation
***1 hour break for lunch (not included) at 1pm***
2pm – 7pm
– Being Your 'Own Agent'
– Competitions, Submission services, Conferences, and Festivals
– The TV Arena
– VOD (Video-on-Demand)
– Immigration & VISAS
– Writer's Guild, Copyrighting & Registering
– Case Studies
– UK Talent & How They Broke In
– LA information Sources
– The Rest of America: NYC, Miami, Toronto
– Common Mistakes
– Contacts Sheets Analysis
– Recommended Reading
– Q & A, Wrap-up, question, shared experiences, pitches, strategies, reflections
– Networking Drinks with the Course Tutor
COURSE DETAILS
LOCATION:  The course is held in central London.
FEES
: The course fee is £150.00 (all inclusive, no hidden fees), which includes 30+ pages of course notes including a contacts overview of the US film &
TV
industries (incl. studios, financiers, production companies, distributors and networks), a detailed recommended reading list, and refreshments. Lunch and networking drinks are not included.
PLACES:
Places are strictly limited and participants are advised to book early to avoid disappointment. Networking is firmly encouraged so please feel free to bring business cards, or your contact details.
BOOKING: Industrial Scripts is a Verified PayPal seller. To secure your place on the course simply select the course date you which to attend on using the drop-down menu, click "Add to Cart" and then "Checkout". Simply follow the on-screen instructions to book using any debit or credit card via the secure PayPal link (***note: you do not need to have a PayPal account already in order to book with us***).
PRE-COURSE MATERIALS: Pre-course materials are emailed to customers moments after successful checkout, and are available to download straight away.
REVIEWS:
Our courses have been extensively reviewed by past attendees, just click
here
to read what people have had to say about them.